Best Emoji Fonts & Icon Sets for Playful Designs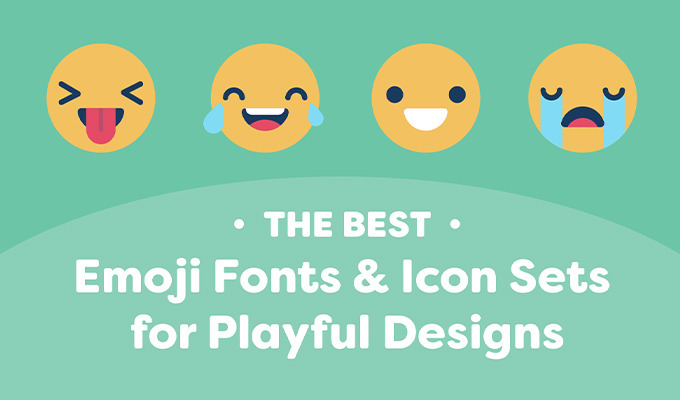 There are 2,666 emoji in the standard Unicode set, and more are on the way. These little images can be used to add emotion and emphasis to texts, emails, posts, and more - and just like with alphabets, designers are free to render them in countless different ways. Here's a look at some of the best emoji fonts and icon sets for all kinds of whimsical, playful design projects.
This set of 16 editable vector icons presents familiar emoji expressions in the shape of a pink and green watermelon slice. The Watermelon Emojis set comes with two different backgrounds for use in social media posts, posters, or cards.
The Cartoon Freaky Smiley Emoticon Pack includes 27 vector images depicting a range of emotions with humorous cartoon touches. Emoticons are organized into themed sets and are fully editable in Adobe Illustrator or Corel Draw.
This set of 80 emoticons features 40 monochrome and 40 flat color variations on the classic "smiley face" for use in social media, emails, texts, and design projects such as cards and posters. The pack includes all files in Adobe Illustrator, SVG, and PNG formats for easy editing.
The Emoji Travel Pack includes 224 emojis in 8 themed sets, including patch emoji, sun emoji, and lemon emoji in Illustrator and PNG formats, for use in social media, messages, and blogs, as well as patterns for printing on T-shirts or other products.
The Fox Emoji set features a range of emotions, expressions, and gestures rendered as cute, furry foxes. The pack includes 40 expression emojis, 16 hand, or paw, emojis, and a bonus emoji pattern for use in infographics, social media, stickers, or posts.
This set of 20 unique icons features familiar emotions and gestures rendered as the Halloween favorite Candy Corn. These flat design icons are fully editable for use in social media and blog posts, cards, and posters.
This set of 60 emojis features cartoon hearts in a wide range of emotions and gestures for blog posts, social media, posters, and cards. The Heart Emojis set comes with a fully editable vector file, plus seven artboards and a bonus wallpaper.
The Kitty Cat Emoji Icon set includes 36 quirky cat emojis in whimsical cartoon form. All images come in fully editable vector format for use in posts, social media updates, emails, and more.
The Animated Social Icons + Video Avatars set features icons for common social media use in flat and line art forms and combinations. The set includes MP4 Facebook avatars as well as GIFs and static raster images.
The Line Emoji Set includes 150 filled line, flat, and outline emoji in sets of 50 each for use in social media and blog postings, email, and more. The bundle includes all emoji files in four formats, plus a bonus cover illustration.
With 36 editable images, the Lego Head Emoji Clipart set renders standard emoji expressions in Lego style. The Clipart set comes in PNG and JPG formats for use in scrapbooking, cards, and social media posting.
This Emotional Emojis set includes 16 editable vector images in round "smiley face" form for use in social media postings, blogs, cards, and posters. The set comes in Adobe Illustrator and JPG formats that can be resized and recolored as needed.
Featuring pop-art dingbats with a Hello Kitty vibe, this Japanese-inspired Omekashi illustration font set features cute cat faces, cupcakes, bows, and flowers. The 78-character set comes in both OTF and TTF formats, with a keyboard map for each font group.
An edgy, all-caps font with a bold hand-drawn look, Moonshot includes both regular and oblique styles and a large glyph set for projects such as book covers, posters, and headers. Moonshot also comes with Moonshot Decorative, a set of hand-drawn emojis and swashes.
The Vintage Emojis Collection includes 52 color emoji fonts in flat, retro style for social media and blog posting, posters, and infographics. The set comes in multiple file formats for managing color font features.
With curvy, casual letters, Papaia is a playful font inspired by teenagers. The Papaia font set includes 200 ready-to-use emojis including objects, smiley faces, and animals and features 630 glyphs supporting languages from all over the world.
Emoji is a whimsical color font created entirely out of multiple emoji character faces, for use in headlines, titles, banners, and posters. Emoji also comes with a bonus set of actual emoji in classic smiley-face style.
The Pineapple Emojis set includes 16 classic emoji icons rendered in lighthearted pineapple form. The set includes three different backgrounds for posters, blog posts, scrapbooking and other lighthearted design projects.
Featuring playful emoji icons for social media profiles, blog posts, infographics, and posters, the Emoji/ Emoticons Bundle includes stroked, squared, and classic flat style emojis, plus a seamless emoji pattern.
Featuring a gallery of emoji in flat color style, the Emoticon Emoji Big Set includes the classic smiley face with cat, angel, and devil variants, along with a variety of gestures for social media posts, blogs, posters, and more.
Emoji are a universal language, using pictures to share ideas and feelings throughout the world. These lighthearted icon and font sets can add both humor and meaning to your design projects for both web and print.
Products Seen In This Post:
Free lettering worksheets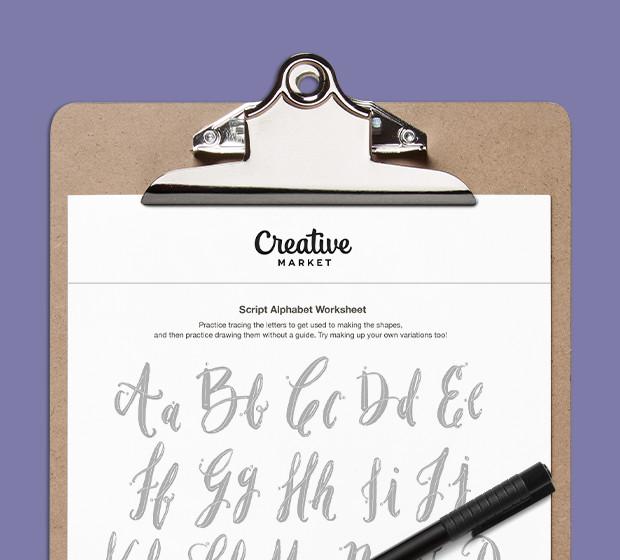 Download now!

Getting started with hand lettering?

Download these worksheets and start practicing with simple instructions and tracing exercises.
Building a platform for handcrafted, mousemade design content from independent creatives around the world. We're passionate about making beautiful design simple and accessible to everyone.