15 Extra Bold Fonts That Won't Go Unnoticed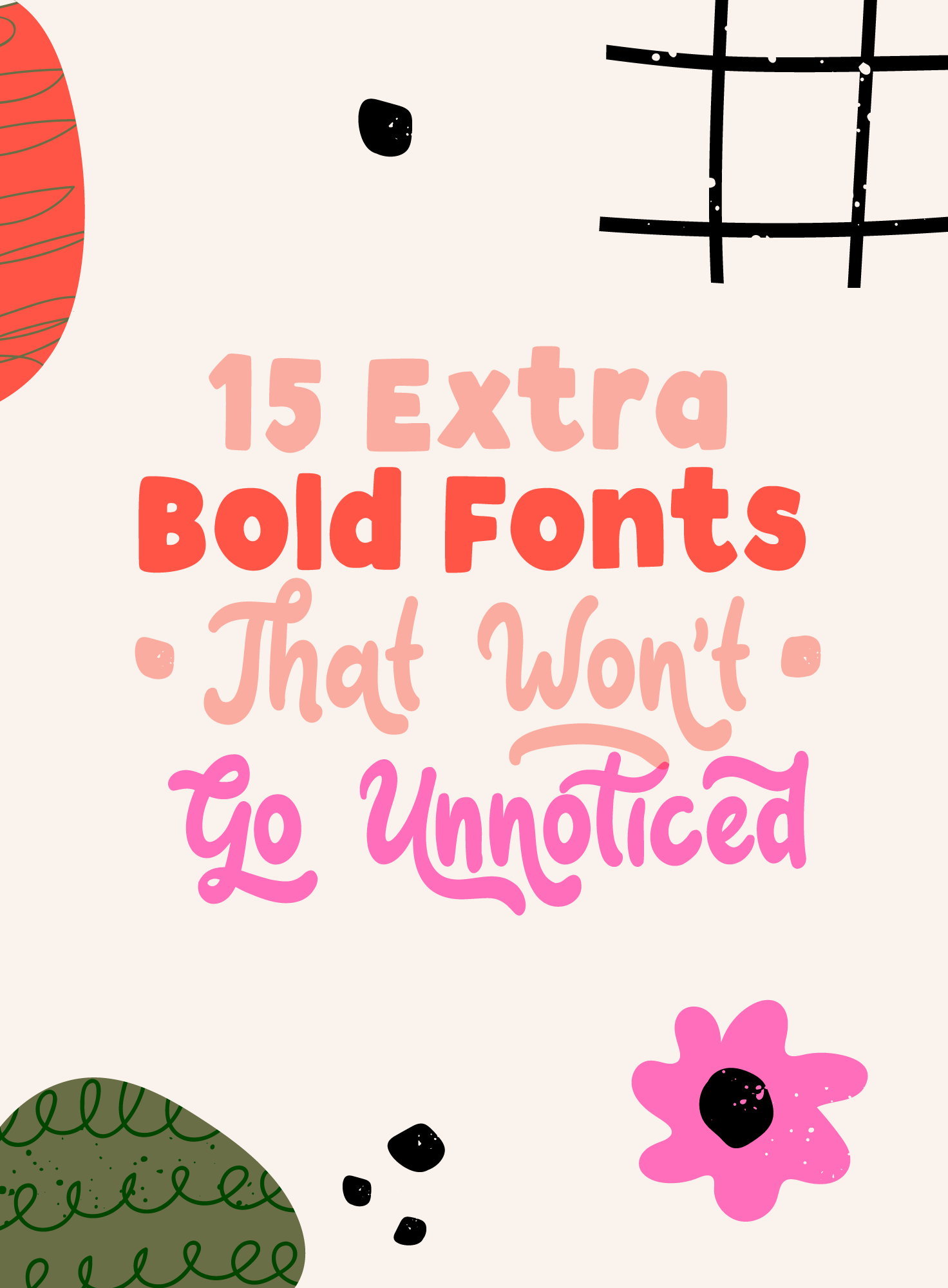 Sometimes you just need to make an impact. Whether it's on a poster, a logotype, or a headline, the following 15 fonts are perfect for grabbing attention and ensuring that your message gets read:
Hyper
Designed by Anita Jurgeleit, Hyper's pleasingly organic design has been inspired by and designed for fruits, flowers, veggies, and everything else green and healthy. This font uses OpenType effectively to provide extra 'snuggily' f combinations, where the letter f appears to hug the next letter along. Versions with extra ligature styles are also provided for those whose software does not support OpenType. The font includes both Hyper and Hyper Grande, which features slightly narrower horizontal stem thickness for larger, more elegant headlines, as well as support for 90 languages (Latin alphabet only).
Schusse News Poster 1
Schusse News Poster is – you guessed it – an extra heavy headline font in a News-like style. Designed by Typic Schusse, this is an extension of the Schuss superfamily of fonts which also includes Sans, Slab and Serif (not included). Schusse News Poster includes one font with some variable heights and handmade display kerning with more than 3800 pairs.
Mont
What could be bolder than a mountain? Designed by Fontfabric, Mont is a versatile and balanced geometric sans serif that is perfect for bold, eye-catching headlines, but also works well for longer pieces of text. Mont includes 744 glyphs across 20 styles and extensive language support, including Extended Latin, Cyrillic and Greek for more than 130 total languages. It also comes with a wide range of OpenType features, including advanced typographic features (ligatures, fractions, etc.) and tabular figures.
Ador Hairline
Designed by Fontador, Ador Hairline is a high-contrast version of the humanist san serif font Ador (by the same designer). This font is ideal for branding, advertising, and logos. Ador Hairline includes 7 weights plus italics for 14 fonts and a total of 1026 glyphs.
Kappa
Designed by the W Type Foundry, Kappa is a modern sans serif that is both bold and highly legible, making it useful for both statement headlines and smaller text. Its narrow structure and relatively large height make it ideal for when space is at a premium. The highly versatile Kappa Typefamily includes 36 fonts across a range of weights and makes full use of OpenType features. Each weight comes with ligatures, fractions, special numbers, small caps, extended language support, and more.
Cooper Black & Cooper Black Italic
The original Cooper Black, released in 1920, became an instant classic. Now lovingly updated, these typefaces are the result of research into Cooper's original drawings and proofs and include the original ligatures. The font includes both OpenType and TrueType versions.
Remember key typography concepts
Typography terms made simple.
Grab this handy cheatsheet summarizing some of the most important typography terms.
Download the PDF
Zona Pro
Zona Pro is a versatile geometric sans-serif font designed by Kostas Bartsokas. Originally released in 2013, Zona Pro has been updated for 2019 with support for the Cyrillic alphabet, the addition of an extra weight, and improved italics. Zona Pro has been designed to grab attention in headlines but remains readable for smaller text as well. Zona Pro includes 9 styles plus italics for 18 fonts and supports Greek, Latin, and Cyrillic alphabets.
Wes FY
Created by designers at BlackFoundry, Wes FY is a geometric grotesque sans-serif inspired by Futura. It is best suited for large text sizes includes headlines and posters. Wes FY comes in 5 weights.
RNS Camelia
Designed by RNS Fonts, Camelia is a strong demi-slab serif font that has recently been updated with new italics and weights. The font comes in 7 weights plus italics for 14 total fonts.
Manier
To say this sharp wedge-serif font is striking would be an understatement. Designed by Piotr Lapa exclusively for display, Manier is ideal for headlines, posters, and logotypes. While it looks fantastic, designers should not be tempted to use it for continuous text, as its unique design reduces readability at smaller font sizes. Manier includes 6 weights, 483 glyph, Extended Latin support, and OpenType features.
Ultra Pro
Designed by Stiggy & Sands (great name!), Ultra Pro is ultra-bold, ultra-stylistic, and ultra-powerful, making it great for impact headlines and titles. This font includes OpenType features such as small caps, fractions, stylistic alternates, and Tabular, Proportional, and Oldstyle figure sets.
Ultra System Sans & Script
Not to be confused with Ultra Pro, Ultra System contains modernized versions of 8 different fonts which the designer, Sam Parrett, has designed to work together. Together, the 6 sans fonts and 2 script fonts deliver a high degree of versatility in one package. Ultra System includes Ultra System Script, Ultra System Script Alt, Ultra System Sans, Ultra Systems Sans Line Two, and Ultra System Sans Italic (that's a lot of Ultra!).
NF Ultra
Our third (and final) 'Ultra' font, NF Ultra is a stylish interpretation of a geometric sans serif. Still being updated by design team Narrator Studios, NF Ultra is currently uppercase only, but purchase includes access to future updates which will include lowercase, ligatures, additional weights, and more.
Callista
Callista, designed by Karandash, is a fat cursive typeface inspired by Francois Boltana and Milka Peykova. It includes full Latin and Cyrillic support and excels when used in short, bold headlines.
Integral CF
Designed by Connary Fagen, this font is perfect for creating bold, must-read headlines on posters, graphics, and more. Integral CF includes six weights plus obliques, support for Extended Latin scrips, and OpenType features.
Not Bold Enough For You?
These are just some of our favorites, but with more than 28,000 fonts to choose from there's plenty more to look at. Why not let us know what your favorite font for headlines and posters is?
Remember key typography concepts
Typography terms made simple.
Grab this handy cheatsheet summarizing some of the most important typography terms.
Download the PDF