Introducing Our Color of the Season: Cosmic Iris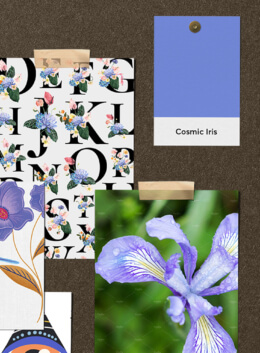 Iris: a flower with sword-shaped leaves, the Greek goddess of rainbows, the part of your eye that lets light in. As we discover what this new normal can look like, here's a color that captures our quest for the unknown. The curiosity in experiencing familiar places with new eyes. Cosmic Iris is a blue-to-purple hue that takes us to a place of wonder.
Fantasy, mysticism, and longing all come together in our new Color of the Season. Iris can rebloom in the fall as a garden flower, offering a range of purples and blues that evoke calm. As a goddess, Iris brings a certain mythical energy and a desire to return to nature.
A perfect complement for this season's design trends like Galactic Escapism and Fresh Antique, Cosmic Iris represents our rekindled sense of awe.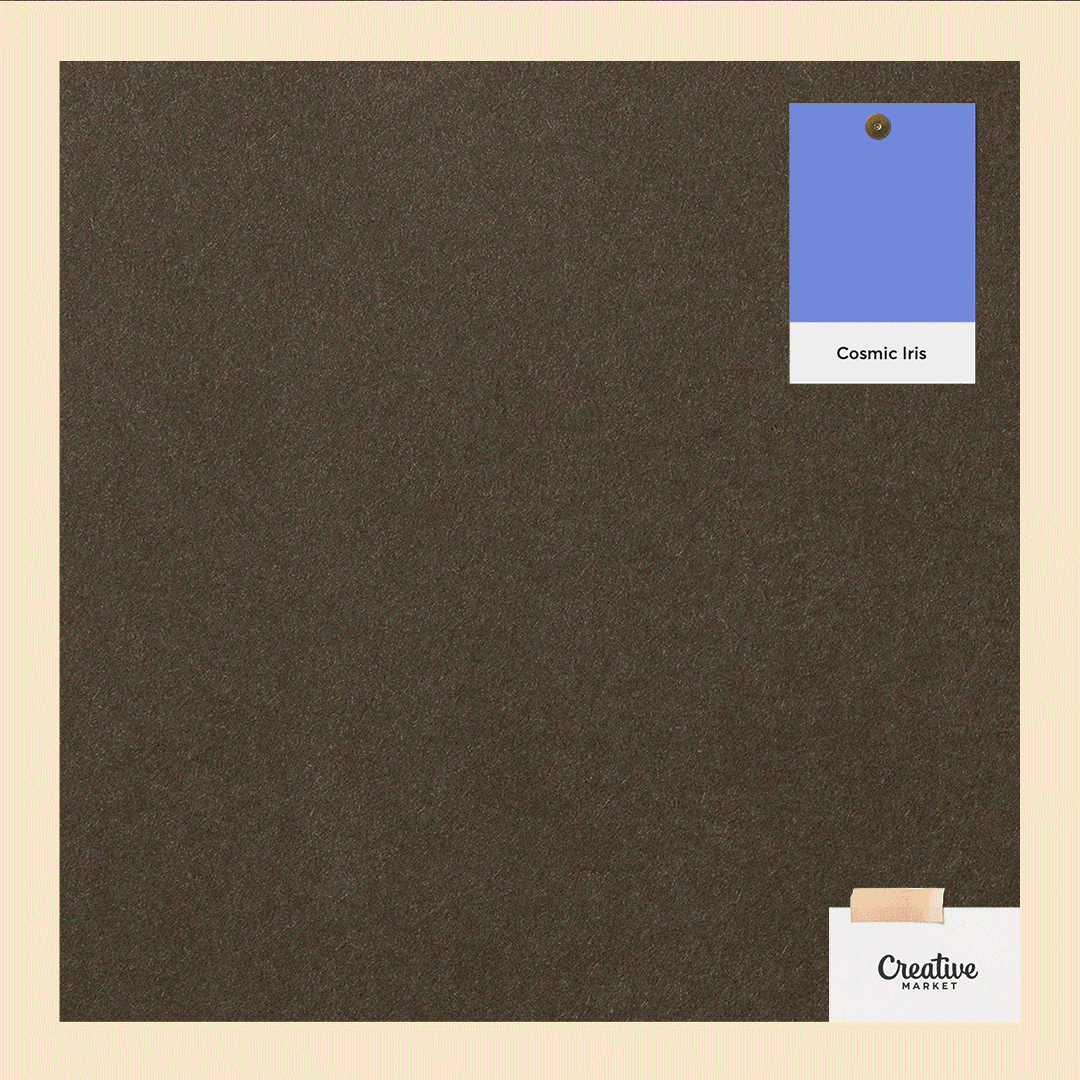 Introducing Cosmic Iris
Just like the Iris flower family, our Color of the Season might seem closer to purple or blue depending on the eye of the beholder. To make sure you're working with the same color, we're providing equivalencies in hexadecimal, CMYK, RGB, and Pantone systems below.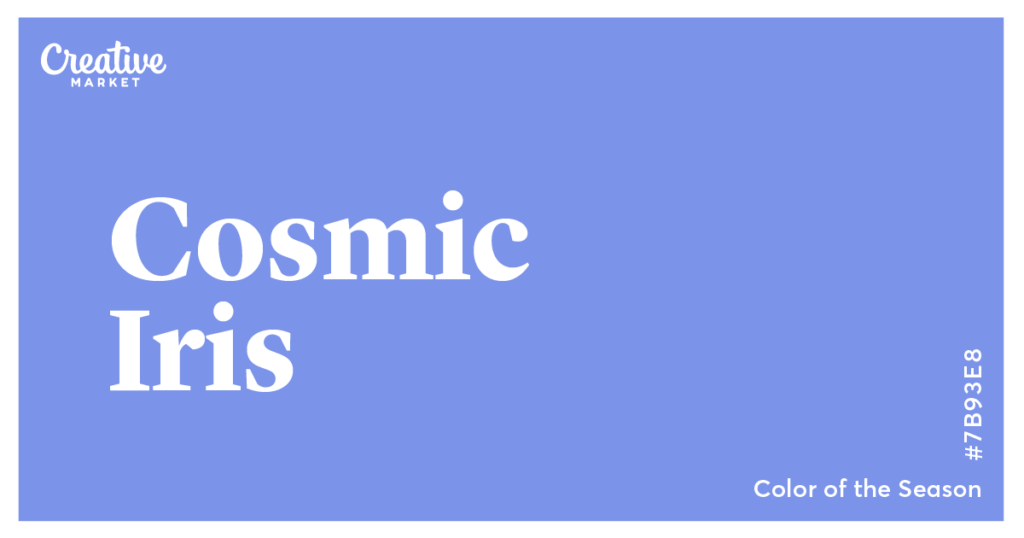 HEX: #7B93E8
RGB: 123, 147, 232
CMYK: 52, 39, 0, 0
Pantone: 7456C
Looking for a refresher on the various color codes, what they mean, and their applications? Make sure to check out this article where we explore the differences and technical details you need to know.
Our Cosmic Iris Collection
We have curated inspiring Creative Market products that are already using Cosmic Iris or slight variations of it. Check out the full collection, featuring some of these outstanding assets:
Vibrant Palettes Using Cosmic Iris
Wondering how to apply Cosmic Iris in your next project? These palettes complement our Color of the Season and are ready to use. To download the free SVG file, make sure you're signed into your Creative Market account.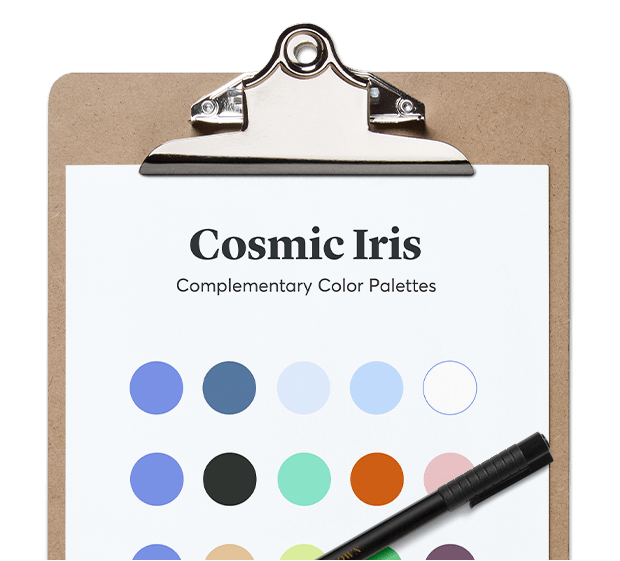 Try our Color of the Season
Download color palettes using Cosmic Iris
Download our set of color palettes in SVG and start using them in your favorite design app.
Download the palettes
Design Projects Using Cosmic Iris
Get inspired with these project shots by talented designers on Dribbble. You can also use the site's HEX color search to find more projects using #7B93E8.
Start Using Our Color of the Season
Try your hand at this hue with a template or graphic that is well-considered and ready to use. Check out our collection here.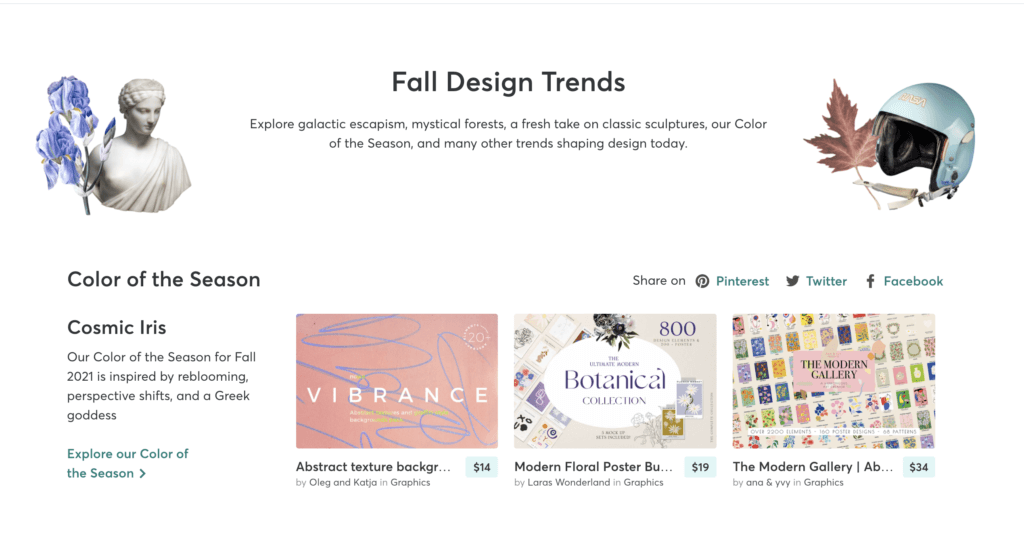 ---
Products Seen In This Post:
Getting started with hand lettering?
Free lettering worksheets
Download these worksheets and start practicing with simple instructions and tracing exercises.
Download now!
Laura Busche
Brand strategist. Creating design tools to empower creative entrepreneurs. Author of the Lean Branding book. MA in Design Management from the Savannah College of Art and Design (SCAD).
View More Posts