Featured Shop: Mesmeriseme Themes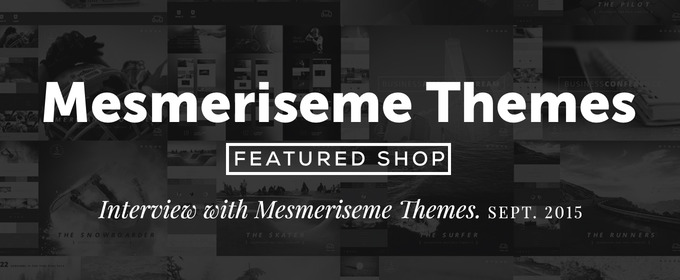 Mesmeriseme Themes is a team of creative individuals who have come together to open a Creative Market website template shop.
Tell us a little bit about yourselves.
Mesmeriseme Themes recently came together when the Mesmeriseme and Moonhunters teams decided to join forces. We're a team of four people, all of whom have different life stories. Serendipitously, we all crossed paths at some point, and realized we all have shared goals and interests in design. We're from Poland, and we have two men and two women on our team. We're also split 50/50 as graphic designers and programmers, so the forces in a team are equal. .
You obviously all balance each other out really well. What's the most important thing for the four of you as you work together as a team?
Creativity. We're constantly pushing ourselves to be creative. We live lives filled with creativity. If we're not doing something that helps us develop creatively, we quickly start to feel bored, and even nervous. As soon as that feeling starts to creep up, we know it's time to get to work and set ourselves another goal. We look out for this in ourselves individually, and in each other as well. In our opinion, success starts with good cooperation and a great team. We have dreams and plans of releasing great new products, and we need each member's drive and creativity to do so.
Your website templates are always incredibly unique. How do you decide which type of templates to devote your time to?
We just want to meet people's needs, even, and perhaps most especially, the needs people aren't aware of having. Have you ever seen a website template (ready to buy) created specifically for a surfer or an American football player? Finding templates like this can be extremely difficult. Rather than duplicate the types of website templates that are already so abundantly available, we've decided to create products that are unique and respond to the needs we see. So, if you're ever on the hunt for a specific website template, and you can't seem to find something that fits, please reach out to us, we always respond. Our goal is to help customers find the things they can't find anywhere else.
Where does Creative Market fit into all of this?
Creative Market has made a huge impact on our business and on our lives. The biggest change is that we can finally do and design what we want. It's totally awesome to wake up, start dreaming up a design, take time to get dressed and eat a great breakfast, and then just start working on your dreams. Then we can give ourselves a little break, go running or just relax to get some perspective, and go back to work to make a few changes or add some details. And somehow, after that stress free day, you have a great product to release on Creative Market. Doesn't that sound great?
Of course, having this freedom means we'll make mistakes at times, but everything we work on is something we dreamed up, and that's wonderful. Working on your dreams is the best way to spend life; it helps us feel fulfilled as creators and shop owners.
Do you have any advice for current or future Creative Market Shop Owners?
This is very simple, but also really true: don't give up! Especially when everything is new and preferences and trends are constantly changing, you have to work hard and have more patience than ever before.
Free lettering worksheets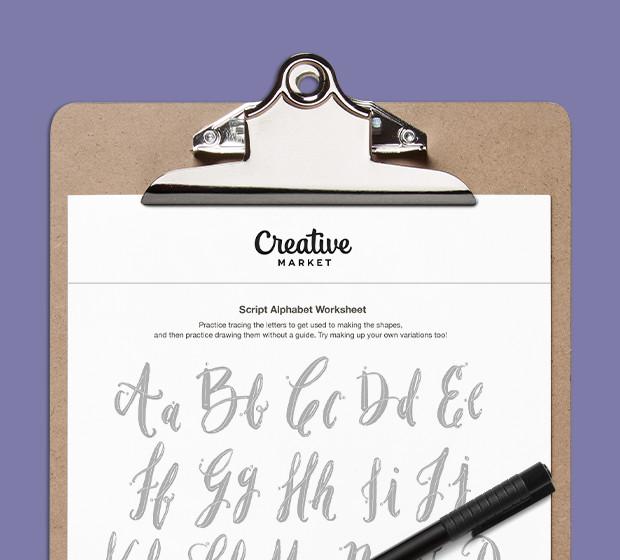 Download now!

Getting started with hand lettering?

Download these worksheets and start practicing with simple instructions and tracing exercises.
I'm an ex-schoolmarm who is excited about all things creative. Photography makes me smile and when I find a new-to-me dress that fits just right, it makes my day.
---