Free Photoshop Brushes to Decorate Your Holiday Cards
Adobe Photoshop is a program that offers seemingly endless potential for creating. With all of the incredible features it boasts, it can sometimes be overwhelming to try to figure out how to make the most of them. That's where Photoshop brush expert extraordinaire Jessica Johnson comes into play. She's going to be walking us through some of her favorite brush techniques inside Photoshop. It will unlock your creativity and show you her insider techniques to create your own stunning holiday cards and illustrations!
Getting to Know Jessica
Jessica comes from a fairly traditional design background, having graduated from Missouri State University in 2002. "We BARELY had the internet when I was in university… so things were VERY different," Jessica explained.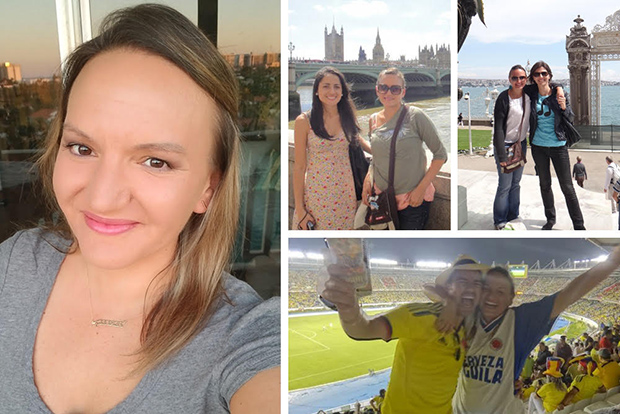 Her university's design department was headed by a group of distinguished "old school" professors. Although being very tough, Jessica learned to appreciate how they instilled in her the most important design fundamentals. These included how to properly approach design, and the importance of creative problem solving. Jessica reflected, "These are the skills that are the foundation of who I am today as a designer." These skills, mixed with her insatiable curiosity, pushed her into the rewarding career of developing tools to help other designers.
Jessica's Adventure into Creating Custom Tools for Designers
Jessica started creating design tools during a rough patch in her life. She was living in Miami Beach and her freelance work was drying up. On top of that her dog started suffering from heart issues, and the expenses piled up. Out of desperation she decided to pack her dog and belongings up to move back with her family in Missouri.
Avoiding the 9-5 Life
After staying in Missouri for a few months Jessica came to the realization that she needed to start making money fast, or she would need to start a more typical 9-5 job again. "I had uploaded just a few products onto Creative Market up to that point with a few sales… but I had an idea for a product I thought could be a BIG hit," stated Jessica. "I wanted to create a kit for some gold foil effects, not shiny gold like you used to see on club flyers all the time, but a gold leaf / gold foil effect." At the time, there wasn't anything like it on the market. She had to work hard to bring her vision into life, and make sure that it looked good no matter what it was applied it to. After releasing the product to a seemingly slow start Jessica said, "…it somehow gained traction and took off like crazy, and in those first few months I sold a BUNCH! All of my hard work, late nights, and manic over-creating (I created something like 180 original patterns which were the base of my effects) finally paid off!" Jessica's hit product is shown below:
Jessica reflected on this experience, "It was a high I will never forget, and hearing amazing feedback from my fellow designers was more rewarding than anything." She also noted, "One of the things I love about the career I've been able to carve out through Creative Market is the freedom I have to work wherever I want — which is a huge privilege — and being able to spend time with my best friends who live all around the world. I am able to live a life I never dreamed of up growing up in a small town in Missouri!" She continued, "I even turned my travels into an instagram featuring my stuffed fox — that I've had since I was 3 years old — which went viral due to a fundraiser for a friend with cancer." You can view her now famous travels with Mr. Fox here: https://www.instagram.com/thetravelingmrfox/
Stepping into Custom Brushes
Jessica built her niche in creating layer styles, but never stopped experimenting. "I had been purchasing brushes from my fellow designers, and became more and more intrigued by what was possible. That got me into experimenting with the brush settings and creating my own brushes for projects," she said. Along the way, Jessica realized that she could take the brush techniques she developed and turn them into products for designers of all levels to enjoy and use. "It was very essential for me to create a product that would let designers of all levels be able to pick up these brushes and start creating, no matter if they were a beginner or an advanced illustrator." She continued, "I am proud to say that with the Impressionist Brushes and Wet Paint Studio (shown below), I was able to put something into the market that hadn't been seen yet, and translate techniques I developed into a turnkey solution for so many of my fellow designers."
Hacking the Pattern Stamp Tool for Impressionist Color Blending Brush Strokes:

The pattern stamp tool is an often overlooked tool in the Photoshop arsenal. It's a powerful design tool that can help you make amazing color blending effects and illustrations. Since pattern overlays are perhaps the most common way to apply a pattern to an object in Photoshop, I feel that the pattern stamp tool — which simply applies the pattern to an area you paint with a brush — is overlooked by designers and illustrators. More importantly, there is a setting WITHIN this brush that is also overlooked. The impressionist brush setting. When checked, instead of painting the pattern as you paint with your chosen brush, it will 'spit out' all of the colors that are WITHIN your pattern. If you grab a regular Photoshop brush and try this it will likely not look great. You will probably see unappealing bands of color as you paint. However, if you tweak the Photoshop brush settings, you can disperse the brush marks so the brush creates an appealing blend of colors. What's cool about this feature is you can create a pattern that contains exactly the colors you want in your brush stroke; even if they are unrelated. The color jitter feature has long been included with Photoshop brushes, but there are limitations, and it's tricky to be precise with the colors. You can blend foreground to background, or jitter the hue, but it's nothing compared to the pattern stamp tool!
Wet Paint Brush Effects Are One of the Coolest Features in Photoshop You're Not Taking Advantage of: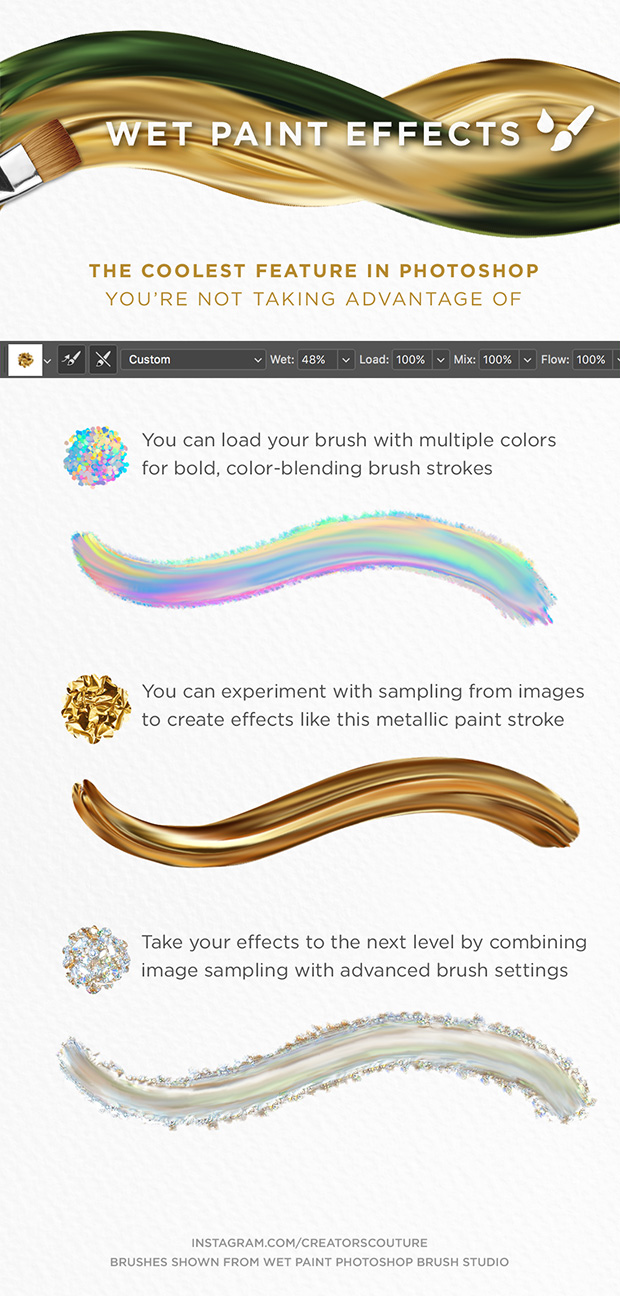 With the emergence of digital painting on our tablets, and new programs like Procreate luring designers away from Photoshop, it's easy to forget that some of these 'new' features are already in Photoshop. You're just not taking advantage of them! Not only that, there are also amazing things you can do with Photoshop that you can't do with apps such as Procreate. With the wet paint brush tool in Photoshop, you can pick up and sample MULTIPLE colors at the same time (not just push them around), and adjust your brush settings to create amazing wet paint strokes that blend all of the colors you have sampled in amazing ways.
With the Right Tools ANYONE Can Be an Illustrator
True Story: I cannot draw. As a fine arts major, I had to take drawing and painting along with everyone, but my attempts at realism were mediocre at best. I always considered myself a 'designer' and never IMAGINED that one day I could be creating illustrations I would be proud of. However, through this journey creating tools and resources for other designers, I discovered that I was becoming an illustrator! What I LOVE about advances in technology, is that it gives someone like me who can't traditionally illustrate, the ability to bring ideas to life. All because I've created tools to make this possible. By creatively harnessing the power of the tools within Photoshop, I've pushed my own boundaries and am now able to create designs and illustrations I never imagined possible!
Push Yourself Through Experimentation and Play
One of the most important things I can stress is giving yourself time for creative experimentation and play. A LOT of the time, my tools and resources were the direct result of 'just messing around' and not because I was expressly trying to create an effect. You may not consider yourself an illustrator, but by harnessing the power of the amazing design programs we have, you too can create things you never imagined possible! You may find yourself creating your own illustration sets instead of purchasing them and they will be uniquely your own! As I've released my sets of brushes, I get messages from designers of all levels saying how they are surprising themselves with what they are able to do because of the power of Photoshop tools! This holiday season why not experiment and see what you can create. Now we can use Jessica's techniques and brushes to create our own holiday cards!
Tutorial: Create Your Own Holiday Card Download the Sample Brushes and Follow Along! Step 1 Download and Install the Sample Brushes

Perfect for greeting cards

Free Photoshop Brushes

Add a special touch to your print design projects with this free set of brushes by Jessica Johnson.

Download them

In creating this holiday card design, we are using just a SINGLE mixer brush from my Wet Paint Studio collection, and I have provided 6 different 'pre-mixed' palettes that you can sample from to create beautiful brush strokes exactly like these! In a hurry to see what you can create? Use the PRE-LOADED tool preset brushes in the file which have the colors already loaded for you! Step 2 Using the Pattern Brush

Again, we will be using just a single pattern brush from my Modern Impressionist Pattern Brush Studio to create the glow of the holiday lights. We will use 3 different Pre-Fab color palettes which will let you paint in beautiful, multicolored impressionist brush strokes that match the colors in the holiday lights! These brushes are also provided to you as a tool preset file, with the patterns already loaded and ready to go! Step 3 Create Your Lettering

Create BEAUTIFUL 'hand-lettered' text with the gorgeous mixer brushes. NO layer style can emulate the directional brush strokes like you see here! Pro-tip: Use your favorite font as a guide! Simply type out your text, create a layer above it, and follow the letters as a guide for your beautiful painted typography! On this lettering, I used Buttermilk Farmhouse by Make Media Co. as a guide for my text! Another tip: If you have the latest version of Photoshop CC 2018, use the stroke smoothing for even more fluid and natural strokes, even if you don't have the steadiest hand! Step 4 Illustrate the Greenery

Watch how easy it is to create beautiful illustrations with only two brushes. Here, we draw out some very simple greenery shapes that anyone can master, and we let the brush do all the heavy lifting. The mixer brush creates beautiful color blends that make even the simplest shapes beautiful and interesting. Add some gold into the mix, and be astonished and how beautifully it blends together — like real paint… ONLY BETTER! Brushes Used:

Green Mixer Brush
Gold Accent Mixer Brush

Step 5 Create Glowing Holiday Lights

The glowing holiday lights are just as easy and fun to create! A basic oval shape becomes a glowing holiday fairy light when you load it full of beautiful colors from my Wet Paint Studio. The base of the light is created with the gold accent brush. Then we use our pattern brush loaded with gorgeous Pre-Fab Color Palettes to create the artistic glowing effect around the fairy lights. After we brush the strokes, we will lower the opacity of that layer for the proper subtle effect! Brushes Used:

Light 1 Mixer Brush
Light 2 Mixer Brush
Light 3 Mixer Brush
Gold Accent Mixer Brush
Lights 1 Multicolor Glow
Lights 2 Multicolor Glow
Lights 3 Multicolor Glow

Step 6: The Finale! Put Everything Together

With only these 2 basic brushes, we can create a gorgeous artistic card like the one shown here. I hope you are inspired to experiment with Photoshop brushes more in the future, even if you don't consider yourself an illustrator. As you see here, there are a very powerful arsenal of tools within the Photoshop brush options. And NOW you have a couple insider tricks that can help you take better advantage of them to create designs and illustrations you never thought possible. It doesn't matter if you are a designer, illustrator or even a hobbyist! Continuing Jessica's Story "I carved out a niche career I never EVER could have imagined possible as I was making my way through design school," Jessica exclaimed. "Plus the fact I am doing work that thrills and inspires me, and makes a difference in other designer's work, makes all the hard work worthwhile." When asked about how she continues to create amazing products she said, "With each message or comment I get on my product, I am injected with a boost of happiness and motivation that I am making an actual difference in someone's work or creativity." "THIS is what keeps me going! If you learn something, share it with others! What you will get back is greater than what you put out…always!" So with that message in mind, be sure to let Jessica know what you think of her brushes and techniques. And should you create something awesome using the incredible brushes Jessica shared, be sure to link what you made in the comments below. We can all make this holiday season a little bit brighter with our creativity.

Perfect for greeting cards

Free Photoshop Brushes

Add a special touch to your print design projects with this free set of brushes by Jessica Johnson.

Download them

Matt Borchert

My mission is to help people create while offering amazing value on every product I produce.

View More Posts