Getting Traffic to Your Shop
In the age of the Internet, traffic is the lifeblood of any online business. More traffic generally leads to more sales and the more the merrier. Now, there are tried and true traditional methods for driving traffic, but I'm not here to play Captain Obvious and tell you that you should have a blog, or a Twitter account (although you probably should). Instead, I'd like to throw out a few not-so-obvious ways to get new and returning customers to your shop.
Sales, Freebies, and Bundles, Oh My!
A sense of immediacy can be a compelling thing. Words like "exclusive," "limited time," and especially "free stuff" will get people to click your links faster than you can say "grumpy cat."
You have full control over products and pricing in your Creative Market shop, which means you can play around with how and when you do sales, how you bundle your items together, etc. We've seen sellers have great success with holiday sales pricing. We've also seen others do extremely well by bundling their items together. People love it when they've got an inside tip on a great deal and, even better, they like to share their exclusive knowledge with their friends.
Freebies are another great tactic because they give potential customers a small taste of your work, ideally hooking them enough to come back for more of your sweet design goodness. Even if someone doesn't convert to a paying customer, some of your work is out there, being used to create things, and that's what it's all about right?
Be Sociable
When there are thousands upon thousands of posts going out per minute, it's simply not enough to have a Twitter profile or a Facebook page to just post links to your products. You may catch some people's attention this way, but the operative word is these are "social" networks and it's the interactions that are key. If someone tweets a link to your product, thank them, follow them, start a conversation. Favorite the tweet and follow up to see if they used your design in anything. Be friendly, be genuine.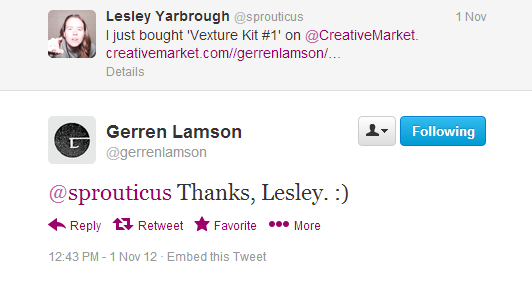 The same goes for Facebook, Google+, Tumblr, Pinterest, or whatever your network of choice may be. You don't have to be on all of them, but really take the time to utilize the ones you do use to connect with people. This can be time consuming, sure, but it's also an opportunity for you to build a relationships and give folks a great reason to return to your shop and continue supporting you.
Dribbble It
Like many of you, we love Dribbble. It's home to an amazing community of designers that really like to click links to cool things. As a result, it's a great place to post shots of your new products with links back to your shop. It's also a great place to post freebie downloads with links back to your shop. And it's a really great place to post links for sales or other big announcements.
We've even seen one of our sellers use Dribbble to promote their freebies and their shop by having people tweet a link to their Creative Market shop in order to get the free download. Clever!
Submit Your Work to Design Blogs
A ton of design blogs get a lot of their content from reader submissions. Don't be shy. There are even some blogs that let you post directly to their feeds. Even better. The time investment for submitting your work to these sites is pretty low and the potential eyeballs you get in return is often worth it.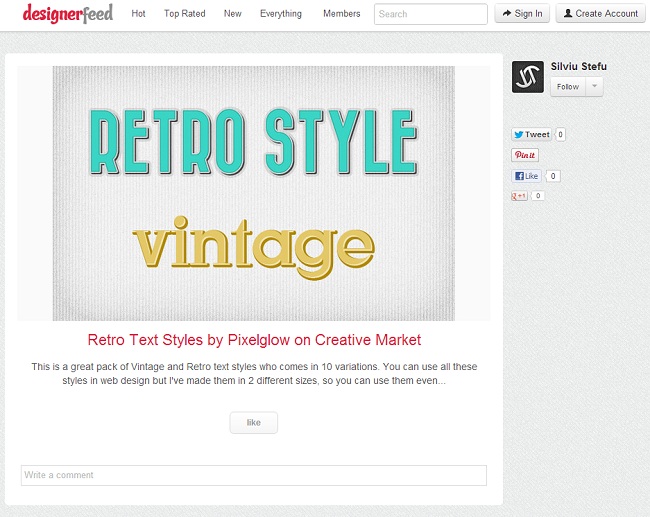 Use Creative Market's Built-In Tools
Using both our comments and messaging tools, you have the means to communicate directly with people who have already purchased a product or expressed interest by commenting. You can use either method to let folks know you have a product update, a new item in the marketplace, a sale, or even just to leave a nice "thank you." Both send an email notification and give the recipient an opportunity to come back and visit your shop.

Again, the whole being friendly and genuine thing works wonders. People will remember those little personal touches, but they can't remember something they've never received. Hopefully some of these ideas will prove helpful in your shop efforts. If you've come across any other clever methods out there in the wild, please do tell. 🙂
Getting started with hand lettering?
Free lettering worksheets
Download these worksheets and start practicing with simple instructions and tracing exercises.
Download now!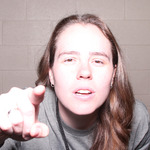 Lesley Yarbrough
Tinkerer. Maker of quirky fonts with a sprouty disposition.
View More Posts