Guy Proposes To His Girlfriend With Gorgeous Animated Video
It used to be that you could just get down on your knee to ask your beloved to marry you, but today, not so much. With people publishing their outlandish proposals online, a suitor-to-be has to step up their game or risk getting shut down because they didn't have enough doves flying out at the right time, or a big enough dance crew throwing out rice and candy rings.
But I'm here to tell you all that the jig is up. There's no further reason to try to top one another again, because Adam Rosenbaum won. And he won with this killer proposal video that's just so beautiful.
(Sidebar: Did you know that kids asking to each other to prom is a thing? Not like a, "Would you go to prom with me?" thing, but like a full-blown production with video, choreography and everything. They're called, "Promposals." Ugh.)
Now I'm just going to leave this right here. Now excuse me while I go get a tissue.

Proposal from Adam Rosenbaum on Vimeo.
Link via Jon Farmer
---
Kevin Whipps is a writer and editor based in Phoenix, Arizona. When he's not working on one of the many projects in his queue, he's looking for fun and irreverent things online to share with his friends.
Getting started with hand lettering?
Free lettering worksheets
Download these worksheets and start practicing with simple instructions and tracing exercises.
Download now!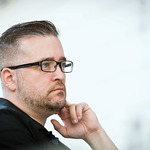 Kevin Whipps
Hi! My name is Kevin Whipps, and I'm a writer and editor based in Phoenix, Arizona. When I'm not working taking pictures of old cars and trucks, I'm either writing articles for Creative Market or hawking stickers at Whipps Sticker Co.
View More Posts