How Icojam Increased Sales by Over 600%
As Creative Market continues to grow, more and more shop success stories have started to reveal themselves. Previously we've shared How a Student Made $15,000 in His Spare Time, and today we're excited to share another success story with you. These past few months we've noticed one shop in particular has shot up our sales charts at an amazing rate. That shop is Icojam and over the summer they increased their sales by over 600%, becoming one of our top selling icon shops in the marketplace!
What specifically caught our attention about Icojam is they have consistently been showing up as one of our top traffic referrers for Creative Market. They've been doing a great job of utilizing their existing brand and website to grow their presence on Creative Market, and we have to admit, it's been pretty cool to watch. We decided to chat with two-man team behind Icojam and get a little insight into their process. Without further adieu, meet Icojam, one of the fastest growing shops on Creative Market.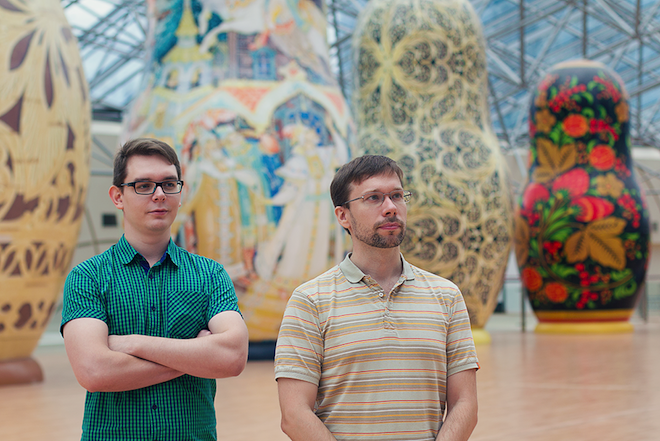 Congratulations on being our fastest growing shop in the marketplace! How does it feel to see growth like that over the past few months?
Thank you! It is really great to be a part of Creative Market and it sure feels great to see our efforts are rewarded. In our experience Creative Market is the best selling and most convenient marketplace.
We see a lot of traffic coming to Creative Market from your website. Do you think it's important for designers to have their own website in addition to the usual Twitter/Facebook/Dribbble combination?
Yes, it's important to have your own website. It takes a lof of time, but it's your official communication channel, which helps to show all your content in one place.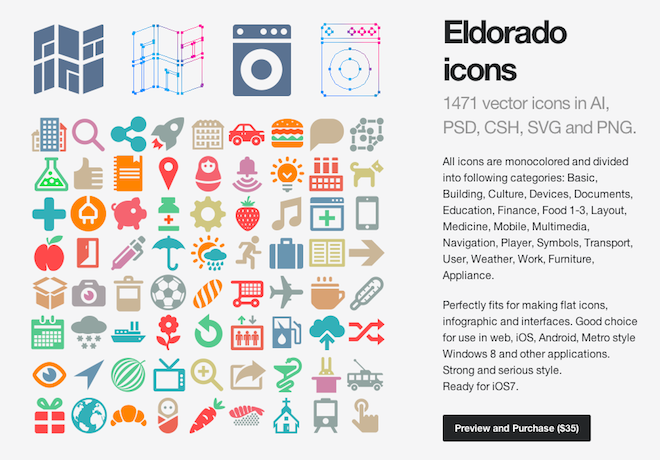 What's your secret sauce? What tactics are you using to send traffic to your shop and products?
We were one of the first who started to create glyphs. So when the vector trend came we already had a big amount of icons and affordable prices.
It's also really important to help the design community and share some of your work for free. Since our start, we always posted some freebies in our blog and Dribbble. Eventually you will be thanked for that with many reposts and retweets spreading the word. Sharing is caring.
When people see our free content on our blog they also see our premium content available for purchase, which is linked to our product pages on Creative Market. We used to run our own shop until Creative Market showed up. So we chose to combine the traffic and possibilities of CM and our own traffic.
You've been doing this since you created Icojoy in 2006, how has the stock icon world changed in the last 7 years?
A lot of things have changed since we started to sell stock icons. First of all the styles and formats of icons. There used to be popular raster icons in such styles as Aqua, XP and Vista. Nowadays vector icons with flat, metro and iOS7 styles are more popular.
There were also a lot of individual icon shops with their websites. It's now more convenient to use the large marketplaces like Creative Market since they have more products to choose from and more traffic, but competition also increased. With competition the prices dropped which made it really affordable for a customer to buy ready high-quality stock icons instead of hiring designers and spending lots of money and time on it.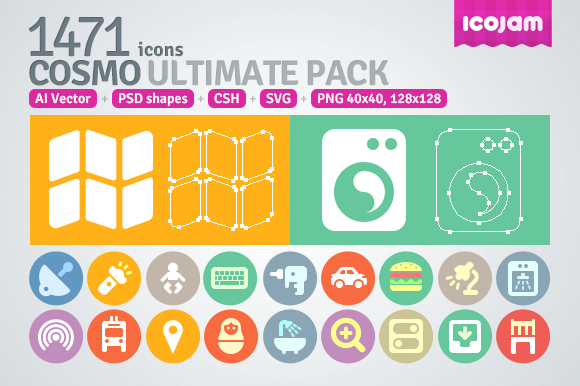 What is it specifically about creating icons that you enjoy?
We like the possibility to convey the idea in the form understandable to everyone. With every icon we want to discover the perfect image that would be read intuitively. It's a very interesting and hard task considering the differences in the perception of visual images and symbols by people from different cultures. Our highest goal is to create a big set of glyphs which could be used as a universal language. We also enjoy using our own icons in our projects like websites, UI and even games.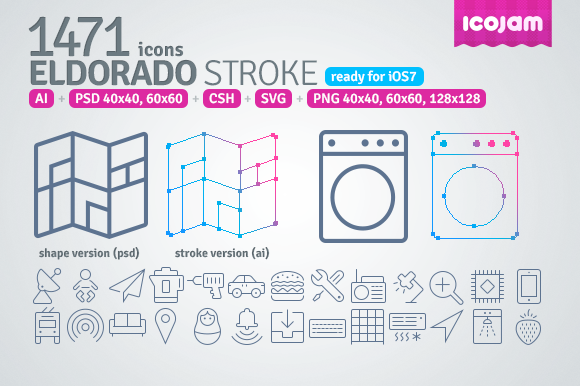 How long does it usually take you to create a new icon set and package it up for sale?
It takes several months to create new subset of icons (e.g. Eldorado Food subset). We usually update our icon sets with such subsets and watch how interesting and useful they would be for our customers.
For example, it took me (Stan) about two months to create Inverticons during that time Andy came up with new subsets update for Eldorado and Cosmo icon sets. And it took us both 10 jars of jam. ☺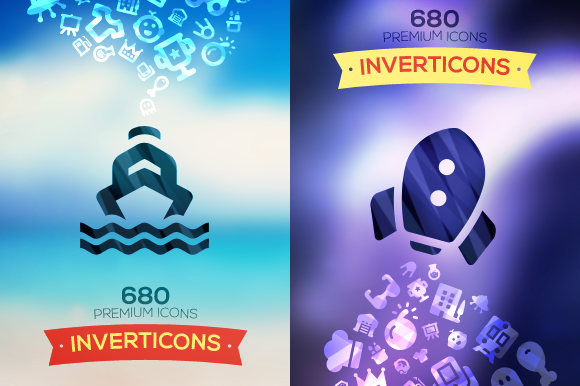 With as many icons as there are out there, how do you make your icons in particular stand out? Do you have a special formula for your product presentation?
We are trying to create universal icons in different variations. For example, what's better – icon with soft round corners or strict sharp edges, filled or stroked? So, with that dialectical approach we get complementary sets like Eldorado-Cosmo and Inverticons. They are simple and everyone can style them for their product.
Where do you look to for inspiration?
In cultures of different countries, philosophy, design trends and chocolate.
Do you have any advice for designers interested in making their own icons?
Team up with talented designers you can trust – it's easier to achieve goals when you are not alone.
Watch for trends and follow them.
Do what will ease your and other people's work. In the end it will make the world better.
Be patient. Good things come to those who can wait.
What's next for Icojam?
More sweets to come (mostly icons). We have some ideas for new non-icon products in future. Follow us on Dribbble, Twitter, and Facebook.
Flat or skeuomorphic?
We like simplicity and clarity. Sometimes it can be achieved using flat and sometimes using skeumorphic.
---
Thanks so much Stan and Andy for taking the time to answer our questions! Don't forget to check out all of the great items in their shop, and please feel free to ask any other questions in the comments.
Getting started with hand lettering?
Free lettering worksheets
Download these worksheets and start practicing with simple instructions and tracing exercises.
Download now!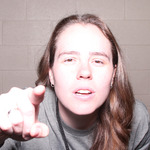 Lesley Yarbrough
Tinkerer. Maker of quirky fonts with a sprouty disposition.
View More Posts