How Scott Biersack Designed an Awesome Girl Skate Co. Deck
You know the old story right? You're going through your Twitter feed, you see an inspiring design that pulls you over to Dribbble, and before you know it, you've spent an hour stalking the work of an awesome designer. We know you've been there. This happened to us a few weeks back when Rob Brink sent out a tweet about Scott Biersack's Girl Skate Co. design. We jumped over to Dribbble and spent way too much time drooling over Scott's work (his lettering is where it's at!). We knew then and there that we had to learn more about this guy, and rather than be selfish and keep his story to ourselves, we wanted to share it with you. So, get ready to get lost in the sea of awesomeness that is Scott, his story, and his work!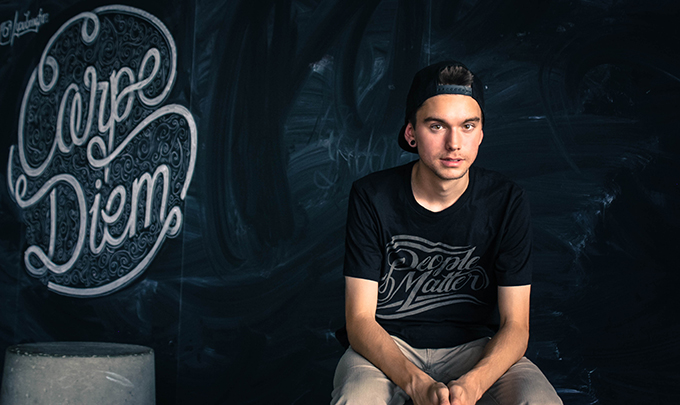 Hey there! Can you tell our community a little bit about yourself?
My name is Scott Biersack, I'm a letterer, illustrator & designer. I'm currently located in forever sunny, Phoenix, AZ, but after graduation I have plans to move to NYC and pursue my passion in type design at the Cooper Union. For most clients, I create custom typography for advertising, social media usage, logos, and tons of other things – whatever the client wants, really!
What kind of "creative" are you? What kind do you hope to be?
That's a tough one! I'm currently still a student at Arizona State University so it's hard to say what kind of "creative" I am since I'm still trying to get established. Also, it's difficult to say where I hope to be since I try to live in the present day and not look too far into the future. All I know at this point is I have a huge obsession with typography and I'm willing to do anything for a client if it allows me to fulfill my creative needs and be happy with what I'm creating. I guess you could describe me and my process with what I like to call, the 3 "P's" – Passion, Patience, and Practice. Those are the three things I like to put into my work. I wouldn't be where I am today without the 3 "P's".
How did you get where you are today?
Oh boy, that's a long long story. If you guys are curious, I have two full blog posts on my website to read all about my story and where I've come from. They're located here & here. But, long story short, I had a pretty difficult childhood around the ages of 10-19. I went through a bit of depression due to a few events in my life, and those events changed me and my mindset as a person. I've become more dedicated to myself and what I love doing: creating. Other than that, I've always had a strong work ethic. I've just been cranking stuff out because I have goals and dreams that I've set for myself, and the only way to reach those goals is to work hard.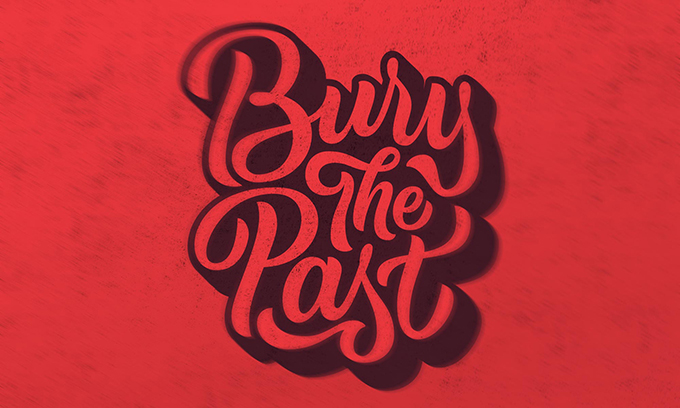 What does a typical work day look like for you?
For me, a typical day consists of getting up at 6am, riding my bike to work and cranking out loads of advertising work for about 6 hours before I then head over to school. I currently work part-time at Zion & Zion, an advertising agency here in Tempe, Arizona. I work from 7am-1pm, then head to class from 1pm-5pm, and after all that, begin homework and freelance work. As you can tell, my schedule is insanely busy. Time-management is key, and again, hard work and a positive mindset make the days much easier. Sometimes, if I'm lucky, I try to squeeze in a bit of time to play some video games to release the stress.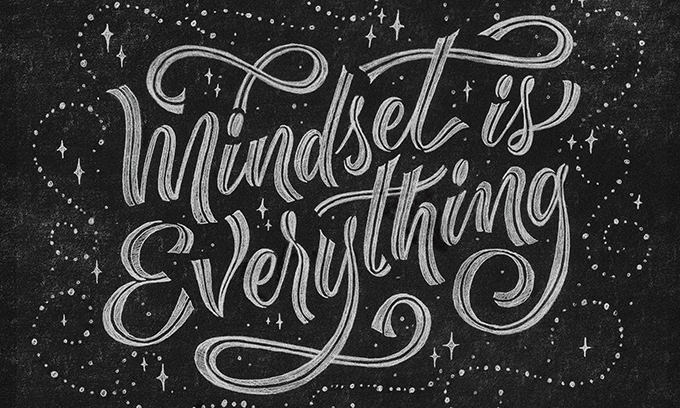 Your work with Girl Skate Co. is what led us to find you. What is Girl Skate Co.?
Girl Skateboard Company is (in my opinion) one of the greatest, most well-known skate companies in the industry. They're constantly changing the game in terms of design, video-spots, and their elite team of riders such as Sean Malto, Cory Kennedy, Mike Caroll, Rick Howard, Erik Koston and more. Girl is actually a parent company that houses and maintains Chocolate Skateboards, Royal Trucks & Fourstar Clothing. They've been around for about 20+ years now and have been dominating ever since.
What was the Girl Skate Co. project you worked on, and how did you get involved in it?
Funny story about this one! I was just scrolling through my Facebook feed and stumbled across a promoted Facebook ad from Adobe that was advertising this contest. I clicked the link and it took me to the Adobe blog post stating all the rules/contest info/etc.
I read that all you had to do to enter was share some projects on Behance and tag them with #makethis & #girl. So, I did just that. I went onto my Behance account and tagged my work. A week later, I got a call from Adobe to begin the interviewing process. From the thousands of submissions, 15 kids from around the world were interviewed, then narrowed down to 5 to progress further and work with the Girl team. Myself and 4 other rad students were selected from those final 15 to work with the Girl team on their new line of limited edition decks being released in the Spring.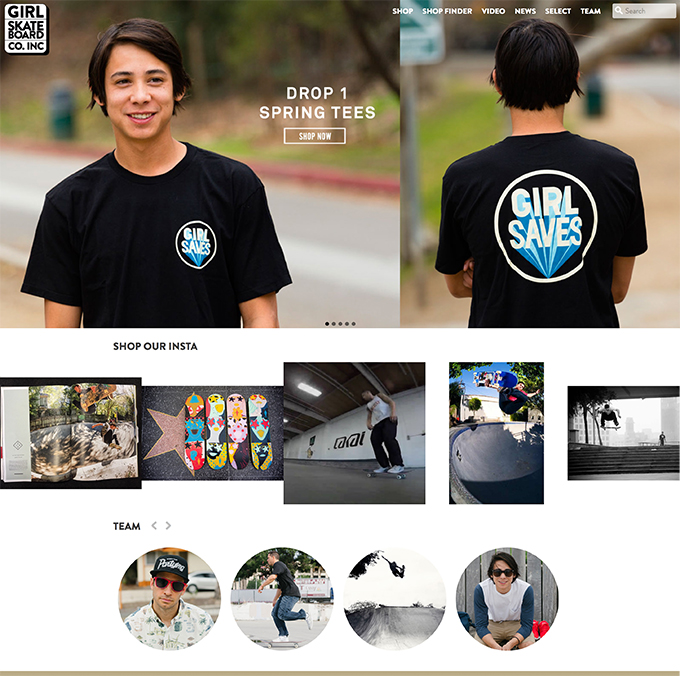 Then, from those five students, two were asked to come to the Girl HQ in LA. Another student, Caleb Morris and I were asked to come hang at the Girl HQ for a couple days to film, meet the team, and basically have the time of our lives to be honest. More info about the project can be viewed here.
This project is clearly something that was special to you. Is there a story behind that?
Ever since I was a kid, I've been interested in skateboarding. I actually didn't start riding until Middle School but when I did, I was riding a Girl deck. I had won the deck and other products in a contest from CCS. Ever since I won that Girl deck, I rode/wore exclusively Girl products. Girl Skateboards and Plan B Skateboards for that matter, are two of the most inspirational teams of riders I've ever seen. All of their video spots and the stories of the teams and where they come from are beyond words. I'm super motivated and inspired by people who follow their dreams and live their passions; the Girl team does just that.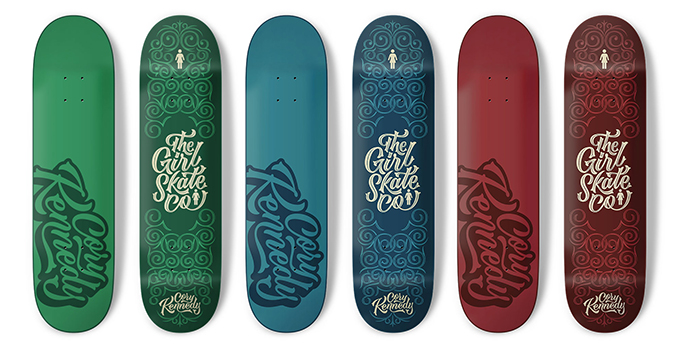 With that said, I was unbelievably grateful to work on something for Girl because they've been inspiring me for many many years. Working with a team that's changing the skate-industry is an honor.
Can you take us through your design process for this project?
Just like all my projects, it starts with a bit of research. Figuring out what's been done and what hasn't is always a must. Additionally, just understanding the brand and where it's come from is essential to any project.
So, after the research, I began sketching out different phrases on paper, and overall ideas for the deck. We had a good amount of creative freedom with the deck designs, so I thought I'd take the opportunity to utilize a massive amount of flourishing, since it's something you never really see on the bottom of a board.
I came up with multiple iterations of the flourishes and what they cohesively looked like. It's incredibly difficult to balance the amount of flourishing I wanted to create and still have it look fluid.
I knew I had to include Cory Kennedy's name and the Girl logo so I thought the best way to do that without ruining the design was to hide it within the flourishes. This brought on another challenge since the flourishing couldn't easily be mirrored. It had to be finessed and corrected to flow around those pieces.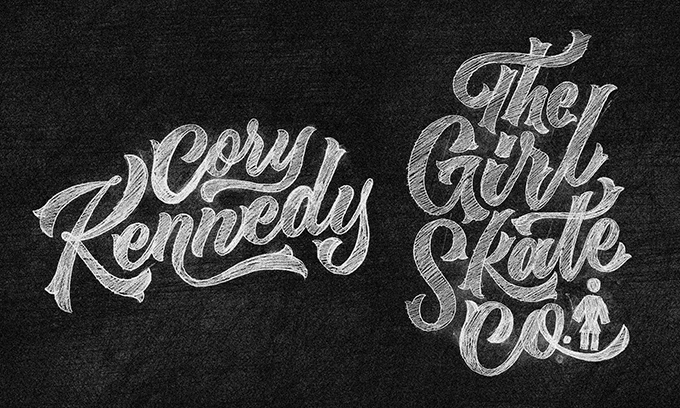 Once I had it all good to go on paper, I scanned the drawing into the computer and began recreating the entire thing in Illustrator. This is where I began my color exploration to determine what kind of color scheme would work best. I generally tend to go for a black and gold color scheme because it always looks great, but for this project, I thought I'd take the opportunity to do something different than what I would normally do.
All in all, a massive amount of time went into this project. I spent upwards of 50+ hours on it for sure. It was a ton of work, but certainly worth it in the end.
Were there any roadblocks that you hit along the way while working on the Girl Skate Co. project?
There were quite a few, like any project really. But, specifically for this project, it was rather difficult to balance the flourishing near the bottom of the board surrounding Cory Kennedy's name. It couldn't be easily mirrored like the top portion of the board. I had to go back and forth with all sorts of flourishing shapes to find the right composition.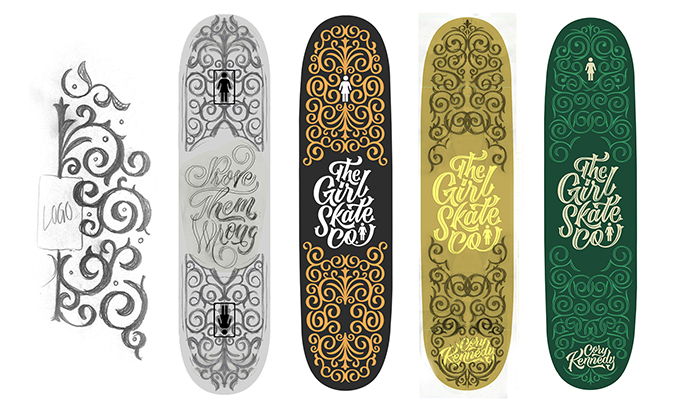 Other than that, I had trouble deciding what the type in the center of the board should say. I initially had the idea for it to say "Prove Them Wrong". It's a phrase I like to use and reuse over and over because it has value to me and my work. For the longest time, there have been multiple people trying to steer me and my work in a different direction for things such as money, ability, etc. I've been told so many times not to be a "designer" because "there's no money in design". Well, that's why I love the phrase "Prove Them Wrong", it's easily the biggest motivation for me to continue to do what I love and be successful at it through hard work.
Anyway, I ended up talking to Andy Jenkins (the creative director) over at Girl about the phrase and we decided on The Girl Skate Co. for multiple reasons. The most important being that it will be more marketable to customers.
How does Creative Market typically fit into your creative work?
For me personally, Creative Market is great for finding brushes and textures for my work. If I want to add that extra touch to my projects, (assuming the project calls for it) I'll utilize some products from around Creative Market and bring some of my projects to the next level.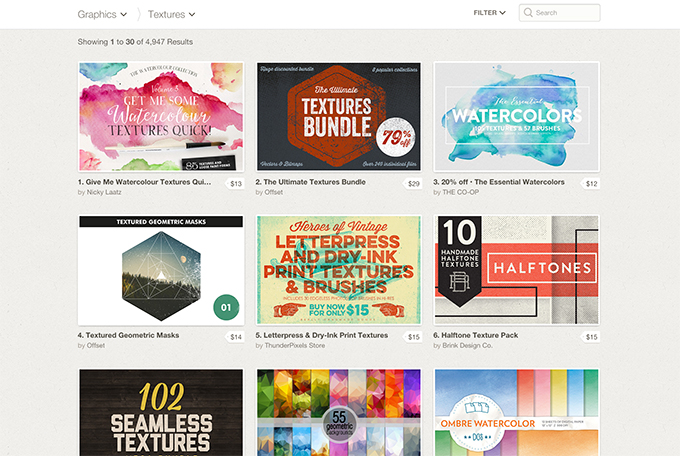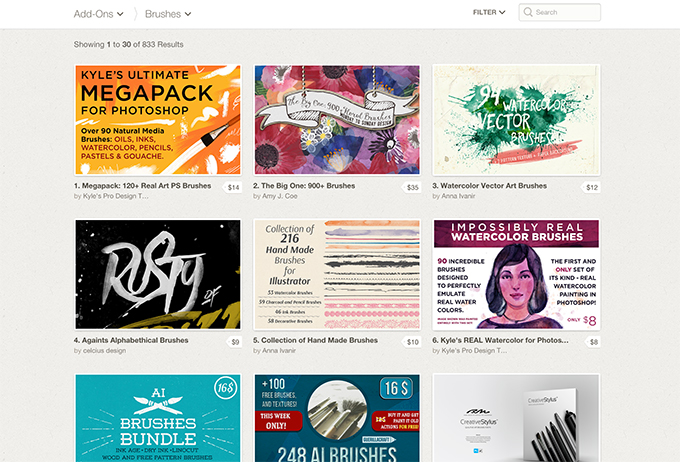 How did Creative Market fit into your process for this project?
For this Girl Skate Co. project, my buddy Rob Brink provided me with his glorious Vector Brush Pack. I utilized these brushes for the inline styling of my letterforms and flourishes throughout the board. It was perfect for the look and feel I was going for – rough and edgy.
Also, the fact that they were vector and could be easily utilized for stroke styling was beyond simple. Loved everything about the product he created and that I got to put it to use on this deck!
Do you have any advice for other professional creatives in relation to design assets?
In relation to design assets, if you're using textures, or nearly anything for that matter, that came from someone else and you use it in your work, give credit where credit is due. Those textures/brushes/mockups/icons/etc. were designed by someone else so give credit to the designers who took the time to create those valuable resources.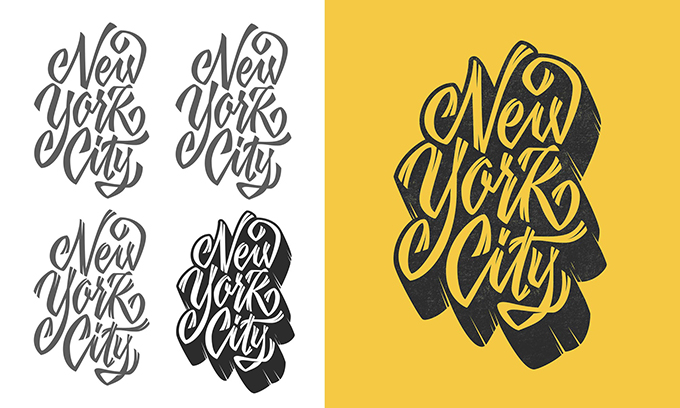 Do you have any interesting projects coming up?
As of right now, I've got more work lined up with Adobe thanks to the Girl project and I've got quite a few tutorials in the works as well. Other than that, I'm just trying to finish up my school projects and my thesis so I can graduate in May!
How can folks in our community continue following your work?
I've got all sorts of social media for them to follow along with!
Getting started with hand lettering?
Free lettering worksheets
Download these worksheets and start practicing with simple instructions and tracing exercises.
Download now!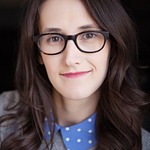 Kelley Johnson
I'm an ex-schoolmarm who is excited about all things creative. Photography makes me smile and when I find a new-to-me dress that fits just right, it makes my day.
View More Posts