Today, ladies and gentlemen, you have the pleasure of being introduced to one of the newest members of the Creative Market Team. Let's all welcome Sébastien Armand, or, Seb, as he prefers. Our developer team has been growing, and we're ecstatic to have Seb on board. Not only is he a wiz with bits and pixels, Seb is also a world traveler, a lover of fine foods and wines, and, in some ways, a man of many words. We'll let him take it from here.
Tell us a little bit about yourself and what you do for Creative Market.
During university, I took a gap year and spent part of my time in China. I was there working on an operating system for mobile phones. During my final internship, I returned to China to set up ERP and maintenance management systems for a district heating company that was operating in cities where the winter temperatures reach -50°C.
You may have noticed I said °C and not Fahrenheit. Hey, the French invented (or at least were the first to introduce) the metric system, and I am French myself.
I headed back to Beijing again for my first job, building an internal sales system for a big outdoor advertising company. I spent two years there, working primarily in Chinese. During that time, I also had the opportunity to spend a month in India for work, as well as travel to Thailand, Japan, New Zealand, and dozens of places within China.
After that, I started working on my own company in China. Most importantly, this was also the time in which I fell in love, became a father, wrote a book, and had lots of fun.
Here at Creative Market, I'll be herding bits and pixels. I'll spend my days writing complex programs to ensure the right pixel shows up in the right place and at the right time on your screen. Millions and millions of bits and pixels!
What were you doing before you joined the team and how did you and Creative Market "find each other"?
Before joining the Creative Market team, I was in Beijing, China working for CRM Factory. This was actually way more fun than it sounds. I was building websites and apps for car makers, in order to help their employees sell and repair cars.
After my wife and I had our daughter last year, we knew we didn't want to stay in one of the world's most polluted cities. It was time to move. If I remember correctly, I first learned about Creative Market through a job post on Github. I got the news that I would be joining the team about a week after my daughter's birth.
When not at work, what do you do for fun?
I cook a lot. I also enjoy spending long afternoons in the park with friends, bread, cheese, and wine. I play golf. And whenever I get the opportunity, I'd like to start snowboarding again.
As a Frenchman, I also enjoy spending my free time complaining and going on strikes! Obviously!
Do you have any go-to music when you're working?
In the last few months, while at work I've been listening to Bach, Brahms, Pharrell Williams, Iron Maiden, Led Zeppelin, some electro and Chinese pop… I guess the answer is, "Yes", but it changes every week!
Have you seen any products here on the site that you especially like?
This made me laugh the other day! I also enjoy most of the photos in the food and drink category.
What inspires you creatively?
Words and languages are always a great way to get inspired. This is especially true in the confusion that comes from mixing languages, words, and meanings. I haven't been a math geek for a long time, but playing with numbers has also always been a great way to stretch and exercise my mind.
Of course, I always find creativity and inspiration in sharing a good bottle of wine!
Any parting words of wisdom?
Go live somewhere different. Meet people you don't understand, learn to be confused, and open yourself.
Getting started with hand lettering?
Free lettering worksheets
Download these worksheets and start practicing with simple instructions and tracing exercises.
Download now!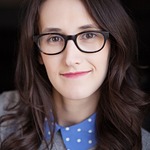 Kelley Johnson
I'm an ex-schoolmarm who is excited about all things creative. Photography makes me smile and when I find a new-to-me dress that fits just right, it makes my day.
View More Posts