Pro Tips for Naming Your Creative Market Products
You've done it. You've poured over every pixel, perfected every detail, and created the perfect item to put up for sale on Creative Market. There's only one thing left to do: name it. But how? What are the best strategies for naming your products? We put the question out to our shop owners and received some very insightful answers. You can read the full conversation in our Discussions area, but here are some of our favorite quotes. I always look for the SEO factor and name my products in a way that will drive traffic via search engines. I will also use Google Keyword Planner to see which keywords and phrases have the highest monthly search volume.

When I'm naming a product, I always do a quick search on Google to see the amount of results. I also think it is very important to add in the kind of promotion or bonus you are giving, because this always attracts the consumer to give a click on your product.

I haven't been very consistent in how I name my products, but for some of them (the more successful ones, actually) my strategy includes the following:
Branding the product, giving it a short, catchy and unique name, or making it part of a branded series. An example of this is my "Frame Shoppe" series, which was fairly successful. Another one is "The Brush Studio," which has been my most successful product to date (although the success was likely not due to the name, but a combination of factors.) My hope is that a short, catchy title will be memorable and stick in the minds of potential customers.
Creative, appealing word choice. I find that words like "Studio," "Kit," "Collection," and "Shoppe" seem to appeal to people (or maybe they just appeal to me.) Here are my opinions and perceptions: The word "Collection" is my favorite, and implies a curated series of high-quality items. The word "Kit" implies an all-inclusive, everything-you-need sort of product. I've used "Shoppe" to evoke a charming, old-fashioned, well-made feel in an organized presentation. "Studio" is another word I like because it implies the product is handcrafted with quality, and can help the buyer- the artist- make designs that look artisanal or handmade as well.

Figuring out a solid name to give a product can always be a tough task, especially if what you're doing is a bit abstract, so lately I've been focusing on names that have good branding and clearly state what the product does. In the past, I've used buzzwords that seemed to be popular at the time to get some additional SEO juice or in-store search traffic, but in the future I'm going to be focusing on building brands within my products to give users the best idea of what to expect when they purchase it. For example, any product of mine that has "automator" in the title, I try to make extremely easy to use and quick to create with. I'm hoping to create several different series of items that can each have its own unique flavor and use scenario that will be easily defined by the naming structure of the product itself. I do think keeping words in mind that will rank highly in organic search is very important, but I believe helping the user out as much as possible at first glance is more important overall to the product's success.

I try to find a product name that is original, and not already being used. I also try to find a name that my customers can identify with. After I finally determine a name, I ask myself a few questions before committing, like:
Does the name reflect and represent this product well?
Is it easy to remember?
Is it original?
Does the name grab my attention?
Does the name describe the type of product?
Is it spelled correctly?
Am I satisfied with the name?
If I answer 'yes' to all those questions, then I commit to that name. If I'm uncertain, then I consider changing the name or parts of the name, or sometimes I may ask for some feedback from others. If the name just seems to be unfitting, I brainstorm and start over. Naming a product is fun, much like putting icing on a cake. Enjoy the process, I hope my unconventional method was helpful!

I have a range of products, and each type calls for a different naming method. Usually, I try to be clear and let the title be descriptive yet to-the-point. However, naming my fonts is much more intuitive: I stare at it long and hard, and just try to let it reveal its personality. I also try to make sure that the font's name itself also shows off the font's prettiest characters.
How Do You Name Your Products?
A huge thanks goes out to all of the shop owners who took the time to reply to our question. It's obvious that naming your products is a tricky mix of art and science. Leave a comment below and tell us your thoughts. How do you choose a name for your products?
Getting started with hand lettering?
Free lettering worksheets
Download these worksheets and start practicing with simple instructions and tracing exercises.
Download now!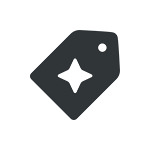 Creative Market