How to Create a Winning Resume
Your resume plays a large role in landing yourself a new job and will often be the first impression you give a potential employer. Design, content, curation and delivery all play a role in getting your foot into that door, yet they are often over looked. Simply said: make it stand out, but don't be gimmicky; unless the shoe fits.
Components
It won't really matter that you have the nicest resume ever designed if you neglect to put your contact information on it. Some elements are more important than others, so pick and choose what makes sense for the job you're applying for, but don't neglect the basics. The must haves:
Contact Information – tell them where they can reach you, and make it the most likely place you will answer.
Education – it can vary whether you need to make your education shine on your CV, but unless it detracts from the over all image you want to create, try and include it.
Experience – don't have any in the particular field you are applying for, like a waitress who's never waited. Then showcase skills that can easily translate into the the requirements.
Skills – make these relevant to the position you are applying to.
Numbers – give specific examples of your career highlights in a numeric value. For example: worked for 14 months with a team of 5 co-workers; or, managed 3 designers and 4 developers balancing 7 projects.
Design: It Absolutely Matters
Design will always leave an impression, good or bad, profound or subtle. How an item is presented and all the ways it engages the senses will absolutely factor into how something is received; a resume is no exception. Getting into the design side of your resume does not always mean making it the most visual or most flashy. Instead, consider the design aspect as the chance to craft an experience. Let the design compliment the content, not be the dominate feature. I often consider the role of design like the role of a ninja. Both need to be subtle in their presence, work hard at their craft, and be effective when needed. Design your curriculum vitae for the situation, don't try and catch them all with one layout. A cover letter and resume should probably not look the same for lawyers, investment bankers, architects, graphic designers, photographers, wedding planners, sanitation officers, and pilots. Find what is suitable for your industry and what you can do to set yourself apart. Templates will help take out the guess work of designing and can assist in getting your resume to the top of the stack. Make sure to still be choosy when it comes to templates, they may look great but do they apply to the industry? This Mega Bundle is a great place to start, with lots of options and support for various software.

Here are a few more that would work in various situations, they look great, function well and stand out.

Once you have designed and completed your CV on the computer, consider how you are going to print and present it. Studies show that the tactile experience is vastly under estimated, and should receive more emphasis to match how important it is to the human experience.
Delivery Method
Print your resume on paper that will stand out, but again, try and refrain from being gimmicky, which only works in isolated situations. To do this, go to a print shop, or paper store and touch everything there! Feel how the paper may impact your experience with the content it contains and determine which stock is most suitable for your situation. Secondly, choose your delivery, if you want to use an envelope then consider your options before reaching for the standard; subtle differences between your envelope and the rest of the stack can garnish you that extra edge. Lastly, if you can't design this yourself, then hire a designer and show them this article. Consider it an investment into your future.
Content: Curated and Relevant
If you are applying to become an alligator wrangler, then omit your 2 year stint as a librarian, their skills likely don't overlap and you detract from the over all objective. This is going to require you to pick and choose what experiences you include in your resume, not always an easy task since the instinct is to show everything and anything. A lean, on-point, and well-worded resume is more likely to beat out the other multipage biographies. Resumes are quickly consumed, and impressions are formulated even faster, keep your resume on task and on point.
Conclusion
Don't stifle your chances with a hastily put together CV, it may be the only reference point an employer has into your work history and personal character. To recap, include the basic content: who you are, how they can reach you, and why they would want to hire you. Then consider design, both the layout of the resume and the printed quality. Lastly, curate your content to match the job you are applying for, don't add fluff, just get to the point. Your resume should be crafted with delicate consideration, because your first impression will certainly matter, and all you need to do is get your foot in the door, then let your charm do the rest.
---
Products Seen In This Post:
---

Getting started with hand lettering?
Free lettering worksheets
Download these worksheets and start practicing with simple instructions and tracing exercises.
Download now!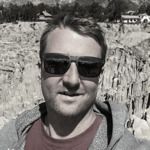 Marshall Taylor
True North Creative is fonts and designs created and cared for by Marshall Taylor. Fun to make and fun to use. Thanks for the support!
View More Posts