The most important component of your job application is your resume. Not only is a resume a chance to showcase your experience, but it's also a great way to make a good first impression and show off your brand. To design a resume that will help you land that coveted interview, check out the tips below.
1. Divide your information into columns
One of the clearest ways to present information, and ensure that employers can easily read it, is by organizing it into columns. Columns let you clearly separate things like contact information, education and skills from work and professional experience. A good example of this approach is the Resume Template + Cover Letter WORD from PAPPERMINT.
2. Create a Clear Visual Hierarchy of Information
When potential employers receive your resume, there's a chance that they won't do more than glance at it. To avoid getting overlooked, make sure that you put the most relevant and recent experiences higher up and in a more visible spot than the less important information. In doing this, you'll prevent a potential employer from missing something that could have ultimately landed you the job. One great template that organizes information well is the Resume Template 4 Pack from Refinery Resume Co.
3. Keep the fonts clean and professional
You may be tempted to express your personality by using fun or ornamental fonts. Don't. You want to use clean and easy-to-read fonts on your resume, not only so your potential employer can easily read it, but also to communicate your professionalism. This Resume & Cover Letter Template from Refinery Resume Co. does a great job of incorporating clean fonts that are easy to read.
4. Give it a nice, consistent color scheme
Similarly, it may be tempting to get creative with colors on your resume. Again, just don't. Keeping a consistent color scheme, with two, or at the most three colors that go together well lets you show a little personality without being distracting or unprofessional. The Fancy Resume & Cover Letter from Visual Impact incorporates two colors, red and off-white, but it still looks professional and put-together.
5. Make sure that your skills section is prominent
Gone are the days when things like your previous work experience or where you went to college would land you a job. Today, employers are looking for candidates with certain skills, so this is arguably the most important part of the resume. You should feature all of your skills in a legible format. One resume template that clearly defines an easy-to-understand skill section is the Minimal One Page Resume Template from WonderShop.
6. Personalize it, and invest in a professional photo
Yes, you want your resume to be professional and clean. However, you don't want it to be stale or generic. Make sure that a bit of your individuality comes through in your resume by using fonts, colors or words that speak to you. Another great way to personalize a resume is by using a photo. Invest in a professional photo that looks sleek and appropriate for a work setting. A resume template that incorporates a photo well is the Fresh CV + Cover Letter from Visual Impact.
7. Insert the logos of any prominent companies you've worked with for a quick and impressive visual read
To make a bold statement quickly, consider including the logos of well-known companies you've worked for, especially those whose logos are easily recognizable. Looking at a resume and automatically noticing a logo like Coca-Cola or Target can get the attention of employers without them reading a word. Resume – Multiple Styles from Creatiph Market provides a good layout for incorporating company logos.
8. Make Several Distinct Resumes and Test Which One Gets the Most Responses
Good resumes come in all shapes and sizes, and it can be hard to tell what resume format or design is going to resonate in your industry. Try a couple of different resume designs to see which gets the best response. Once it's clear that one resume is bringing in the most leads, stick to using that one. Consider trying out something like Minimal Resume Set in 6 Variations from PremiumCoding, which incorporates several resume designs in one package so you can easily design multiples at once.
9. Bonus Tip: Turn Your Resume Into a Website
The PDF resume is quickly being replaced by portfolio websites. Make sure you have both. Here's a good example, called iSPY, from Snoopy Industries.
If you're hoping to land a job, having a great resume is where you should start. If you're new to design, try purchasing a resume template from one of our designers at Creative Market. All you have to do is plug in your own information, and you'll have a professional-looking, aesthetically-pleasing resume in no time.
---
Products Seen In This Post:
---

Getting started with hand lettering?
Free lettering worksheets
Download these worksheets and start practicing with simple instructions and tracing exercises.
Download now!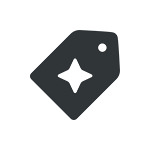 Creative Market