10 Brilliant Color Psychology Infographics
Color psychology is one of the most important components of creating designs that achieve the desired objective. Whether the goal is to sell a car, a new clothing brand, eco-friendly siding or a cup of coffee, color is one of the keys to evoke the right emotional state to create a connection. These 10 color psychology infographics provide an excellent reference to learn which colors evoke particular emotions. Take look and learn some tactics to implement in your next graphic design project:
1. True Colors: What Your Brand Colors Say About Your Business
This handy infographic from Marketo provides valuable stats about color impact in branding as well as the top uses for each color. The graphic also shares information about when to avoid using certain colors.
2. Understanding Color Psychology: Boost your Brand's Image by Using the Right Colors
Bags & Bows' infographic is loaded with compelling stats about the consumer relationship to color when shopping for products and services. For example, a stunning 85 percent of consumers report that color is the primary factor when selecting a product for purchase.
3. Color Emotion Guide
From warmth to dependability, today's brands are determined to show consumers what they're all about from first glance at their logo. From the excited red tones in the Coca-Cola, Target and Nintendo logos to the trustworthy blue of Dell, HP and Oral B, this detailed infographic shows the rainbow of current brands and logo colors from which designers can draw ideas and inspiration.
4. The Complete Guide to Color Psychology Associations of Color
Amara's infographic delves deeper into the connections people make with color as well as its influence on sports performance, pharmaceuticals and municipal buildings. It also shows the differences in color psychology as it varies with people from nations around the world.
5. The 10 Commandments of Color Theory
Designmantic's ambitious reference helps designers put color psychology principles into practice for optimal results in logo design and marketing materials. It provides plenty of color combination examples to examine and emulate.
6. Psychology of Color
Loaded with stats, color specifics and even how color vibrates within the chakras, this detailed color chart from Fast Company helps designers commit key color psychology principles to memory and use them intuitively in their designs.
7. Power Colors
This extremely detailed infographic explains each color's impact on viewers and also shows a generous number of logos both in their real color palette as well as alternatives; these alternatives allow designers to see how the impact of a logo changes as color does.
8. What Does the Colour of Your Car Say About You?
While not a graphic art infographic per se, this cool reference chart offers some insight into the psychology of why people choose the car colors they do. The information could definitely be transferred to design projects related to automobiles as well as to other buyer psychology situations.
9. Color, Value & the Evolution of Logos
This extremely detailed infographic beautifully shows how color makes the logo and brings it home. It also reveals the cost of various now-famous logos (ranging from free to $1.8 million) and how some logos have changed (or stayed the same) over the years.
10. Top Color Trends of 2014
Color psychology is also influenced by current trends in the world at large, and the folks at Shutterstock have created an infographic based upon the most popular images downloaded from their site. Green, gray and blue increased in popularity for 2014, while beige lost favor.
When designing a logo or marketing material, color is king. Use these amazing infographics as references for making the most of graphic design color choices and assisting clients in achieving their goals.
---
Products Seen In This Post:
Free lettering worksheets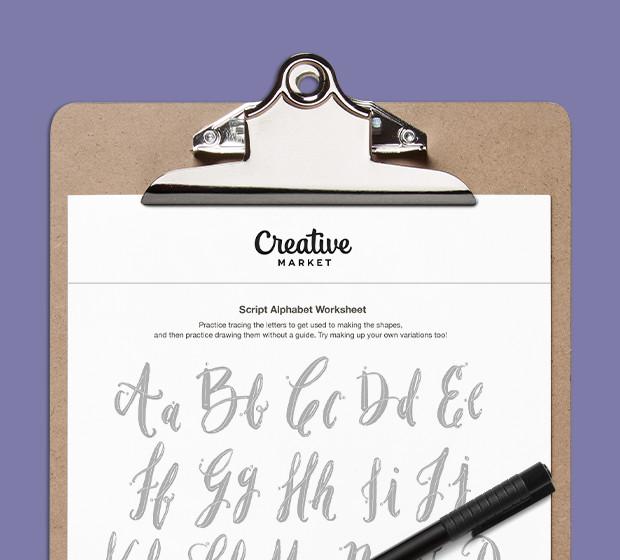 Download now!

Getting started with hand lettering?

Download these worksheets and start practicing with simple instructions and tracing exercises.
Building a platform for handcrafted, mousemade design content from independent creatives around the world. We're passionate about making beautiful design simple and accessible to everyone.
---