How to Install Your New WordPress Theme
If you've recently purchased a new WordPress theme to update the look of your website, blog, or business, congratulations, the hardest part is behind you. Now comes the easy stuff. Getting your new theme up and running on WordPress takes only a few simple steps and then you'll be on your way with your brand new look.
Step 1 - Getting Your Files
After you've purchased your theme on Creative Market, you're going to need to download the ZIP file that contains your theme and save it to your computer. The file will automatically save to your Downloads folder.
Step 2 - Navigating Your Dashboard
Once your theme files are downloaded, you want to go into your WordPress dashboard. To log in to your dashboard, go to mydomain.com/wp-admin and enter your login credentials. Once you're logged in, you'll see an admin dashboard that looks like this:
The area where you manage your themes can be found under Appearance > Themes in the left sidebar of your dashboard.
Step 3 - Uploading & Installing Your Theme
On your themes page, you'll see options at the top to "Manage" and "Install" themes. Clicking the "Install" tab reveals options to search, upload, and browse various theme options. The one you want is the "Upload" option.
When you click "Upload" you'll see an option to browse for that file you downloaded earlier. Once you've selected your ZIP file with your theme, click the "Install Now" button and WordPress will do the rest of the work for you.
(Note: A common error that people see when installing a new theme is that the theme is "missing style.css stylesheet" and cannot be installed. This simply means that you've installed the wrong ZIP file and need to go find the right one.
To find the right file, you need to extract the contents of the original ZIP file that you downloaded. To extract on a Mac, just double click and a new folder will be revealed. To extract on a Windows PC, right click the file, select the option to "Extract All," and a new folder will be revealed.
Within this new folder you'll typically see a few more files and folders, and somewhere in there is going to be another ZIP file. If you upload this new file to WordPress, it should take care of that pesky error and you can move on to Step 4.)

Step 4 - Activating Your New Theme
After you've uploaded your theme file and WordPress shows the message that the installation was successful, the last thing you need to do is "Activate" your new theme. Once activated, your website will instantly switch over to the new theme and any available theme options will appear in your dashboard.
Step 5 - Go Be Awesome
That's it! Once your theme is installed and activated in WordPress, you can start customizing it for your needs and then you can show off your new look to your site visitors.
Writer Minimal WordPress Theme
(Note: If you ever have questions about how to customize or use specific features on your new theme, our shop owners are more than happy to help. You can reach them using comments or by contacting them directly using the "Message" button on the right of their shop page.)
If you're still on the hunt for just the right look for your website, maybe some of these great themes can help you get started:
Other great resources:
WordPress Codex
wpbeginner
Simple Steps to Beautify Your Blog
Free lettering worksheets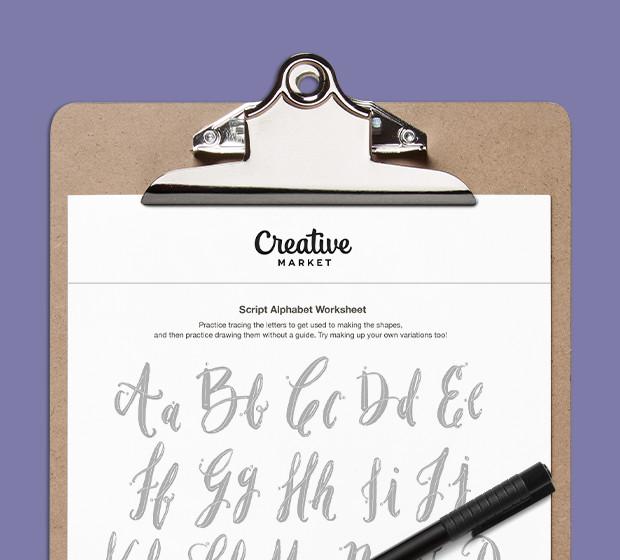 Download now!

Getting started with hand lettering?

Download these worksheets and start practicing with simple instructions and tracing exercises.
Download 6 Products for Free
Tinkerer. Maker of quirky fonts with a sprouty disposition.
---