How to Launch an Online Shop With WordPress
it's free. Next, we'll give you a step by step guide to getting up and running:
1. Choose a WooCommerce Theme
Call us biased, but we think the themes available here at Creative Market are a pretty good place to start. Choose something that looks professional and offers a clear and inviting user experience. There's no shortage of free WooCommerce themes out there, of course. But it's highly recommended you dole out the cash for something premium. This way, you'll keep up to date with any security patches released by WordPress, and you'll also have more chance of getting support from the theme's maker if things go awry.
Shirtbox by Tokokoo is a great theme to launch your own apparel shop.
The Sprinkle theme is an ideal option for stationery shops.
SW Papa is a flexible WordPress theme that can work for various kinds of industries
2. Install WooCommerce
Once you've chosen a theme, it's time to start installing WooCommerce. This is done in much the same way as you would within any other WordPress plugin. You can either upload the files directly into your theme's 'Plugins' folder via FTP. Or search for the plugin via the WordPress dashboard. The latter is probably easier. Within your dashboard, go to Plugins > Add New and then browse for WooCommerce. Click the Install Now option, and then Activate Plugin once complete. If all has gone smoothly, by this stage you should see a 'Welcome to WooCommerce' message, and a WooCommerce section will be now visible in the left-hand menu of your dashboard.
3. Configure WooCommerce
Now that you've got WooCommerce installed, it's time to start tweaking it to your liking. WooCommerce allows for almost unlimited customization, depending on how complex or simple you want your online shop to be. In the WooCommerce Settings section of your dashboard, you'll see options for configuring your products, your tax, your checkout options, shipping, user accounts, emails and more. Spend a bit of time going through each tab and filling in the details to match your online store and the products you sell.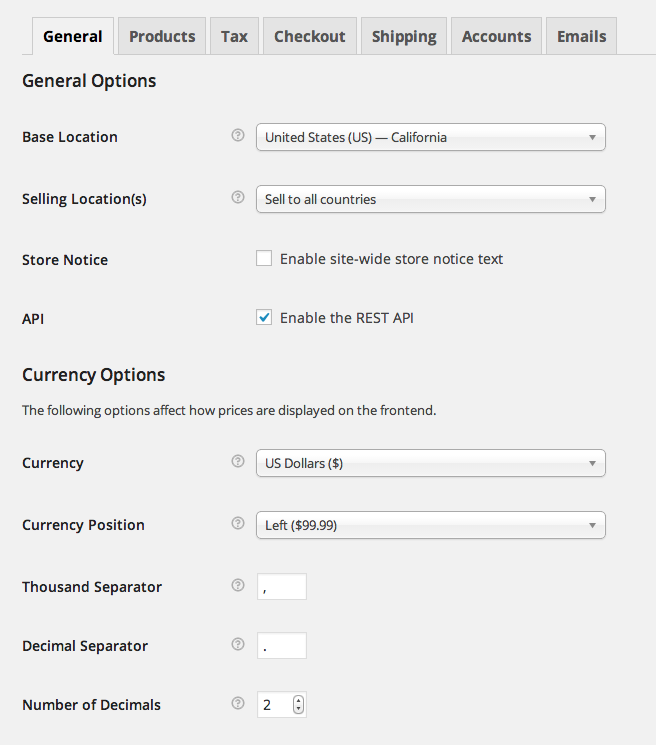 WooCommerce settings. Image via WordPress.org. This is one of the most important parts of the process, as you'll find yourself asking a number of questions. Like, in what currency do I want people to purchase items? How much tax do I want to charge? If it's a physical product being sold, what shipping options will I offer my customers? And so on. If you get overwhelmed by all the options, remember to keep it simple. It's best to start with a basic online offering and expand from there.
4. Add Your Products
Next, it's time to add your products. Fortunately, adding new products to your online store is a lot like adding a new blog post. So if you're an expert blogger, you've got a head start here. To add your first product, start by entering a name and a description. From there you can add product images, shipping requirements, and specify whether the product will be offered in multiple colors or sizes. You can also add product categories and tags, much like you would with a blog post.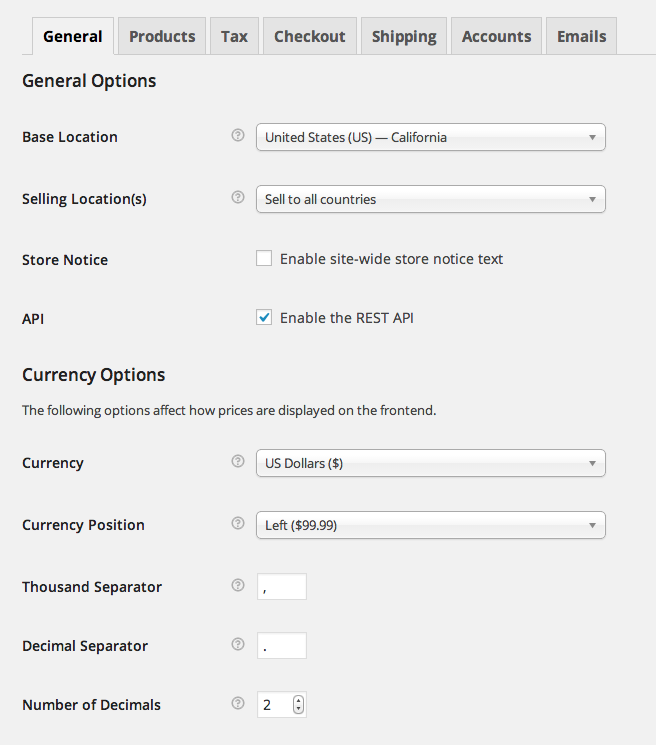 WooCommerce products. Image via WordPress.org.
5. Launch and Optimize
Once you've got a few products on those virtual shelves, it's time to launch your store and watch how it performs. Push the URL out to your Facebook fans or your Instagram followers and give it a few weeks to see how it performs. Once you've given a bit of time, WooCommerce offers a range of reporting options that can be found in the WooCommerce > Reports menu. From here you'll get a feel for which products of yours are selling well, and which aren't selling at all. Reports can also break your shop's performance down by category, week, price or almost any other aspect you can think of. Use the information to your advantage and optimize your online store however you see fit.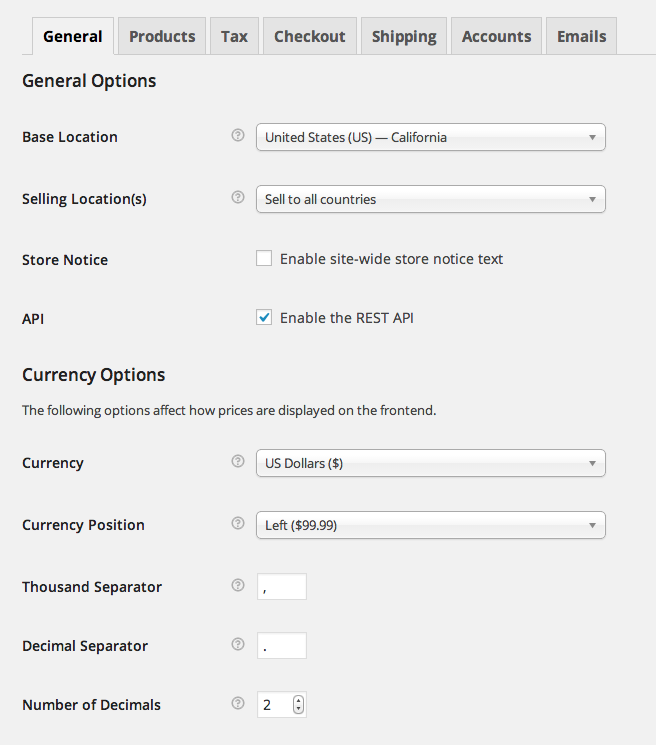 WooCommerce reports. Image via WordPress.org.
Any WooCommerce tips you'd like to share?
So there you have it. A brief, step by step guide to getting an online store up and running using WooCommerce. Of course, the topic of e-commerce is a vast one, and can't be covered in just one article. So be sure to keep reading and researching to ensure your online store performs as well as possible. Thanks to WooThemes for providing a lot of useful information that helped in the writing of this guide. Do you have an online store you'd like to share? Or a WooCommerce tip? Let us know in the comments below.
---
Products Seen In This Post:
---

Getting started with hand lettering?
Free lettering worksheets
Download these worksheets and start practicing with simple instructions and tracing exercises.
Download now!
These days, it takes next-to-no knowledge to start an online store. Thanks to the advent of platforms like WordPress and WooCommerce, it's never been easier to open an online shop. So selling your wares digitally is no longer solely the domain of big players like Amazon and Apple. To help you get started, we've prepared a short guide to launching an online shop using nothing but your laptop and a little hard work. Enjoy, and let us know in the comments how you fare. Like most things WordPress, there's a vast array of plugins available for you if you decide you want to build an online shop. But for this tutorial, we'll be focusing on one of the more well known and robust options – WooCommerce. WooCommerce by WooThemes has proven so sought-after that it was bought out by the WordPress platform itself. WooCommerce offers a number of features, the most popular including simple one page checkouts, multiple payment gateways and extensive reporting options. Oh, and