How to Showcase Your Work and Get Noticed
Have you ever wondered why some designers are so successful? Certain designers are incredibly skilled at showcasing their work and skills through channels like online portfolios and blogs, making them stand out from the crowd. If you want to gain recognition for your work and build a larger client base, you need to do an excellent job of branding yourself and your business.
Check out these simple tips to help you get your creations and work noticed:
Connect with Design Blogs
Many design blogs have a large audience who avidly share, re-tweet, and post about  articles they find interesting. If you can tap into the community of a design blog you will gain a larger fan base and potential clients. The key is finding a variety of design blogs that match your creative style and connecting with them through a variety of channels in the hopes that they will showcase your work.
Use Twitter: Bloggers frequently tweet about their favorite designers, and post their articles on Twitter. Make sure you have a twitter account, and that you regularly post images of your designs and creations. Use sites like WeFollow to find influencers in the design community and design bloggers to interact with on Twitter. Once you've found influential people in your sphere tweet them pictures of your work and include links to your online portfolio and profiles.
Offer to Guest Post: One thing that will make you stand out from the crowd is offering to guest post for their site in exchange for featuring your work. For example, you could write a tutorial for something cool in Photoshop and share it with their audience.
Be Personal: Write a personal email to each blog that showcases how your work will connect with their audience. You don't want to get called out for sending an impersonal email that just looks like you've copied and pasted a million different times. People will think you're spamming them and won't see the value of your work.
Follow Submission Guidelines: Every website has specific guidelines for submitting your work to be featured. Make sure you read and follow the guidelines accurately, because this makes it easier for blogs to feature your work.
Check out some of these design blogs: Toxel , SoBadSoGood, SixRevisions, Smashing Magazine, United PixelWorkers, DesignWorkLife, CreativeBloq, Design Sponge, Pokkisam, Pondly, and Demilked.
Create an Awesome Online Portfolio
Dunked is a fabulous website that allows anyone to create an online portfolio that is completely unique and tailored to suit your needs. You can get your online portfolio up and running in minutes with Dunked's free and easy to use service.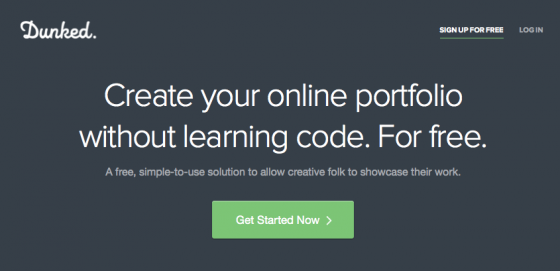 Having an online portfolio is the best way to showcase your work to the design community. You can point people to your Dunked online portfolio that features responsive design, so it will look great no matter which device they are using. All you have to do is sign up to get started, and you can save time and hassle because you don't need any coding skills to create a stunning and beautifully designed portfolio to showcase your work. Once you've signed up, Dunked walks you through the set up of your portfolio, where all you have to do is select certain elements that you customize to your specific style – there's even advanced CSS editing.
Check out some of these awesome portfolios to see how you can showcase your work:
Be a Specialist
Do one thing really really well. When you can do a certain design task, like WordPress theme development, really well you can become well-known in that sphere. By focusing on a specific set of skills you'll develop a reputation for being a specialist in that area. When a client comes looking for the specific skill you offer, you'll have more credibility than a person who isn't known in that industry. You can choose to specifically focus on a certain type of project like WordPress themes or you can focus on something larger like building brand identities for companies. Either way, make sure you have a specific vision and brand that showcases who you are and what you do in a clear concise manner so people understand the skills you bring to the table.
Offer Freebies
Do you create cool icon packs or have a new font you just created? If so, why not consider offering something for free as an incentive to check out your work. If people really like it, they may come back for any other goods you're selling or for your design services. You could even offer a free service that is something basic and deals with design. Be creative, offer a free business card design with certain services. You'll see the customers pouring in!
Getting started with hand lettering?
Free lettering worksheets
Download these worksheets and start practicing with simple instructions and tracing exercises.
Download now!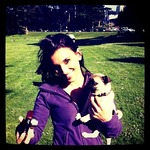 Maryam Taheri
I'm a recent graduate of the University of San Francisco with a degree in Biology and a passion for the creative arts. I love building websites, trying new things, and I have a passion for social media.
View More Posts