How-to Sketchnote: An Interview with Mike Rohde
Over the past few months, we've posted Sketchnotes on our blog from HOW Design Conference and Circles Conference, so we thought that we'd grab some time with the leading guy who's helping teach others how to Sketchnote: our friend, Mike Rohde.
Before we dive into some questions, we're delighted to share that Mike just opened his Rohdesign Studios Shop on Creative Market, where he sells his awesome Sketchnote Typeface, which includes Regular, Bold, Italic, and Square + Dingbats fonts.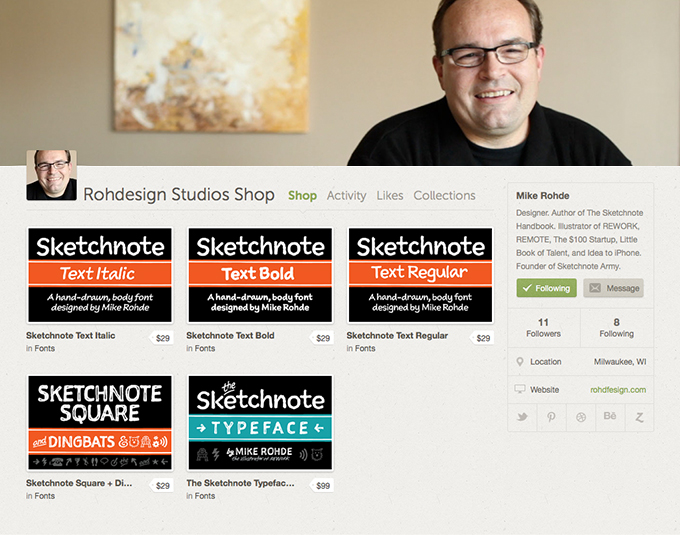 How did you get your start doing Sketchnotes?
Longer than I had initially realized! When I was charged with writing an introduction for The Sketchnote Handbook, I realized I'd done sketchnoting when I was in grade school, all the way through college. I just didn't have a name for it.
I lost sketchnoting when I became a professional designer. Because I was enamored with laptops, mobile devices and software, I began taking most of my notes in the computer and when I captured written notes, they were all text in extreme detail. Not very graphic at all.
It got to the point where I was using a pencil, so I could fix errors, in giant lined paper notebooks. I captured everything, hoping that at some magical future time I would analyze my detailed notes. In reality, I never reviewed those notes and never drew analysis from them as I'd hoped.
That was the end of 2006. In early 2007 I shifted my thinking because note-taking had become such a burden. I set limitations on myself as a way to break out of this note-taking rut — which meant turning to a small Moleskine pocket notebook and a gel pen.
By using a small notebook, I was limited physically by the space I had available — 80 pages at 3.5″ x 5.5″. In choosing a gel pen, I was forced to become more deliberate about what I captured onto fewer, smaller pages. This set of limitations led to the process of analyzing what I was hearing on the fly, instead of pushing that task off to some time in the future — which I knew from experience, would never happen.
Because I was analyzing live and in the moment, I was freed from having to capture every last detail like a stenographer. This opened up a new opportunity to add visual elements to my notes: drawings, hand-lettered typography and icons.
Sketchnoting was born, and I had a blast taking notes again. I shared my sketchnotes on Flickr and they were noticed and opportunities came to create them for various events, and it eventually led to a book contract for The Sketchnote Handbook.
Do you practice drawing outside of Sketchnoting to learn to draw new imagery or lettering styles? How have your client projects (such as illustrating the REWORK book) influenced your Sketchnote style and techniques too?
I practice drawing on a daily basis, as a UX/UI designer and illustrator. I'm constantly using pencil to sketch concepts and solve client challenges for websites, web apps, mobile apps and illustrations for books, etc.
Actually, this is the root of sketchnoting — ever since I became a professional designer, I've used sketching as part of my process for design solutions. I've drawn all my life, and this was reinforced as I trained to be a designer in college.
My style has evolved over the years. The work is still coming from deep inside of me and my experiences. I've added different ways of looking at the same challenges as I've worked on all sorts of projects. Every day is a chance to learn something new and expand my library of skills and techniques.
As for lettering — that's been a love of mine for many years. In college I became very good at it, and as a professional, being able to quickly sketch out typefaces has been incredibly valuable. Because of this I am also a student of typography and enjoy identifying and recreating many different typefaces in sketch form.
You've been running the site SketchnoteArmy.com for a while now. What do you love about building a community of Sketchnote artists, and in what ways have you seen this growing community support new Sketchnote artists starting out?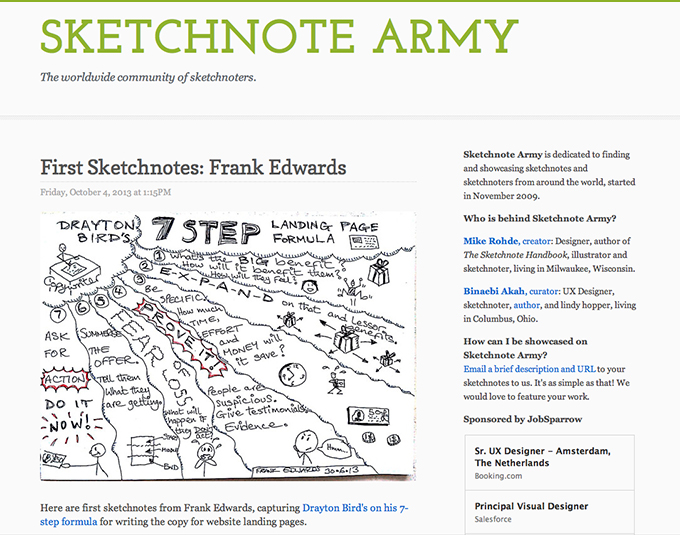 I started Sketchnote Army in December of 2009, because it seemed like more and more people were sketchnoting and there really wasn't a place to go see the latest work in one place. Of course you could see some on Twitter, some on Flickr and some on personal sites — but it was a lot of work to find sketchnotes.
Because I wanted to encourage a community of others doing sketchnote work, it seemed natural to start a site where the work of others could be featured regularly, showing sketchnotes from all over the world. I also loved the idea of setting a "Sketchnote Army" loose at events, providing the site's readers with multiple sketchnote perspectives from multiple people.
I get excited when I see replies from people featured on the site. When they say it makes their day — that's really great. Some of the exposure has also led to a few sketchnoters getting gigs, which I love!
At what moment did you become inspired to write your book, The Sketchnote Handbook? And, how long and challenging was the process of drawing the entire book?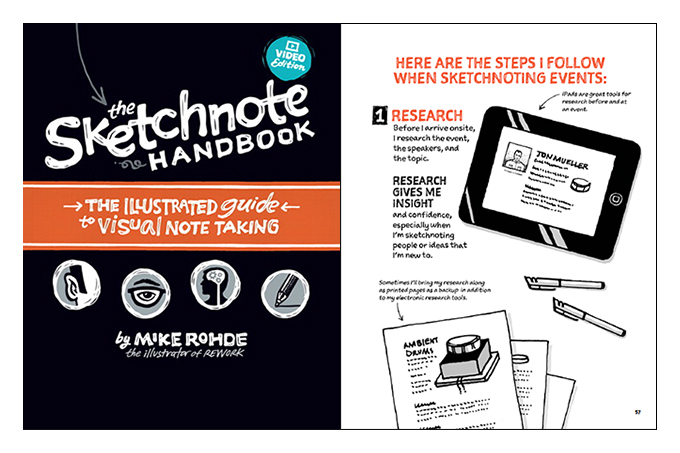 I'd had friends, like Patrick Rhone, bugging me to write a book. For a long time, I didn't know if anyone would read such a book, or if I had the credibility and skill to properly tell the story and show others how to sketchnote.
The opportunity came when I had dinner with Von Glitschka, an illustrator friend in Portland. He told me I should write the book and then emailed his Peachpit editor, Nikki, to sell the idea. She loved it, Peachpit made an offer and from there it just started happening.
It was a very challenging process. I would say the hardest project I've ever done, personal or professional.
From initial pitch to final delivery of book and video files to Peachpit for production was about a year and a half — 7 months from the official book offer to delivering production files. Many times along the way I was unsure if I would make my deadline. But, I kept on moving, and I got it done.
At times It was crazy, but I'm so glad I accepted the challenge. Having a book and video out that are now helping people sketchnote is an amazing feeling!
Did you encounter any surprising challenges as you design a typeface system of your handwriting for your book?
Nothing really surprising, and I think that's because my production partner on the project, Delve Withrington, is so good at typographic design and production. I drew characters that Delve requested and he did the detailed production work.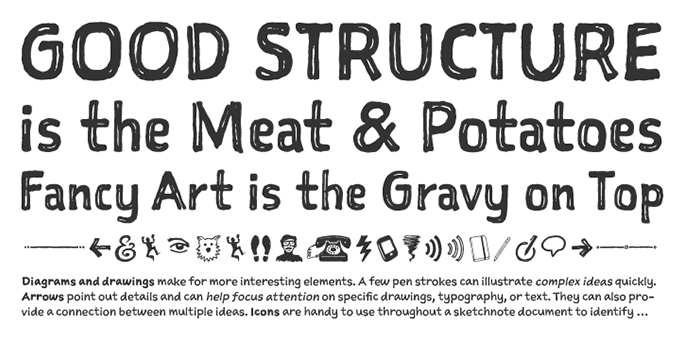 Because we both stayed in our strength areas, it was more fun than work.
To hear more about the making of the font, I recommend listening to the 5by5 show CMD+Space with Myke Hurley, where Delve and I talked in depth about this font and making fonts in general: http://5by5.tv/cmdspace/51
What is your favorite piece of advice and your favorite image from your book?
I love the message "Ideas Not Art" because I have a sense that "art" carries lots of baggage for people. I'm not saying art is a bad thing, but it has a very narrow definition in our culture to mean "fine art" and when you judge your board meeting sketchnotes based on that definition, it's not a reasonable judgement.
When you judge your board meeting sketchnotes on whether they've effectively captured ideas from the meeting, that's a reasonable judgement. If your drawings are imperfect from an "art" perspective but they bring back the idea you were thinking of at the moment — those sketchnotes are a success.
In context of sketchnoting, I wanted to get the idea across that you don't have to draw well, or be some kind of "artist" to do sketchnoting. That, I think is still the biggest hurdle for people to face, and once they give it a go and stop worrying about how good their art is, they really have fun and see the benefits.
My favorite image from the book is from chapter 4, where I detail my sketchnoting process in steps: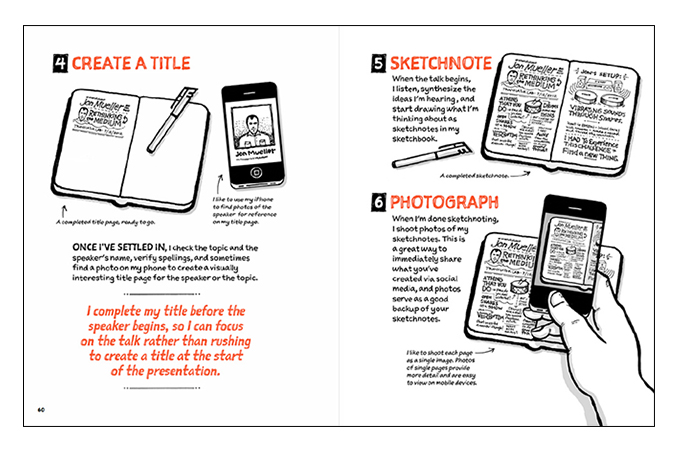 I love the balance of typography to drawings, I love the hand I was able to illustrate there (it was also used on the back cover of the book).
I'm also very pleased we were able to have 15 guest sketchnoters in the book with a 2-page spread each. Creative Market's Gerren Lamson was one of them, and I especially love his piece.


You've been doing a lot of Sketchnote classes and webinars lately. What tips might you have for Sketchnote students who watch your demos and tutorials online? What's the best way to practice if you can't go to conferences or see live speakers?
I've been working hard on developing educational presentations, live and online and have tons of fun sharing sketchnoting techniques all over the place. I'm currently working on a live, one-day sketchnote workshop for Spring 2014 that I'm very excited about. We're doing a pilot of the workshop in 3 weeks.
Some of my mini workshop slide decks and recordings are available online:
> From That Conference 2013
> Peachpit Sketchnoting Webinar (recorded)
> The Sketchnote Podcast
As for tips, I would suggest getting a piece of paper or notebook and a pen, and following along with online tutorials. Just getting your pen moving and trying things out. That's a great way to get a feel without any pressure to perform perfectly.
Bring a sketchbook along in a pocket or purse and play with sketchnoting concepts when you have free time or even in work meetings or school lectures.
Another great resource are TED talks. There are many excellent speakers in short, vivid talks at TED.com you can work on at your own pace, as a way to prep yourself for live sketchnoting. Always keep an eye open on Twitter for great talks, and when you find them, store the URLs for future sketchnoting sessions.
What do you think of the idea of producing Digital Sketchnotes by using design assets like your fonts and other illustrative graphic assets, while sprinkling in some of your drawing with apps such as Sketchbook Pro or Paper?
That's a very interesting idea. I suspect with the right tools and practice, someone could capture talks using modular elements in this way. Personally, I prefer drawing on paper – or occasionally on an iPad. If someone could make this work, I would love to see it!
Who are some of your favorite Sketchnote artists, and what do you like about how they individually apply the Sketchnote technique?
It's hard to choose just a few — here are 3: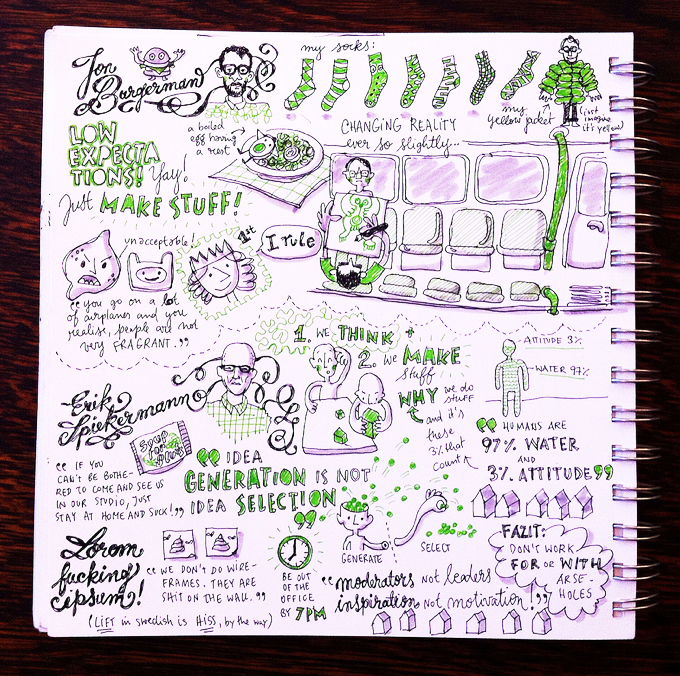 Eva-Lotta Lamm – I love her whimsical style, beautiful use of typography and great use of space. She always has great fun applying highlight colors as well.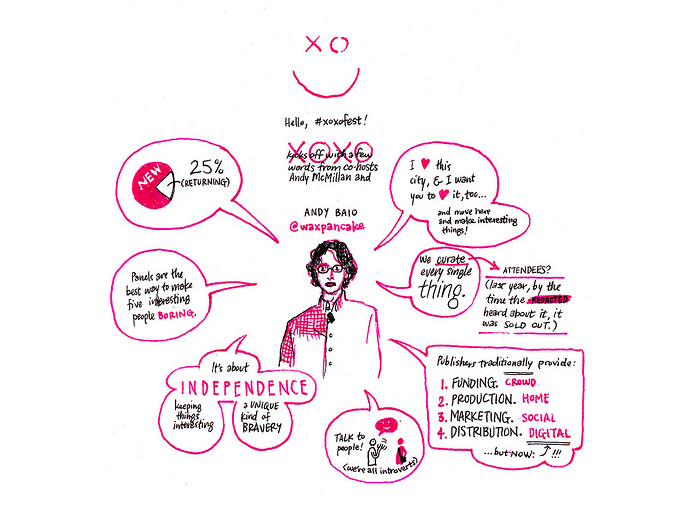 Jason Alderman – He has a bold yet loose style. Excellent structure. Love the way he uses color for emphasis.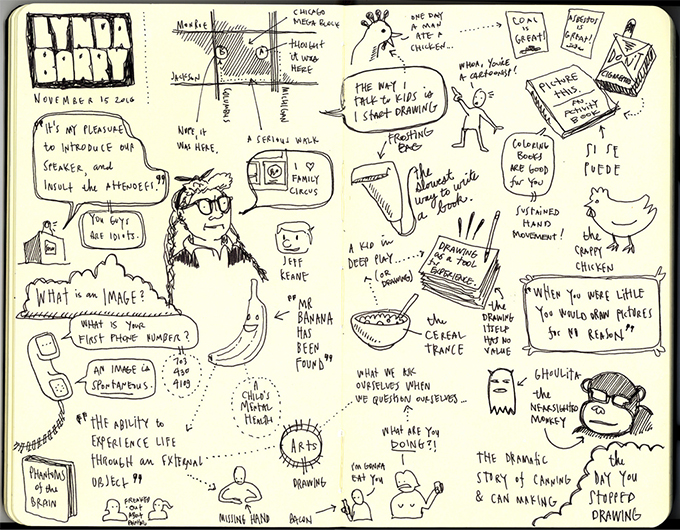 Craighton Berman – His layers are always wonderful, his style of lettering is beautiful. I love that he is always pushing his boundaries – like using an iPad 1.0 to sketchnote as a limitation.
Thanks for taking the time to chat with us Mike! Any last parting words?
Thanks for taking the time to ask great questions!
My final words — get sketching and sketchnoting! Have fun and remember what it was like to draw if you haven't for a while. There's real joy to be had in putting marks on paper with pencil or pen — you can do it!
Getting started with hand lettering?
Free lettering worksheets
Download these worksheets and start practicing with simple instructions and tracing exercises.
Download now!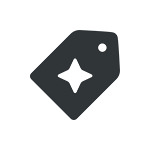 Creative Market