Infographic Design Inspiration: 10 Pixel-Perfect Examples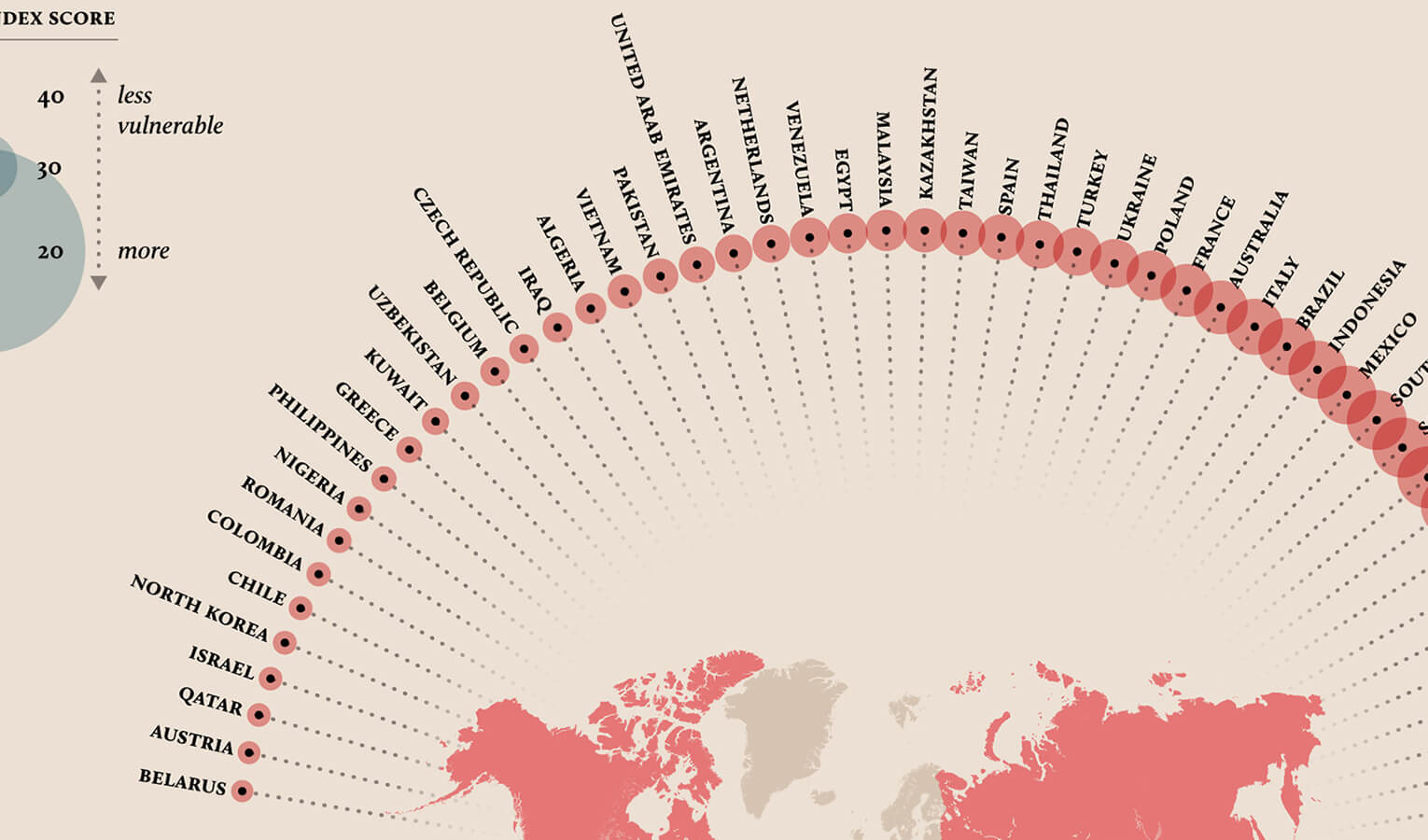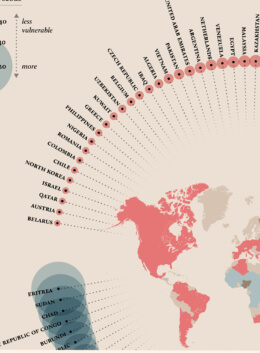 If you're interested in creating infographics, it's helpful to look at work from the design industry's standout performers. Linked below are ten stunning examples: data visualization rendered so creatively that it achieves the status of pure art.
1. The Many Moons of Jupiter
It's easy to see why James Round is one of the UK's leading graphic designers. He has created illustrations and infographics for some of the world's top companies, including Facebook, BBC, Wired, and Financial Times, and his art has won numerous awards. This infographic on the moons of Jupiter, however, is a piece of personal work that Round has created just as an expression of his own interest. Fascinated by the complexity of this planetary system, Round deconstructed all the complexity it into an elegant rainbow-colored array of easily accessed information.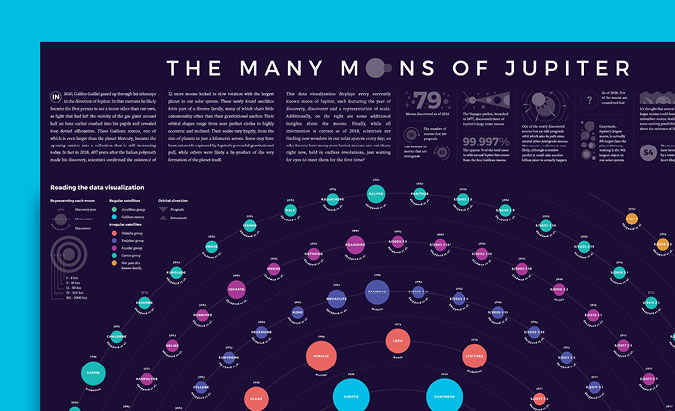 See the complete infographic here
2. Migration Waves
When National Geographic wanted to do an article on the numeric patterns of migration, they knew exactly whom to tap for the vital infographic. The stunning data visualization, by Alberto Lucas Lopez, is added to his extensive portfolio of work — all of which centers in some way on large-scale human behavior patterns. This particular infographic, which uses a line of charts to echo ocean waves, framed by the classic National Geographic yellow square, won a 2019 Information is Beautiful award from Kantar. Every year, these awards celebrate "excellence and beauty in data visualization, infographics, and information design."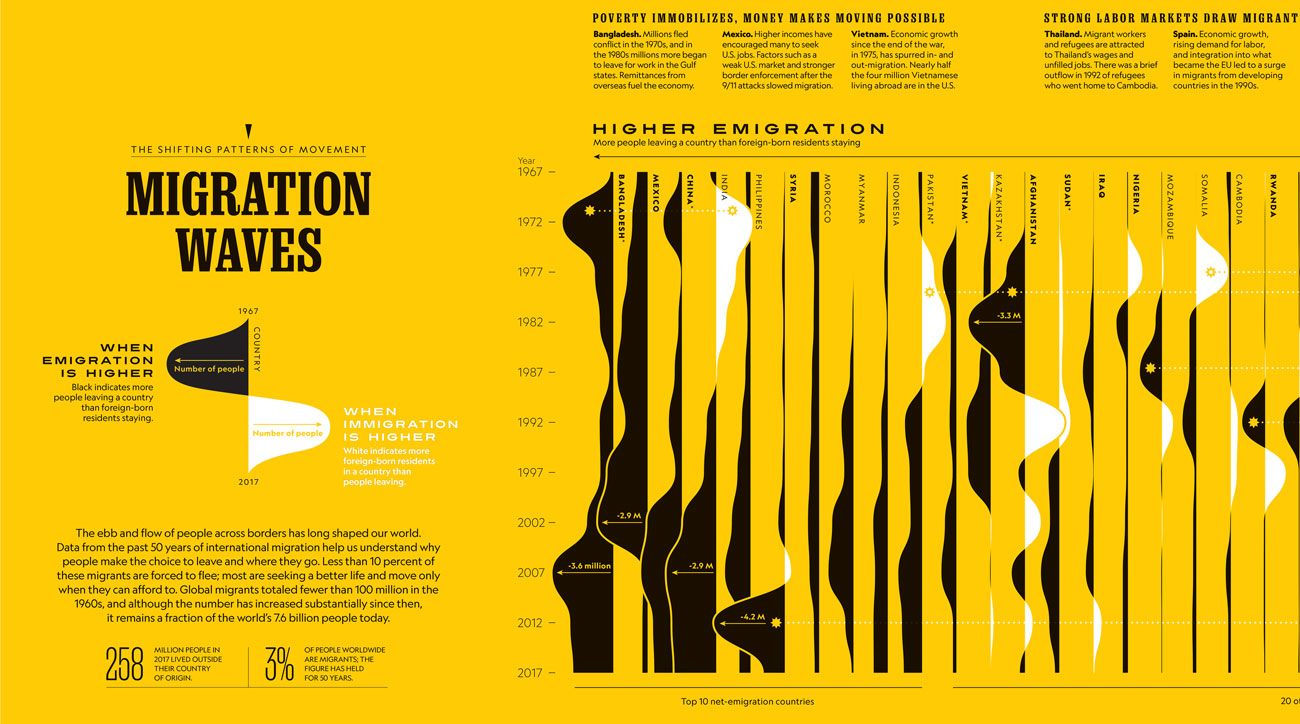 See the complete infographic here
3. Planeta Terra
Data visualization designer Federica Fragapane creates her exquisite nature-oriented infographics in her Turin, Italy studio. The book she has illustrated, entitled Planet Earth: Infographics for Discovering Our World, is published in Italy and has been translated into English, French, German, Polish, and Russian. Fragapane's lovely designs, however, transcend words and require no translation. In Fragapane's words, the book aims " to provide a new and innovative narrative of our world to the children, depicting it with the tools of infographic and data visualization." The delicate, lifelike illustrations of nature will readily capture attention while also conveying important facts.
Ver esta publicación en Instagram
4. Work From Home Benefits
This fun little infographic, showing us just a few straightforward facts about working from home, scarcely looks as though it was created by the world's largest independently-owned design studio. However, it's proof that excellent data visualization does not have to be dense or formal. This image puts us in a casual mood by showing a laptop set on a home windowsill, and its playful typeface creates a positive aesthetic — which is perfect for a site about "Happy Data." The Pentagram designers haven't tried to cram too much information into this image, so its information will be easy to quote and remember.

See the complete infographic here
5. Hello Sun Animation
When you add movement and animation to your information design, a whole new dimension of data can suddenly be conveyed. The app creators at Small Multiples had to create a product page for their Hello Sun app, so that Android and iPhone app shoppers would want to download it. With interactive speed controls on the left, the app product page gives users a chance to actually set some parameters and see their effects. The simple visuals and the appeal of getting to play around with app functionality ahead of time is a brilliant way to attract people to go deeper into the data you have to offer.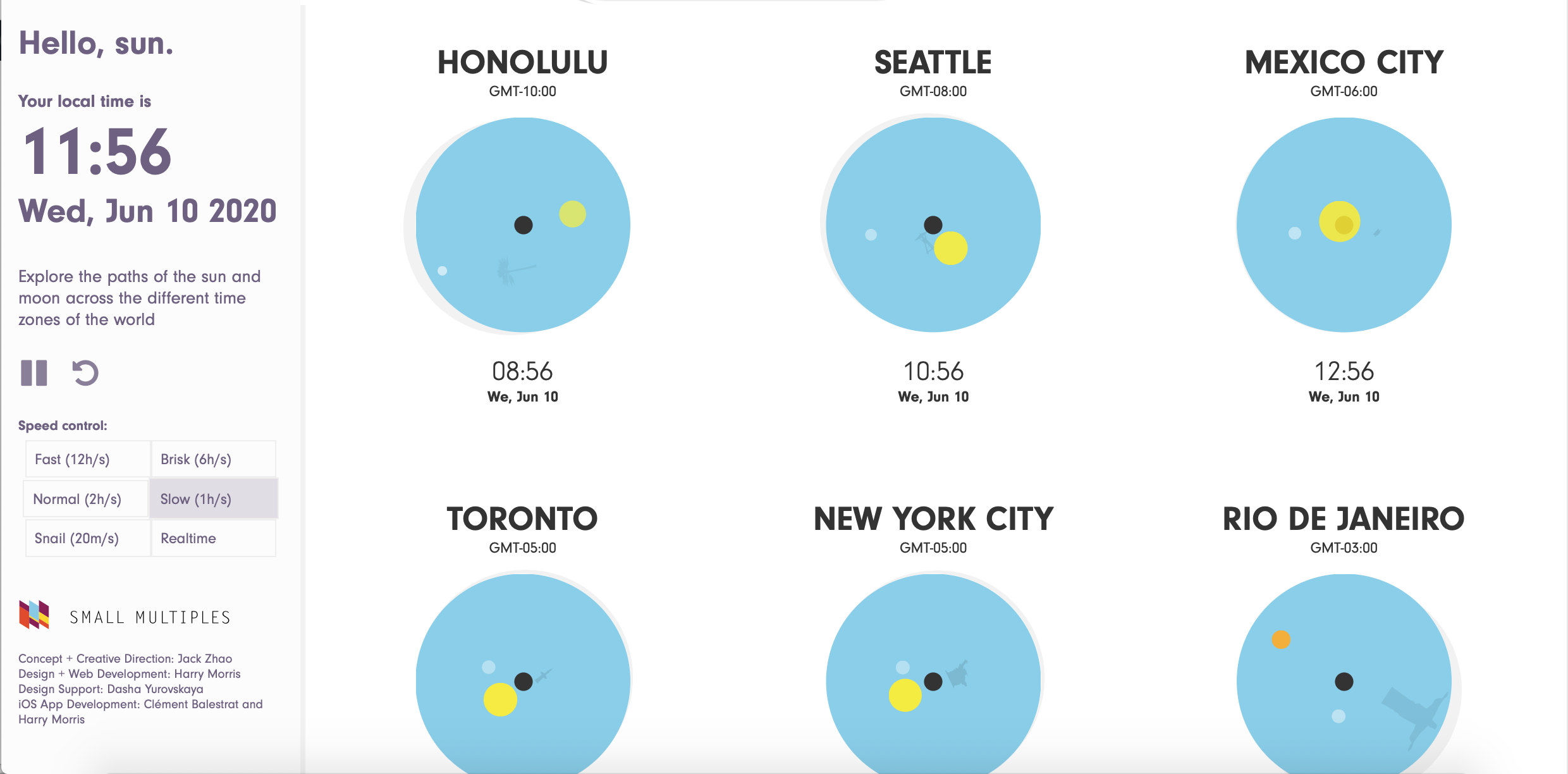 See the full website here
6. Marvel Cinematic Universe
If you're serious about data visualization, the attention to detail on this interactive display will blow you away. It certainly impressed Information is Beautiful award judges. Produced by the graphic designers at Singapore's Straits Times, this wondrous three-dimensional infographic lets users dive into constellations of Marvel characters, seeing their connections with each other and visually accessing multiple layers of information. By layering data along three dimensions instead of two, it is possible to convey vast amounts of information in a simple-looking interface.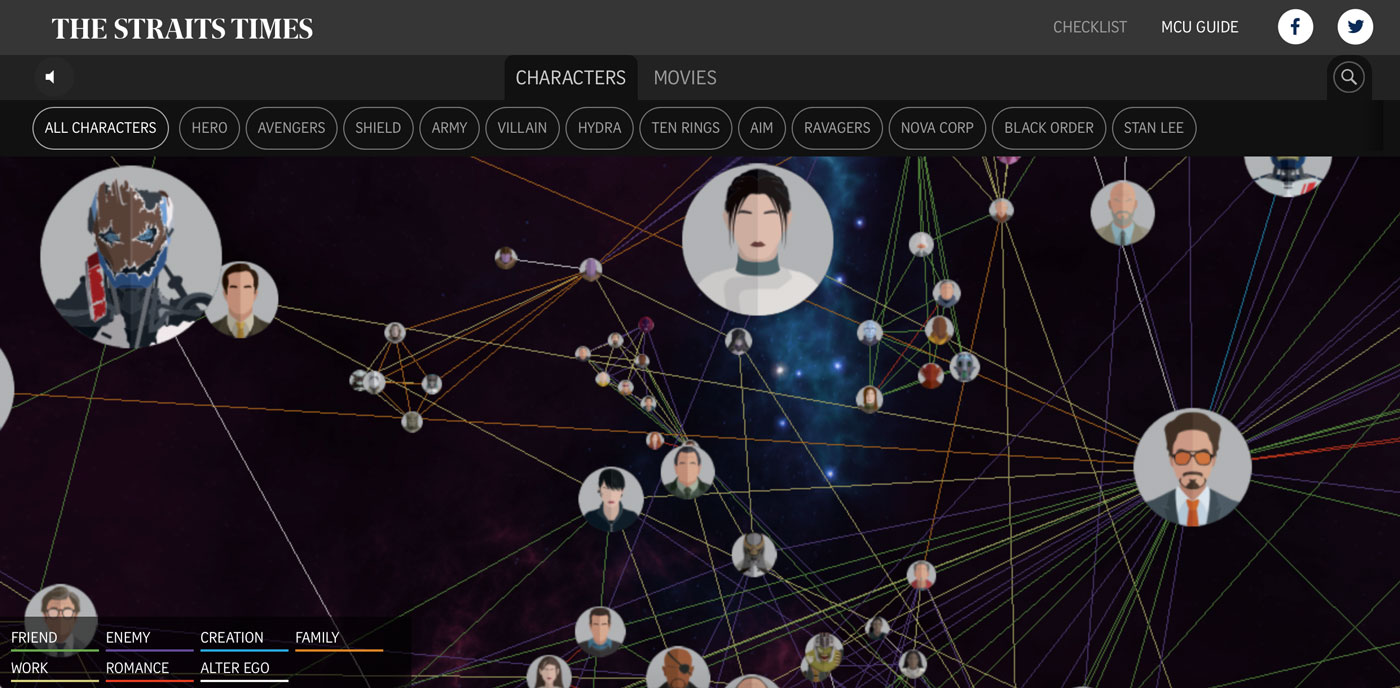 See the complete infographic here
7. Insta Addict
Designer Claire Moore uses Dribbble to showcase her work to potential clients. One of her more playful creations is her "Insta Addict" infographic, in which she charts multiple aspects of her own Instagram use. With a chart of multicolor bubbles of different sizes, Moore displays the themes and popularity of her Instagram posts over time. The chocolate and strawberry color palette, together with thoughtful framing like the actual photos of paper clips holding the image, convey her unique point of view.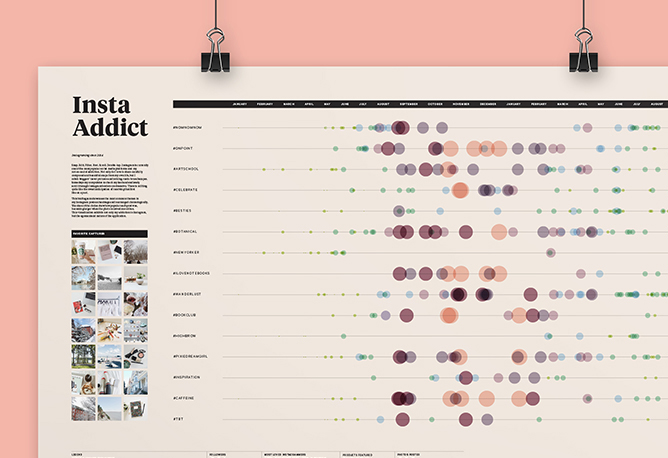 See the complete infographic here
8. Algorithms in Graphic Design
This complex image, made up of many views of the same large infographic, turns the entire concept of infographics inside-out. German designer Franziska Volmer was not trying to convey actual information here. Instead, the goal is to use data visualization as an aesthetic per se: to create a work of art that is made up of the textured complexities of information. The graphs, charts, and word clusters on this artwork are unified by a clean two-tone color scheme. If you're looking at information as simply a type of art in its own right, Volmer's work shows you one compelling possibility.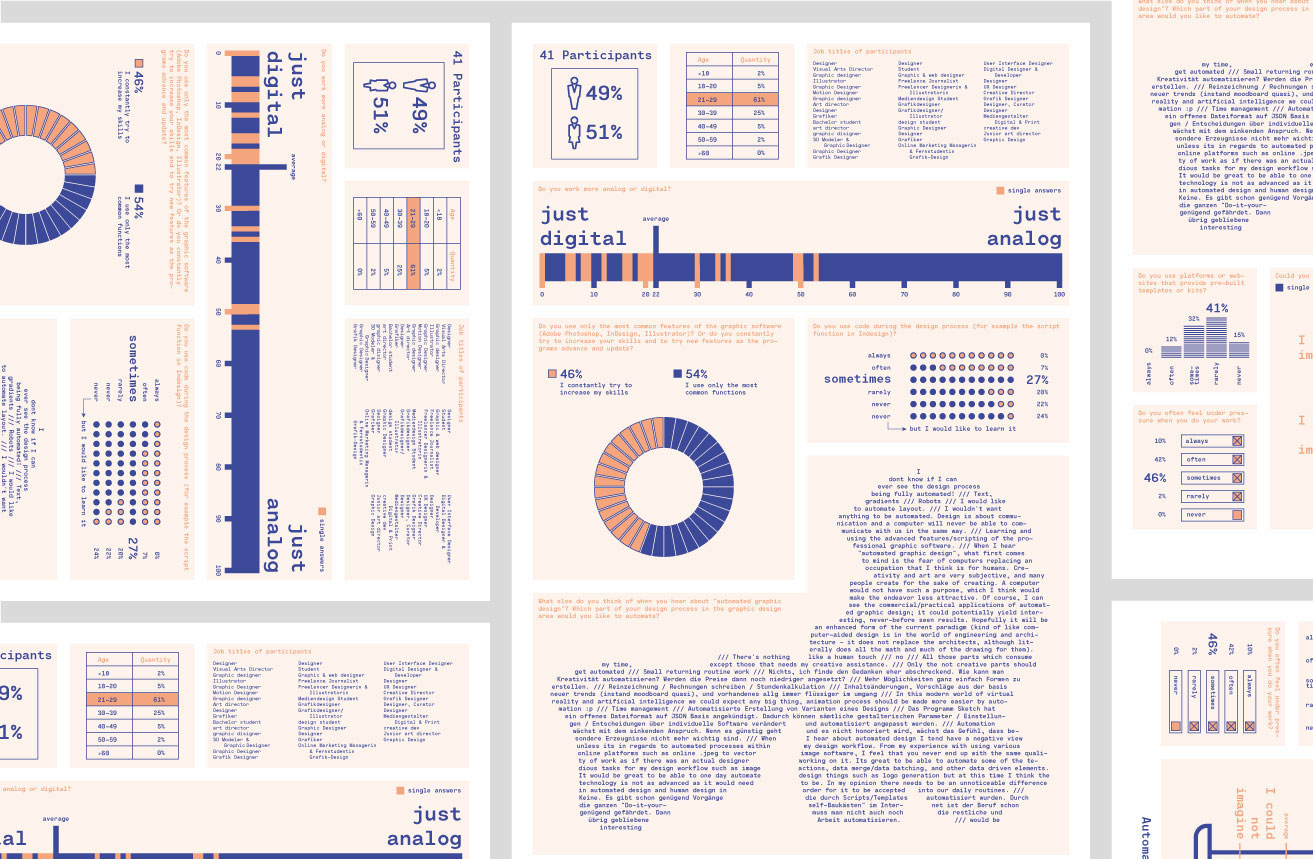 See the complete infographic here
9. Leveling Up
Nobody has a greater need to absorb and retain complex relationships than medical professionals. Nerdcore Medical uses information design techniques to build games and study aids in the medical field. Leveling up is a richly detailed infographic on childhood development, created by a Seattle design studio called Tabletop Whale. The rainbow waterfall graph compresses towards the bottom, since more developmental milestones occur in the early months of life — one small element to show how shapes and hierarchy can reinforce key messages.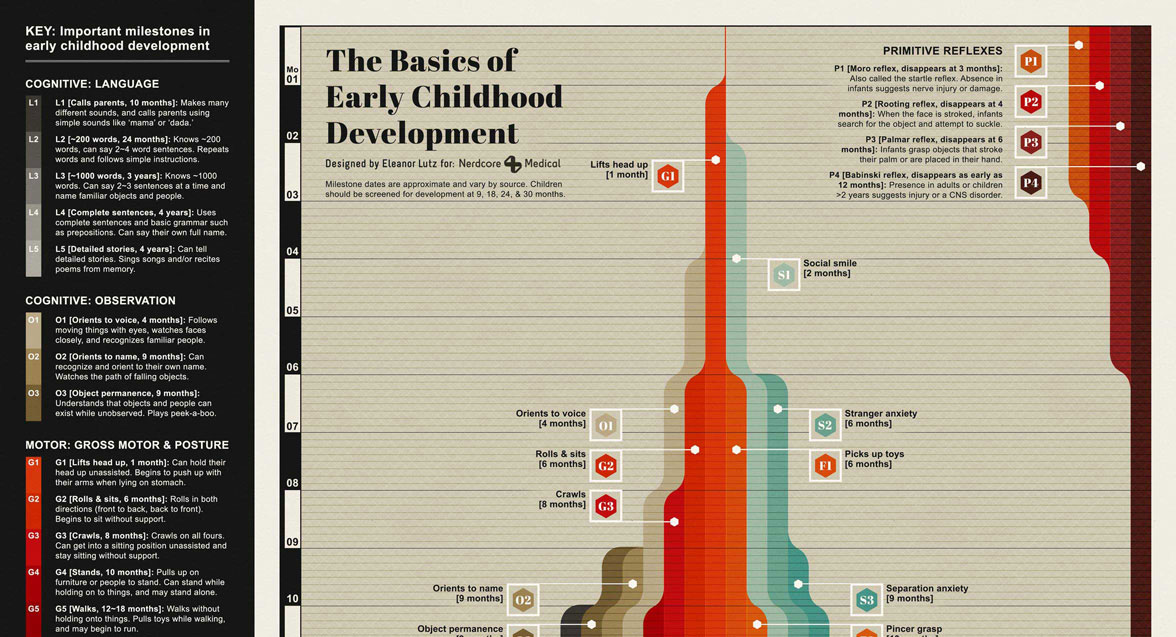 See the complete infographic here
10. CO2 Emissions v. Vulnerability to Climate Change, by Nation
This data visualization is proof that beautiful artwork can coexist with (and enhance) the most serious information. George Washington University's Master of Health Administration program produced this graphic as an example to prospective students of the kinds of topics they could study. In muted reds and blues, against a serenely neutral background, this infographic contrasts the countries of the world with respect to carbon dioxide. It allows the viewer to instantly absorb all the relationships between nations, and the relative intensity of vulnerability and production. The overall picture is visually rhythmic and appealing, with a yin-yang swish encircling a map of the earth.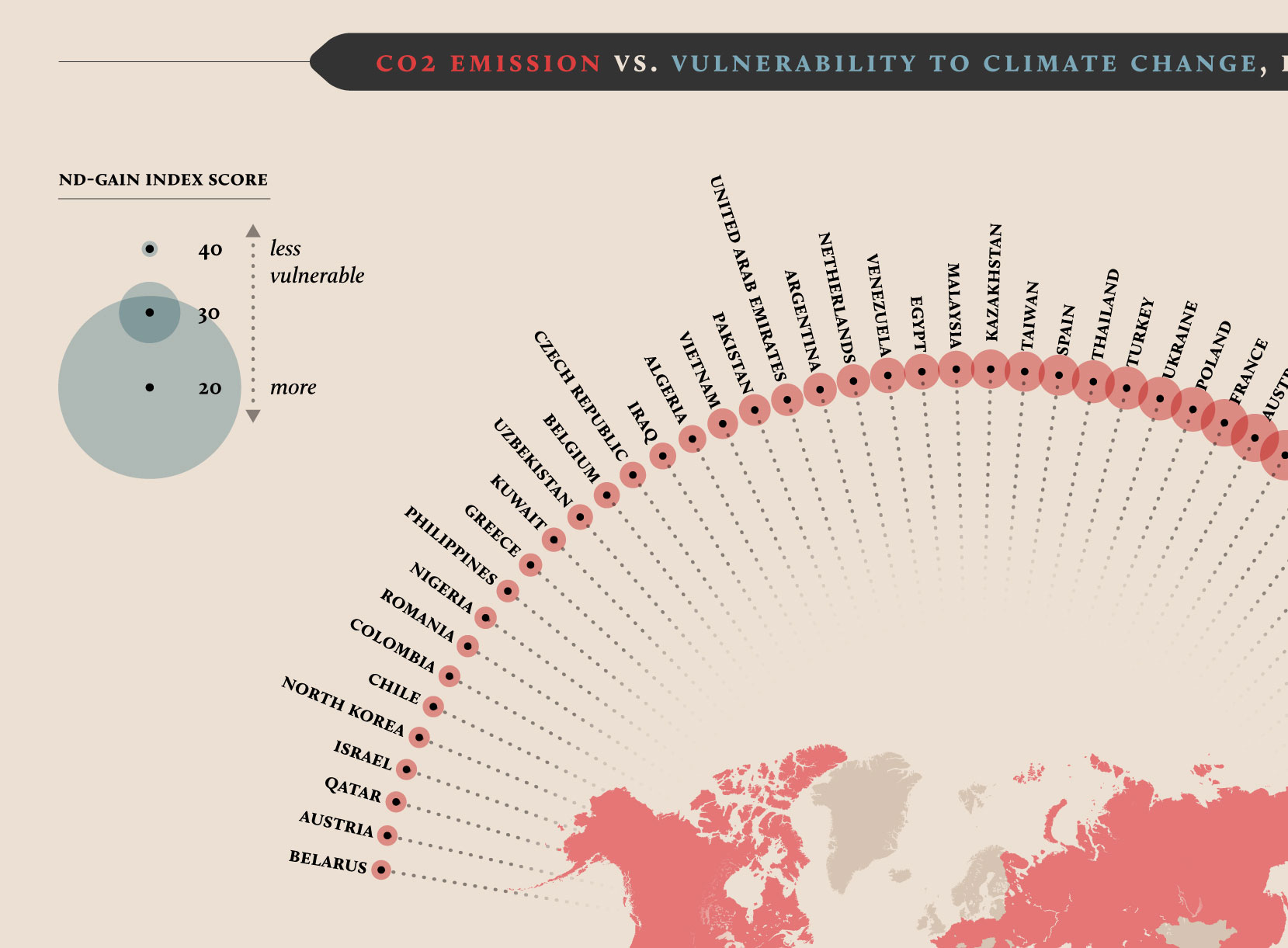 See the complete infographic here
Are you itching to get started putting your own information into visual form? There are tons of infographic assets you can download, that will help you recreate these world-class designs. Take the leap and try it out!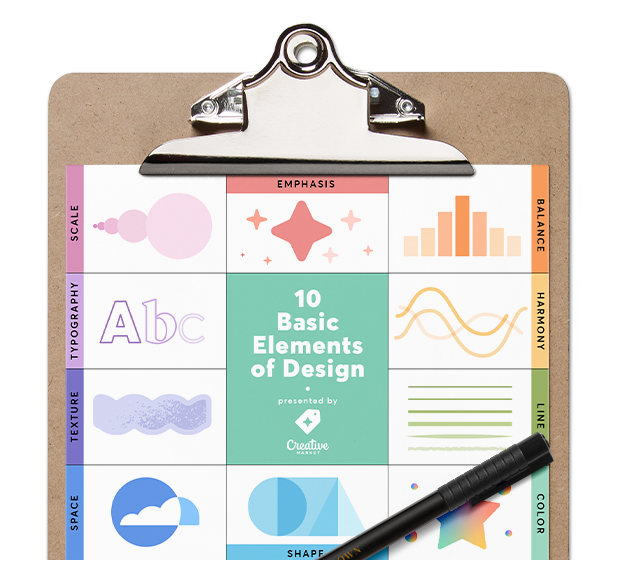 10 design fundamentals, summarized
Free Design Poster
Download this printable PDF poster and hang these 10 design principles on your favorite wall.
Get the file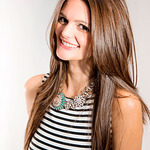 Laura Busche
Brand strategist. Creating design tools to empower creative entrepreneurs. Author of the Lean Branding book. MA in Design Management from the Savannah College of Art and Design (SCAD).
View More Posts