How to Make an Instagram Collage in 7 Steps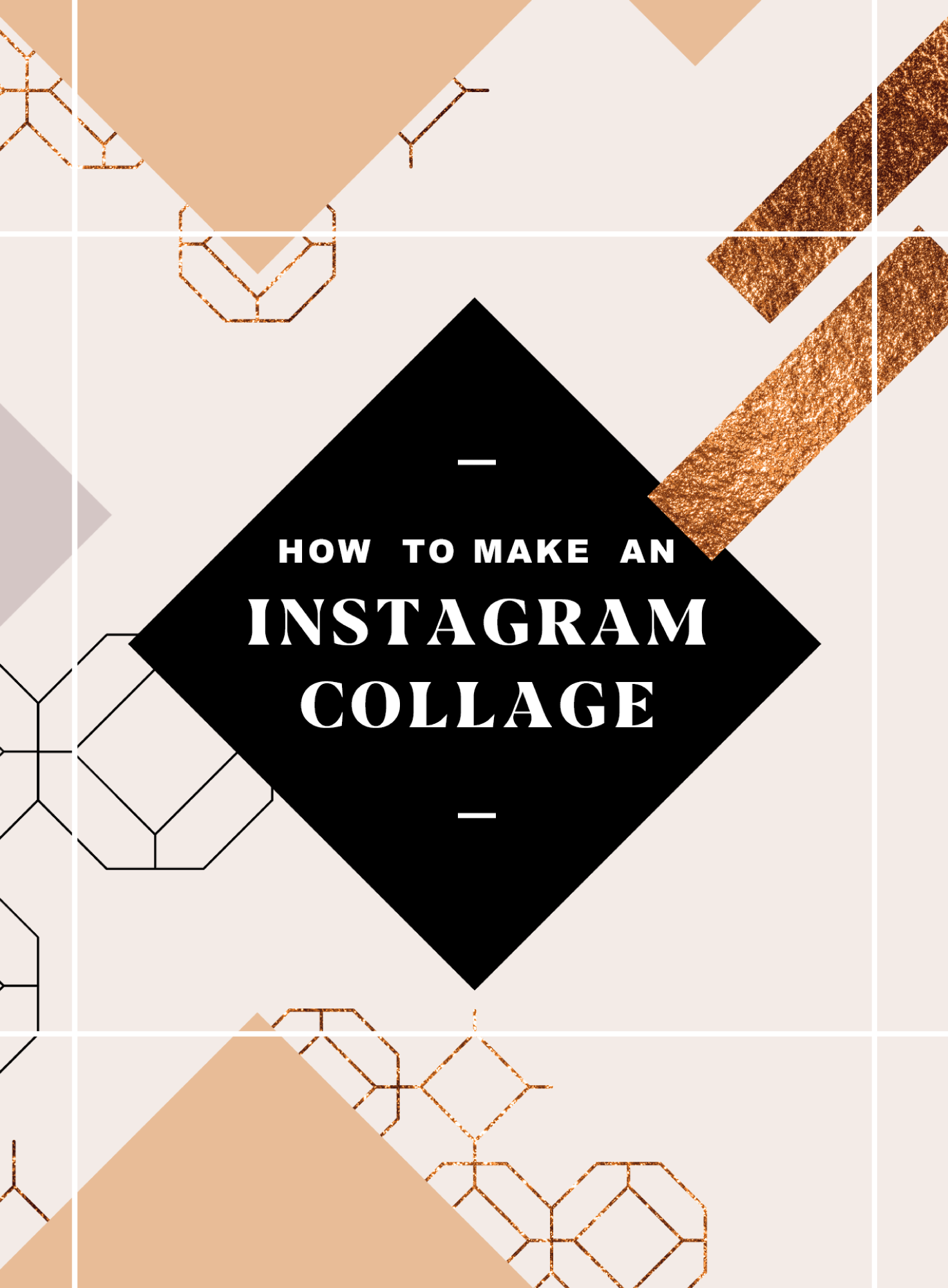 Back in school, my art teacher often gave us home assignments that involved creating collages. I always ended up with glue on every finger and an angry mom. Quick advice: always ask for permission before you cut up your mother's favorite magazines. Joke aside, collages are perfect when you want to express a mood or tell a story. Brand designers often use them to capture the overall character of a brand before they get to create the logo. However, you don't have to be a designer to benefit from a beautiful collage. You can use it to:
Express your mood
Share your business vision and values
Present your work process and work environment
Share closeup details of your products
Present a whole product line
Share a story
Share an event
Highlight your current favorites (trends, products, projects, gift ideas)
Creating Digital Collages, The Easy Way

Luckily, there's no need for glue sticks anymore because you can create collages digitally – yay! Creative Market has lots of templates for you to make the process even easier and achieve a professional result.
In this post, I'm going to show you the 7 steps of customizing collage templates in Photoshop to match them to your brand. You'll learn:
How to add your own photos
How to change the text
How to change the colors
How to export your files
In just a few clicks, you'll be able to create eye-catching collages that are perfect for sharing on Instagram Stories.
How to Customize Collage Templates in Photoshop
Step 1: Preparation
For this tutorial, I chose a collage template from the Scandinavia Instagram Story Pack.
Before you open Photoshop, make a folder on your computer and put there the photos you want to use. Make sure to have your brand color codes and fonts at hand too.
Step 2: Understanding the layers
After downloading the template, open it in Photoshop and make sure that the Layer Panel is visible. Go to Window/Layers to open it.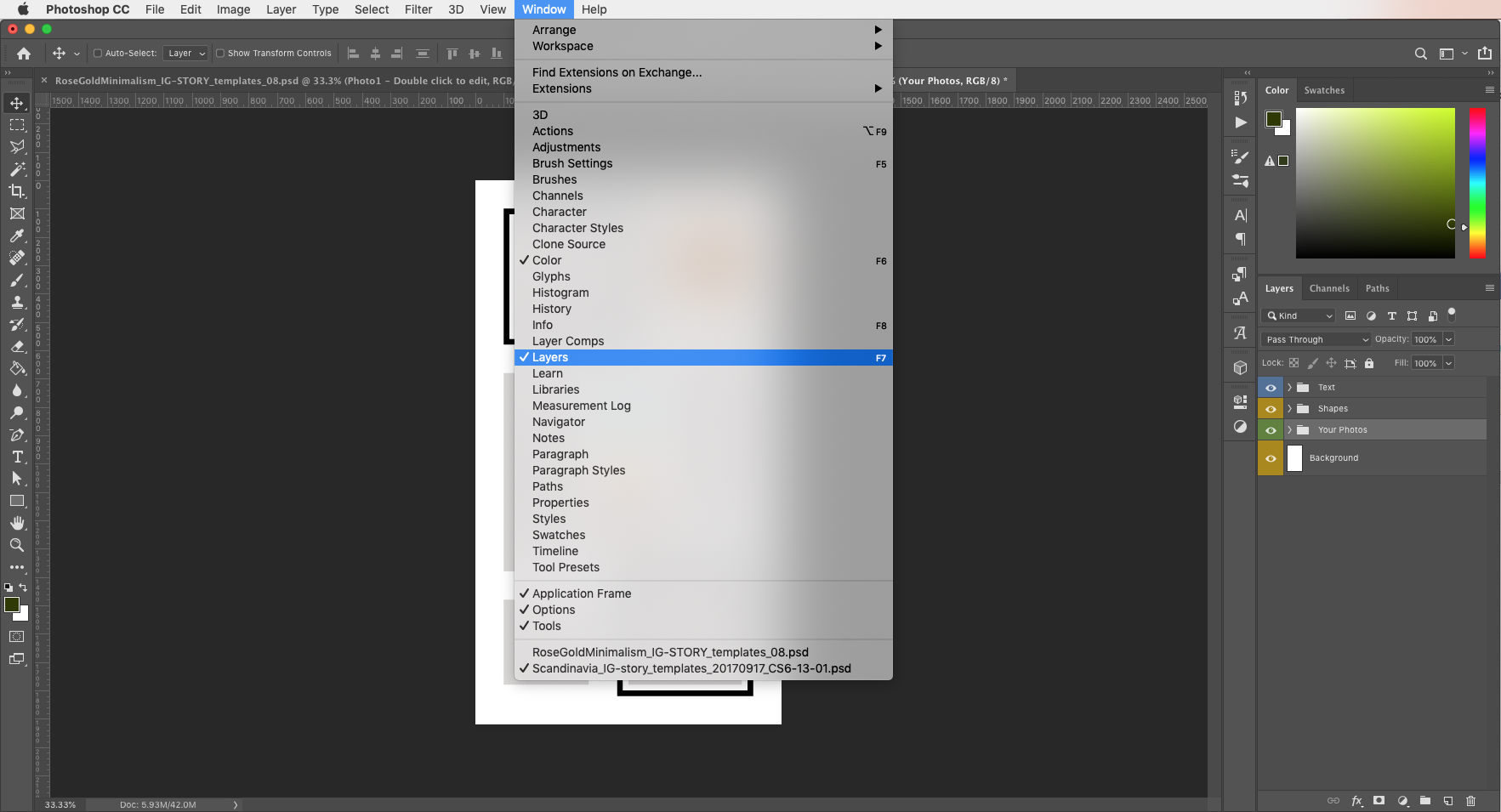 There are many types of layers in Photoshop and they all have different features. When you quickly glance at the layer panel, you'll see that some layers have special thumbnails. They help you quickly identify the functionality of the layers.
The most important layers you must know when customizing your Instagram collage templates:
Type layers: these layers contain your text
Shape layers: these layers contain vector graphic shapes
Smart object layers: these layers will contain your photos
Art layers: these layers contain any rasterized artwork
Adjustment layers: these layers contain image adjustments, for example, brightness and contrast or hue and saturation settings.
Design a cohesive Instagram grid
Get your free grid template
Download this kit to quickly export Instagram shots that match your brand's visual style. PSD and AI files are included, as well as a moodboard to display your brand's assets.
Download it now
Step 3: Changing the photos
Let's start by changing the photos. Most collage templates come without photos for license reasons. But this shouldn't frighten you. The photo placements are already there. Look for layers that the designer named as "Put your photos here" or similar. As you can see, these are Smart Object layers. You just need to double click on their thumbnails to see a new Photoshop window where you can edit the content. Everything you do and save in this new window will be visible in your collage. To add your photo:
Double click on the layer thumbnail.
In the new window that opens up, paste in your image (File/Place Embedded or just drag & drop from your file browser)
Size the photo to cover the whole artboard
Click save and close the smart object. Your photo now appears in the collage.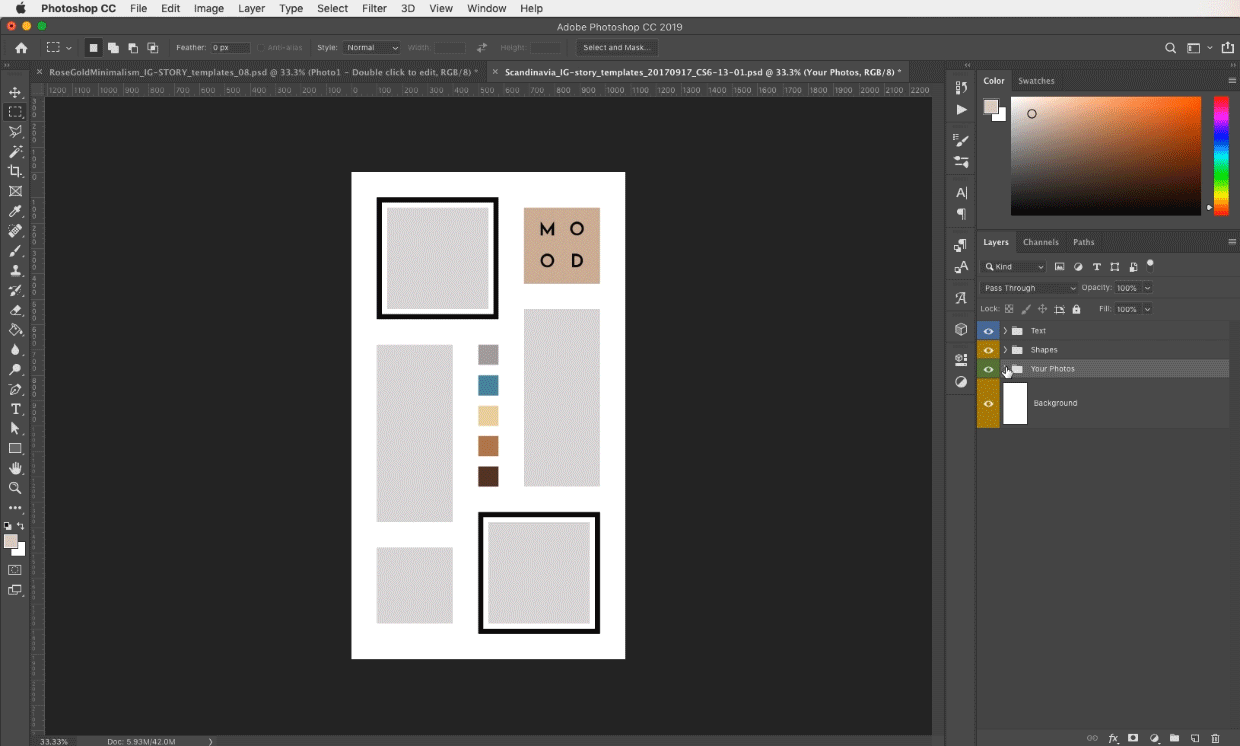 Do the same thing with the rest of the smart object layers.
Step 4: Changing the adjustments
In this template, each photo has a clipped color adjustment layer that adds a soft beige overlay. You can turn them off or if you want you can change the adjustment, the blending mode or opacity of the overlay. Change the adjustment:
Change the blending mode & opacity: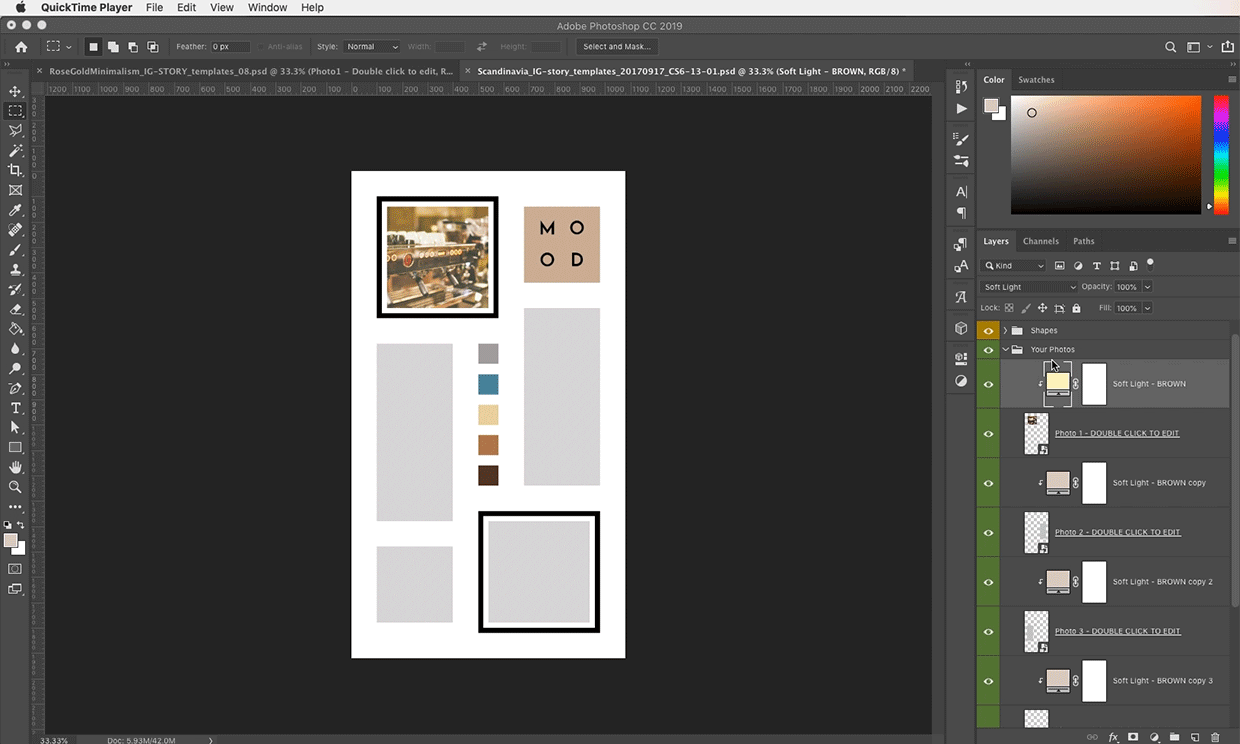 Step 5: Changing the text
If you want to change the text:
Press "T" to get the type tool or choose it from the Tool Panel.
Click on the text and type in your words.
Then click on the checkmark at the top to accept the changes.
To change the font, color, and other characteristics of your text, open the Character Panel (Windows/Character).
Step 6: Changing the colors
How you change colors in your composition depends on the layer type. For Shape Layers, double click on the layer thumbnail and pick your color from the Color Picker window.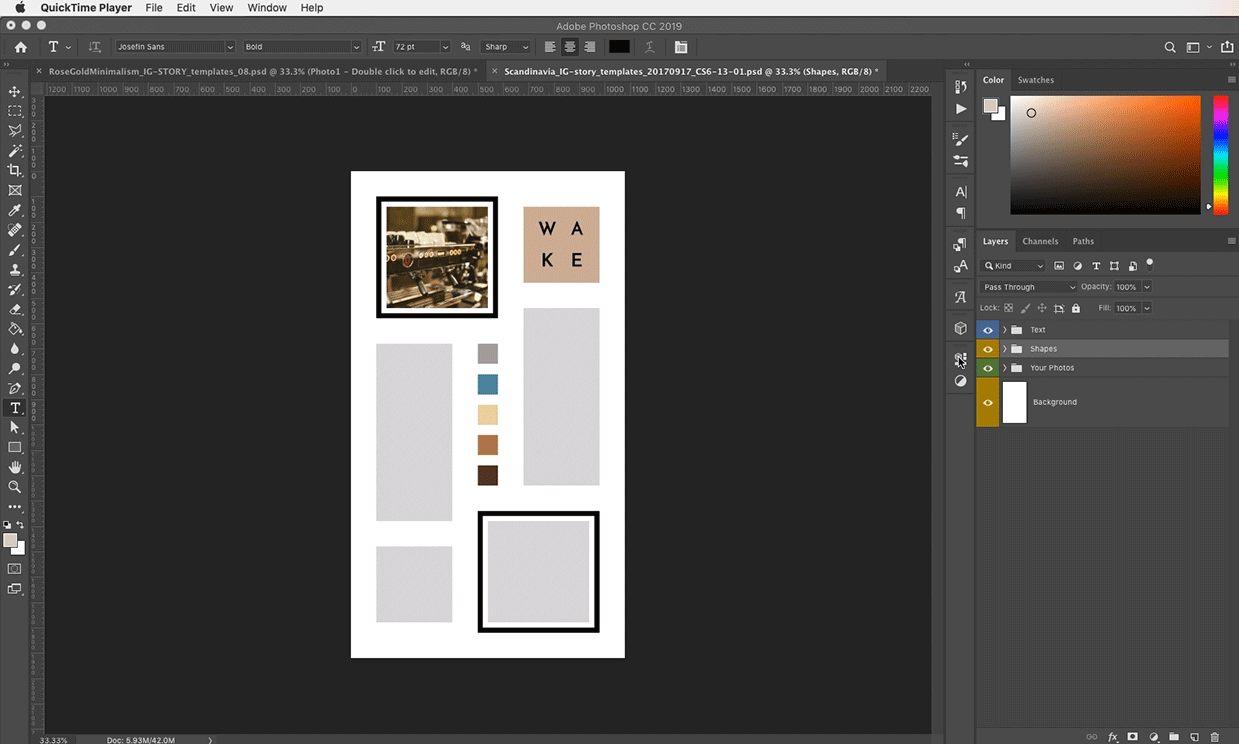 For Type Layers, go to the Character Panel, and click on the rectangle next to "Color", then pick the desired color from the Color Picker window.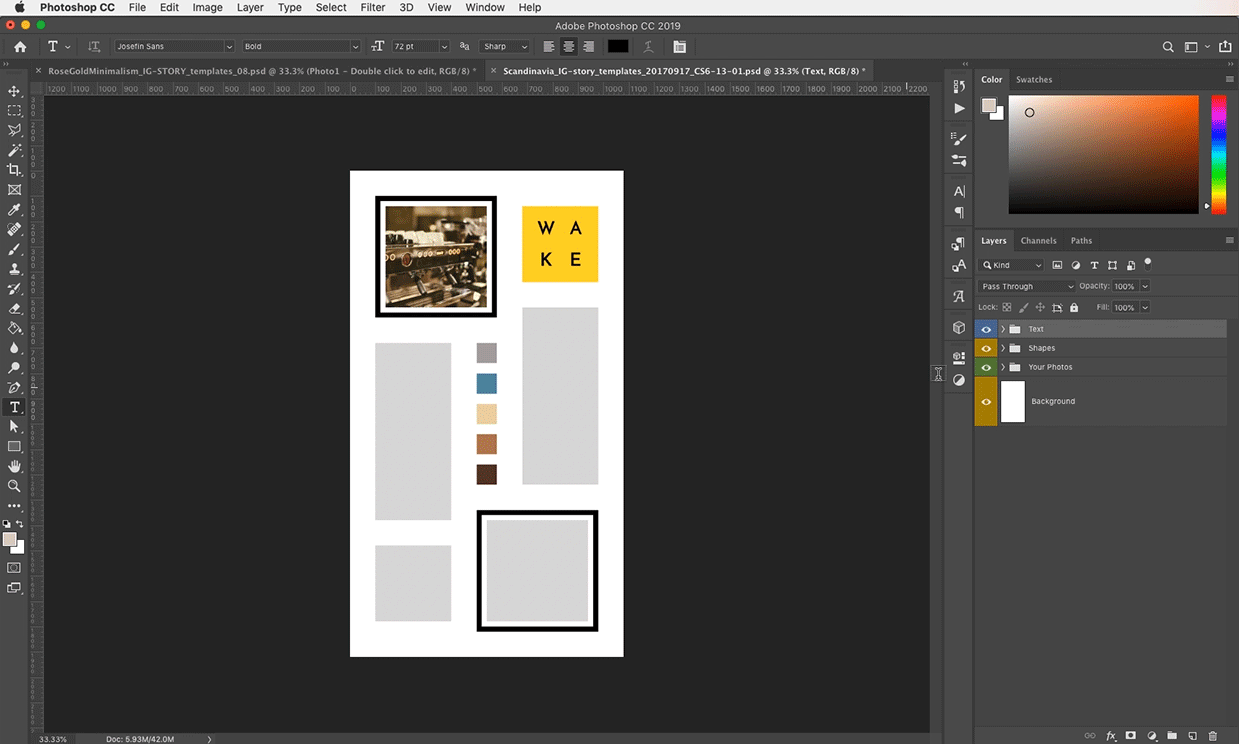 For Art Layers, you can double click on the layer to open up the Layer Style Panel and add a Color overlay effect.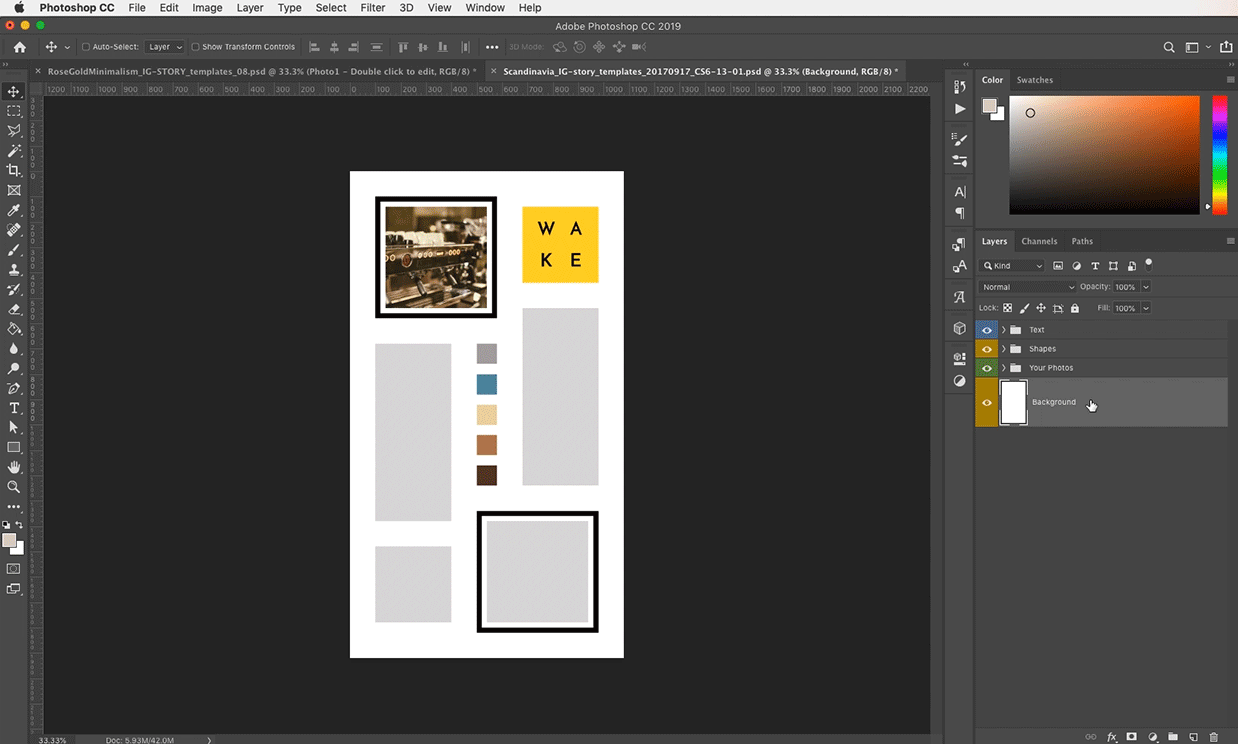 Or you can lock the transparent pixels and go over the artwork with a brush in your selected color.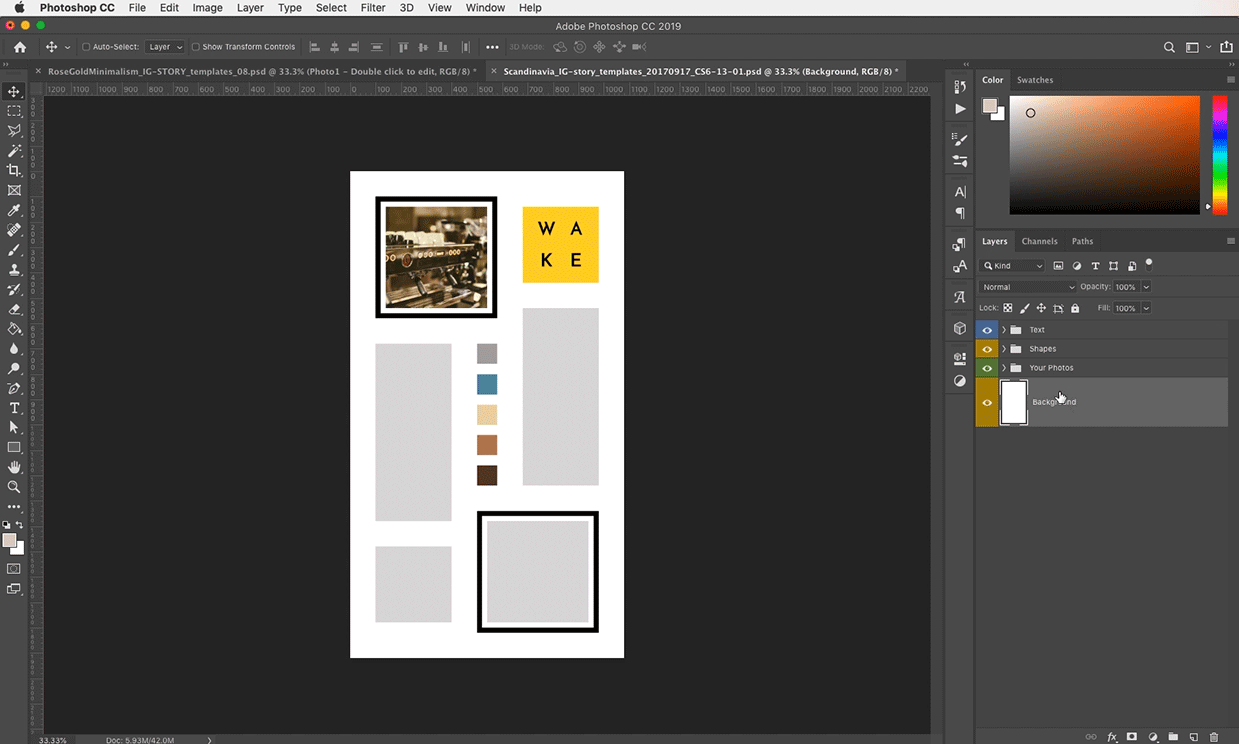 Step 7: Exporting
Now that you added your photos and matched the template to your brand, you can save your work and export it to an image file (JPEG or PNG are recommended). Because we're creating this collage for Instagram, the best option here is to go to File/Export/Save for Web. Here, you can choose the file type and the level of quality you prefer.
Now you're ready to send the collage to your phone and post it to your Instagram Stories.
What about animated templates?
Many Instagram story templates are animated. These can be edited in Photoshop just like static templates. To see the animation settings, you'll have to open up the Timeline Panel (Window/Timeline). This shows you all the transitions and transformations on each layer. After adding your photos, text, and colors, go to File/Export/Render video to save the animation into an .mp4 video file.
Looking for the Right Collage Templates?
As you can see, you really don't have to be a Photoshop ninja to start using and customizing collage templates for your brand. The hardest part is to figure out which awesome template to pick. Here are some of my favorite Instagram Story template packs:
Want to Go The Extra Mile with Your Collages?
You can further personalize the collage templates by adding extra graphic elements. These elements should be in PNG format on transparent background. Simply drag and drop them into the Photoshop file and arrange their layers to achieve the desired result. The following products can add a unique touch to your digital collages, especially if you're looking for a hand-crafted look:
---
Products Seen In This Post:
Design a cohesive Instagram grid
Get your free grid template
Download this kit to quickly export Instagram shots that match your brand's visual style. PSD and AI files are included, as well as a moodboard to display your brand's assets.
Download it now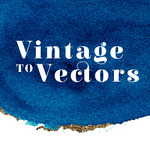 Andrea and Shirley
What happens when a watercolor artist and a graphic designer get together? They create exceptional digital products inspired by traditional mediums - textures, patterns, illustrations - that you can use in many of your creative projects.
View More Posts