Instagram Layouts: Beautiful Templates to Design Your Own Graphics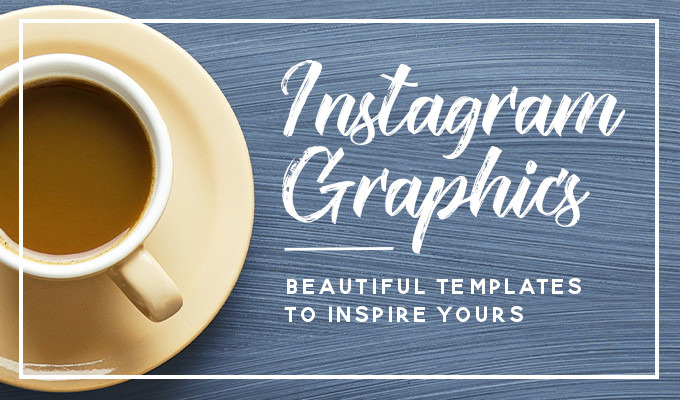 With over 70 million new photos shared per day, Instagram is one of the hottest social sites for digital marketers hoping to reach an audience that's eager to engage with its favorite brands. On Instagram, it's all about images — and this collection of Instagram layouts and templates helps bloggers and other entrepreneurs make those images shine.
Once you've decided which visual style works best for your brand, go ahead and download our free Instagram grid and moodboarding template to build a cohesive theme.

Download it now

Design a cohesive Instagram grid

Download this kit to quickly export Instagram shots that match your brand's visual style. PSD and AI files are included, as well as a moodboard to display your brand's assets.
1. Social Pack: 8 Layouts for Instagram
This multipurpose social media pack features a gallery of customizable templates, including three artboards with marble backgrounds and a set of minimalist beach and pool scenes for memorable branding. This pack comes as a single PSD file to use for posting not only to Instagram but also to many other social networks.
2. Holiday Mini Instagram Templates 005
This pack features a template for blog, Facebook and Instagram posting, and it is ideal for professional photographers. Included with the template are a flat card design and a lot of free fonts for customization. All elements are editable with Photoshop.
3. Instagram Advertisement Banners - V381
This banner set includes a five-page fashion Instagram promotion template usable with Photoshop CS or later or Photoshop Elements, with links to an associated gallery of ready-to-use images. The template is completely editable, and you can easily change fonts with the text tool.
4. Instagram Branded Templates
This set of six layered Photoshop templates helps you keep your Instagram feed consistent. All parts of the template are editable and come with two free font sets, which are downloadable separately. You can also use these templates for blog posts and other social media postings.
5. 10 Instagram Food Banners
With its fonts and photographs, this collection of editable Photoshop templates helps you promote your food blog or restaurant site. The templates are easy to customize with Smart Objects and organized layers.
6. 10 Instagram Promotional Templates
This pack comes with 10 Smart Object Photoshop templates in a single file with editable layers for agile Instagram design. Photos and fonts are not included, but two custom fonts are available as extras.
7. Instagram Wedding Pack
With 24 unique templates downloadable as layered Photoshop files, this pack offers multiple ways to showcase your wedding photography on Instagram or any other social media site. The template files feature Smart Object support and Photoshop Actions for matching your photos to the design. A tutorial makes this pack a breeze to use.
8. Instagram Commerce Pack
Boasting 48 Instagram templates editable in Photoshop, this set lets you showcase your online store, alert customers to discounts and special deals, or just spice up a blog post. The pack includes a tutorial and free multilingual font and can be used on any social media site.
9. 10 Father's Banners for Instagram
With 10 PSD files plus a PDF help file, this template collection helps your online business promote Father's Day. With fonts and images, the set is easy to customize with Smart Objects for not just Instagram but also other social media sites.
10. Minimal Instagram Bundle
Featuring 13 high-resolution minimal photographs in neutral colors, this collection includes an Instagram generator for mixing, matching and previewing how images will appear on the site. All images are square social media layouts in jpg. format.
11. Instagram Photo Masks
This set of over 60 photo masks works on Instagram and other social media sites to showcase products, post quotes or just give an intriguing look to your social media account. The pack comes as layered PSD files and PNG files, and it includes a simple tutorial for placing photographs behind the masks.
12. 12 Beautiful Templates for Instagram
With templates for both Photoshop and InDesign, this collection provides drag-and-drop simplicity to help you to create attractive Instagram images. You can also use the templates to promote products and blog posts on and off Instagram.
13. Social Media Promotional Banners
This set of 10 promotional templates helps you advertise products on Instagram or other social media sites. Provided as layered PSD files with editable text, it also sports a free font to download.
14. Social Media Booster Kit 2
This package of 15 templates works for Instagram, Twitter and Facebook, and it focuses entirely on product marketing. With smart layers and free fonts, these templates feature vivid colors and bold geometric shapes.
15. Social Media Booster Kit 3
A follow-up to Social Media Booster Kit 2, this set of 15 PSD templates features deep blue accents and motifs that add an elegant look to your posts on Instagram and other social media sites.
16. Social Media Layouts
With 12 layouts for Instagram and other social platforms, this pack lets you advertise, share quotes and enhance your personal photographs. The layouts come in PSD files with Smart Objects for quick drag-and-drop customizing.
17. Lifestyle Social Pack
Two sets of editable PSD files at different dimensions come in this template set. It features neutral colors and simple elegance for posting to Instagram and other social venues.
18. Instagram/ Fashion Social Pack
A companion to the Lifestyle Social Pack, this template set features neutral layouts. The 12 editable Photoshop files work well for fashion blogs and other sites that need a unique design.
19. Blog Post and Social Media Templates
This template set features eight customizable PSD files with classic lines and neutral hues for posting to Instagram and other social sites. Thanks to drag-and-drop functionality, you can modify these templates to suit a variety of social media and promotional goals.
20. 15 Instagram Templates Vol. 1
This template pack aids promotion on Instagram and other social sites. With Smart Object replacement, these files are completely editable. The set includes special effects such as Blurred Vintage Texture for visual interest, as well as a set of photographs and a free font for easy customizing.
21. Social Media Pack
With 14 Photoshop-compatible templates, this pack offers unique styles for posting to Instagram and other sites. It also gives you free Google fonts and images. All images can be replaced using Smart Objects.
22. Minimalist Blog + Social Pack
Designed specifically for bloggers, these 10 Photoshop templates promote your content on image-based social sites like Instagram and Pinterest. The package includes blog header and quote templates and a product roundup design for showcasing your blog content.
23. Social Media Booster Kit
Featuring 15 Photoshop templates, this compilation boosts social media engagement on your Instagram, Twitter and Facebook accounts. Included are free fonts and a bonus set of four marble textures.
24. NEW Instagram UI Kit
This customizable kit of PSD files contains all the elements of Instagram's new UI update. It has seven categories, including Feed, Profile, Camera and Filters, and it offers all basic icons and free Google fonts.
25. Instagram Ultimate Pack V1
Featuring 12 Instagram-specific PSD templates, this pack includes three free fonts and completely editable content in a 900x900px layout.
26. Social Media Layouts -- Instagram
This set boasts a square-format Photoshop file with over 15 layouts for presenting content other than photographs on Instagram and Facebook. It also gives you textured backgrounds, shapes and colors, and links to free fonts for download.
27. Rustic Christmas & Holiday
This bundle of individually sold stock images and mock-ups are in square format for use on Instagram and can be edited as needed. You can post the images with quotes or other text, or they can stand alone.
28. Fall Minis Vol. 1
Designed for photographers, these autumn-themed square marketing templates for mini sessions are great for using on Instagram, Facebook and other social media sites. The set comprises 12 PSD files in two sizes, clipping masks for dropping photos, and free fonts.
29. Stylish Social Media Pack
This 21-file pack of social media templates enhances promotion on Instagram and other social media sites. The pack comes with added textures, vector shapes and fonts, and it also delivers a number of fashion-specific templates for products and styles.
30. 30 Banners Promotional, Food & Music
For Instagram and other social media sites, this set of 30 is for promotions of all kinds and features 10 each of general promotional, food and music banners in high-resolution templates. It also provides images and free fonts, which are available via download links.
31. Fashion Social Media Pack
Ideal for fashion blogs, digital magazines and online retail pages, this pack of 20 customizable PSD files for Instagram has a list of retail-oriented headers in square format. You can use this pack with most versions of Photoshop, and it is equipped with free fonts and textures.
32. 240 Banners Pack
With six free Google fonts and a gallery of free images, this collection of customizable banners is compatible with Instagram, other social sites, online stores and other websites. You'll find it easy to use thanks to three video tutorials and a social media cheat sheet.
33. Lifestyle Social Media Pack
Fifteen editable header templates for use with any social media platform come in this pack, which features files for a variety of fashion and lifestyle promotions. You can use it with most versions of Photoshop, and it has free fonts and a help file.
34. Social Media Banners Pattern Edition Vol. 2
This set of 60 editable PSD files features a series of attractive patterns for posting to Instagram, Facebook and Pinterest. The collection is scalable for different sizes of banner ads, and you can completely customize it.
35. Social Media Banners (Fashion Edition)
For your fashion-focused online shop, these 60 editable banners are PSD files with 20 different styles and sizes for Instagram, Facebook and Pinterest. Links to free fonts and a tutorial PDF are also included.
36. Launch Social Media Pack
Featuring 20 designs in three different formats, this pack totals 60 header templates for bloggers, lifestyle brands and creative businesses to use on Instagram, Facebook and Pinterest. It also provides free fonts and a help file.
37. "Multicolor" Social Media Pack
Designed in both Photoshop and Illustrator, this set of 20 social media header templates comes in three color versions and includes a free Google font. You can use the pack for Instagram, Facebook and Twitter.
38. Multipurpose Social Media Pack
With clean and minimal template designs, this pack of 10 promotional banners can be used on any social media site for promoting your online store or lifestyle blog. It offers editable PSD files and a help file.
39. Instagram Promotion Banners
These banners comprise 15 PSD files and 12 design options for retailers, product promoters and bloggers. Smart Object layers enable drag-and-drop customizing, and a link leads to free fonts.
40. 4 Bloggers +Social Media Rose Gold
Featuring a bonus rose-gold foil style and five PSD templates for Instagram and Pinterest, this pack includes two moodboards and links to the fonts used in the files. The set is fully editable in Photoshop, and you can get a free image every month.
41. 40 Instagram Layouts
This set of 40 layouts for Instagram photographs features Smart Objects for drag-and-drop customizing. All layouts are editable in Photoshop, and the set includes links to free fonts.
42. Palm Instagram Marketing Templates
With two square jpg. designs sized specifically for Instagram quotes, these templates feature palm leaf imagery and cool colors for promoting your fashion or lifestyle boutique or blog.
43. 60 Instagram Templates Bundle 2
This bundle includes four individual sets of 15 Instagram templates for a discounted price. It offers 60 editable PSD files, Public Domain images and links to the six free fonts used.
44. Instagram Ready Boards Vol. 1
Four PSD marketing templates for professional photographers make up this product. It features clipping masks for dropping in pictures, customizable colors and editable text.
45. Minimalist Instagram Bundle
Designed specifically for marketing on Instagram, this minimalist template can be edited in either Photoshop or Illustrator. It features muted colors and a classic look, and gives you links to fonts.
46. Create Instagram Tiles in Lightroom
Instagram tiles are a new way to showcase your photographs, and this set includes five Adobe Lightroom templates, plus a collection of stock photos and three instructional videos for using Lightroom and working with the templates.
47. Infopreneur Instagram Pack
For bloggers and other producers of informational products, such as webinars and courses, this pack of eight Instagram-specific PSD templates attracts attention and drives traffic. Editable and adaptable to your branding, this set includes free downloadable fonts and a bonus logo file.
48. Instagram Fashion Pack
With 40 editable PSD templates in three color schemes, this package showcases not only fashion but also any other kind of commerce post on Instagram and other social media sites. It comes with links to a free font and a handy tutorial.
49. Brixton Instagram Layout
This pack includes 20 high-resolution Photoshop templates that work specifically with Instagram's new layout, although you can also use them on other social media and blog sites. Included are free textures, fonts and source images.
50. Juniper Social Media Pack Templates
Optimized for Instagram, Facebook, Pinterest and others, this set of 16 template designs offers social media square layouts, as well as vertical and rectangular sizes, to accommodate a variety of posts. It comes with files for both Photoshop and InDesign, along with free images and fonts.
Instagram may claim a smaller share of the social media pie than other networks, but its youthful users are loyal, interactive and hungry for new content. Stylish and easy to use, these Instagram templates give creative marketers new tools to build a brand - one picture at a time.
---
Products Seen In This Post:

Download it now

Design a cohesive Instagram grid

Download this kit to quickly export Instagram shots that match your brand's visual style. PSD and AI files are included, as well as a moodboard to display your brand's assets.
Building a platform for handcrafted, mousemade design content from independent creatives around the world. We're passionate about making beautiful design simple and accessible to everyone.
---