Keep Your Toolbox Full to Keep Clients Coming Back
Graphics professionals are constantly working to stay ahead of the curve. New web technologies are constantly emerging, and trends in design are moving at the speed of light. Where once a design idea could remain fresh for a few years, now it might burn out in a few weeks. So, when professionals want to keep their clients happy and returning, it is vital that they keep their toolbox of icons, illustrations, textures and patterns full and constantly evolving.
Icons
Whether you're designing a pamphlet, a video game or a phone app, a good icon set can be an incredible time-saver and visual style boost. Remember to select vector graphics, which you can resize and morph to meet your specific needs. Consider which sets of icons are right for your specific clients. For instance, the HomeSweetHome icon set can possibly fit a wide range of clients, from Realtors to contractors to architects. You can select from full-color icons and simple black and white drawings which can be modified to suit your color scheme.

Illustrations
Detailed illustrations are difficult to create and insanely labor-intensive. For these reasons, taking on an illustration-heavy project can be pretty intimidating! Having a library of illustrations that includes templates for logo creation, watercolor flowers, typographical elements and specific items such as maps, can seriously boost both your productivity and "wow" factor with clients. Think ahead of your client and have a wealth of options available when you make your next pitch. The more options you have, the happier your client will be.
Textures
To give your work that extra nudge towards greatness, nothing sells it like a texture. Photoshop may have textures pre-made for you, but most of those have been played out several times over. Boosting your collection will keep your work fresh and competitive. Given that huge texture packs are so affordable, you can stretch a very small initial investment over job after job.
Patterns
Patterns can be used in so many ways. They can pop out and be a key part of a design, or you can reduce their opacity and blend them into the background, so that they provide a bit of accent to the border of a page. A good pattern gives your work an illustrative boost seen on high-end design projects without breaking the budget.
Fill Your Toolbox… Free!
One awesome way to keep your toolbox full of professional, premium resources is to keep an eye on our Free Goods page. Every single week, we take six popular products and make them absolutely free. You'd be crazy not to jump on that!
---
Header image created using Screw Driver, The Ultimate Textures Bundle, and Picons Thin.
---
Getting started with hand lettering?
Free lettering worksheets
Download these worksheets and start practicing with simple instructions and tracing exercises.
Download now!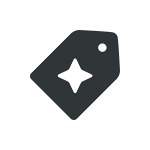 Creative Market