Make Sense of Your Shop Sales Data with Bottomline
6 months ago, I set up my shop to sell digital design resources on Creative Market. Cha-ching! I had my first sale and felt encouraged to continue!
As the weeks and months went by, I continued to create new products for Creative Market and my sales continued too. I had a feeling they were increasing. Could I be sure of that though? Or was it wishful thinking?
How Can I Understand My Sales Better?
I'm not a "numbers person". Quite the opposite. Give me a spreadsheet and my eyes will glaze over. I was wondering how I could make my sales numbers more visual, so I could understand them better and make more well informed decisions on what products to create.
Since I thought it would be handy if I could use my iPhone and iPad for visualizing my sales, I started scouring the App Store for a sales tracking app. The first few apps I found were either too complicated or too pricey for my needs.
Then I found Bottomline. It looked beautiful, with a minimalist user interface, and it was described as a simple sales and customer tracking app for small businesses that generates reports and gives "glanceable" answers to questions like "What is my highest selling product this year?".
It sounded perfect, so I decided to give it a go. I entered my data from Creative Market and took a look at the reports it automatically generated for me. It was fantastic and very motivating to see that yes, my sales had steadily increased!
I could also see which types of products my best sellers are by indicating a category for each product. I sorted my products into categories for icons, illustrations, patterns, and objects. Below you can see how it panned out.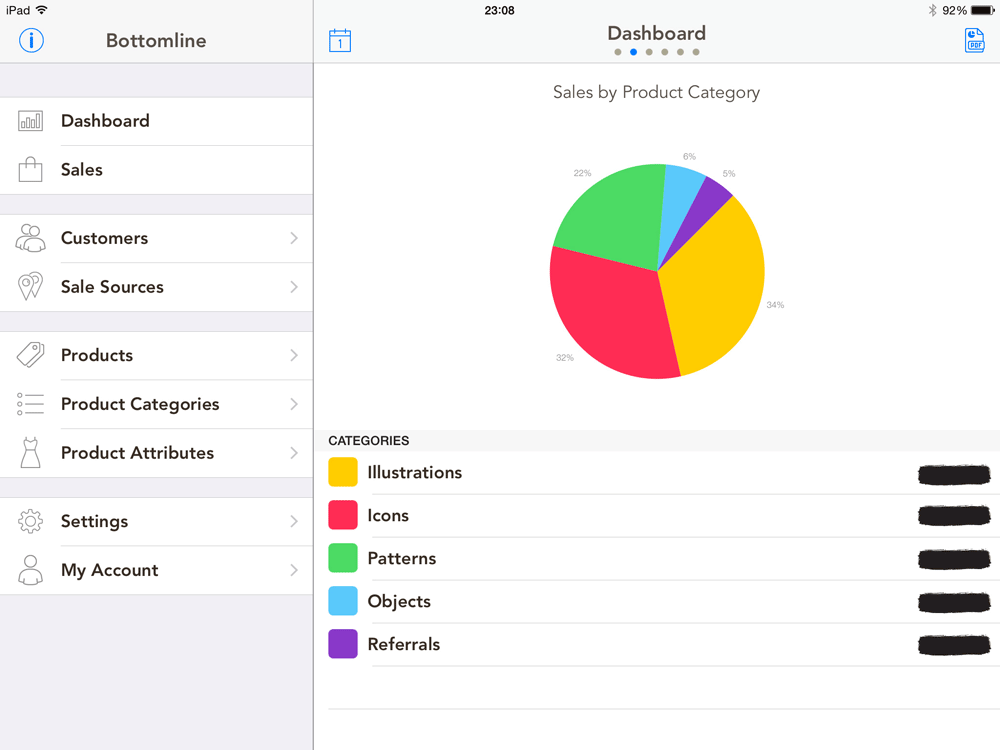 The way Bottomline works, you can add any attribute you like to answer more questions around your sales. So I asked myself what kind of additional questions I'd like Bottomline to answer for me and came up with these:
Which style is selling best? Hand drawn, modern or watercolor?
How is my effort reflected in my sales? Which products sell best, is it ones that are easy, medium or hard to create?
Tracking Multiple Income Streams of a Creative
If you're a creative, it's very likely that you make a living through a number of different venues combining hourly billable time and selling physical or digital products. In my case, I do freelance and commissioned art and design, sell my design resources at Creative Market, sell designs at print-on-demand sites like Society6 and Redbubble, and also sell my original paintings offline through galleries. A lot of people use Etsy or their own web sites to sell their physical products like paintings or crafted objects.
I was glad to discover that Bottomline lets you set up several different marketplaces, so you can easily generate a report that reflects your earnings in different spaces. In my case, the reports clearly showed that Creative Market was by far my strongest online venue, and second only to freelance and commission work. This helped me clarify where to put my efforts so that the print-on-demand sites that don't generate much return on my efforts are now not a priority for me when I create new products. In fact, I now feel more confident in following my dream to try to make my work at Creative Market become my main income!
Take Bottomline for a Spin
Creative Market is known for its helpful and friendly community where shopowners share tips and offer support. The experience of visualizing my sales was so thrilling and felt so useful that I wanted to give back to the community by sharing my findings with you, just in case you find Bottomline as helpful as I do.
---
Kate England is a Swedish artist who loves to create bold and colourful work, mixing together digital and analogue processes. You can find her work on her Creative Market shop and her portfolio.
---
Getting started with hand lettering?
Free lettering worksheets
Download these worksheets and start practicing with simple instructions and tracing exercises.
Download now!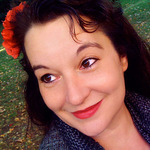 Kate England
I'm a Scandinavian designer. Colour and I have an endless love affair! The result is a bold and expressive, vibrant and organic aesthetic. Join Club Marmalade Moon (it's free), to receive samples, early bird offers, sneak peeks and other goodies. Here's the link: http://bit.ly/1LQMngK
View More Posts