30 Creative Shops You'll Wish You Knew About Sooner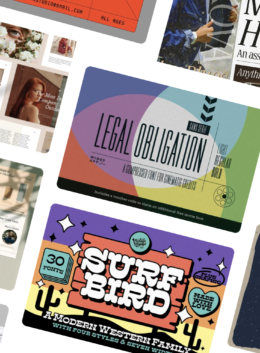 Our monthly Drop comes with a special curation of design assets, free for all members. And to start the month on a high note, we've selected 30 inspiring shops to help push your next project to new heights.
Within this month's Drop, you'll find feature-rich templates, pixel-perfect modern fonts, quirky illustrations, and vector assets dripping with originality. Explore the options below and select one — or many — to give your next project a head start in quality.
Rodrigo Typo
Crafted by Chilean designer, Rodrigo, the typography packs and illustrations at Rodrigo Typo are made for projects requiring a bold, youthful, yet fun aesthetic. Several styles of fonts are specifically crafted for eye-catching titles or magazine text, as well as comics and editorials. If you publish anything on the web, this store is a must-browse.
G.A.R.M. Company
The G.A.R.M. Company specializes in digital resources for design projects with a pop culture vibe. Texture packs, sets of brushes for illustrations, and fonts are just a few examples of the assets available. The color palette collection, inspired by comics and horror movies from the 80s, is particularly creative.
Studio Sun
Based in Indonesia, Studio Sun is an independent digital type and illustration studio. Among its creations are font families useful in just about any design project. The typefaces are inspired by every kind of style, from the classics to the most contemporary.
Warna Works
Warna Works offers design solutions for creatives requiring resources for presentations and branding. With packages full of thousands of logos, map templates, timelines, financial charts, bullet points, and profile slides, the creative flow-charter or presenter has everything they need to make their next presentation a smash hit.
Irina Smal
Irina Smal is a talented artist who loves drawing and producing design tools with vibrant color palettes. In this shop, you'll find fonts, illustrations, and templates for social media use. It also has countless packages and collections with assets and templates to enhance any social media project.

Bnick
If you're looking for fonts with serious impact for your design projects, you'll want to familiarize yourself with the work of Bnick, a graphic designer who lives and works in New York. His typefaces are perfect for logos, headlines, packaging, or any other project in need of unique typography.
September 5th
September 5th is a design studio offering social media and branding templates. Numerous packages of creative templates line this virtual storefront, perfect for authors, writers, poets, storytellers, book lovers, and bloggers. All the layouts can be edited in Canva.
kylyman
The slideshow and social media templates made by kylyman serve a variety of purposes, from in-person company presentations to personal project promotions on the web. The beautiful layouts, which are compatible with Google Docs, PowerPoint, and social media formats, are easily customizable for your needs.
DittonSupplyCo
Located in Indonesia, DittonSupplyCo is a studio specializing in the creation of typography for commercial use. Its font families are versatile, and you can use them in a variety of design projects, from signs, logos, and t-shirts to stickers, magazines, and posters.
rgbryand
On a mission to help your business stand out with style, rgbryand creates high-quality templates for professional presentations. The slides are creative yet clean, with options designed for various business segments. They're compatible with Google Docs, PowerPoint, and Keynote.
LEROY Design
LEROY Design is a New York-based branding agency. Its shop features countless assets for design and visual identity, including beautiful templates for social media and other graphical elements. All templates are editable and work for digital or print applications.
Typefool's Shop
Typefool's Shop is a graphic design studio that strives to make life as easy as possible for the design professional. Its works include minimalist and modern handcrafted templates for portfolios, presentations, fonts, and other digital assets. This shop also features some fantastic gradient color packs.
Victoria Bee Presets
If you need remarkable photography to enhance your editorials or design projects, the images in Victoria Bee are equally beautiful and impactful. Created by a talented Spanish photographer, this shop is dedicated to creating astonishing Lightroom presets for various segments, including lifestyle, food, travel, maternity events, and weddings.
Template Zuu
Template Zuu works to produce the best presentation design options. Studio packs have powerful marketing tools, such as animated slides, social media layouts, email signature models, slide templates, vector icons, infographics, and color collection, among other tools.
BlancheStudio
BlancheStudio's templates offer a unique and attractive atmosphere on social media, including on Instagram. The shop's creations follow incredible color palettes, perfect for highlighting the work of bloggers, influencers, designers, writers, and entrepreneurs, among others.
Wingsart Studio
With an extensive catalog of work, Wingsart Studio has everything you need for any design product. Hand-drawn fonts, illustrations, photos, and graphics of countless styles and inspirations are available for personal and commercial projects.
Vintage Voyage Supply
Vintage Voyage Supply's digital products exude aesthetic strength with cultural references and well-crafted color palettes, making each work a unique visual experience. The studio has themed packs with illustrated objects, fonts, and other graphical elements.
iStar Design Bureau
You'll find art posters, high-quality logo templates, line icons and brand kits at the iStar Design Bureau. These tools are carefully crafted to stand out for their aesthetic beauty and originality, elevating the value of any project they're used in.
TemplatesForest
Focused on templates for freelancers, students, and entrepreneurs, TemplatesForest has a robust catalog of original and visually impactful options to choose from. If you need to spice up your next academic paper, marketing plan, professional portfolio, services page, or pricing guide, this is the shop for you.
Simple có
Providing digital templates for business and design professionals, Simple có has several layout packages for social media presentations, especially Instagram. It offers themed packages designed to meet various niches, such as beauty, fashion, and lifestyle brands.
Spencer & Sons Co.
Inspired by pop art, vintage, and classic styles, Spencer & Sons Co. has developed an impressive collection of typefaces useful for a variety of design projects, including digital products. Although pop art and vintage inspired, the fonts are refined and elegant, promising a unique look for your next typography project.
The Muza
The Muza offers digital products for professionals and companies, including templates for social media, fonts, and logos. One of the highlights of the catalog is the template packs that use both color and black-and-white photos in their compositions, creating captivating contrasts.
Supremat
Supremat has great fonts for anyone who needs a modern, futuristic, or even gothic look for their graphic creations. With numerous variations in weight and width available, the typefaces developed by this shop are perfect for titles, headlines, logos, and body text.
Up Up Creative
Based in New York, Up Up Creative is a studio specializing in stationery and logo design for weddings and small business brands. This shop's font packages and lettering brushes express delicate sophistication and exuberant personality in equal measure.
Ayya Studio
Maintained by a creative couple, Ayya Studio brings a lot of beauty and incredible color combinations to its graphic design products. Vibrancy and quality mark every package, which also include a variety of unique typeface styles.
Designely
For startups and freelance professionals, Designely offers excellent templates to save you time and optimize your business. The packages contain complete design systems for websites, as well as premade templates. All are fully customizable, including colors, components, symbols, icons, and typography.
CV house
For those on the hunt for their dream job, a visit to CV house is worth your time. In this shop, you'll find modern and elegant résumé templates to help you catch the eyes of recruiters and managers. Each template is easy to customize and personalize.
Bosotochka♥Art
From Ukraine, Bosotochka♥Art invests in creative assets that are colorful, fun, and full of personality — not to mention versatile. Stylish patterns, including hand-drawn variations, are perfect for everything from website backgrounds, business cards, invitations, and even fabrics.
Studio Fevrier
Graphic designer, Iveta, set up Studio Fevrier to offer modern, versatile, and handcrafted graphic design assets. Her handcrafted creations feature beautiful collections with seamless patterns and organic shapes distributed in vibrant colors and styles.
BE-Creatives
For the social media auteur seeking fun and practical templates, BE-Creatives is the store to visit. Featuring tools and templates designed to save you time and enhance your brand experience, this shop has assets you'll want to keep handy. Every asset is fully customizable in Canva.
If you want access to these incredible assets to embolden your next project, become a Member today. With a Membership, you'll have instant and free access to every one of these assets, amounting to unlimited creativity!
Getting started with hand lettering?
Free lettering worksheets
Download these worksheets and start practicing with simple instructions and tracing exercises.
Download now!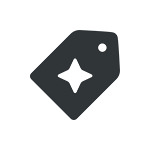 Creative Market