Meet the Shops Behind the Drop
Our monthly Drop is here — a collection of creative design resources from our talented shops. These curated assets are free for everyone with a Creative Market membership, and you can view them all below while learning more about the shops from the Drop and the artists behind each one.
Ayya Studio
Designs created by this husband and wife duo are full of warmth, taking inspiration from natural elements and vintage styles. With fonts, patterns, graphics, gradients, and so much more, Ayya Studio's assets will bring an inviting and heartfelt touch to your projects.
Harmonais Visual
Based in Ho Chi Minh, Harmonais Visual's design resources are all about creating an elevated style. Fonts with a classical flourish and perfectly refined mockups are the hallmarks of this visually moody shop.
Naufal NI
Freelance designer Naufal NI's focus on hand-drawn design work has resulted in the unique assets in this store. While each of Naufal's fonts has a unique flavor, they share a handcrafted feel and are sure to make a big impact on your target audience.
Mira_I
For iconography that sends a message, Mira_I's graphic assets have you covered. This Creative Market shop features a wealth of creative logo designs in multiple styles, as well as line icon sets that are perfect for defining a clean, minimalistic brand look.
Galgali Design Studio
Are you looking for bold and vibrant designs for your next promotion? Look no further than the Galgali Design Studio shop. These assets are made for impressions, from colorful, eye-catching flyers to striking templates for slide decks and social media posts.

Hello Mart
Hello Mart's design resources major in patterns and textures that make 2D feel 3D. Inspirations range from technology and nature to trending design styles, so you're sure to find a pattern, photo texture, or business card for your boldest ideas.
Ziggydotcom
The Los Angeles-based illustrator and artist behind the Ziggydotcom shop creates fonts that are truly (and intentionally) one-of-a-kind. These hand-lettered assets in this storefront have an artisan appeal, which is further accentuated by the rugged, adventurous style infused into each one.
Kette Create
Kette Create, a Ukrainian-based designer and illustrator, combines dramatic line art with unexpected color palettes for design resources that pack a visual punch. The asset kits and illustrations in Kette Create's store are sure to charm and inspire new design ideas.
ClayStudio
The award-winning ClayStudio is big on vectors and offers assets that you can use for a wide variety of design projects. From bold vector sets to character-filled badge and sticker builders, ClayStudio turns simple objects into compelling assets.
The Shop
Hailing from Cleveland, Ohio, The Shop's artists give their assets a distinctive vintage, distressed look. This varied asset library includes texture packs, diagrams, and brush strokes that instantly give any piece the effect and weight of age.
Guerillacraft
Authentic vintage is in the details, and Guerillacraft's shop has those details in spades. The brushes, textures, and effects are the perfect assets to give all types of design work that extra bit of retro charm and establish an old-school aesthetic.
Freeject.net
Freeject's graphic design resources include an eclectic variety of asset types and design styles. Material-based textures, watercolor backgrounds, and hand-drawn illustrations are front and center, making this store worth a look, both to complete a project and inspire the next.
Floral Deco
Floral Deco's name perfectly reflects the feel of this asset shop, which features photos for every season and any style. With over 100 resources, Floral Deco features images to theme your social posts, dress up your website, and much more.
Creavora
Turning "creativity into high-quality and functional designs," Creavora's Creative Market store is ready to help you build and highlight your upscale or luxury brand. The cohesively-designed templates and fonts from the Indonesian studio will simplify your pathway to quality designs that reflect your goals.
Studio 2am
Based in New South Wales, Studio 2am provides assets that are clearly inspired by 80s and 90s media, featuring striking neons and retro-futuristic textures. For a statement-making piece, any of these overlays, mockups, and effects will take your efforts to the next level.
Megflags
Megflags was founded in 2016 by Indonesian designer and illustrator Fahrenno Asnawan, who creates graphic design resources for vintage enthusiasts. The fonts and hand-drawn illustrations in this store have a retro charm and individual style that will bring definitive character to your designs.
Kloroform
High-impact use of shapes is the mainstay of Kloroform's design assets, making it fitting that the shop's name invokes both "color" and "form." With geometric-based patterns and backgrounds as the core offering, these resources give dramatic flair to basic shapes and dramatize your designs.
Darumo Shop
The moody yet playful style of Darumo Shop is infused in each resource displayed in this asset store. Quirky fonts, distinctive illustrations, and unique scene builders are ideally suited to bring the perfect touch of wonder and whimsy to design projects.
Kseniia_Design
Seattle-based web and graphic artist Kseniia supports creative businesses with professionally-designed templates. With themed designs for Squarespace websites, Instagram posts, and more, these resources make design easy. Each asset set in the Kseniia Design store has a refined, elegant aesthetic ready to elevate brands.
Garisman Std
Handcrafted fonts are the focus for Risman, the main designer behind Garisman Studio. With the studio's background in creating typefaces since 2017, Garisman Studio reflects a dedication to the craft. You'll find the vintage, handwritten fonts here are perfect for attention-grabbing headlines.
Rawdist
The Rawdist Creative Markets shop features a carefully curated collection by Ardan Fajar, a freelance graphic designer from Indonesia. The small but powerful set of Photoshop actions is large on mood and includes duotone and halftone effects, as well as letterpress and inked effects.
Dordar.Lab
For designs that need to make a significant impact quickly, Dordar.Lab is the perfect place to start. Boasting hand-drawn resources, this store's impactful badges, social media templates, illustrations, and more range in theme from boho botanical to retro holiday.
Maria Galybina
Maria Galybina's shop is an explosion of organic-infused graphics that will liven up any design project. The Lithuania-based designer's bright and original patterns take their inspiration from nature, featuring beautiful blooms, bold foliage, and calming ocean waves to reflect every season.
Crocus Paperi
The tagline "Design that feels natural" is the perfect descriptor for Crocus Paperi's design resources. Based in Helsinki, this shop puts line art at the center of each element, resulting in elegant illustrations and templates with a clean, botanical style perfect for weddings, wellness brands, food blogs, and more.
Los Andes Type
With fresh tasks on classic typeface forms, the Los Andes Type store has a font for every design need. Charming brush scripts, corporate sans serifs, and vintage automobile-inspired headline fonts are all here to inspire your next typographic work — and every font is decidedly unique.
Any-Type
For retro-styled fonts that evoke adventure and wanderlust, Any-Type should be your destination. The hand-drawn fonts in this small but uncommon collection range from casual, light-hearted scripts and gallant, swash-included italics to distinctively rough western serifs and beyond.
Grace Noboa Illustrations
Grace Noboa's passion for florals and nature is evident in the delicate flowers and detailed plants that fill her shop. Watercolors and line art in muted hues will lend a natural-inspired elegance to a range of design projects.
Unio | Creative Solutions
The Italy-based team of designers behind Unio offers design assets of all kinds with one thing in common: a bold, singular style that puts your design or content front and center. The Unio | Creative Solutions store includes everything from stand-out fonts and quirky patterns to practical mockups.
Edignwn Type
"Strength in letters" is the concept behind the resources from Edignwn Type, a philosophy that couldn't be more evident in the store's display fonts and illustrations. Strong impressions are assured when incorporating these striking, vintage-inspired assets that feature distressed details and flourishes that can't be ignored.
Vintage Voyage Supply
Vintage Voyage Supply's graphic creations are anything but traditional. Each font, Procreate brush, and graphic in this Creative Market store is bursting with a unique personality to evoke the right emotions in designs.
Twinbrush
The Ireland-based creative director behind Twinbrush specializes in brand identity, an evident focus in the shop's assets. Dramatic Photoshop effects and one-of-a-kind typefaces instantly establish a mood that viewers will connect to — and make your next graphic project even more memorable.
Midnight Grim
With a name like Midnight Grim, you'd expect a design store with plenty of atmospheric style. The fonts, photos, and graphic resources of the Midnight Grim shop have an extra dose of mysterious and ethereal, balanced by the store's cheerfully whimsical assets.
Bnick
Based in NYC, freelance graphic designer Bnick offers a collection of distinctive fonts that are as exciting and diverse as the Big Apple. Whether your typeface needs are quirky and playful or daring and strong, Bnick's resources are worth a look.
Mockup Cloud
As the name indicates, the Mockup Cloud shop is a wealth of flat lay resources and mockup templates. These graphic design assets include everything from t-shirt and cosmetic mockups to packaging and floral elements to make your content stand out.
Curly_Pat
Ukraine-based Curly_Pat's graphic assets are infused with the artist's passion for geometry. The Curly_Pat design shop is the result, offering a treasure trove of detail-rich patterns that run the gamut from intricate elegance to expressive fancifulness, including many valuable pattern sets.
Blixa 6 Studios
If richly atmospheric backgrounds and graphics are your vibe, Blixa 6 Studios has the resources for you. The more than 200 design assets in this shop include marble patterns, astrology and ocean vectors, and abstract textures, all evoking wonder and curiosity.
Design Council
With a full range of templates that are daring, whimsical, and everything between, the Design Council store has your next presentation design covered. Pitch decks, marketing decks, and conference decks are all here, as well as mockups and fonts to round out your design needs.
Storyteller Imagery
The duo behind the Storyteller Imagery describes their design focus as "bizarre things, wild and unbelievable stories." The illustrations and fonts in the Storyteller Imagery shop have an inviting and curious style that sets a perfect fairytale mood.
Elokka Studio
Elokka Studio puts bold shapes and compelling imagery on full display in every resource. Presentation templates and Instagram posts create striking visuals that are perfect for framing your content in a way that is sure to capture your audience's attention.
Essentially Nomadic
Hailing from India, the illustrator behind Essentially Nomadic blends personal experience with a love of color for design assets that are both lively and optimistic. In the Essentially Nomadic store, you'll find vibrant illustrations and themed patterns infused with sunshine and comfort.
Para-Scope Design & Type
A candy shop for font aficionados, Para-Scope Design & Type caters to monogram enthusiasts and type-centric designers. This graphic resource store features a wealth of monogram sets, fonts, and other typographic design tools to "make the creative process as smooth as butter."
Pixelbuddha
With a self-professed passion for premium design, the Pixelbuddha shop has a range of resource types to elevate your next project. Dramatic photo effects, pixel-perfect mockups, and brush effects are just a few of the assets available in this attention-grabbing store.
GemPortella
Food-enthusiast Gemma puts her passion for cuisine into design form as the creative talent behind GemPortella. Brimming with personality, the illustrations in this store cover a range of cultures and are perfect for restaurants and food bloggers alike.
All This Concept
As the solo artist behind the creative studio All This Concept, Agata uses the abstract to create meaningful, impactful designs. Bold shapes and rich colors create unique vectors and backgrounds inspired by the wilder sides of nature and much more.
Rebrandy
The Rebrandy shop features an eclectic collection of practical resources to support your design needs. Alongside mockups for everything from phone cases and t-shirts to scarves and pop sockets, you'll find overlays and animated fonts for that added touch.
Mocca2Go
For unexpected stickers and unique mockups that you won't find elsewhere, Mocca2Go should be your go-to source. The mockups in this shop include baby clothes, gym towels, and pet bandanas, while sticker creators set you up to make your own stand-out designs.
Vecster
As the name implies, Sergey Kandakov, the designer behind the Vecster storefront, is honed in on vector elements. Graffiti, tattoo, and grunge-style illustrators fill the store along with sport and restaurant-themed graphics, all with an impactful style that immediately draws the eye.
iStar Design Bureau
With logo templates, art posts, line icons, and brand kits, the iStar Design Bureau has everything you need to jumpstart your next branding project or show off your finished designs. The elegant aesthetic of these assets takes cues from nature and vintage styles with refined results.
Leonard Posavec
Croatian designer Leonard Posavec travels the world, gathering inspiration for new graphic resources. Accordingly, this shop represents a wide range of styles in the Procreate brushes, logos, and fonts you'll find here. These assets share a dynamic style and will create a unique experience.
September 5th
The Seattle studio behind September 5th has made social media templates their specialty. With design packs created specifically for writers and online stores, these social templates will help establish a cohesive and aesthetic presence. September 5th also has book cover templates for aspiring authors.
Want to access these design assets and more to make your design projects look professional and pleasing to the eye? Become a Creative Market member today. With a Creative Market membership, you can instantly download any of the offerings from the Drop — for free — which means $1000s of dollars worth of unique design assets.
Getting started with hand lettering?
Free lettering worksheets
Download these worksheets and start practicing with simple instructions and tracing exercises.
Download now!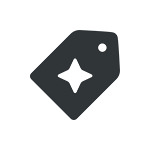 Creative Market