Meet the Shops Behind the Drop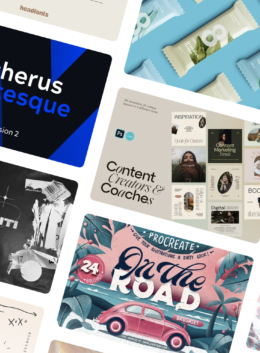 Each month, we drop a curated collection of design assets from talented shops and make them free for all Creative Market members. Here are the design resources we're dropping this month. Check out this list of shops and learn more about their style:

Badspark
Badspark is an artists' collective based in Michigan. The artists behind Badspark specialize in edgy logos and branding. Wilhelm is a distinctly retro, sci-fi font that hearkens back to both in an older, mid-century era.
Bonumo
Bonumo is a design studio based in Europe focused primarily on social media design. Retro Instagram Template is a template for Instagram posts that makes them look like they were made in a different era.
Bort Graphic Assets
Bort Graphic Assets set up their Creative Market Shop in 2020 in New York. Bort creates rough, realistic-looking textures to transform the overall aesthetic of your design — as if by magic. The Printed Paper Seamless Texture Pack is an excellent choice to transform the texture of your project.
BOXKAYU
For a store that aces simplicity, check out BOXKAYU in Indonesia. While they have many templates for print creations, Brand Book Guidelines is a clean, easy-to-read book template that's 48 pages long.
BoxTube Labs
BoxTube Labs is one of the shops from the drop that makes a wide range of design assets, from fonts to vector objects to mockups, and more. BoxTube Labs is based in Sweden. Empera is a display font family inspired by old-school Baseball logos.
SpazioBianco
SpazioBianco is an Italian designer crafting distorted or morphed fonts and design elements. Smashed Text Effect is aptly named because it looks like someone came through and smashed it with a hammer.
CurlyPat
CurlyPat is a designer based in Europe who specializes in geometric, eye-pleasing patterns. Sophisticated Seamless pattern is a pack of black and white patterns that's great for wallpaper, textiles, wrapping paper, and more.
Davide Bassu
Davide Bassu is located in Rome, Italy. Bassu makes a wide range of fonts inspired by calligraphy or fantasy stories. Perfetto Brush Font looks like a meticulously hand-drawn font rendered with a paintbrush or calligraphy brush.
Polar Vectors
Polar Vectors, the shop by Hungarian designer Diana Hlevnjak, is one of the best Creative Market Shops to follow current design trends. Find everything from patterns to gradients to textures. 1980s Synthwave toolkit is a design bundle to help you with any project inspired by this vibrant decade.
Dvtchk
dvtchk is a Brazilian Creative Market designer who makes tileable backgrounds. Glitch Photo FX can make your photo or overall design appear spooky or retro — like watching a flickering TV.
Easybrandz
Easybrandz, based in Portugal, this shop a great resource for branding assets. 60 Logo Templates Bundle is a pack of different retro templates; a great fit for any project with an aged, vintage aesthetic.
Eezo
eezo is a Portuguese design company by Igor Khrupin that creates beautiful branding templates for a wide range of products. Design the tote bag of your dreams by using eezo's Tote Bag Mockup.
EkaterinaKiriy
EkaterinaKiriy is a Russian graphic designer creating graphics based on natural shapes. Modern abstract shapes and plates is a collection of graphics and shapes you can use in any design, reflecting leaves, flowers, and plants in retro colors.
Urban Poster Mockup
Based in Budapest, Urban Poster Mockup creates templates designers can customize and use in the real world. Bus Station Digital Mockup is a clean, scalable poster template that can be customized for any bus stop.
Felippe Cavalcanti
Felippe Cavalcanti is a Brazilian Designer who makes products inspired by the 19th and 20th centuries. Vintage Soul No. 2 is a pack of textures for any retro style project.
Alberto Fontense
Alberto Fontense is a specialist in decorative fonts. Horizon Wide Sans Serif font is a bold, eye-catching display font.
Freezerondigital
Freezerondigital is a Ukrainian designer who specializes in photo overlays, textures, backgrounds, and patterns. Prismatic Photo Overlays is a cool way to make your photos look as if they were taken through a prism, adding texture, color, and mystery.
Graphic Spirit
Graphic Spirit is a Creative Market designer based in Russia. Anaglyph Isometric SVG Color Font uses OpenType technology.
Greta Ivy
Greta Ivy is a Bulgarian designer who makes clean, detailed textures, watercolor drawings, and more — a shop full of minimalism and simplicity. The Vintage Paper Super Pack is a collection of authentic paper textures that can make your projects look handmade.
Headfont
Headfont, based in Romania, creates a huge range of fonts for designers to use. Monogram World Serif is an old-fashioned but distinctively clean and readable serif font that combines minimalism and fantasy.
Horizon Type Foundry
Horizon Type Foundry is an independent type foundry based in Istanbul and created by Ufuk Aracıoğlu. They make clean sans serif fonts like Acherus Grotesque, available for free to Creative Market members this month.
Hydrozi Presets
Hydrozi Presets exclusively sells Lightroom presets for mobile and PC. Foodicious is a simple shortcut to retouch food photos.
Ian Barnard
Ian Barnard is focused on digital lettering. Based in Crowborough, England, he created Blast Powder Brushes for Procreate — 60 brushes to recreate a bold, urban look.
Kuro
kuro is a designer in Vienna that produces high-quality mockups and templates. Glass Morphism is a stunning, blurred-glass effect that can make any digital or print project look like it's printed on a window or pane of glass.
Maison Octave
Maison Octave, in France, makes modern resume templates. Designers can use this personal branding resume to compile their credits and apply for design jobs.
Marie T
Marie T is an English designer who makes mostly vintage mockups, collage elements, and retro social templates. Grafitti and Torn paper is a set of textures and backgrounds that make your designs grittier and more like street art.
Little Fonts
Little Fonts makes a range of typefaces, from bold and clean display typefaces to intricate, decorative fonts. It's run by Max Little and based in Norwich, UK. Olio is a fun, interesting bold display font.
Minimal Marks
Minimal Marks is a U.S.-based Creative Market designer who creates simplistic, line art-style logos and images. Celestial Logo Creator Set is a set of mystical logos related to astrology, magic, and the moon.
Mio Buono
Mio Buono is a graphic designer, yogi, and illustrator in Kazakhstan who creates illustrations influenced by the natural world. Boho Summer Logo is a design template collection that's equal parts tropical, fantastical, and retro. 
Mockup.Factory
Mockup.Factory, based in Ukraine, creates effects and overlays for your design projects. When you get a Creative Market membership, you get Gainyents 2.0, which is a bundle of gradient shapes to add an extra pop of color and complexity to your projects.
October November
October November is a design shop created by Craig who makes upscale and chic branding elements for companies. Louve is a set of minimalistic stationery mockups with a light, romantic fair.
Heart + Soul Studios
Heart + Soul Studios is a UK-based design studio with a spiritual focus. Handmade Elements is a set of doodles and handwritten words that look distinctively handwritten, casual, and fun.
Graphic Wave
Graphic Wave is a Bali-based Creative Market Shop that designs product packaging for food and other 3D art. This product can be used for granola bar or protein bar wrapper design and offers mockups.
Mockup Factory
Ukrainian designer Mockup Factory, included in the shops from the Drop, created Gin Bottle Mockup, a template you can use to bring your own liquor or beverage designs to life.
September 5th
September 5th specializes in social media content. Their designs are sleek, chic, and always readable. Content Creators Instagram CANVA PS is a set of templates creators can use to make posting even easier.
SHOOM HOUSE
SHOOM HOUSE is one of the designers in this month's Drop. Based in Ukraine, creator Kate Buke build La Parisian Lightroom Set to give your photos a warm glow.
Shoutbam
Shoutbam is a talented shop owner from Croatia. On the Road is a set of brushes that make any design seem whimsical, retro, and even gritty — like they were made while driving on a dusty road.
Sparrow & Snow
Sparrow & Snow, based in Italy, creates social media kits, graphics, and templates. Use Let's Talk Instagram Quotes as templates for posts and stories with inspiring quotes for your social media profiles.
Studio 2am
Based in New South Wales, Studio 2am makes a huge range of effects and textures. Hearken back to the days of yore (the 90s) with Zine-Retro Magazine Effect.
Studio Buchanan
Studio Buchanan is a creative foundry based in the UK that makes fonts and branding elements. Oscilus is a fun font that's a little bit funhouse and a little bit trippy.
Studio Innate
Studio Innate is a design studio on Creative Market based in Newbury, UK. They specialize in templates for wearables and T-shirts. Create the perfect design for a 5000 Gildan Heavy T-shirt with this template.
Studio Mindu
Patricia, the designer behind Studio Mindu in Lisbon, has created a collection of design assets that improve food posts on social media. Post your food with the Minimal Food Instagram Pack.
Sweetest Goods
Sweetest Goods is a design shop that makes minimalistic fonts and logos. Chatoyer is a chic, modern sans serif font that's good for both body text and product design.
The Muza
The Muza was started by Rodika Devhei. They specialize in templates for social media, fonts, and lettering. 100 Film Frames by the Muza contains templates for Instagram stories and posts with a distinctively chic bent.
Twinbrush
Twinbrush is a Creative Market shop in Ireland. They create designs and images for music, food, and beverage-centric products. Bank Typeface is a bold display font that's striking and modern in its appearance.
Typehaus
Typehaus is a type foundry based in Medan and Jakarta. Volkschaft is an unmistakably bold, old-fashioned typeface for retro projects.
Una Matison
Una Matison is a designer based in Riga who makes bright and minimalistic templates and mockups. If you get a Creative Market Membership, you'll get Video & Photo Frame Mockups with 8 videos and 23 photo templates.
Unio Creative Studios
Unio Creative Studios, from Bari, Italy, is a Creative Market shop that creates a range of typefaces. Kinetic Typeface is a simplistic, futuristic sans serif that's great for body or display text because of its clarity.
Vanzyst
Vanzyst is one of the Creative Market shops in Ukraine that offers gradients, shapes, and graphics inspired by psychedelics. Abstract 100 Universal Vector Objects offers black and white geometrical shapes with blending, distortion, smooth transition, and other interesting effects.
Vintage Type Company
Vintage Type Company, based in Canada, is aptly named because they've created a brilliant collection of old-style typefaces. Old Spirits Display Font is a great bold font to use for designing a bar or beverage logo.
Fox & Bear
Fox & Bear is a design studio in Arizona that produces neon and colorful designs inspired by nature and the spectrum of light and color.
Whitespace Design
Whitespace Design is a shop created by Bastien Wilmotte, who lives and works in Belgium. Whitespace Design is an excellent design store for minimalistic logos, templates, and more. Logo Presentation is a tool that can help you present logos in different formats and layouts.
Wilde River Studio
Wilde River Studio, based in South Africa, creates design assets for "purpose-led dreamers" building their businesses. Ladypreneur Logo Kit offers feminine, stylish, customizable logo designs.
Winston Type Co.
Winston Type Co. is an Indonesia-based design studio that creates expressive fonts. WT Bellochero is an upscale, ornate serif font that evokes the feeling of a speakeasy.
Zeune Type Foundry
Wallington Pro is one of the shops from the drop with a font created by Zeune Type Foundry, based in Indonesia. The font evokes a feeling of old-school calligraphy.
Become a Creative Market member and download this Drop for free
Want to access these design assets and more to make your design projects look professional and pleasing to the eye? Become a Creative Market member today. With a Creative Market membership, you can instantly download any of the offerings from the Drop — for free — which means $1000s of dollars worth of unique design assets.
Getting started with hand lettering?
Free lettering worksheets
Download these worksheets and start practicing with simple instructions and tracing exercises.
Download now!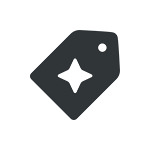 Creative Market