Discover 28 Inspiring Assets to Jumpstart Your Creativity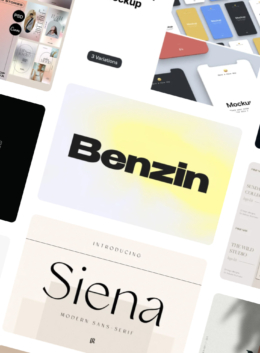 If you're looking for creative inspiration for your next project, how about checking out our latest Drop? Available to anyone with a Membership, this month's Drop collection features 28 bold, creative assets to bring your projects to life. Templates, graphics, resumes, ebooks, vectors — you'll find options for any kind of project. And the best part? As a member, they're yours for free!
Explore the Shops behind this month's Drop below to learn more about what they offer and discover the incredible products up for grabs in our latest Drop!
Frankentoon
Created by an independent artist based in Madrid, Frankentoon provides tools to embolden other artists, specifically in the form of brush packs for Procreate. Frankentoon's unique brushes are organic and full of life — the perfect tool to enhance any digital painter's toolkit.
NICODIN
NICODIN is a digital design studio that provides professional solutions for those who want to stand out on the web. It offers fully editable resume templates and corporate brochures. One of NICODIN's highlights is a 20-page brochure designed for those with rental property in need of an impactful visual presence to place on booking websites for vacation rentals.
sltv
With the proposal of offering incredible graphic resources for your future design projects, sltv features several packages with customizable and creative visual elements. One of them is the 3D Layers Isometric App Mockup kit, which has depth features, along with the option to choose layers of any shape and color.
Studio Innate
Created by and for designers, Studio Innate has several mockups, fonts, and graphic packages that will make all the difference in your products. For those who need custom art for clothing lines, there are amazing bag and long-sleeved shirt mockup options.
Wild River Studio
Wilde River's purpose is to facilitate the work of graphic designers, photographers, bloggers, and other creative pros. To achieve that, they created easy-to-use, fully customizable templates for Canva, Illustrator, and Adobe InDesign. One of the templates is a Services and Pricing Guide, which organizes your skills, services, and prices in a professional and attractive layout.

Anugraha Design
Created by a passionate pattern-maker, Anugraha Design has dozens of amazing graphic solutions for your projects, such as themed geometric patterns, illustrations, landscape creator, display fonts, and more. Each one is created with beautiful colors and designs that cater to different targets and proposals.
Firetuts
Firetuts is a digital studio based in the UK that offers legal document templates for small businesses and freelancers, along with multiple variations of Tiles for Prototyping and Wireframes. These kits include apps, websites, flowcharts, and more, and they're 100% vector and fully customizable. 
CV House
If you're looking for premium résumé templates, you may want to check out the works of CV house. It offers several elegant and attractive templates, fully editable in InDesign, Photoshop, and even Word. 
Kazer Studio
Based in Australia, Kazer Studio is a digital studio with incredible know-how in font design and brand identity. You can find a package with fonts of various styles, including standard fonts for use in traditional projects, as well as more elaborate fonts leaning toward creative and flashy styles.
Mockstar
Formed by a small but creative team of designers, Mockstar is a studio that specializes in creating high-quality mockups and digital assets with incredibly realistic visuals. Whether you're looking for an impactful design or a new concept for your project, Mockstar's customizable options can help. 
Ivan Rosenberg
Ivan Rosenberg is a graphic and typeface designer with creations inspired by fashion, art history, architecture, and interior decoration. The fonts draw attention for their beauty and ease of use and range from modern to vintage in style. You can use them in a variety of products, such as packaging, type logos, branding, and documents.
Oksana Trygub
Oksana Trygub is a freelance illustrator from Ukraine. Her collections include beautifully textured art with vibrant colors and exquisite compositions. They're perfect for use in t-shirt designs, collages, wedding invitations, and other products. 
Sensatype
Sensatype is a studio that specializes in creating versatile fonts for design projects. It offers options for those with a preference for vintage style, modern chic, and, of course, the classics. The creations are perfect for wedding design stationery or websites, invitations, logos, photography, and other projects that require high-quality typography.
Studio Bons
Sophistication defines the work developed by Studio Bons, which focuses on creating editorial products. Some of the interesting options created by the Studio Bons team include portfolios and proposals for architects, cookbooks for chefs, and fashion lookbooks.
Supremat
Supremat is a great place to find various fonts and typography for your new design project. Futuristic or inspired by the art of centuries past, Supremat's creations exceed expectations and are perfect for posters, logos, and websites.
AF Studio
AF Studio stands out for the versatility of options it presents. It features dozens of font types that you can adapt to the most varied design projects. From retro to modern, you're sure to find a beautiful and creative font to use in your future design endeavor.
Welovegraphics
With funny, colorful and creative illustrations, Welovegraphics offers options for the most diverse projects and platforms, such as apps and websites. The collections are easily adaptable to unique products in tune with modern digital culture.
Typefool
Based in the Netherlands since 2015, Typefool offers handcrafted, minimalist, and modern graphic solutions for clients' brands all around the world. Templates, fonts, and graphics are some of the high-quality work developed by the studio. 
Maria Tokar
From England, Maria Tokar is a digital collage artist who offers professional, high-quality templates, graphics, and mockups. Her studio offers plenty of creative elements for social media, ideal for those seeking a more creative social media presence.
Bonumo
Focusing on social media and brand strategy, Bonumo is a studio that develops templates with impactful aesthetics. If you want to create a visual identity from scratch or need to elevate your customers in the digital world, Bonumo's creations are great choices. 
Codetoform
Exploring new techniques in search of unique images, Codetoform has a respectable collection of vectors, textures, and high-resolution graphics, including 3D versions. You can tailor and adjust each one to your design project. Codetoform also offers free options.
Forth and Wild
Forth and Wild was created by a young designer based in Canada who loves creating design templates for entrepreneurs. This charming digital studio offers designs that are editable in Canva, including logos, website templates, fonts, illustrations, and hand-painted textures.
Mirazz
Mirazz's beautiful graphic templates are perfect for professionals and beginners alike. It offers hundreds of customizable templates for social media, ebooks, workbooks, and slide decks that can be edited in InDesign, Photoshop, and Canva.
Studio Loire
With a goal to serve coaches, course creators, and business owners, Studio Loire has several Canva templates, including ebooks, services and pricing guides, and e-courses. The models are easily adapted and adjusted to fit the size requirements of the social media channel of your choice.
Social Chics
If you need to produce a super creative and eye-popping post in just a few minutes, check out the social media templates developed by Social Chics. There are over 3,000 options — all editable in Canva — designed especially to help small business owners and digital entrepreneurs.
Los Andes Type
If you're looking for fonts and typography with a contemporary, creative, eclectic style, the Los Andes Type studio has excellent options. All are customizable and adapted to different design products, whether those projects are digital, print, or some other media.
Forpeople
With the objective of creating clean and simple interfaces, Forpeople developed several design resources that are useful in digital products. UI cards, layouts for desktop and mobile, illustrations, minimalistic icons, and backgrounds for iPhones are a few of the studio's creations.
Zetafonts
Based in Florence, Italy, Zetafonts has been in the business of designing inspiring and functional typefaces for over a decade. The studio is famous for its innovative font creations, as well as language extensions and symbols. Some font collections even include signatures of renowned Italian artists.
If you want access to these incredible assets to embolden your next project, become a Member today. With a Membership, you'll have instant and free access to every one of these assets, amounting to unlimited creativity!
Getting started with hand lettering?
Free lettering worksheets
Download these worksheets and start practicing with simple instructions and tracing exercises.
Download now!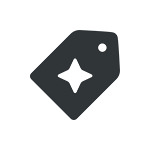 Creative Market