Colorful Mexican Folk Graphics for Día de los Muertos Designs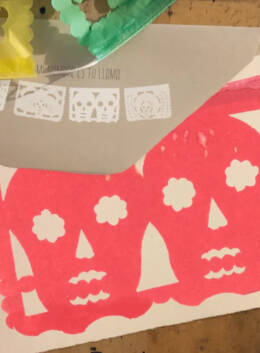 In 2003, the United Nations Educational, Scientific and Cultural Organization (UNESCO) proclaimed Mexico's Día de los Muertos ("Day of the Dead") as part of the Intangible Cultural Heritage of Humanity. Mexicans see this festivity as an opportunity to honor their dead loved ones and celebrate their momentary return to Earth. While the custom of honoring the dead had been upheld by indigenous communities for centuries, it merged with the Catholic feast of All Saints' Day to shape the blended, syncretic celebration we know as Día de los Muertos today.
A Little History Behind Día de los Muertos
Originally, the festivities would last an entire month. They took place on the 9th month in the Aztec solar calendar, which coincided with the end of the harvest period. This festival was presided by the mighty Aztec goddess Mictēcacihuātl ("Lady of the Dead"), who ruled over the afterlife. The idea of a festival to honor dead relatives around that time of the crop cycle wasn't unique to the Aztecs, however. Many ancient religions like Hinduism and Buddhism, as well as civilizations like the Egyptians and Incas have commemorated some kind of "Festival of the Dead".
Catholicism, which blended with the Aztec religion upon the Spanish conquest of Mexico, also has its own All Saints' Day (November 1st) and All Souls' Day (November 2nd). Naturally, when those two sets of beliefs started to combine, some of the icons and customs of Mexico's pre-existing indigenous communities were taken on by the Catholics and viceversa. The celebration that used to last a full month was now combined with the Catholic holidays on the first two days of November, resulting in the modern-day Día de los Muertos festivities.
Today, November 1st is devoted to children's souls (little angels or "angelitos"), while November 2nd is all about honoring adults. Most recently, Pixar's Coco movie created a story around the traditional Mexican celebration and brought awareness about its uniqueness all around the world:

Día de los Muertos Visual Symbols
These festivities are infused with a rich visual language and hidden meanings everywhere you look. Let's explore some of the most significant symbols in Día de los Muertos traditions.
The Catrina
You may have seen La Calavera Catrina (The Catrina Skull), a character originally illustrated by José Guadalupe Posada. She has become one of the most popular symbols of these festivities, and with good reason: she represents Mexicans' folklore and their unique point of view about death. Dapper, bold, and unique, Catrina has even become a popular costume all around the world.
Some researchers believe that Posada's original illustration was inspired by the Aztec goddess Mictēcacihuātl, mentioned above, to hint at Mexico's indigenous traditions and ancient relationship with the idea of death. She was also a satire: Posada wanted to criticize the elitism of those who wanted to seem European in Mexico's social circles at the time.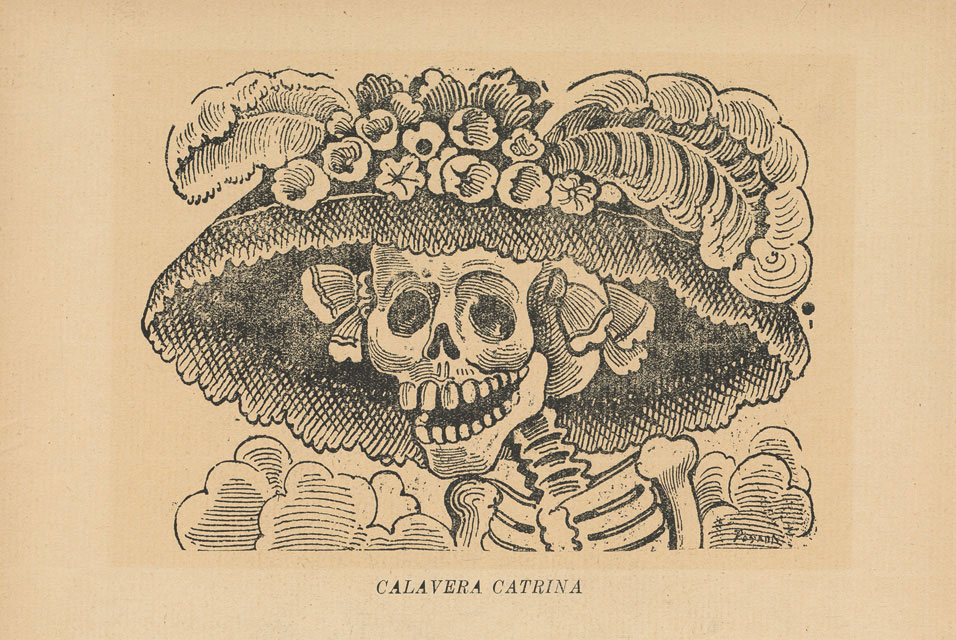 La Calavera Catrina. Public Domain via Wikimedia Commons
Here are some stunning Catrina graphics created by independent designers on Creative Market:
This photo by Mexican shop owner Jesús Cervantes shows how the Catrina symbol has been adapted as a popular costume:
Ofrendas
Ofrendas or offerings are special altars beautifully decorated to honor ancestors and welcome them during their short visit on November 1st and 2nd. Some of the most traditional ofrenda items include candles, portraits, Marigold flowers (Cempasúchil), papercut tissue ("Papel Picado"), a special type of bread called Pan de Muerto, water, candy (for the "angelitos" or little angels, as they call children), and Mezcal (for adult loved ones), among many other meaningful objects.
This wonderful exhibit by the Smithsonian Latino Center explains "The Meaning of the Altar" in a simple, vivid slideshow. The Google Cultural Institute also has plenty of interactive content around the festivity, ofrendas, skulls, rituals, and other important symbols like Copalli incense.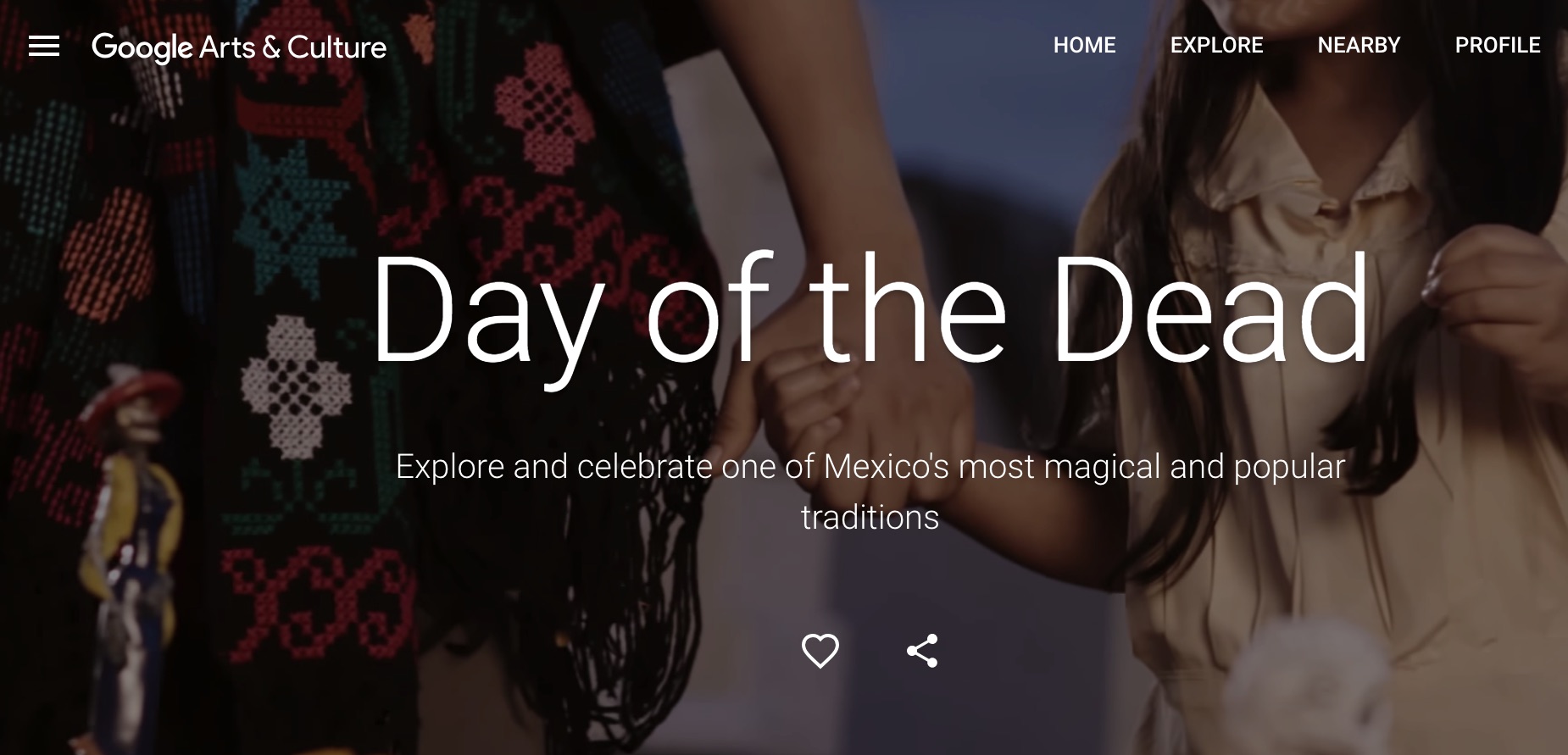 Check out some stunning Día de los Muertos graphic sets inspired by different ofrenda elements:
Sugar Skulls
As the name indicates, these skulls or Calaveras are molded with sugar and decorated with colorful icing. Then, they are marked with the name of a living person and given to them as a gift. Some are also used to decorate the ofrendas.
Frida
Artist Frida Kahlo has become an important symbol within the observation of Día de los Muertos. Her genuine embrace of indigenous roots and vibrant paintings have earned her a place in many families' ofrendas or offerings for their deceased loved ones. Today, the Frida motif appears in combination with more traditional patterns and color palettes. This seamless pattern pack is a great example of that:
Papel Picado
These papercut tissue banners (Papel for paper and Picado for cut) feature different skeleton shapes and represent the wind element in the context of the ofrenda, where all elements of life are included.
Alebrijes
Alebrijes are magical paper mache creatures originally invented by crafter Pedro Linares Lopez. It is believed that the idea came to Linares in a nightmare (of all things!). Some colorful, unknown creatures followed him around a forest singing "alebrije", which is what he ended up calling his crafts after waking up. Today these odd animals, which combine body parts from different species like dragons, bats, and deer, are included in ofrendas or gifted as souvenirs that represent Mexican folklore.
Marigold
This vibrant flower represents death in Aztec culture, and is also known as "Flor de Muerto". It is the ideal floral accent to use when decorating ofrendas.
Here are those Mexican Marigold flowers, also known as Cempasúchil, rendered in watercolor and ready to be used in invitations, stationery, and other kinds of designs:
Your turn!
Do you know of any other Mexican folk symbols that are important in Día de los Muertos traditions? Share them in the comments section below.
---
Products Seen In This Post:
Getting started with hand lettering?
Free lettering worksheets
Download these worksheets and start practicing with simple instructions and tracing exercises.
Download now!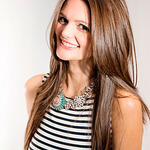 Laura Busche
Brand strategist. Creating design tools to empower creative entrepreneurs. Author of the Lean Branding book. MA in Design Management from the Savannah College of Art and Design (SCAD).
View More Posts