Moleskine's New 'Smart Writing Set' Digitizes Your Notes and Doodles As You Work
You've got a notebook, right? For me, it's an indispensable part of my workflow. I keep one in my bag or back pocket all the time, so when the occasion comes where I'll need to take a quick note or jot down an idea, I've always got something by my side. And yes, that's better than my iPhone, because I can sketch things out with a pen quicker and easier than I can on any mobile device, and, more what's more, a notebook never needs to be charged.
Moleskine understands that, but they also know that if you want your work to stay with you when you move to a computer, there has to be a better solution than taking pictures of a notebook. So to solve that problem, they came up with an interesting concept: create a notebook and a pen that work in harmony with a smartphone app so that you can transfer your analog work into the digital world. Check out this video to see the Smart Writing Set in action:

What exactly can it do? First and foremost, the pen can store up to 1,000 pages when it's not connected to your smartphone, so that you don't lose any of your thoughts. When it is connected, you can transcribe text, transfer pictures and then change colors inside of the app itself. You can also export pages as a PDF, SVG, image, text, and more, and if you're feeling really saucy, you can record and playback your images, so you can watch as your idea comes to life. And, as is the case with most things nowadays, you can connect it to various cloud accounts to ensure that your work is accessible in other places.
Now here's the thing: as a writer, the transcribe functionality makes it worth its weight in gold right off the bat. Assuming it could translate my chicken scratches, anyway. But the fact that you can record your sketches and play them back like a video, or work on an analog sketch on your smartphone, all of those things sound absolutely amazing, particularly if it all works as well as it seems.

This isn't Moleskine's first foray into the digital/analog market. Recently they offered the Creative Cloud Connected Smart Notebook, which never took off from what I can tell. There's also the Livescribe notebook series, which uses a Livescribe pen to get notes transferred into the digital world, and I personally bought an Evernote Moleskine, but I ran out of stickers so quickly that it soon became another analog option. Point is, this concept is very cool, and lots of people seem to want it to exist, but nobody seems to have gotten it right at this point, at least not from what I've seen and used myself.
The downside? The price. It's $199 for a set, which is a tad bit higher than the $20 I spent on my pen and notebook combo. Plus, as I said before, my option doesn't require batteries. But even though it's pricey, if it does work as advertised, it might be enough to sway me away from my trusty Leuchtturm1917 and Uni-Ball Vision Elite power duo.
Maybe.
Getting started with hand lettering?
Free lettering worksheets
Download these worksheets and start practicing with simple instructions and tracing exercises.
Download now!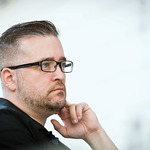 Kevin Whipps
Hi! My name is Kevin Whipps, and I'm a writer and editor based in Phoenix, Arizona. When I'm not working taking pictures of old cars and trucks, I'm either writing articles for Creative Market or hawking stickers at Whipps Sticker Co.
View More Posts