Moodboard Series: Animal Print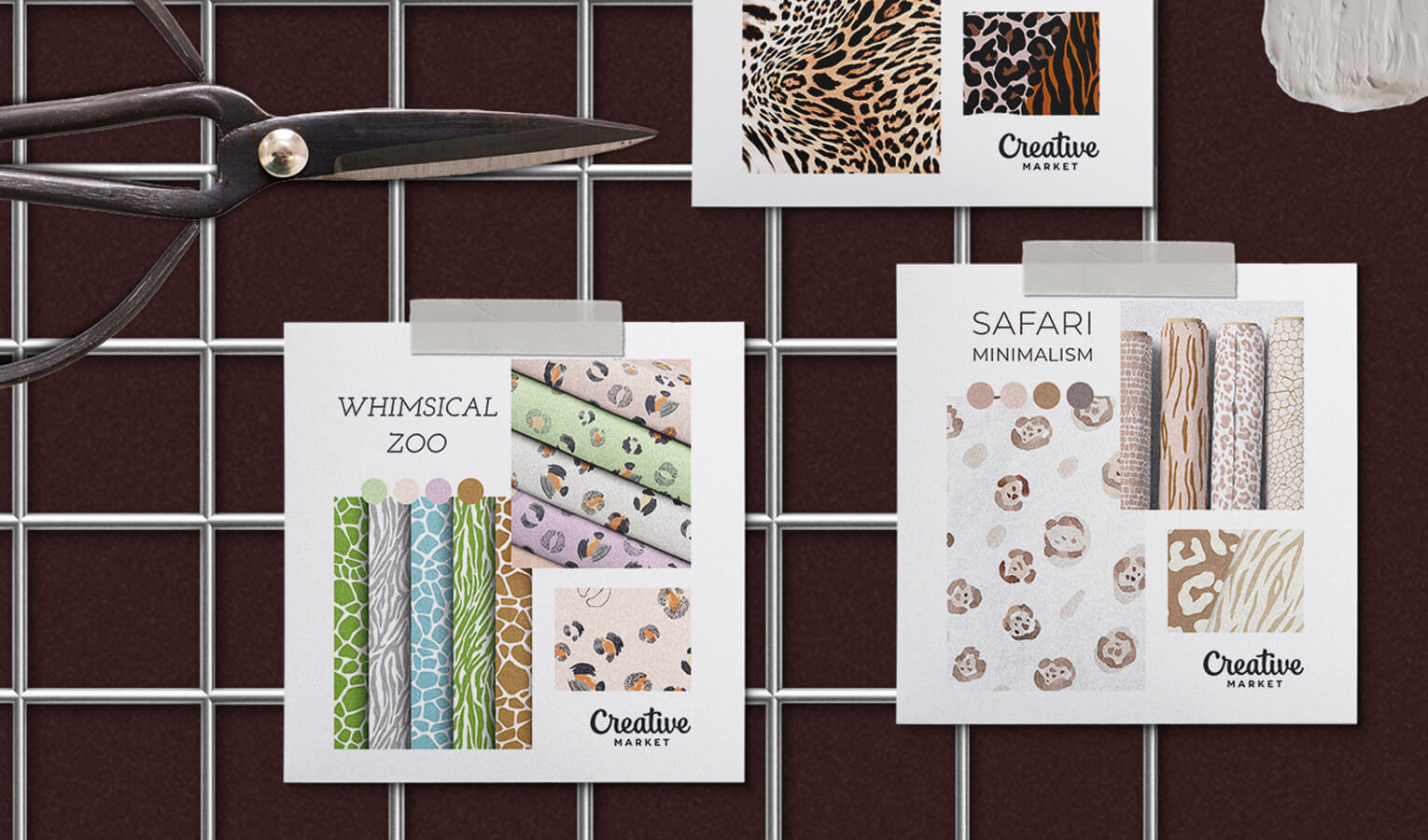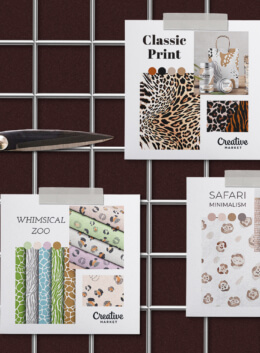 You don't have to travel far to stumble across the revamp of an animal print pattern. This steadfast 90's trend is showing up as everything from subtle, neutral tones to wild, vibrant patterns. Travel and escapism are prominent themes in our minds this year so, naturally, it's been reflected in animal print design, fashion, and home decor. Gone are the days of sweatpants at home and in are the days of going out in eccentric, chic style.
Not only are we seeing this classic take on leopard and zebra print but there's a new twist of vibrant-colored, abstract patterns of greens, purples, and pinks. Whichever aesthetic suits your design needs, animal print can be a surefire way to dazzle up any project.
This versatile trend can be categorized across various moodboards along with corresponding products from our own talented Creative Market designers. These themes are Safari Minimalism, Galactic Animal, Classic Print, and Whimsical Zoo.
Safari Minimalism
Minimalists can fully embrace the subtle nature of this trend represented with neutral, soft patterns. Many think of animal print as a bold statement but it can be added as a subtle touch of texture when muted down to a delicate pattern. You don't have to travel on safari to take part in this sophisticated, chic sub-theme of our animal print trend.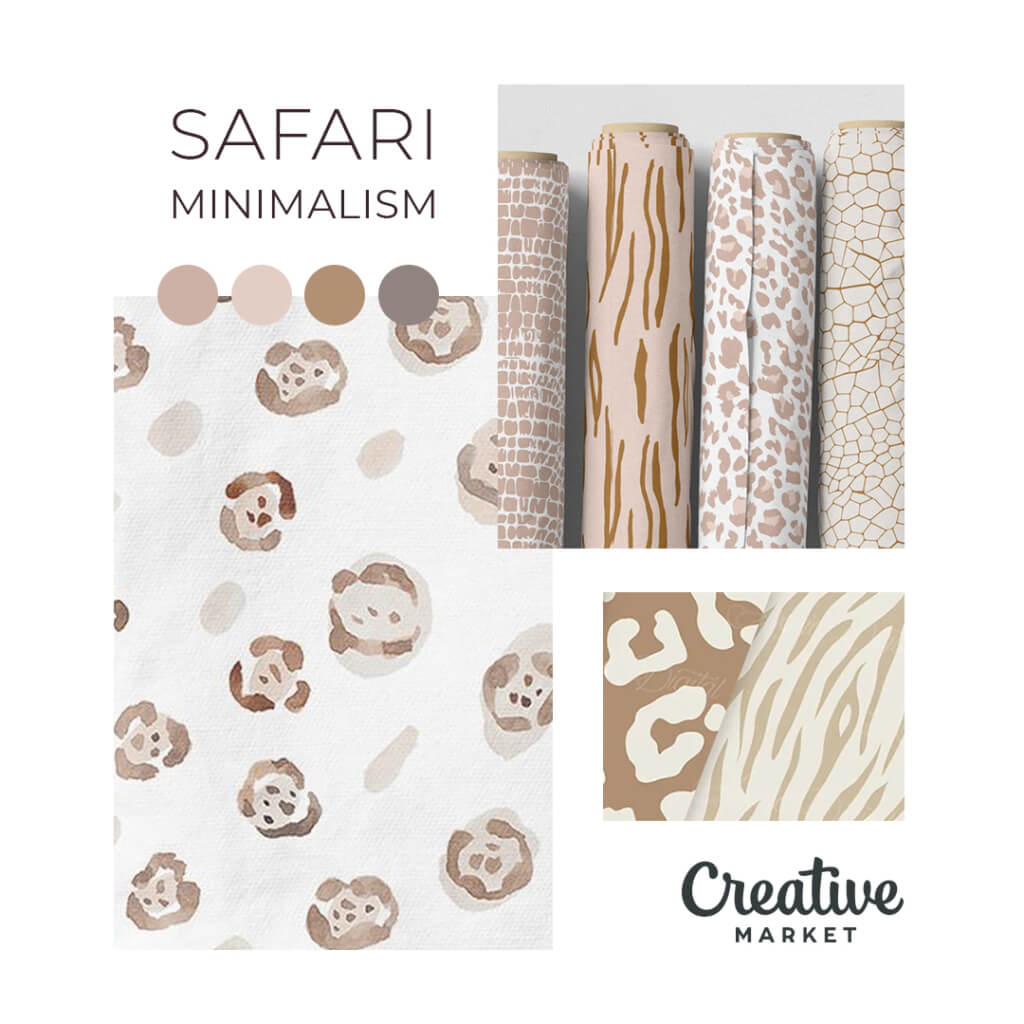 Products featured above:
HEX Color Palette: #c3afa4, #dccdc4, #a78f75, #8c837f
Galactic Animal
On the opposite end, Galactic Animal is celebrating the maximalist approach to this animal print trend. This new take is all about the juxtaposition of primitive and futuristic themes. It's mixed with glitter, galactic textures, and vibrant rainbow colors. More is more here!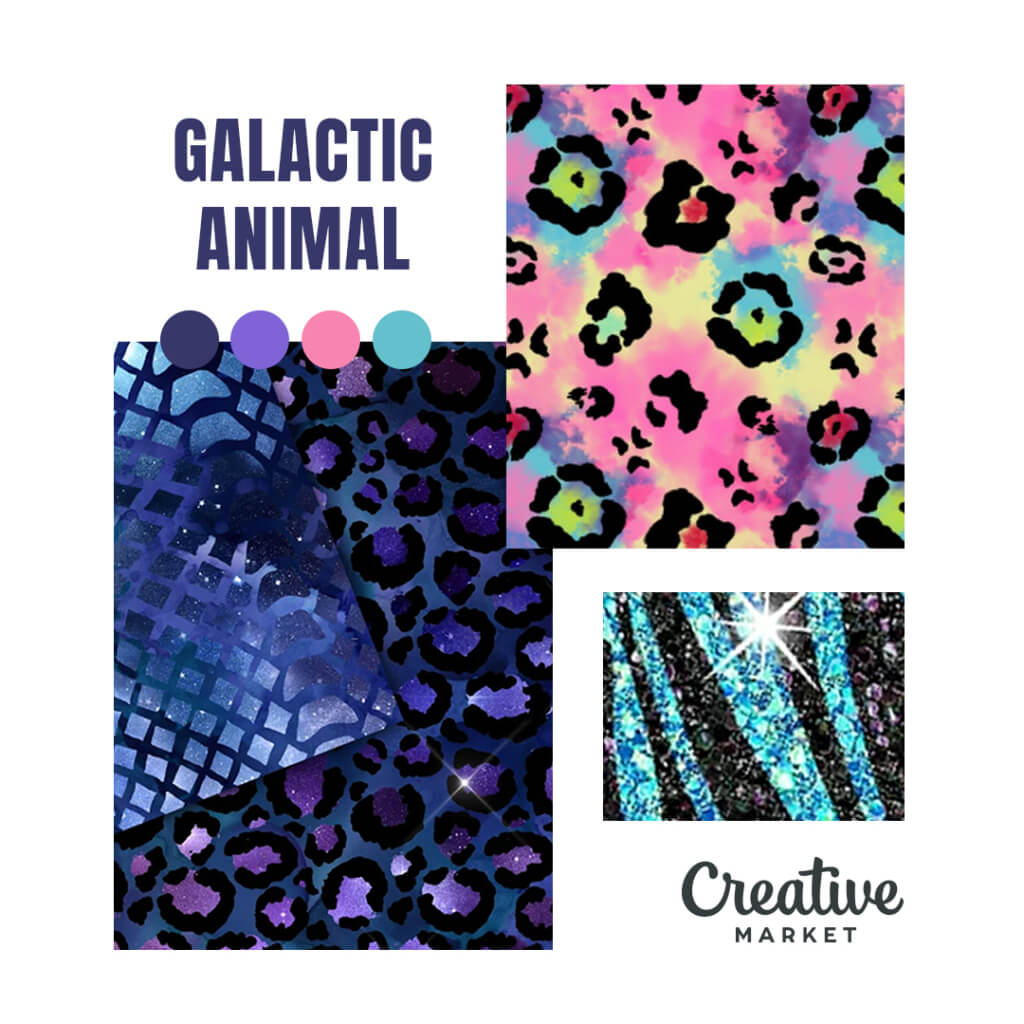 Products featured above:
HEX Color Palette: #3a3a67, #7763d2, #de84ae, #86bfcb
Classic Print
You can never go wrong with keeping it classic. Traditional leopard, tiger, snake, and zebra prints will always make a staple appearance no matter the season or occasion. This theme is the foundation for each of these new approaches to animal print. It's versatile enough so that it can be used as a neutral or making a bold statement in any design project.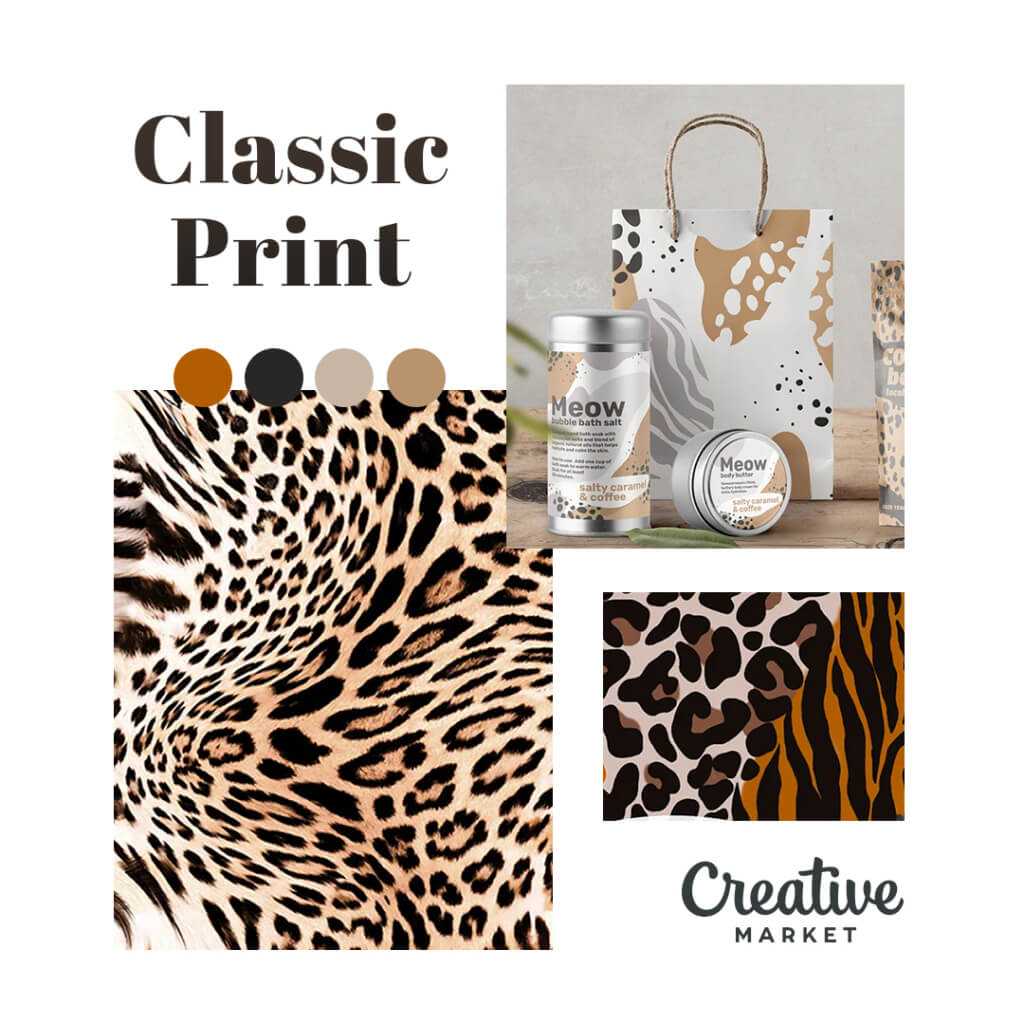 Products featured above:
HEX Color Palette: #9e5d16, #2d2a29, #c2b5a4, #ad926f
Whimsical Zoo
A touch of whimsy in pastel animal print patterns can make us nostalgic for our younger days. This playful take on this bold trend is ideal for magical celebrations of all kinds. This animal print subtheme is all about fantasy and whimsical parties.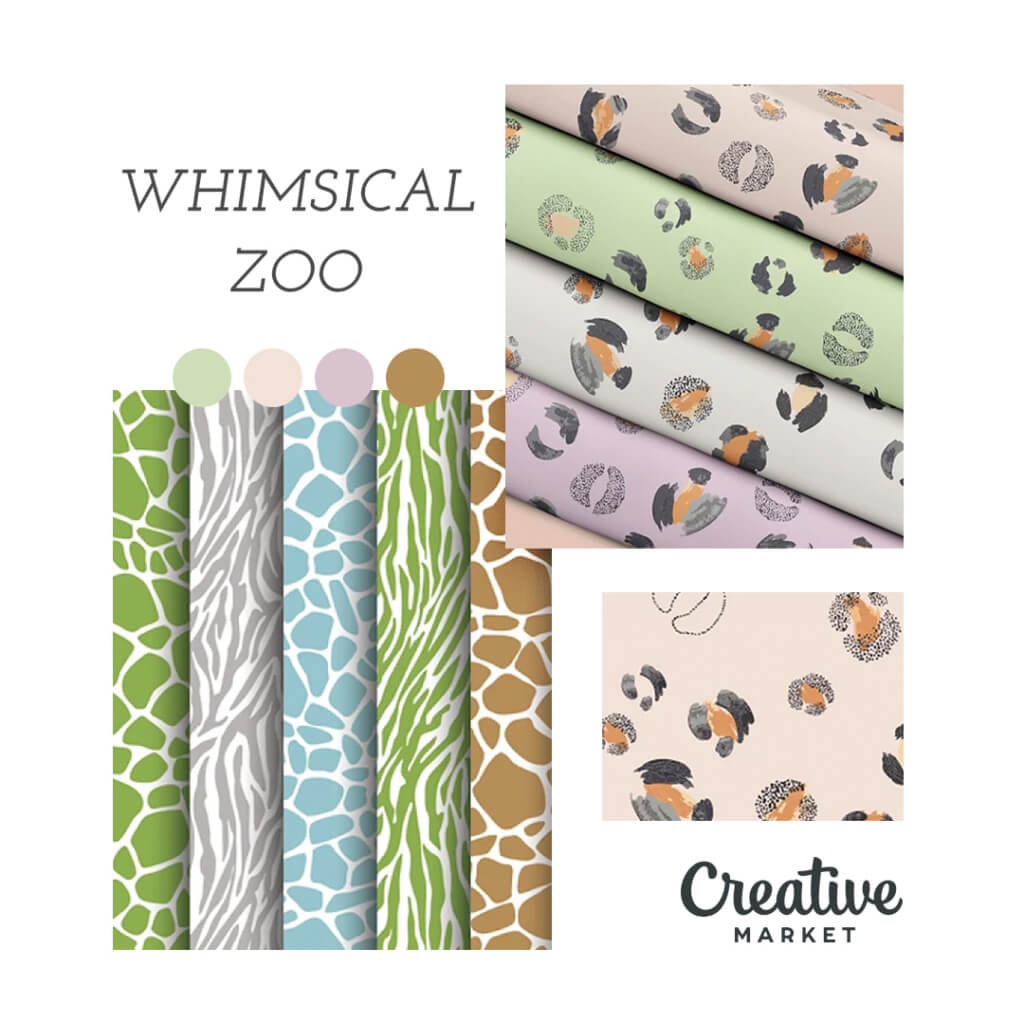 Products featured above:
HEX Color Palette: #d2ddb9, #ede1d6, #d2c2cd, #aa8e5b
Which is your favorite?
The magic of this animal print trend is the versatility whether you want something subtle or quite the opposite. It can add a touch of exotic texture no matter the design project. Which one speaks to you? We'd love to know in the comment section below!
Getting started with hand lettering?
Free lettering worksheets
Download these worksheets and start practicing with simple instructions and tracing exercises.
Download now!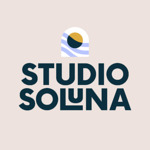 Jessica Safko
We design templates to empower entrepreneurs to create something beautiful. Reach out if you have any questions - We're happy to hear from you! Get a FREE Canva template at yoursundaystudio.com
View More Posts