New Shop on the Block: Essem Creatives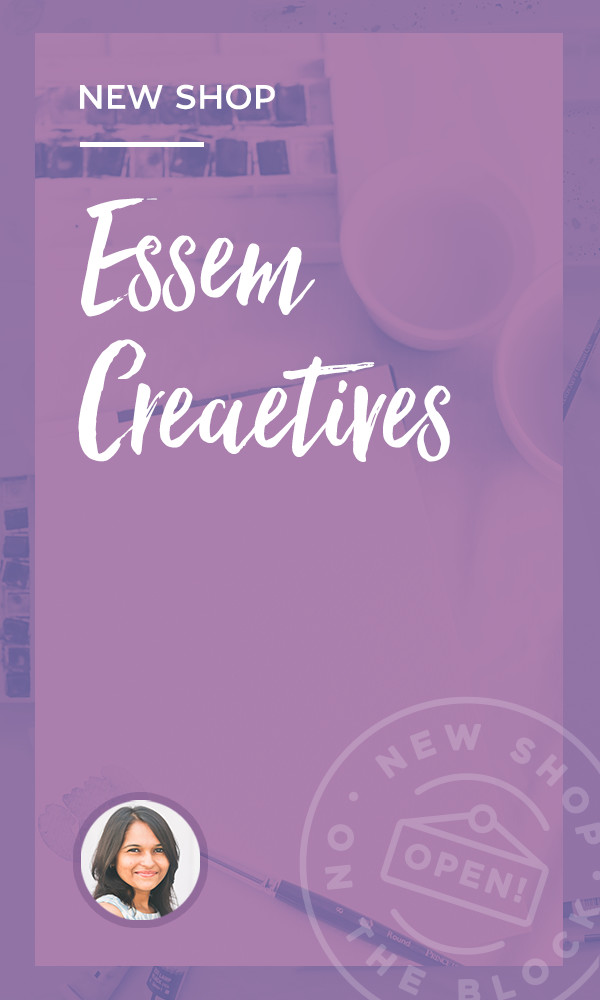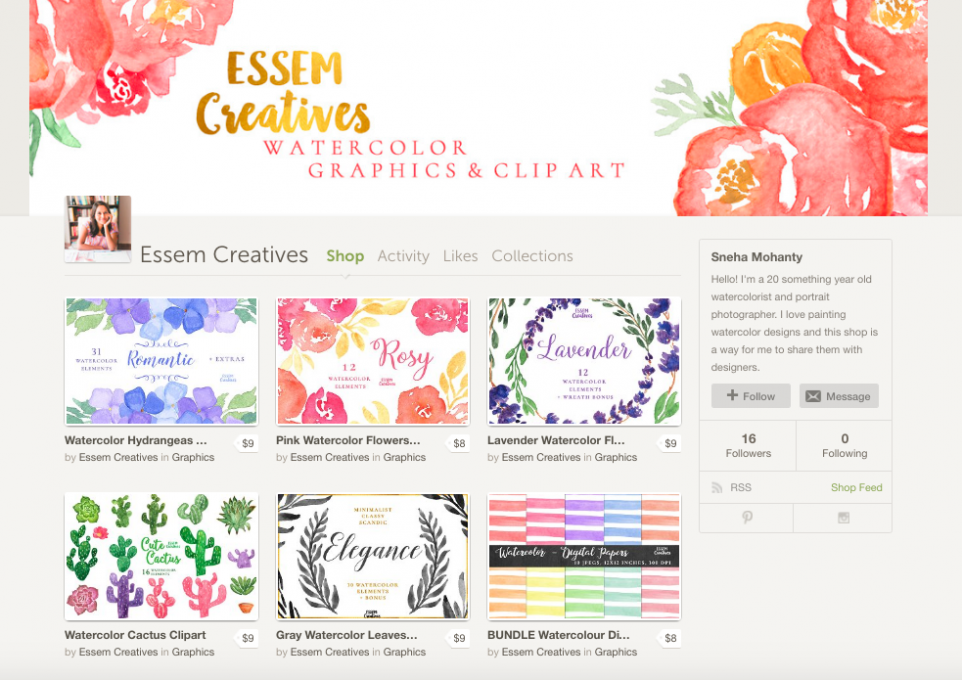 Can you start off by telling us a little bit about yourself and your story?
I'm Sneha and I love to create beautiful things. To give you a little backstory, I'm a corporate-lawyer-turned-artist. I first dipped my feet in the creative world through photography, and from there, I've moved on and explored other art forms as well. I've always loved creating and doodling but never thought it would become my full-time job. Within a couple of years of working at a large corporate law firm, I realized that I wasn't honoring my real desires and the need for a creative outlet. After getting guidance from my sister, an experienced and super awesome graphic designer, I decided to explore the creative field and haven't looked back since. 
How did your creative journey start? Is this a path you always knew was meant for you?
As a kid, I loved to doodle on the back of my notebooks and making my own letter papers and cards. When I left the corporate world, I started with photography as my first major creative channel. Surprisingly, it all came back quite naturally, and since then, I've given outlet to every little creative desire I've had. I realized I've spent far too many years not expressing my creative side and have tons and tons of ideas that need to get out! I never thought I'd be living life as a full time creative, but now I do and I'm loving every bit of this ride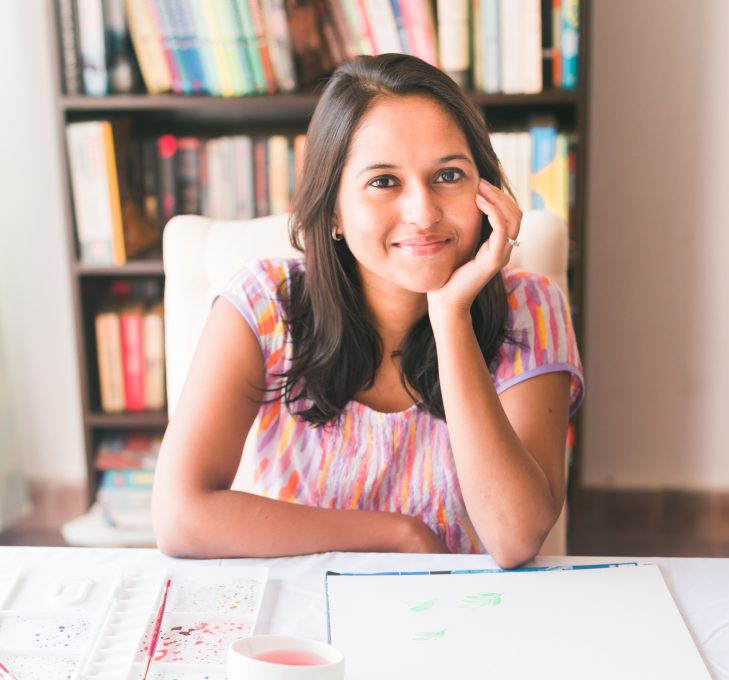 As an artist, were you self-taught or did you have a formal education?
I'm self taught in that I have received no formal degree in the fine arts.
What sparked your interest in design?
I've always had a desire to create beautiful things that I want to be surrounded by, but aren't. Thankfully, my various roles help me do just that. Photography helps in artistically portraying a scene or personality, and my paintings are a reflection of what I want to see more of around me. I love portraying joy, optimism, and celebration through my artwork—be it through bold or neutral colors.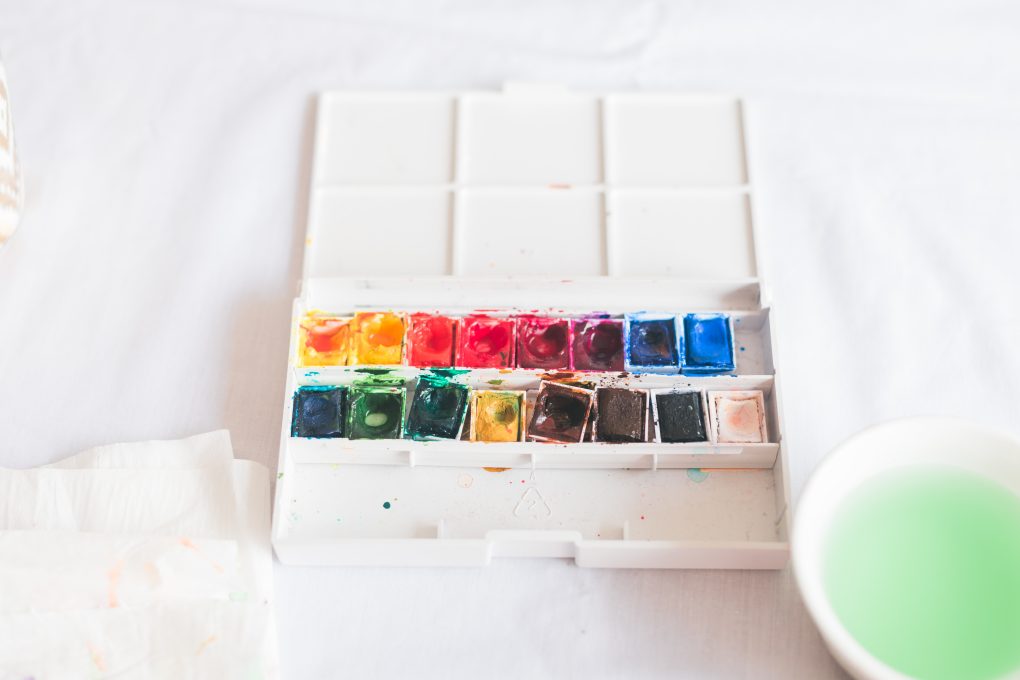 With everything you do, is there a specific medium that you prefer to focus on?
Watercolor! I've always been drawn to this medium and the gorgeous dreamy look that it can achieve. I can spend endless amounts of time just swatching and watching the colors mix with each other and produce spectacular effects. I also love doodling with pens but haven't done a lot of that recently.
What's the inspiration behind your creativity?
I try to recreate what I feel when I see a particular thing (and not that particular thing exactly). Nature, the skies, stationery, home linens, Indian handlooms, the treetops outside my house—all of these are major inspirations in my works. I'm drawn to vibrant yet elegant looking colors.
What has contributed most to your growth as a designer?
Being true to myself, following my intuition, and the abundance of resources to learn from. Today, if there is anything that anyone with an internet connection wants to learn, they can. I find that truly liberating and I'm amazed by all the great skills being shared continually. Instagram is my happy place for getting inspired and also learning techniques in implementable tidbits.
Can you explain the process that you go through when designing something?
There are three main phases. First is inspiration and research. This is where I start out with Pinterest, walks to my local flower market, wedding blogs, etc. I maintain Pinterest Inspiration Boards for this reason. I'm greatly influenced by floral stylists and their work (because I paint florals most of the time), so I tend to follow them for inspiration. I build a repository of inspiration images and narrow down on a color palette for that project. The second phase is painting. Depending on the project, it can only take a few hours to complete or days if it's something more elaborate. I love painting when there's plenty of natural daylight outside. My desk is nicely positioned next to a large glass door, so it's absolutely perfect. After the painting is done, I get down to digitalizing the goodies. For this, I first scan the paintings then I open them on Photoshop to make careful adjustments, if required. Next, I painstakingly separate the elements and save each individual element before creating wreaths and other pre-made goodies from those elements.
What's your most favorite project so far and why?
I love all of them! If I had to pick, then I'd say the Eucalyptus Leaves & Coral Peonies.
How did you and Creative Market find each other?
My sister! She's a designer herself so she knew about Creative Market and told me about it. In fact we also have a joint-venture together, MockUpHeaven, where we offer styled stock photos (I'm the photographer and she's the designer in that team).
What made you decide to take the leap and open a shop on Creative Market?
It was always in the works because this is the best place to connect with other creatives and cater to a wonderful community of artists and makers!
What's your favorite thing about being a part of the Creative Market community? Have you found it beneficial to you?
I've been blown away by the warm welcome, guidance, and support (thank you, Domenic and Beth!) that I receive here. Soon after I opened my store, Matt was super kind to give me helpful tips on how to best succeed on the marketplace. Special note of thanks to you, An, for being so wonderful and easy to work with! There is so much incredible content here on Creative Market. I spend a lot of time going through discussions and the blog posts on growing ones shop etc, and I'm learning a lot from them. Seeing the endless possibilities on here makes my heart happy.

As a new shop owner, what do you hope to achieve on Creative Market?
I LOVE the community here. I've really just been a lurker thus far, but I hope to join in on some of the discussions soon. As a work-from-home creative artist, it can get isolating at times. There are definitely times when few people understand the work that you do, so it's wonderful to simply read through the conversations on here an engage with like-minded individuals.
Do you have any exciting projects that are currently in the works?
Many of them! I often work on multiple projects at the same time. Currently, I'm working on putting together some wintry clipart sets among others. A good way to know what I'm up to is through my Pinterest boards—that's where I create my inspiration boards.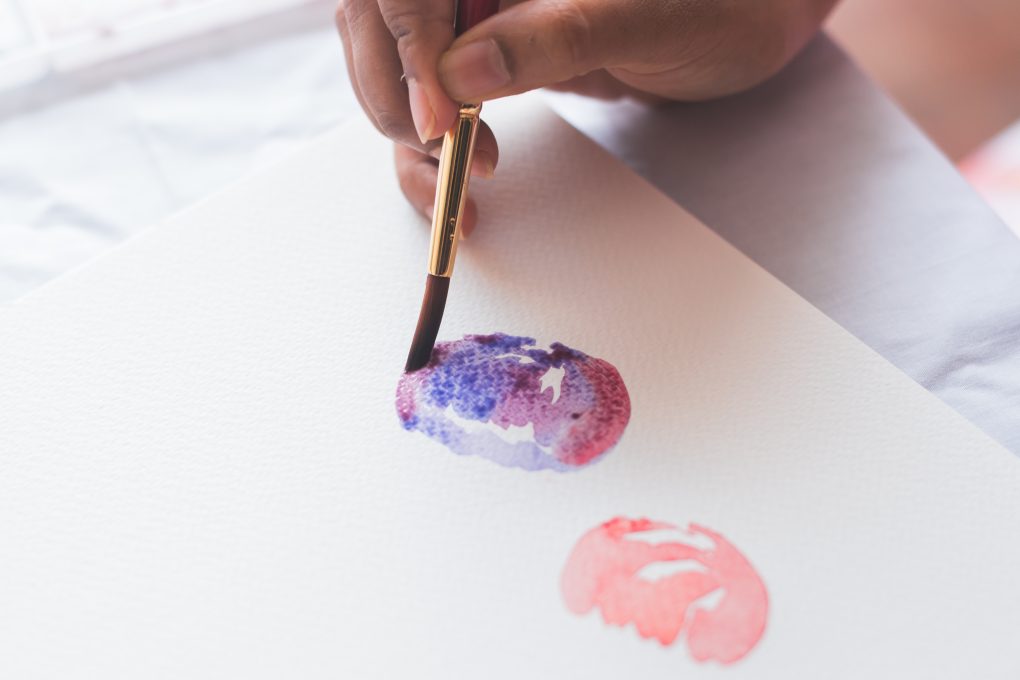 Looking back on your journey, is there anything that you wish you could've done differently?
I wouldn't change a thing. I feel every experience and role that I've played has contributed massively to my knowledge base and understanding of the world, which in turn impacts how I create, what I create, and how I manage the business side of things. My knowledge of the law helps me with intellectual property and contracts. It's remarkable to note that most artists are also many other things (designers, writers, stylists, photographers, marketers, social media ninjas—the list goes on), and I feel that that experience in different fields helps one grow and express oneself as an artist.
What's one piece of advice you would give to your younger self?
Don't quit your daydream.
Keep the conversation going!
This chat doesn't have to end here! Can you relate to Sneha's creative journey or process? Did you learn something new? Chat with Sneha in the comment section below. Products Seen in This Post:
Getting started with hand lettering?
Free lettering worksheets
Download these worksheets and start practicing with simple instructions and tracing exercises.
Download now!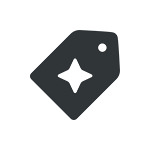 Creative Market