New Shop on the Block: Slap! Studios
Slap! Studios opened up shop on Creative Market about a month ago. With Rocky Roark at the helm, this shop is already doing some great things, and we can't wait for you to learn more about it!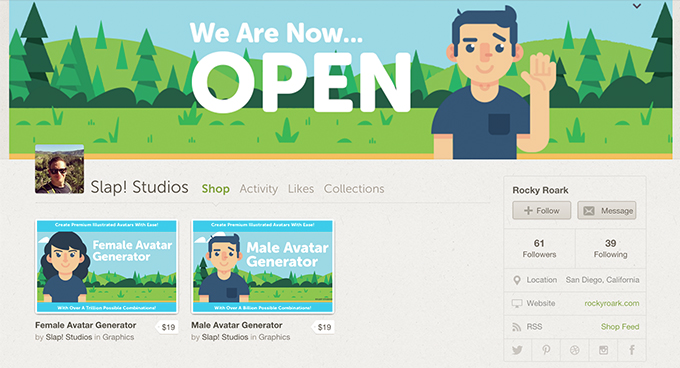 Hiya Rocky, welcome to the Creative Market community! Can you introduce yourself to everyone? Sure, my name is Rocky Roark, I'm a 25 year old located in sunny San Diego, and the creator of Slap! Studios. I'm originally from the Savannah, GA area, but I've been living in California for over a year now. I'm a Designer by day and an Illustrator/entrepreneur by night.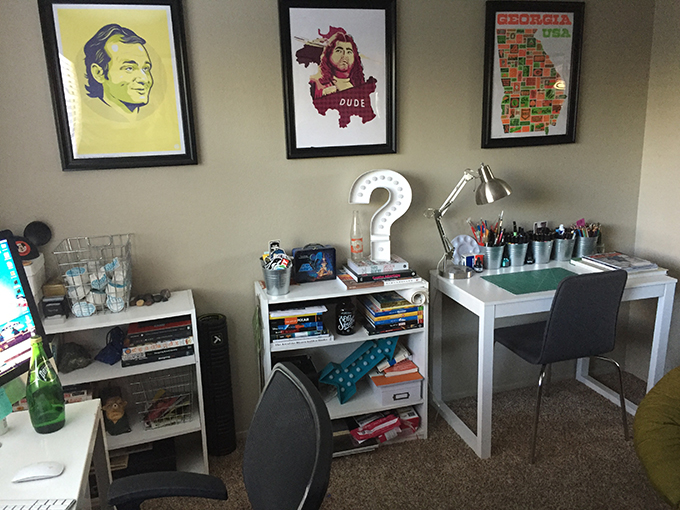 That sounds like a fun double-life! You describe yourself as an "all around nerd," what is your favorite thing to "nerd out" over? I've always called myself a nerd. I got very good grades in college, I own a huge movie collection. I'm a big fan of Lord of the Rings, and I can actually do Golem/Smeagol's voice (drives my girlfriend crazy). I'm also a big fan of Star Wars. In fact, on a recent trip to Disneyland me and my girlfriend built our own personal light sabers. Oh, and I'm a big Whovian.

Those are just a few things that help showcase my nerdiness. Most of all though I'm a gigantic Disney/Pixar nerd. I own a ton of Disney/Pixar movies, I have a Premium pass for Disneyland, and have gone to Disneyland roughly 10 times… this year… so far.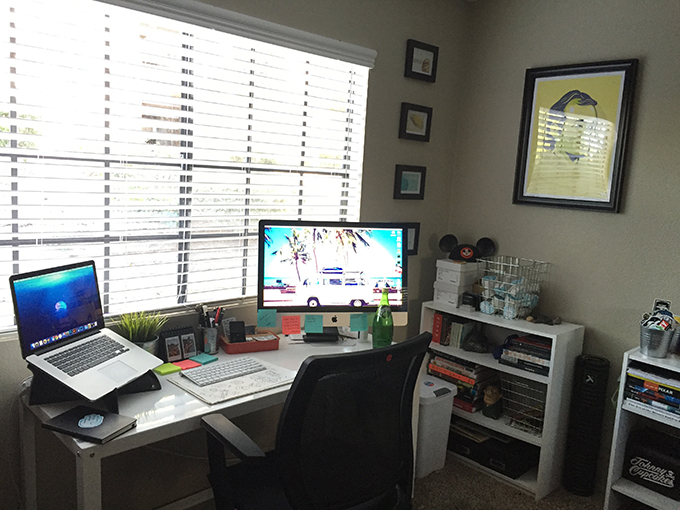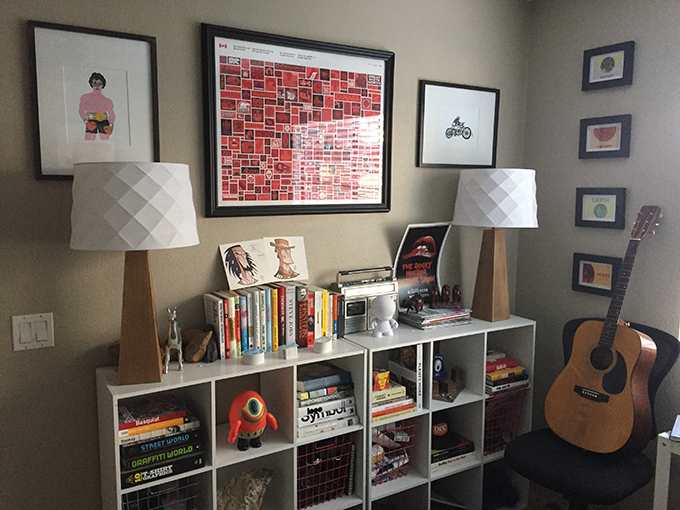 Oh yeah, we spy some mouse ears in your office! So, how did you become a designer/illustrator? I've always been a creative person. When I was super young I was always doodling on anything I could get my hands on. I always wanted to do something in the creative industry growing up. The only thing I was aware of in that field was architecture. It wasn't until I was in high school that I learned about design and fell in love with it. That being said though, my first love has always been, and probably will always be, illustration.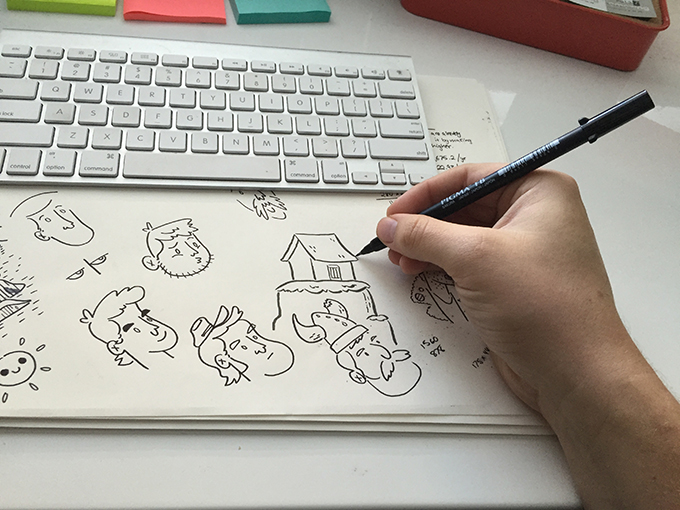 Between illustration, UX design, branding, and more you're obviously multi-talented! Do you feel like that's an important quality for designers today? I definitely believe that it's a good thing to have on your side, being able to pull from multiple areas. I work during the day as a UX designer and at night I do illustration freelance and work on my side projects and business. I went from being a branding designer to a UX designer, which is a pretty big leap but it's good to always be able to evolve in your design capabilities. It looks like you just launched a big new project, Slap! Stickers Tell us all about about it. How did stickers earn your love? I've always loved stickers and have collected them for a long time. I have stickers covering all of my computers, my car, water bottles, etc. Slap! Stickers, though is a little more than just that. It's about bringing amazing artists and designers out and into the open where they can create some kickass stickers. People get to enjoy the stickers and learn more about the artists involved in creating them. That sounds really fun! So, tell us, how did you come across Creative Market? The first time I heard about Creative Market was at the Circles Conference in 2013. It wasn't until this year that I started buying brushes and using them in my illustrations. My friend Dustin Lee (Retro Supply Co.) recently created a course on passive income and it sparked my interest. Within two weeks I had my first two products up and generating some passive income
Well, we're sure glad you're here! What have you found to be the most valuable aspect of being a part of the Creative Market Community? Probably one of the most valuable aspects is that now a lot of people will be able to enjoy my work even further. Instead of it just living on its own, people are able to use and manipulate it, allowing it to grow and evolve. It's amazing seeing what some people are able to do with these avatars.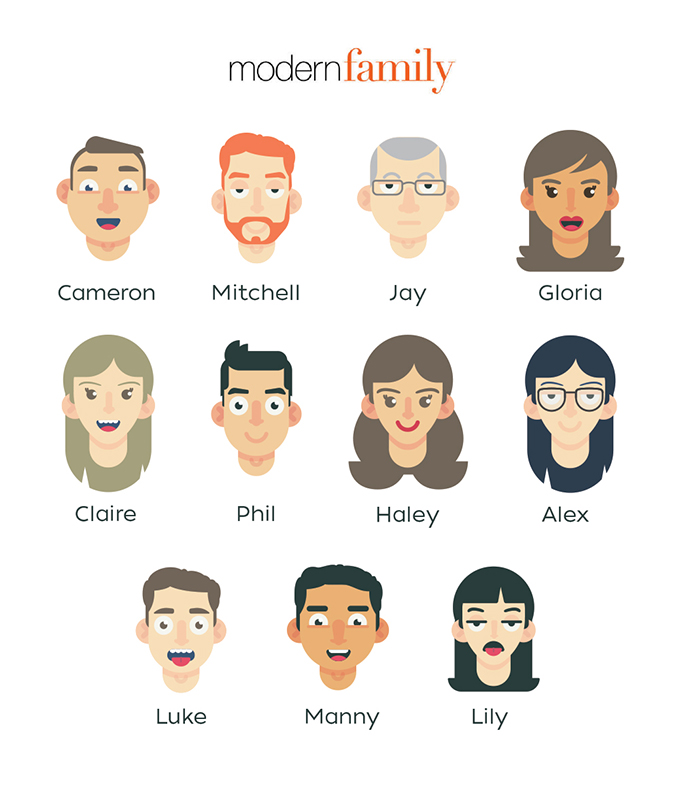 Do you have a favorite "Creative Market Moment" so far? Probably one of my favorite moments was that people were just as excited about my products as I was! It has really inspired me to put out more products in the near future. Well, that leads perfectly into our last question, what's next for you on Creative Market? Do you have any exciting new projects or products in the works? I'm hoping to put out my next products after the new year. Currently I'm getting a lot of freelance coming in and Slap! Stickers is about to take off, but I've got blocks of time laid out in my calendar to create even more products. Some of the things to be on the lookout for in the near future are a City/Town Generator, Illustration packs, and some Avatar Expansions (including: age, professions, and full bodies). A lot of great things coming through the pipeline. 🙂
Getting started with hand lettering?
Free lettering worksheets
Download these worksheets and start practicing with simple instructions and tracing exercises.
Download now!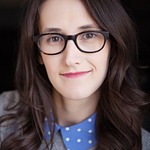 Kelley Johnson
I'm an ex-schoolmarm who is excited about all things creative. Photography makes me smile and when I find a new-to-me dress that fits just right, it makes my day.
View More Posts