New Shop on the Block: Studio Kitsch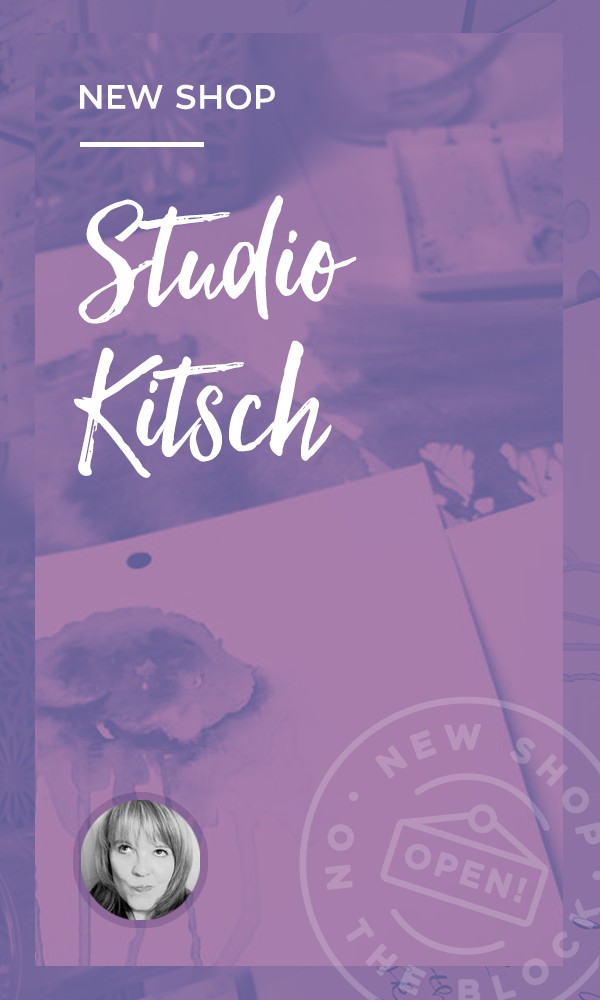 With over 20 years of experience, there's no surprise that Studio Kitsch, a new shop that opened in July, has some pretty amazing goods. This store specializes in digital art, graphic design, and watercolor that's great for both commercial and personal use. Today, we're lucky enough to get to chat with Sydnee and learn more about her and Studio Kitsch.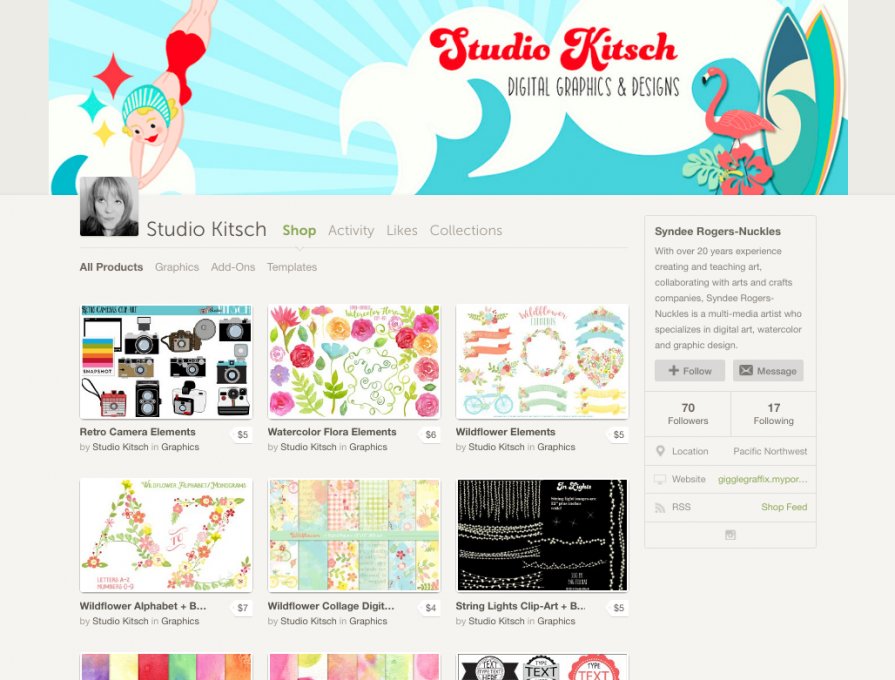 Can you start off by telling us a little bit about yourself and your story?
I was born in Oregon and have always lived in the Pacific Northwest. I've been working in the design field for over 20 years, and it's been fascinating to watch it change and grow as time progressed. I get a kick out of seeing things come 'back' in style. For example, I took a class back in the 90's on brush lettering and it's so popular now! I started out by drawing clip-art and designing artistic rubber-stamps. I have also been so fortunate to share my love of art and creativity through teaching. I got my start teaching classes at a community college in Washington. I've taught a variety of classes such as lettering and using color in design, which organically evolved into teaching online classes.
How did your creative journey start? Is this a path you always knew was meant for you?
I can't remember a time when I wasn't creating in some way. I grew up with very artistic parents, especially my mom. She was always creating something, so it was always just something we did in our house. I always knew I would be creative in my life, but I didn't think that I could make a living doing so.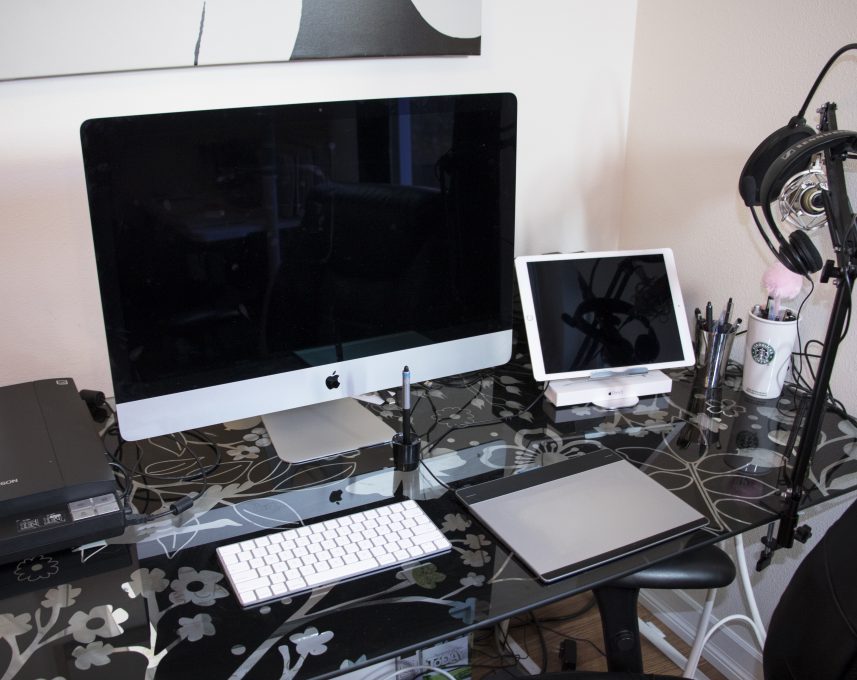 You've been in the business for 20 years now. What has kept you going for so long?
I think as an artist, especially a digital artist, you have to be a chameleon. You have to adapt to new styles and trends, keep learning and pushing yourself to step out of your comfort zone. I have done so many things I could have never imagined I would do! I think at the top of the list is learning to code a web page. It's not my favorite thing to do and I am by no means an expert at it, but I can say I did it and there is a certain amount of pride in that.
As an artist, were you self-taught or did you have a formal education?
I grew up around a very creative mom, and an important lesson that I learned from her the art of 'making do' with what you had. I remember a friend of mine had a cute kitchen play set — I loved that! We couldn't afford anything like that, so I found boxes and painted my own. I loved those even more. So, really I learned from life, and just doing.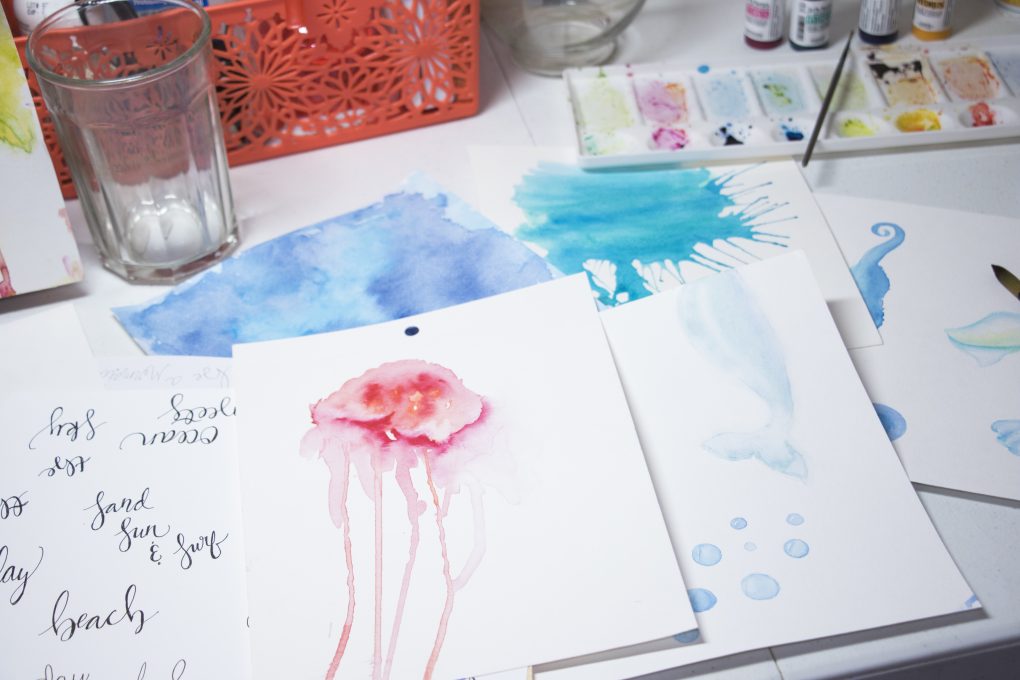 Between digital art, graphic design, and watercolor, is there one that you prefer to focus on?
Right now, I am totally obsessed with watercolor! My "traditional" artwork usually finds it's way into my digital work.  That's what is amazing, the ability to paint something and once the paint is dry then bring that into your digital world and bring it to life in so many creative ways — to share it as well!
What's the inspiration behind your creativity?
I am constantly inspired by my surroundings not only in my physical space but online, too! That is one of the best things about this time in my career as opposed to when I started — the online world wasn't anything like it is now! Inspiration is just only a click away.
What has contributed most to your growth as a designer?
Trusting my abilities. Although it has been the hardest thing to learn, I have found that I can adapt to trends and styles pretty easily. It just took me a long time to put my trust in that.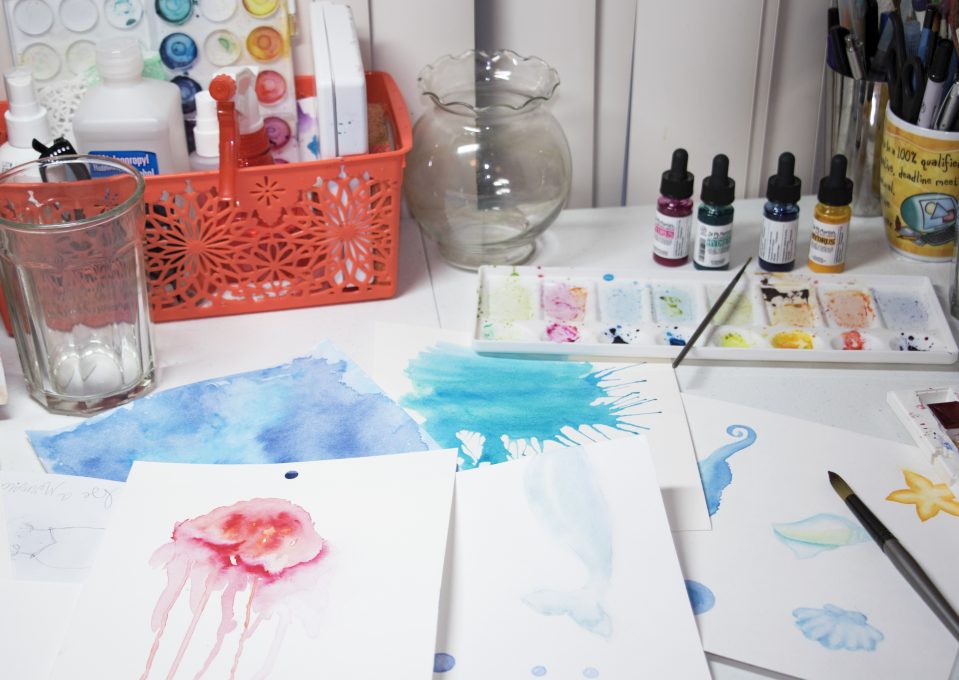 Can you explain the process that you go through when designing something?
It really depends on what it is. If it's a project that I have been given, then I follow a pretty organized process, such as sketching out the project and the creative steps then I work like crazy to complete it. On the other-hand, if I am working on something to put in my shop or just for fun, I usually just jump in and run with my idea! For my most recent project, I actually started painting popsicles without a clue as to what I was going to do with them, but it ended up evolving into a collection.
What's your most favorite project so far and why?
Wow! That's tough. Right this minute, I have to say my Summer Sweets watercolor set. It's all about my love of summer and memories of summer as a kid, and I had so much fun painting it. I find that sometimes it's hard for me to draw or paint in a more 'whimsical' style as opposed to a more realistic look, which is funny because my taste usually leans towards the whimsical side of things, but I felt like I really achieved that look with this set.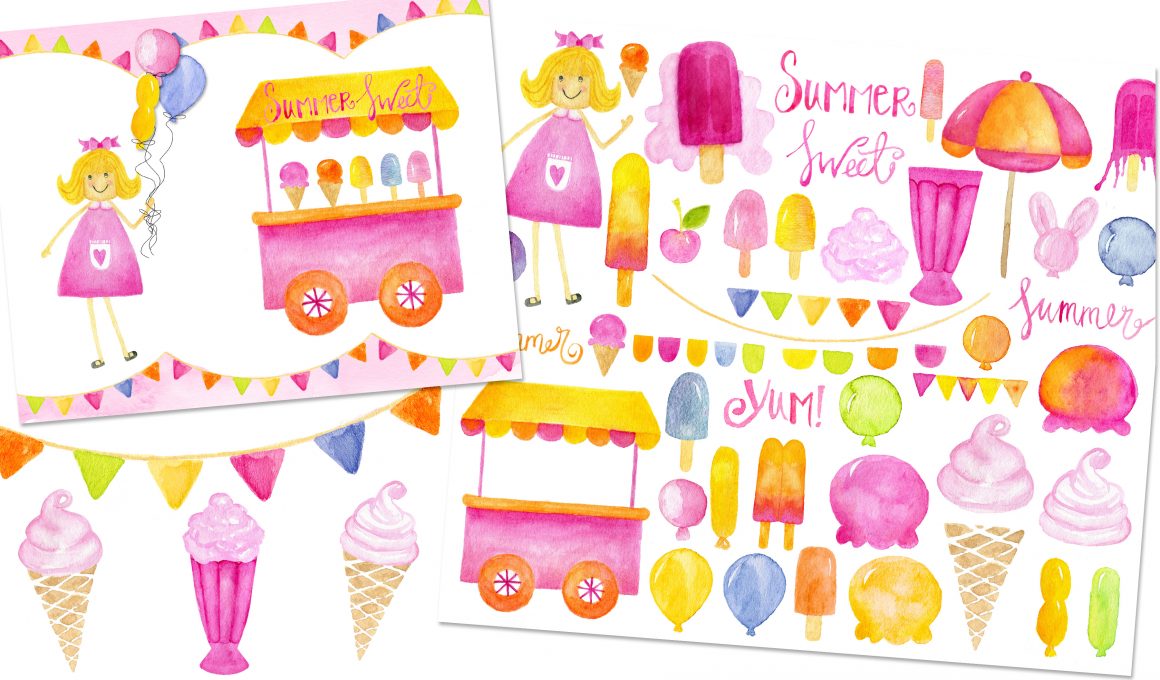 How did you and Creative Market find each other?
I loved Creative Market since it's inception! I am a huge fan of fonts and have a ton. I started out scouting fonts on Creative Market and just keep coming back for more!
What made you decide to take the leap and open a shop on Creative Market?
It has been a goal of mine to have a shop on Creative Market for a long time, but my 'to do' list always seemed to be a mile long. I just had to tell myself now's the time and apply! It was such a happy surprise to wake up to an email from Creative Marketing saying my shop was open!
What's your favorite thing about being a part of the Creative Market community? Have you found it beneficial to you?
Everyone is so kind and I love how the designers support each other. I find it to be so inspiring, and it's such a creative environment! That's something you don't find that in a lot of places.
As a new shop owner, what do you hope to achieve on Creative Market?
I hope to continue to grow as an artist and expand my products on Creative Market, make new friends, and have a lot of fun!
Do you have any exciting projects that are currently in the works?
I am working on an ocean themed watercolor set. Since I'm crazy about the ocean and love that we only live about an hour from the beach, it was a great place for inspiration. I love the mystery behind mermaids and want to include some mermaid-y (is that a word? LOL) elements.
Looking back on your creative journey, is there anything you wish you could have done differently?
I wish I would have taken a bigger leap into the design world in the beginning. I was pretty timid for the first few years!
What's one piece of advice you would give to your younger self?
Not to compare my work to others. I still struggle with that, but we are all so different and it can be so uplifting connecting with other creatives.
Keep the conversation going!
This chat doesn't have to end here! Can you relate to Sydnee's creative journey or process? Did you learn something new? Chat with Sydnee in the comment section below. Products Seen in This Post:
Getting started with hand lettering?
Free lettering worksheets
Download these worksheets and start practicing with simple instructions and tracing exercises.
Download now!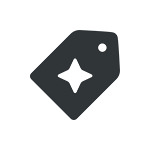 Creative Market