15 Perfectly Ordinary Objects That Designers Can't Live Without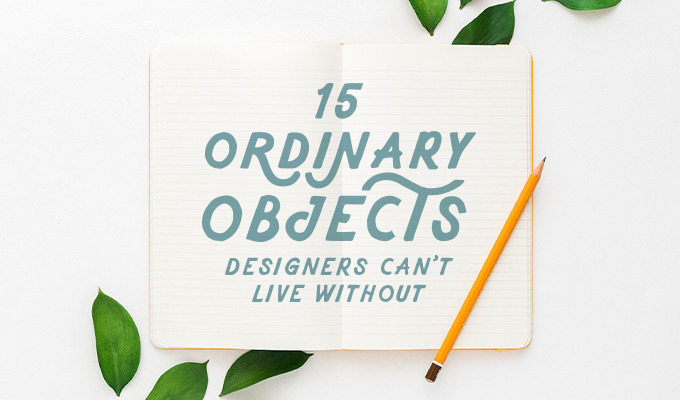 Take a look around your workspace real quick. Have you ever taken a moment to think about what things you couldn't live without? Like sure, that pen is probably replaceable, but what about your favorite model? Is that a pen you could do without? What other things in your office do you deem as irreplaceable?
In thinking about it, I originally assumed that my list wouldn't be that long, nor would it be full of stuff that I just have to own. But as it turns out, I was wrong. Very, very wrong. Now am I just nuts, or do other people share my struggle? Let's find out as we traipse through my psyche, shall we?
A Humidifier/Dehumidifier
I live in Arizona. That means it's hot, but, as we like to say around these parts, "It's a dry heat." Know what that does to your eyeballs when you stare at a monitor all day? It makes them feel like they're on fire, and nobody wants that. Conversely, if you're in a very damp and humid area, you might wish for a different feeling other than "swampy."
That's why I love my humidifier, and, were I to live in, say, the Pacific Northwest, a dehumidifier. It keeps my eyes from drying out, which allows me to work later and longer. And since I'm self-employed, that's important to me. That, and prolonging my vision into my elder years does seem to be a good priority to have.
A Good Pencil
Palomino Blackwing 602. That's my pencil of choice, and although it seems ridiculous to want a good pencil when there are millions of other options, it's important to me. It means I can sketch something out quickly and use less pressure to do so. That puts less strain on my hands, which means less fatigue, and all of that adds up to something important. But if it's a mechanical pencil, I love my Pentel Graph Gear 1000. It has a retractable tip (!) and feels amazing in my hand.
A pencil? Something I couldn't live without? Heck yes.
A Good Pen
Makes sense that if I need a good pencil, I'll need a good pen, right? I've tried fancy models and fountain pens, but for me the Uniball Vision Elite (0.8mm) is the tops. It's cheap at just $15 for a 12-pack, and it's super reliable whether I'm writing on an airplane or just taking notes. Speaking of, I have this pocket notebook that I carry with me everywhere, and it's got a Uniball pen on the side. I'm on page 161 out of 185 pages, and the pen I used with it from the beginning just ran out two pages ago. For me, that decent pen is worth all the money.
A Notebook
Back to that notebook for a second. It's a Lecuchtturm1917 Pocket hardback notebook, complete with Pen Loop, and I went with the dotted format. It's amazing. The pages are paginated, there's a table of contents, and it takes a beating. Seriously. I love it so much that I have multiple copies in my closet that I purchased when I thought they were leaving the U.S. market a year ago, and I've bought several A5 versions, too. Whether it's taking notes on a project or sketching out ideas, this is a great thing to have in your arsenal, and for me, it's essential.
A Good Chair
I could go on and on about my favorite chair — and I have — but proper seating is important to designers. We spend a lot of time at our desks, and if we're not comfortable, we can get grumpy. And it's because of that time investment that I'm willing to dump some cash into a decent chair, no matter where I work. It's such an issue that one of my factors in leaving a gig once was the chair and the company owner's refusal to buy a new one, even if it wasn't my favorite model. Yes, I love a chair that costs as much as a used Toyota, but it's saved me so much back pain over the years that I wouldn't trade it for anything else.
The Perfect Bag
I've been hunting for just the right kind of bag for years now. It's the one that can handle my laptop, iPad, charging accessories and everything else that I carry on a regular basis and take it wherever I go. For now, my favorite option is the Tom Bihn Smart Alec, which I like because it's durable and versatile (although, in hindsight, I should've ordered it with a bright liner). I can fill this thing up for a trip to the mall with the kids, or head out on a road trip with my laptop in tow. I do have my eyes on the Everyday Backpack by Peak Design, but I'm not quite ready to pull the trigger yet. Someday, though, I'll have the perfect backpack. It exists, I swear.
Headphones
I break a good set of headphones (and earbuds — I'm using the terms interchangeably here) into three categories: workout, everyday, and noise cancelling — and I want them all to be wireless. I use my Powerbeats when I'm working on my truck or going for a run. I have a pair of AirPods that I use on a daily basis because they're so flexible, and I used to have the Beats Studio Wireless, but the pads ripped and they can't be replaced affordably, so the plan is to pick up some Bose QuietComfort 35s when funds allow. With this combination I can do anything and everything work related, and never worry about anyone else bugging me.
Pantone Reference
Whether it's a formula guide or color bridge, having any kind of Pantone reference is a good thing to keep handy. I needed one earlier today, as a matter of fact, when I had to identify some red on the floor of a basketball court and compare it to some vinyl. And in looking deeper, have you seen the Pantone Capsure? It's expensive, but imagine being able to perfectly capture a color on the move. Now that's the dream.
A Backup Drive (or 12)
I'm a big fan of backing up my work. No seriously, go read ~1,500 words that I wrote on the topic, because I went deep in that one. But recently, my problem has been with pictures and storage space. I shot 30GB of images on Saturday, and my MacBook Air's 512GB hard drive is overflowing. So to fix the problem, I have additional drives that I connect via USB and offload content there. Of course, that content is backed up to another drive (and online), but having that hard drive in the first place is pretty critical. And backup? Essential.
Portable Surge Protector
I bought a Belkin portable surge protector at least five years ago, and it's still one of my favorite things. If you haven't seen one before, it's just three traditional plugs with two USB ports wrapped into a compact package. Plus — and I didn't discover this for at least a year after I bought it — the main plug can rotate so the entire assembly can fit into some off spaces.
Now why is this so important? Go to an airport and look for a port to charge your laptop or phone. Is everyone parked around an outlet? Well if so, ask if they'd mind if you plugged in your surge protector instead, giving both of you and one more person room to charge their stuff. Pretty cool, right? I've been the hero of more than one crappy flight with this thing.
Charging Cable(s)
Speaking of power needs, it makes sense that you'd want some charging cables in your life, right? I bring at least one in my bag at all times, because who knows when I'm going to need it. For example, the other day I went to a buddy's house and when I got there, I realized that my phone was about to die. Now he had plenty of USB chargers available, but did he have a Lightning cable? Nope. I was glad I did, because I could keep my phone alive for another hour or so. Plus, with all of the other things in our lives that need charging nowadays, it's handy to have the appropriate cables on hand to make that magic happen.
Portable Charger(s)
On first blush, you might think that if you had a portable surge protector and a charging cable handy, you'd be ready to go. But for me, that's almost never enough. Either I can't find an outlet to plug anything into, or I can't be tethered down in one place to begin with. My solution then is a portable charger/battery pack.
I own an older version of the Mophie Powerstation XXL, which is this brick that has three (two in my case) USB ports for charging your devices. It's powerful enough to get my iPad up to speed, and one of the kids', too. But it's the portability of this thing that makes it perfect for me, even when I'm at home. If I don't have an available charging port on my MacBook Air to keep my iPad alive, I'll carry the Powerstation over and plug it in. Voila, instant power.
All the Adapters
I have this small bag that I picked up from Tom Bihn called the Snake Charmer, and it's my go-to bag for carrying every adapter I'll need when I hit the road. That's because I never know what I'm going to have to connect to, so it helps to have all of the adapters you'll need in one convenient place. My DSLR takes a compact flash card, so I need an adapter for that. If I'm going to hook up to an external monitor, I'll need an adapter for that. I always want to be prepared, no matter the scenario, so I plan ahead as much as possible.
But I'm also looking at getting a new MacBook Pro sometime soon, so I pre-purchased a bunch of the USB-C adapters while they were on sale. I currently have a USB-C SD card reader and three USB-C to USB-A adapters ready to go, for whenever I pull the trigger. And best believe that I'll have those with me all the time whenever I hit the road.
Lotion
Look, let's get real here. Cracked and dry hands are a thing, and even I, a man who clearly doesn't know much about social standards and basic grooming, carry a small thing of lotion with me on a regular basis. It just makes sense. I don't want to be working hard to get an assignment done just to feel the pain of dry skin. Just writing this section makes me want to put some on proactively, like my hands are going to instantly dehydrate just because I'm talking about them. Wait — they are? Where's the Aveeno ...
Tchotchkes
If a stranger were to walk into my office, they'd have no problem figuring out what I was into. There's a Captain America shield on my wall, right next to six framed prints from various comic book artists. A replica of Han Solo's DL-44 blaster hangs on another wall (beneath a photo of my daughter that she gave me on Father's Day), and next to that are several Batman collectible figures from the Greg Capullo line. There's also the Red Sox brick that sits on my desk, the one that has our family name and matches one planted at Fenway Park in Boston. All told, these items are part of what makes me, well, me.
We need our tchotchkes. They're what separates us from the animals, in my expert opinion, and without them, we're just soulless vessels.
Wrap It Up in a Bag
I can't be alone in thinking that some of these things are my lifeline to the outside world. Who doesn't need a good pen, right?
But here's my challenge to you: what are your indispensable items? Let me know in the comments, if for no other reason than to confirm/deny my sanity.
---
Products Seen In This Post:
Download your free coloring book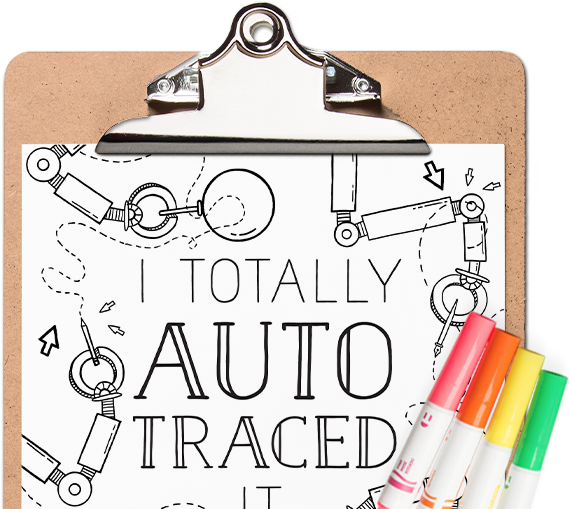 Get your book

Stop stressing, start coloring.

Designer life got you down? We designed this coloring book to help you laugh, relax, and celebrate the things that make our craft unique.
Hi! My name is Kevin Whipps, and I'm a writer and editor based in Phoenix, Arizona. When I'm not working taking pictures of old cars and trucks, I'm either writing articles for Creative Market or hawking stickers at Whipps Sticker Co.