22 Photoshop Actions That Will Shave Off Hours of Work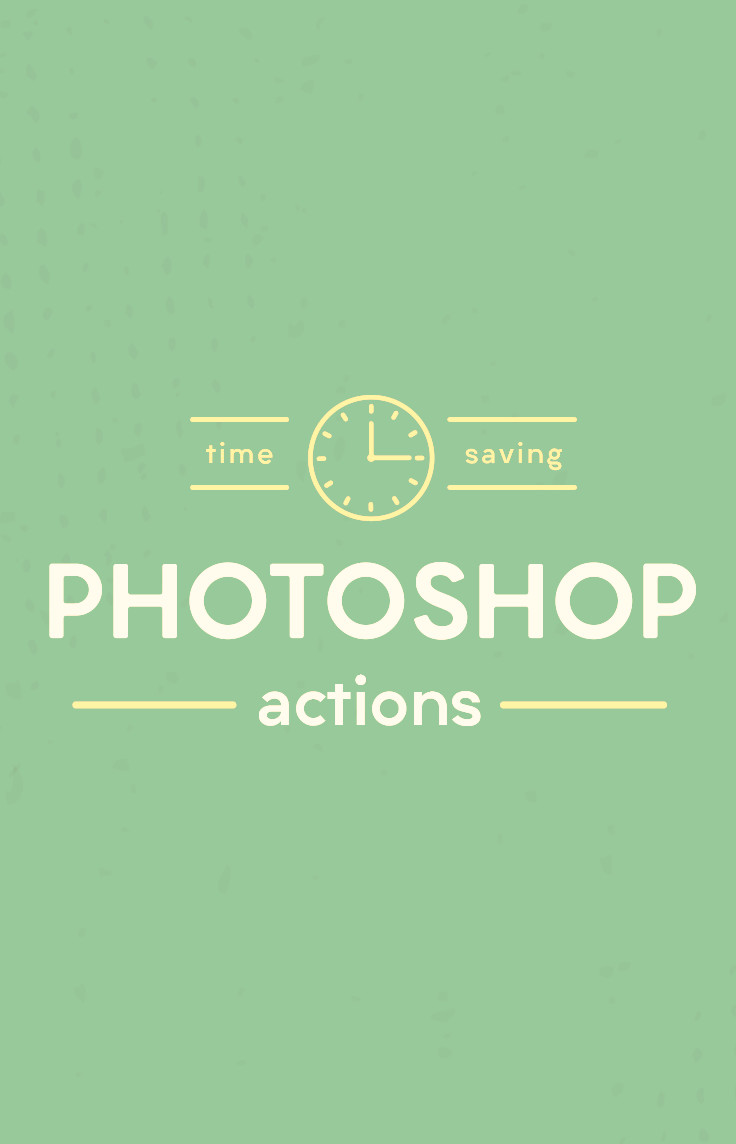 Adding textures and actions to a design project can elevate your creative concept. Certain Photoshop actions can turn bland artwork into a masterpiece. If you're looking for Photoshop actions that can boost your projects, here are 22 sets from Creative Market that can shave off hours of work. These packs are ready for instant purchase and download.
22 Photoshop Actions To Help You Save Time and Money
Created by RetroSupply Co., this Photoshop bundle contains 56 retro glitch textures, 10 Photoshop brushes, three templates, and three tutorials. The surfaces are divided into three overlays: 27 high-resolution glitch overlays, 27 high-resolution screen effect overlays, and four high-resolution glass texture overlays. It's also a Smart PSD pack so the bundle can be used on as many projects as possible.
Designed by RetroSupply Co., this package contains authentic retro 3D effects. It includes five Photoshop actions: RetroLift Angle Left with shadow, RetroLift Angle Right with shadow, RetroLift B&W Angle Left, RetroLift B&W Angle Right, and RetroLift Outline. Each action works with any font as well.
Created by beto, this Photoshop bundle contains eight actions that offer a stereoscopic 3D effect to images. Each action is user-friendly and has a single-click process feature. The actions work with 3D glasses as well (the old style and not the one used in cinemas).
Designed by Forefathers, this Photoshop collection includes six action Soda flavors: Blue Raspberry, Egg Cream, Lime Rickey, Root Beer, Licorice, and Strawberry. Each action offers a distinctive 1950's retro soda shop and is suitable for design projects that require vintage or retro styles.
Made by Creative Graphics, this set has 244 professionally-detailed Photoshop actions that simulate halftone CMYK process in various pattern options: round, cross, lines, and diamonds. Each action has 61 frequency variations which make the bundle usable for nearly all images in different sizes and resolutions.
Created by Designdell, this action bundle contains three action versions to make a font look like it's been drawn directly into the sand. The actions come with medium, bold, and thick font weights. The set also includes a PDF file for detailed instructions.
Created by Inspirationfeed, this Photoshop set provides a pixelated effect in a matter of seconds. The action is inspired by retro games like Super Mario Bros.
Designed by amorjesu, this Photoshop package includes one ATN file for action and one ABR file for the brush. It also includes a detailed tutorial that teaches universal design concepts.
Created by Forefathers, this collection consists of eight custom-made Photoshop actions, six film grain methods, three vignette blurs, and three photo sharpening actions. The bundle is compatible with Photoshop CS5, CS6, and all CC versions.
Produced by weirdStore, this is the very first Photoshop action package that can generate 2.5D Parallax Video. The actions use linked smart object to lessen the file size. The bundle also includes additional 16 pre-made templates for web and print use.
Designed by Matt Borchert, this Photoshop collection contains 40 actions tested to seamlessly work in CS6+, sample images for all the actions, a detailed instruction guide, and a video tutorial. The bundle is easy to use, and the actions are designed to overlay on top of each other to create visually appealing effects.
Made by Kahuna Design, this Photoshop set includes eight editable glitch effects and two PSD files for landscape and portrait images. The user-friendly bundle features a drag & drop action for easy customization.
Produced by Graphic Spirit, this Photoshop package contains actions that can turn any graphic into a cross-stitched piece of art. The set includes embroidery frames, canvas styles, cross stitch actions, brushes, and fonts. A detailed guide is also included for easy customization.
Designed by Greg Nicholls, this Photoshop set includes six engrave actions with two versions of the effect that has three different intensities. The bundle provides a variety of customization options to tweak and edit the effects to its maximum potential easily.
Created by Ian Barnard, this pack is more of a layered Photoshop document than a collection of actions. The layered documents showcase a vintage style seen in the early 1900s using simple illustrations and art deco fonts.
Designed by RusianZelensky, this collection includes 30 smoky PNGs, a variety of PSD samples, ink splatters, brush drawings, and a PDF instruction guide. The actions let users create stunning colored smoky layouts in Photoshop.
Set up by Forefathers, this jam-packed collection contains five hyper-realistic oil brush-type actions, seven color filter tone actions, four brightening and darkening enhancement methods, three grainy methods, three sharpening methods, six high-resolution canvas textures, vignette burns and blurs, and a step-by-step PDF instruction. The bundle offers a realistic oil painting effect.
Designed by CANofART, this PS action pack includes 15 different preset colors, four 2×2 color canvas in two variations, nine 3×3 color canvas, and the diptych. The actions let the user create high-quality pop art effects.
Created by BeautifulART, this collection consists of 30 Tilt-Shift actions that provide a stunning tilt-shift effect for any design project. The bundle is compatible with Photoshop CS5, CS6, and all CC versions.
Made by Designdell, this PS pack includes 12 different colored glitter actions, 45 glitter brushes, and ten sparkle brushes. The collection lets the user create realistic loose glitter text effects without the usual mess the sparkly bits produce.
Curated by Creative Add-Ons, this Photoshop set consists of 32 color styles, three levels of local contrast, four levels of sharpness, light and dark details, clarity actions, shadows, and highlights recovery, HRLA boost details and glow effects. The bundle enables a full HDF effect in mere seconds.
Designed by Guerillacraft, this PS collection includes 16 smart PSD effects divided into three categories with four effects in each group. The actions provide an instant risograph effect using Adobe Photoshop.
Learn DSLR basics and improve your photos.
Start doing more with your DSLR
We get it. Sometimes technical terms can make DSLR cameras seem too complicated. Download this cheatsheet and card to start your journey to better photos.
Download them here
Igor Ovsyannykov
We create fonts, graphics, and produce aesthetically pleasing photos.
View More Posts