20 Next Level Texture Overlays for Your Photoshop Projects
If you browse around photography sites or photo-centric social media platforms, it's likely that you'll see pictures that have a particular effect on them. More often than not, you'll see the vintage theme. But there are many variations of this texture that range from simple color toning, to a full-blown distressed effect. The texture on a photo can instantly elevate and change its appearance. Textures don't have to be physical textures like fabrics, handwritten letters, or old pieces of paper to be called as such. In fact, textures could be anything: clouds, bubbles, a water reflection, or even another photo. That's one of the splendors of using textures. You can get a variety of end products depending on which surface you choose to blend into your original picture. Textured photos are often part of a design project. They make the image pop and usually become the central part of the entire idea's conception. Creating your own textures is time-consuming as you have to use different elements to generate the look you want for your design. Also, it takes advanced skills to create beautiful textures that work well with various images. To cut down your search time, we've collected 20 of the best texture bundles that are multi-purpose, economical and high-quality.
20 Beautiful Textures for Your Project
Designed by Jim LePage, this set includes 32 high-resolution JPG files of vibrant abstract paint textures. All paintings were created by hand, scanned at high resolution and then manipulated digitally.
Set-up by deform, this pack contains 25 high-resolution, colorful textures showcasing thunder. Each file is suitable for album art, concert poster, branding imagery and packaging.
Made by Inspirationfeed, this bundle contains ten abstract textures depicting oil spill like backgrounds. Each composition is suitable for web, app and presentation use. The backgrounds are also tied-up with noise to evoke an organic, retro feeling.
Designed by RuleByArt, this pack includes 25 unique high-resolution backgrounds highlighting the concept of Big Bang. Each background is ideal for projects that require a cool galaxy/universe vibe.
Created by RuleByArt, this bundle contains 40 mesh vector files: 20 vector EPS files and 20 transparent PNG files. All backgrounds can be opened with Adobe Photoshop and Illustrator. The digital waves have an aerial vibe to it that works great as a subtle detail for any design project.
Designed by RuleByArt, this pack includes 25 high resolution black-and-white abstract backgrounds. The textures have a grainy, 3D-inspired distorted images. Each will be wonderful as a beautiful ambient background for a concert poster, an album cover or any unique design project.
Fashioned by Natalia, this set has 11 high-resolution abstract images that show off a sci-fi vibe. The abstract backgrounds are ideal for art posters, brand imaging and packaging, and blogs with a futuristic theme.
Created by Hello Mart, this bundle contains 45 high-quality, high-resolution digital art papers. The set is inspired by woodcuts, ink drawings, and pop art. An electric vibe is also prominent in each background. Each texture is suitable for web and print use.
Designed by Natalia, this set includes six high-resolution abstract JPG images. Each model is ideal for personal and commercial use.
Created by Hello Mart, this pack contains 85 seamless textures showcasing speckles, splatters and sprays on colored and black-and-white backgrounds. The set's color schemes run from subtle to bright hues. Each background is ideal for the web, app, and print use.
Designed by Jim LePage, this bundle includes eight custom-made, high-resolution abstract paint backgrounds. Each model exhibits a vibrant, engaging graphics best as a web background texture.
Fashioned by madebyflame, this zip file has 24 different abstract fractal/glitch PNG images. Each background is ideal for any personal or commercial design project.
Created by RuleByArt, this pack includes 15 organic, high-resolution isolated objects. The backgrounds are made for album art, posters and other design projects that need a high-res output.
Designed by RuleByArt, this bundle contains 16 abstract highly detailed vector textures. Each composition can be used as a background, foreground or a mask for text to seep through.
Created by Jim LePage, this set includes 50 high-resolution abstract glitch backgrounds. Each piece was created using an original abstract painting that has been digitally distorted to create a new glitched texture. All background is suitable for web and print use.
Designed by LeraEframova, this pack contains eight EPS10 trendy marble textures. It also includes 15 card templates and a variety of graphic elements. Each background is ideal for creating gift tags, greeting cards, logos, and invitations.
Produced by Hello Mart, this bundle includes 50 high resolution, seamless patterns designed using rock strata, slices, and cross sections. Each background is ideal for fabric painting, wallpaper, social media banners, posters and flyers, invitations, photo layering and masking.
Created by funderful, this pack contains ten abstract lustrous backgrounds. The rainbow-like textures are displayed using a cool, vibrant color palette.
Designed by Mcraft Shop, this collection contains 15 vector halftone screen texture suitable for craft projects, business cards, shirt designs and other merchandise design-related projects. All backgrounds are fully editable for easy customization.
Created by Polar Vectors, this set has 30 dynamic abstract backgrounds showcasing spots and flecks. The backgrounds are ideal for contemporary and minimalist design styles. They are also suitable for the web and mobile app use. ~ If you need a particular texture for a project, it's better to buy it online than make one yourself. Creative Market posts a vast variety of next-level, varied textures that blend well with virtually any design or photo. These packs are available for instant purchase and download. Get a pre-made pack or two to help you save time, money, and resources. When you buy a bundle, you get the distinct texture needed for your project, as well as a lot more varieties that you can use and reuse for future projects.
---
Products Seen In This Post: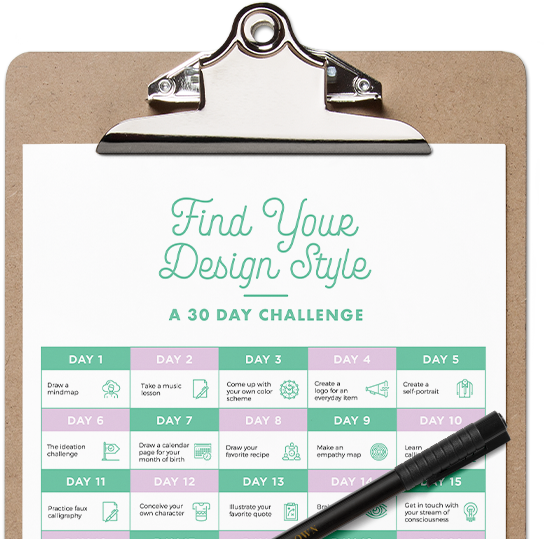 Find your design style in 30 days
Free Challenge Calendar
Having a hard time finding your unique design style? This creativity challenge will get you on the right track.
Download it here
Igor Ovsyannykov
We create fonts, graphics, and produce aesthetically pleasing photos.
View More Posts