50 Restaurant Menu Designs That Look Better Than Food
Working on a menu for a restaurant, cafe, or bakery? Take a look at these designs that look good enough to eat!
Take a look at these restaurant menu designs that look good enough to eat!

BarcelonaShop brings a chalkboard art approach to this pizza menu.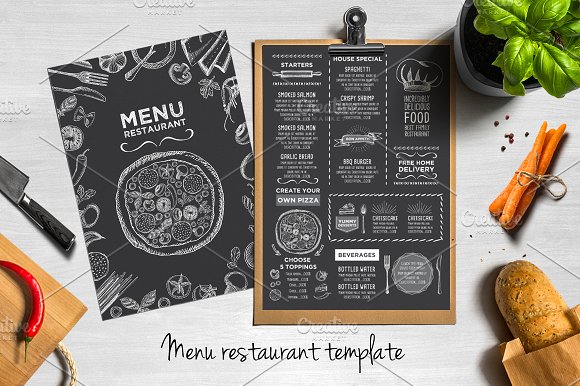 El Calotipo uses a letterpress on a wooden base to achieve this rustic cafe menu look.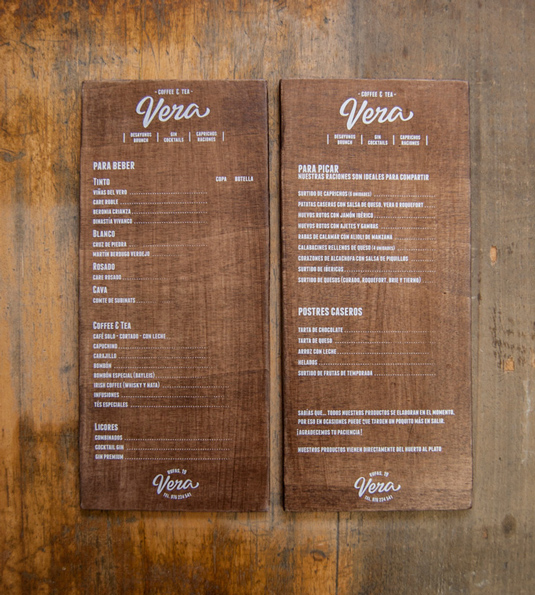 Guuver uses a newspaper-inspired design for this appealing menu.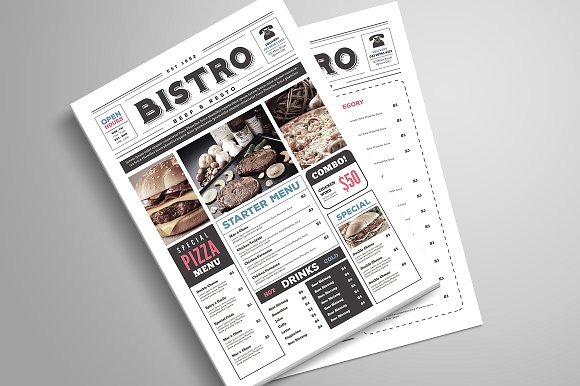 The ForeFathers design team used minimal elements to make a powerful impact with this pub menu.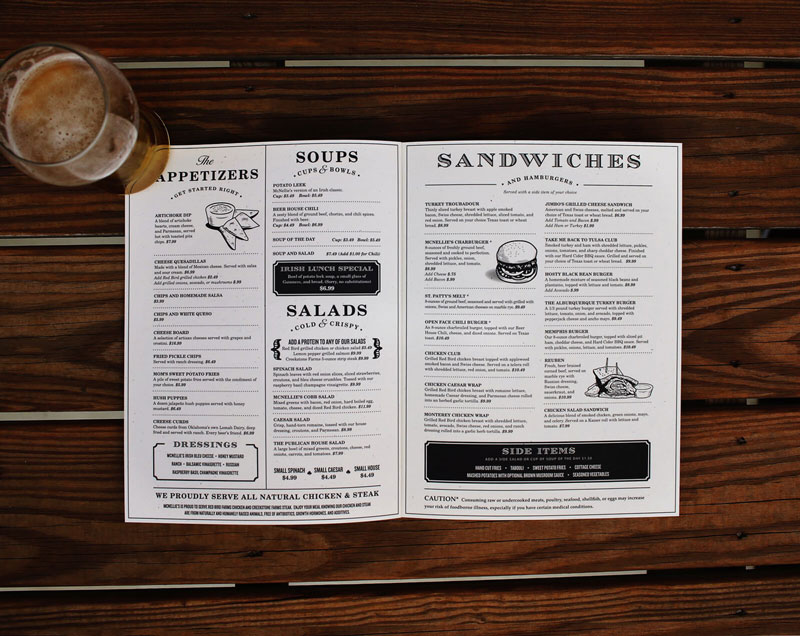 Amber Asay puts a vintage typography style to work with this local restaurant menu.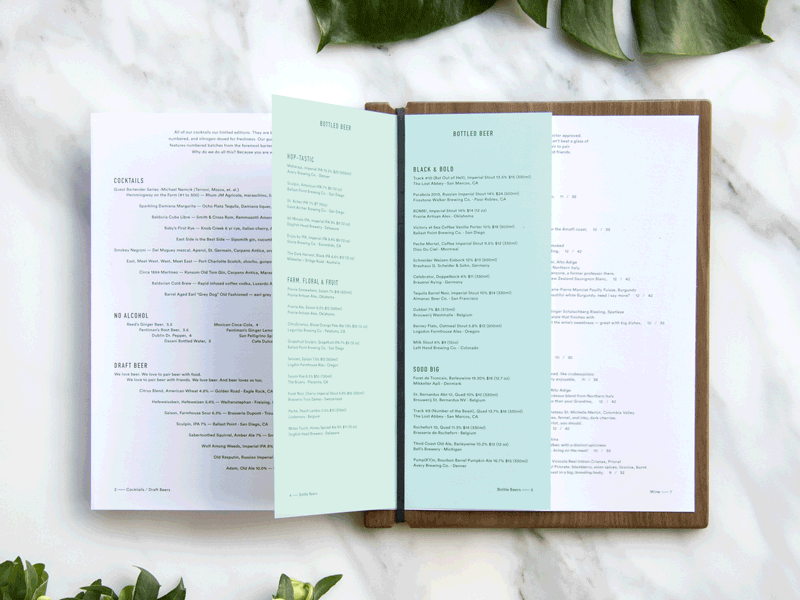 For Brands wanted to keep this Japanese restaurant menu classic and refined with black and white, but added a touch of whimsy by rolling it up like sushi.
Luuqas Design goes for an elegant menu design with a nod toward vintage typography.
Calling this design colorful doesn't remotely do it justice. Donovan Brien used traditional Turkish patterns for this breathtaking modern design.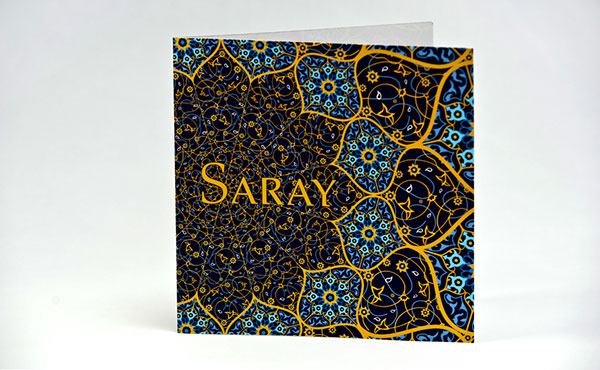 DigitalPen brings a bright and stylish modern style that may outshine the food at the restaurant that uses this design.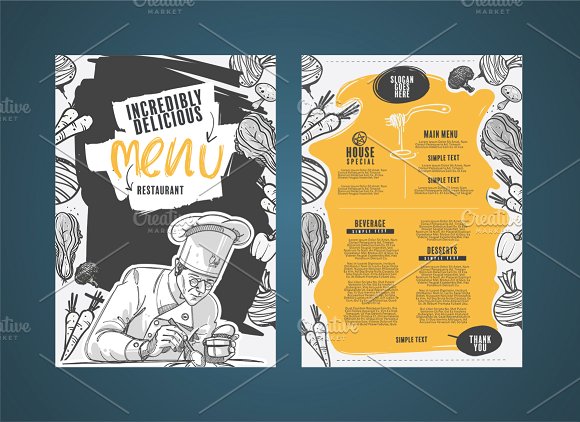 Netkoff puts emphasis on strong visual appeal with this modern cocktail menu design.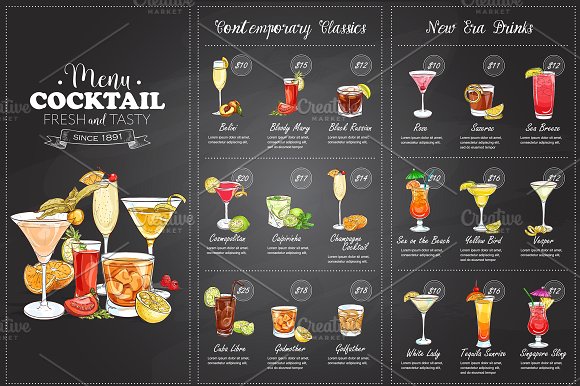 When you need to show just how mouthwatering a restaurant's pizza really is, you turn the menu into a book. Taxi does a great job with this fresh and modern deep dish menu.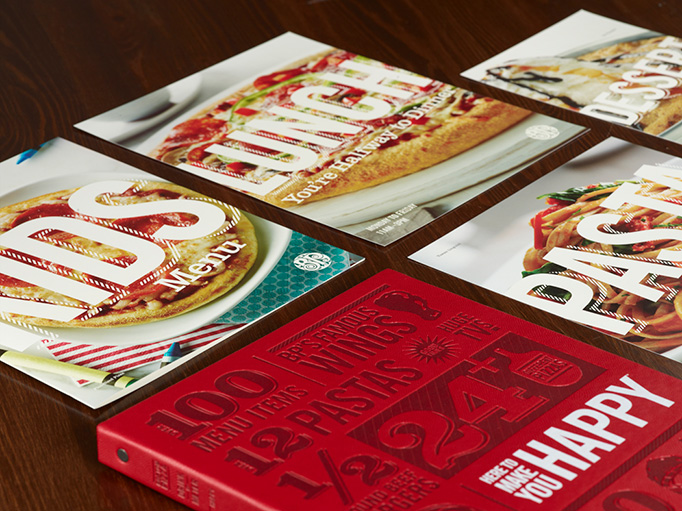 Luuqas Design incorporates retro colors, vintage ribbons and bold visuals for a menu that fits in perfectly at a burger joint.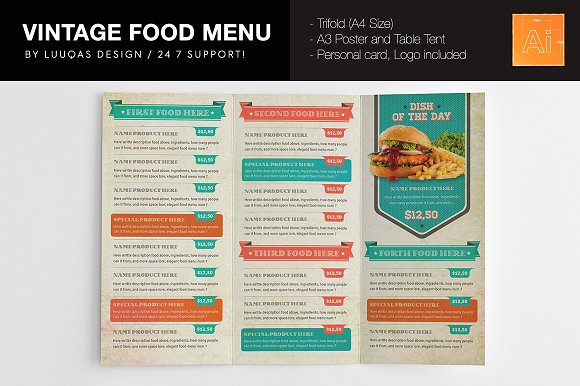 Neworld Associates and Steve Simpson joined forces to create a menu that looks so good, it should be framed and hung on the mantle.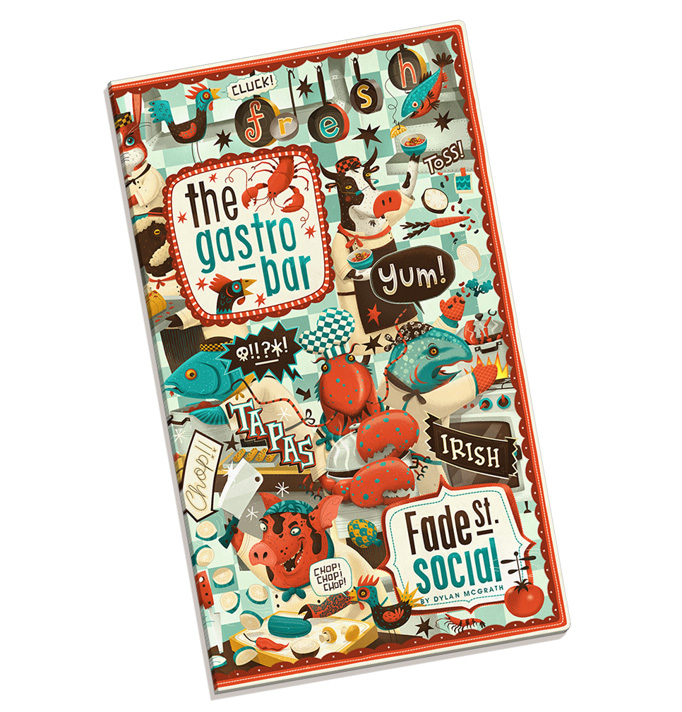 Nathan Knight Design incorporates modern elements with eye-catching food photos in this menu.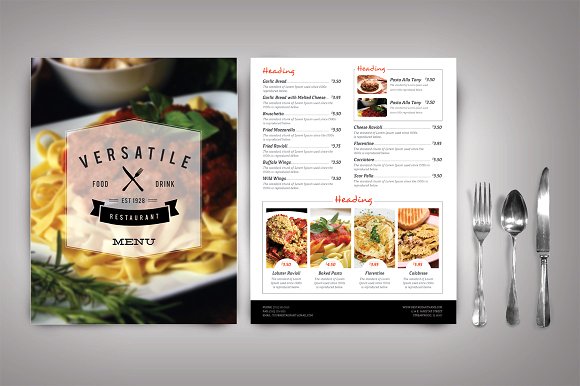 Does a leather-bound book menu sound appealing? Moulsari Jain thought so and created this gorgeous piece that fits right in on the bookshelf.
Leyla Muratovic's modern typography work is almost too good to be true on this tapas menu.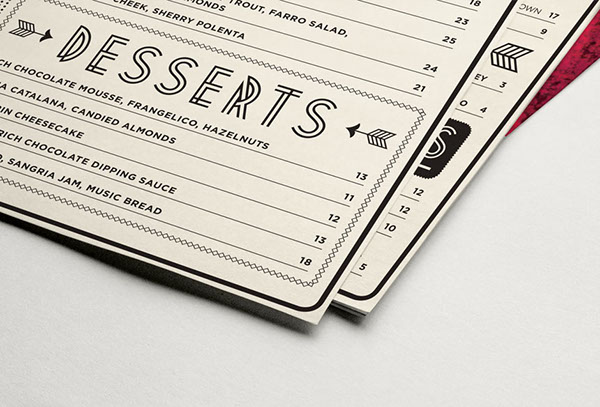 You don't commonly see flat design in restaurant menus, but it works out great in Elfivetrov's sushi design.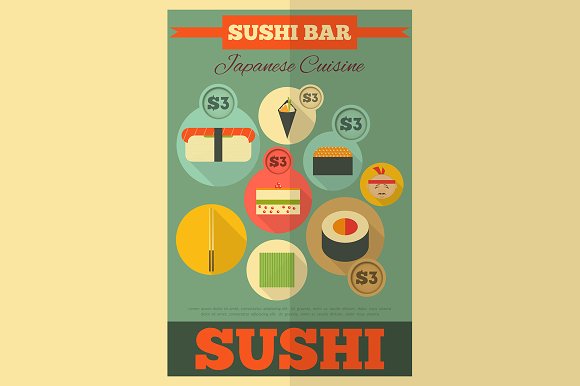 A Little Vintage Shop puts together a blackboard-style menu with a ton of vintage elements.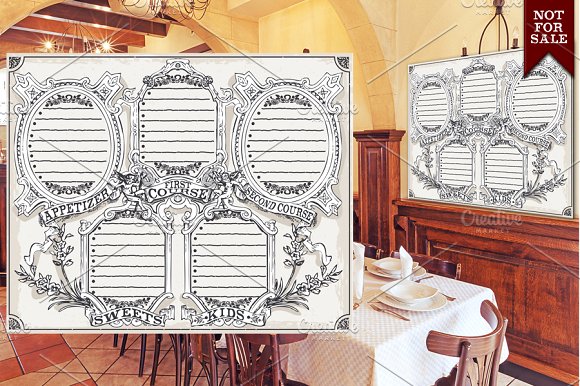 In the mood for a rugged and outdoorsy menu that would fit in perfectly at a BBQ place or a steakhouse? Tzochko nails the Wild West bold headers and the food photo placement.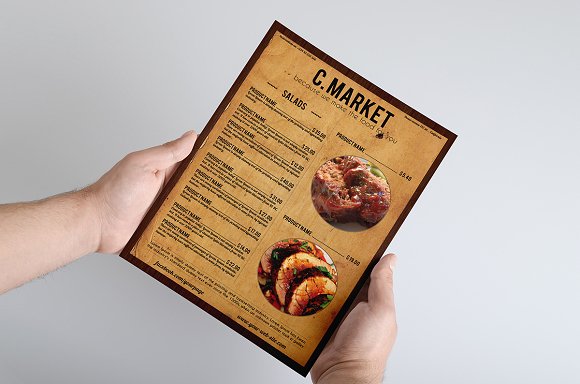 Who says you can't have fun with your food? Elle Benway modeled this menu after a pop-up book, with a modern visual appeal and lots of interactive elements.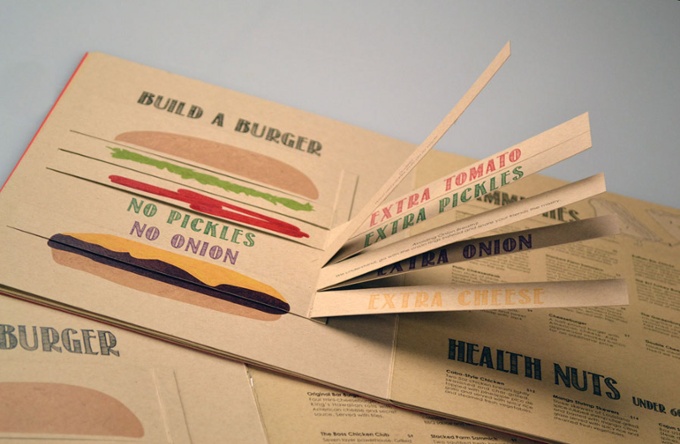 Folsom Creative Studio moved away from a typical menu design for a fan-opening approach that screams modern design.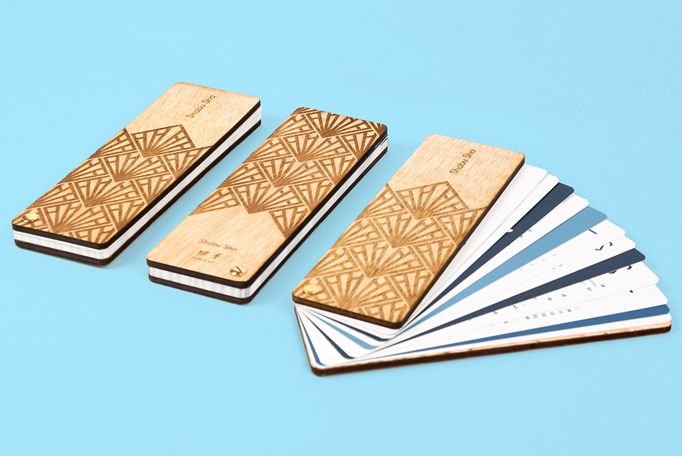 Jennifer Lucey-Brzoza accents this modern menu with a floral design.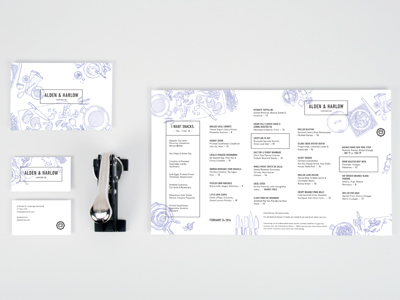 The vintage typography sets the tone for this fresh and fun design by Devicq Design.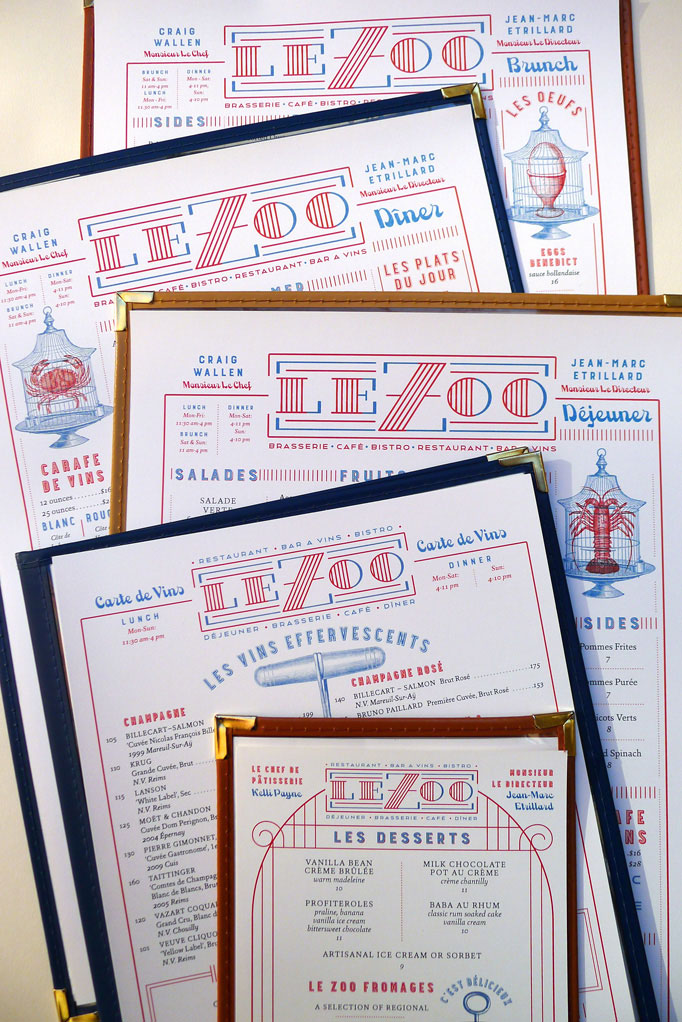 This minimal menu by Forgraphic uses a box arrangement and a simple design to keep attention on the food choices.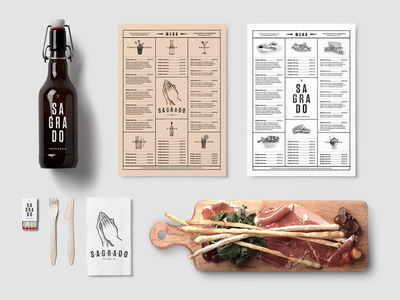 Everyone would look forward to Taco Tuesday if they ran across this modern menu by Jacob Boyles.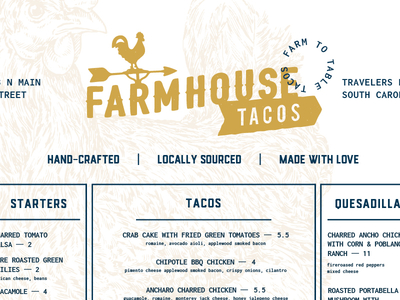 The minimalist Ragu menu design by Ilya Levit, Danil Kartashev, Alina Stebletsova, Aleksey Proselkov and Artemiy Copper lets the food get front and center.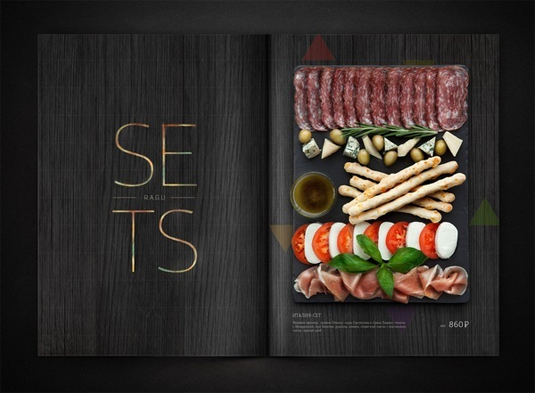 Luis Quesada Design mixes bright oranges and greens for a modern take on a classic burger menu.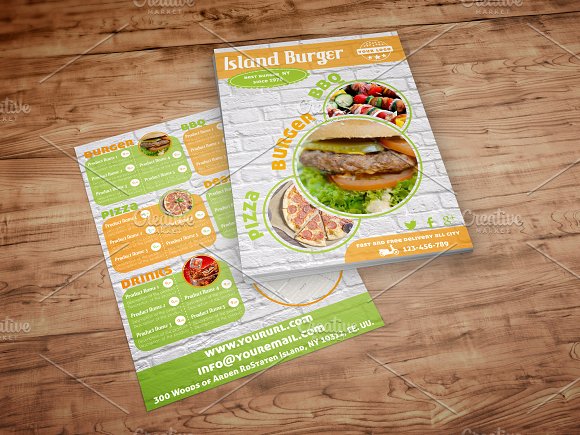 This rustic menu gets a few standout touches by TheGraphicsWorld.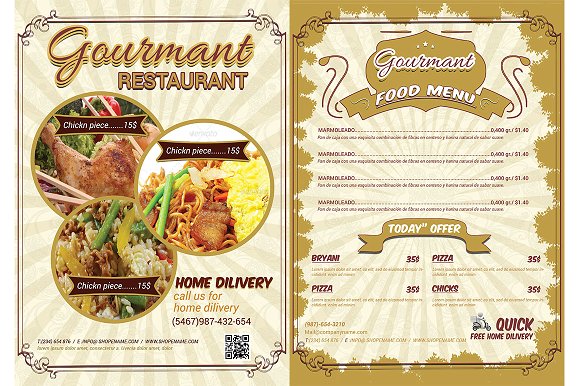 Have you ever wanted to see an illuminated menu? Dane Danner puts together a design that wouldn't look out of place in the Renaissance era.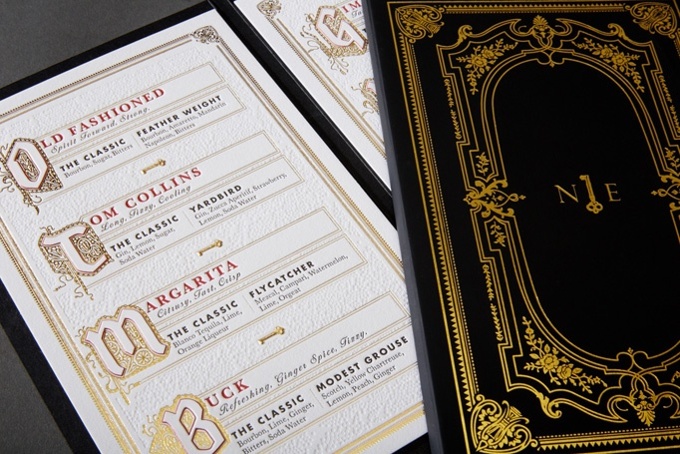 Minimal and beautiful are the two perfect words to describe this design by Restaurant Menu & Logos.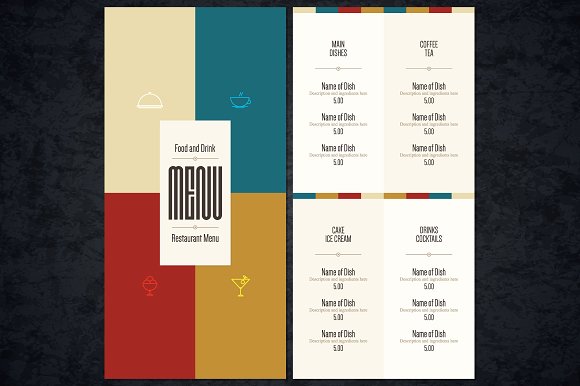 This pop-art-style sushi menu is as modern as it gets, with bright infographic-style visuals by &Smith.
Lo Siento steals the show with these black and white vintage illustrations paired up with a minimal restaurant menu.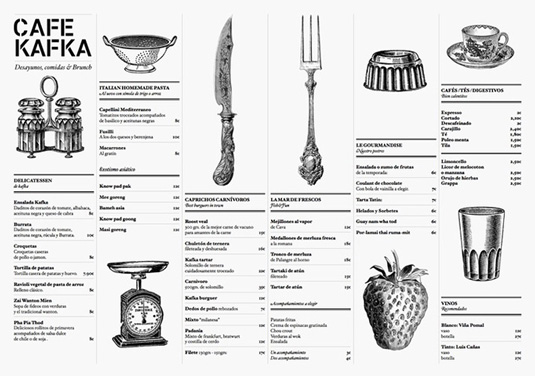 The balance of colors, modern headers and line illustrations by Marchie add up to a great piece of eye candy.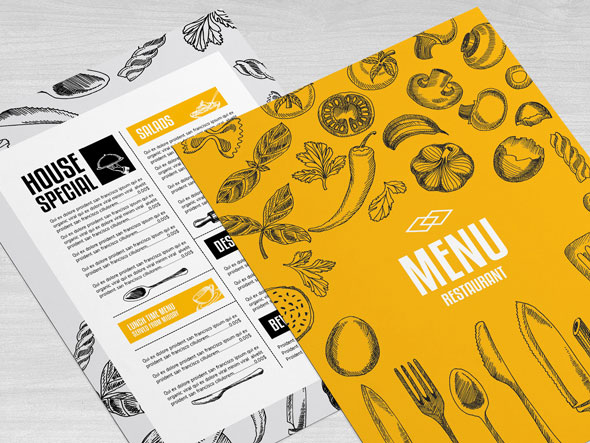 This fish is as fresh as it gets, with vibrant blues contrasting with coral and orange highlights by Micael Butial.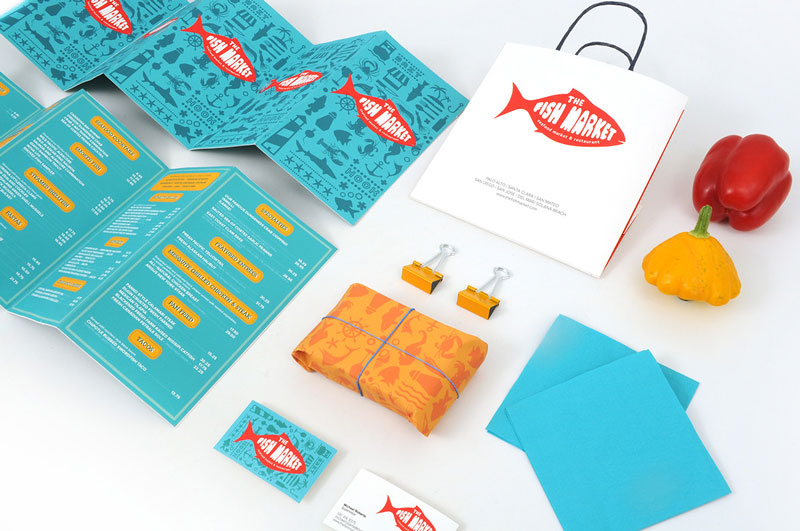 One look at this exciting modern ice cream menu by Design Addict will have everyone lining up to grab a cone.
Barcelona Shop makes wonderful use of line drawings and fresh modern colors on this fish menu.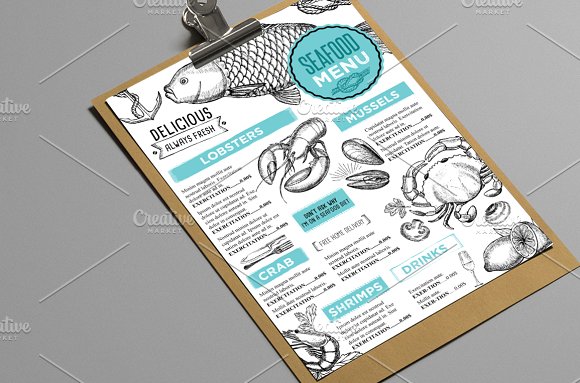 Ann Reus delights the eyes with perfectly placed food photos scattered around a refined and classic menu design.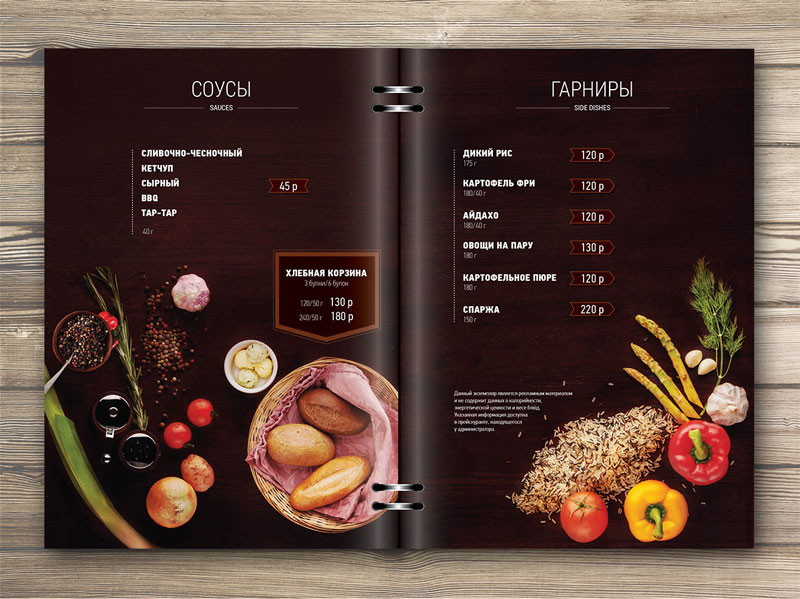 Ida Claire shows a stunning mastery of vintage typography, as well as a flair for incorporating unexpected elements into a Victorian design.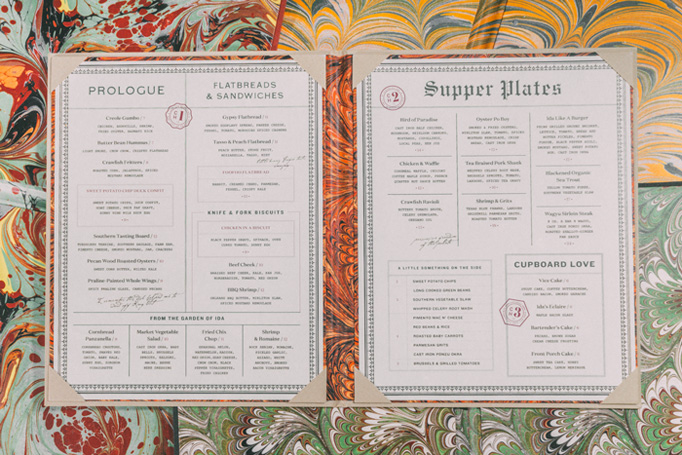 Dim sum menus can be difficult to perfect, since you have to accommodate for customers writing on it. Eszter Laki has no trouble putting together this clear and lovely design.
Diagram Design combined modern appeal with a retro newspaper look in this Cuban menu.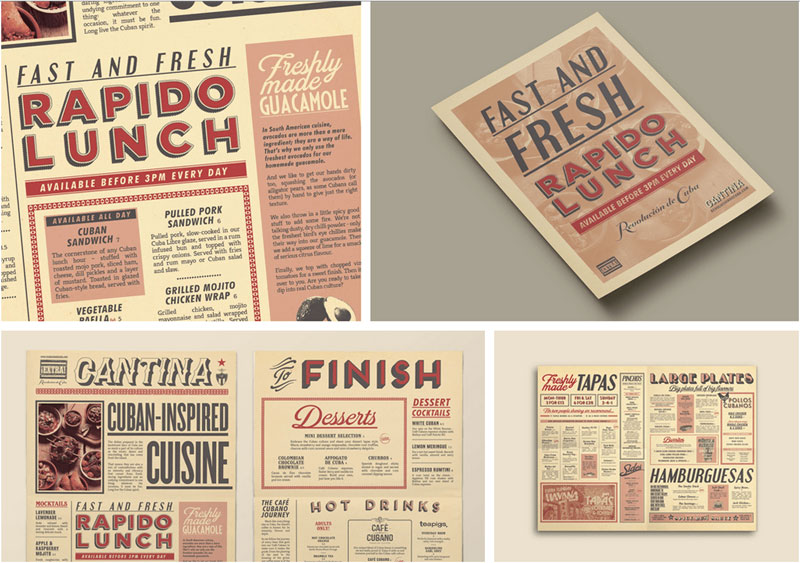 Foreign Policy presents a classic fish menu design with plenty of visual flair.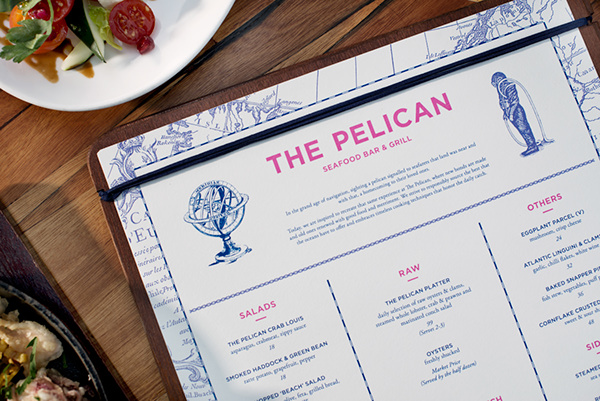 Rugged menu design by Adam&Co goes for a modern rustic look with some Asian influences.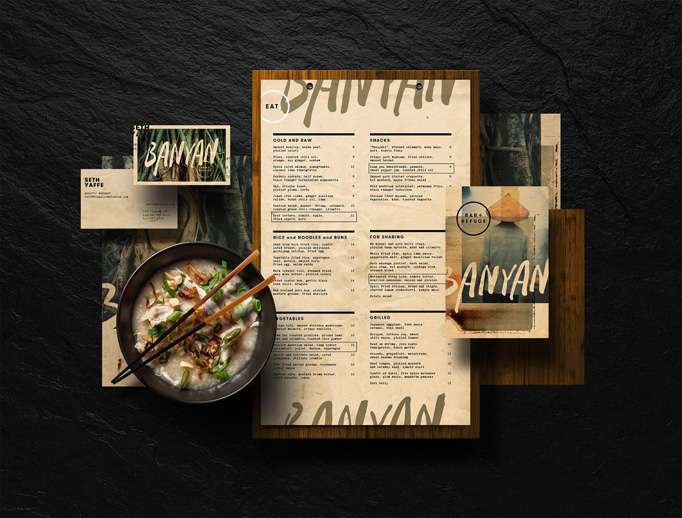 Foreign Policy Singapore starts off your experience at The Clifford Pier with a gorgeous vintage postcard menu.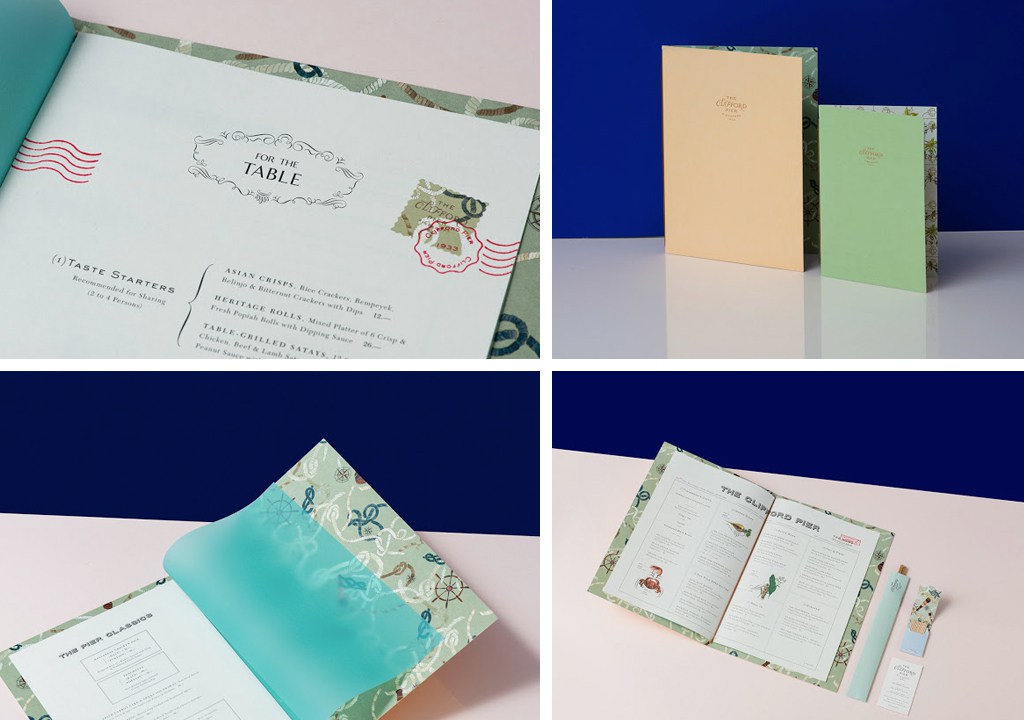 Classic greens and golds combine through strong visual direction with Julia Jacque's work.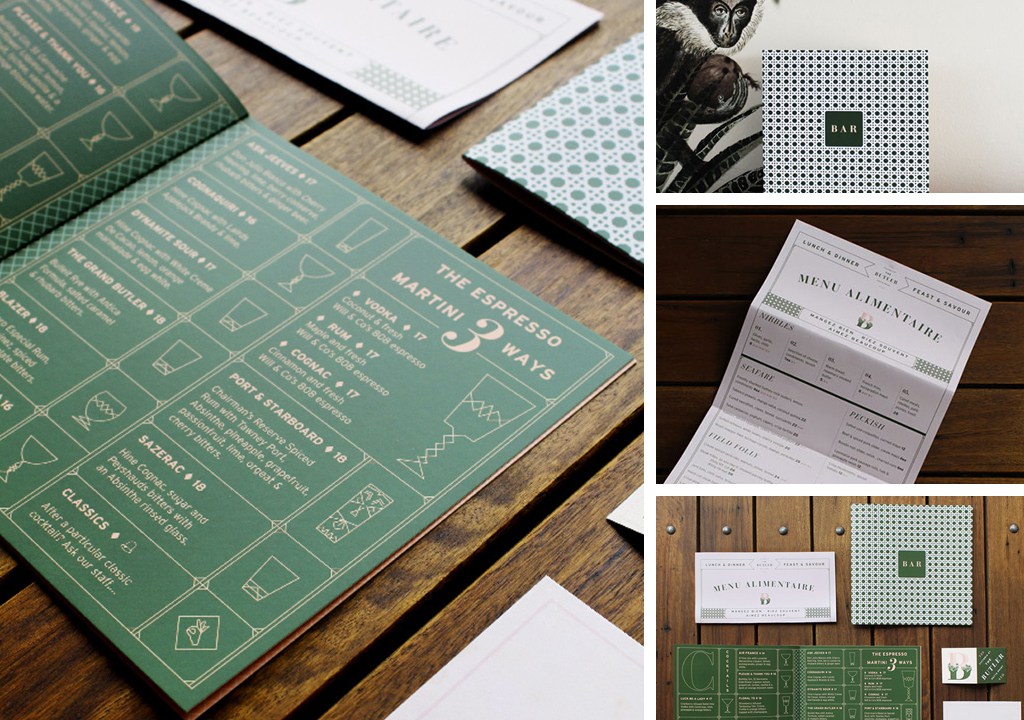 Marchie's coffee menu is a work of art, with a blend of typography that delights the eyes.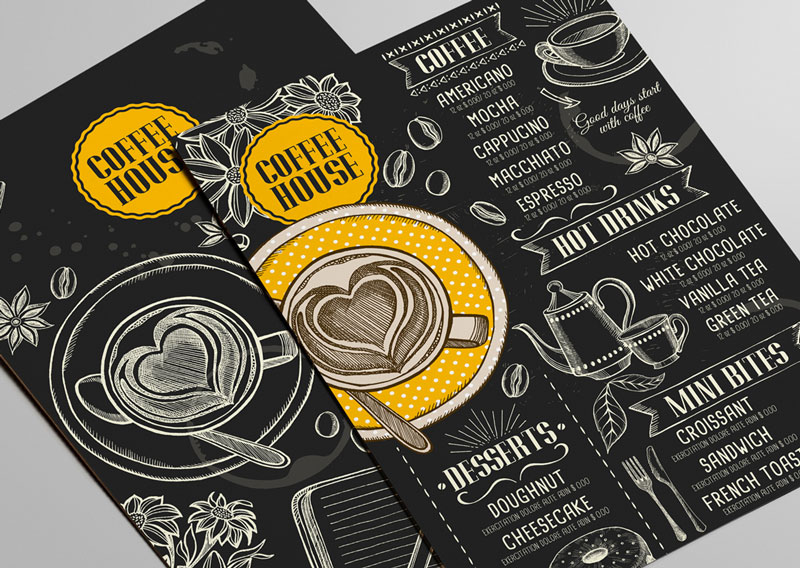 Nenad Popadic masters the unique style of this bar and restaurant, with a modern and hip vibe.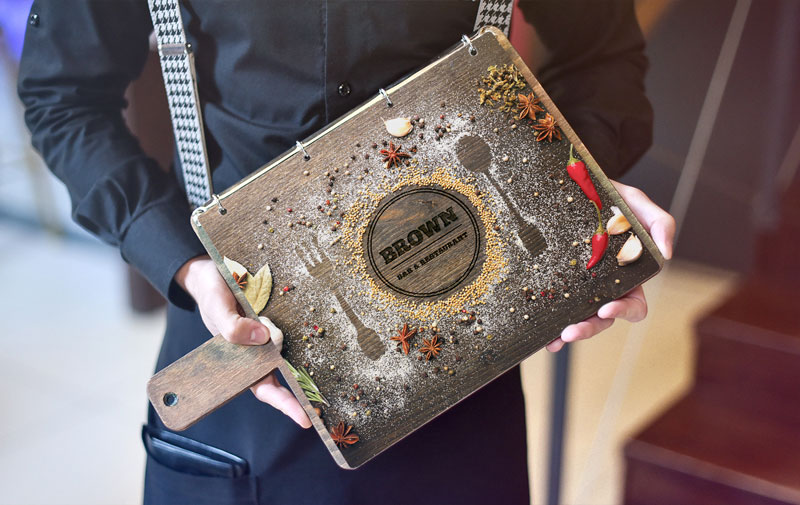 The illustrations on this menu by Julia Jacqueline Warnock have a timeless appeal that matches well with the drinks list.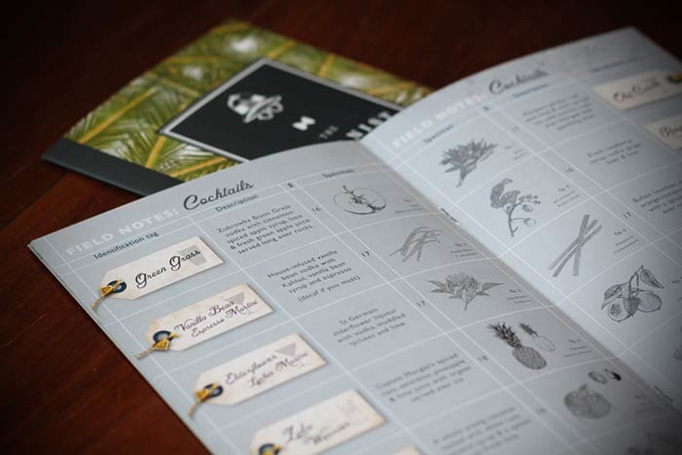 It's hard not to fall in love with Tractorbeam's excellent work putting together a clever and colorful menu.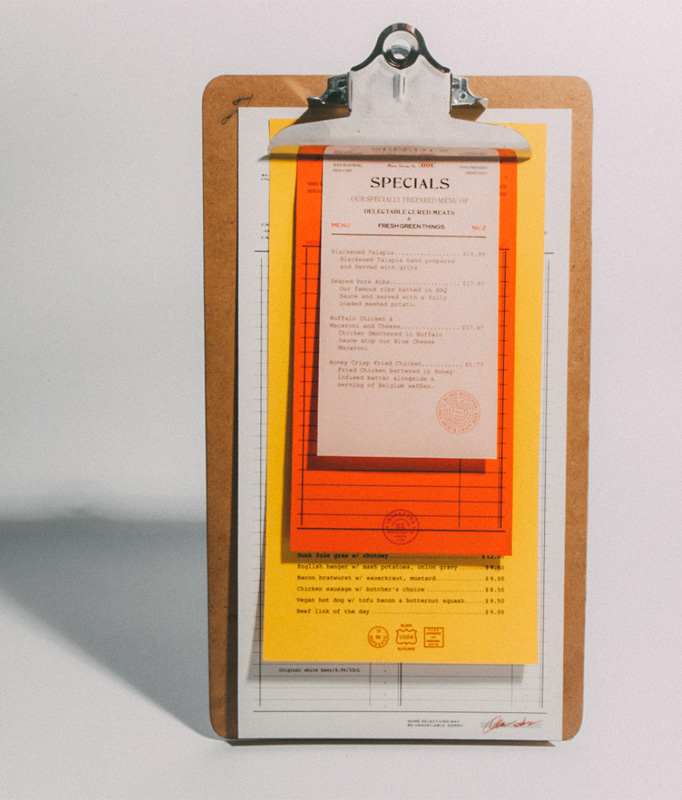 This signature list of cocktails by Brennan Barrows nearly leaps off the page at you, with a stunning visual direction.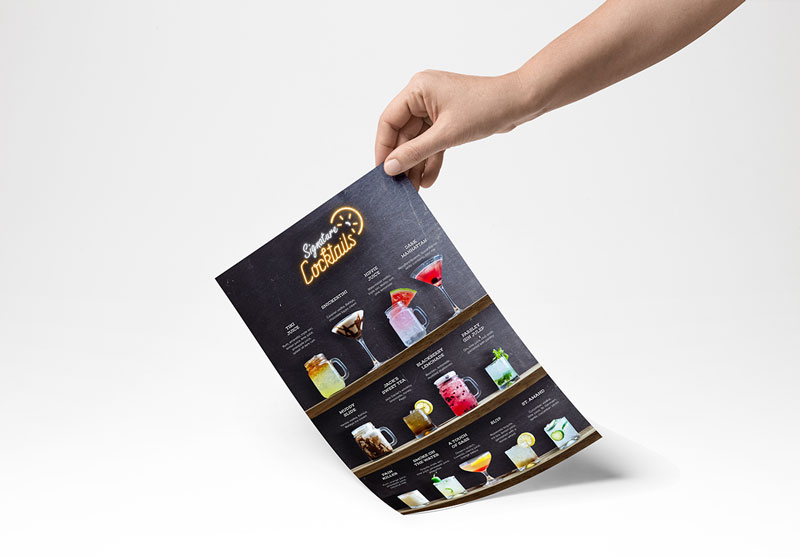 How many menus can transform into something else? The team at Vigor designed this modern piece of art so customers could turn it into an origami crane.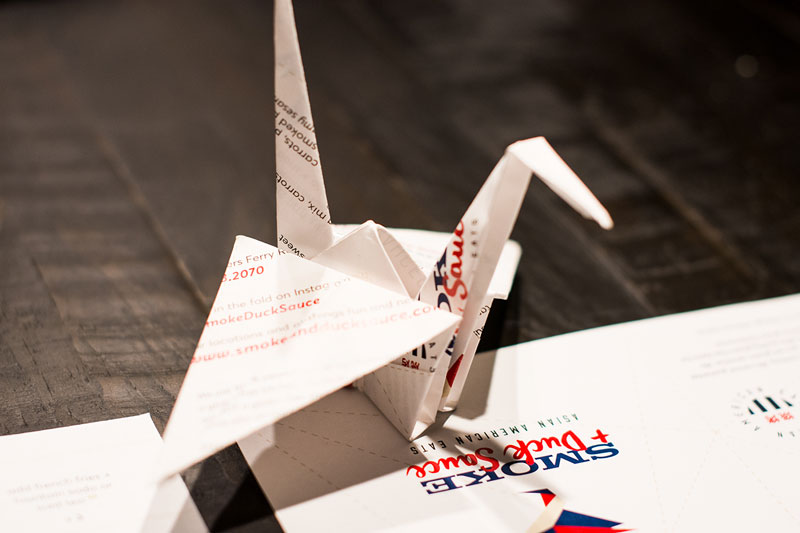 Getting started with hand lettering?
Free lettering worksheets
Download these worksheets and start practicing with simple instructions and tracing exercises.
Download now!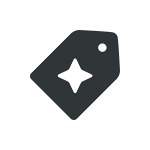 Creative Market