A Delightful Collection of Rounded Serifs With a Retro Feel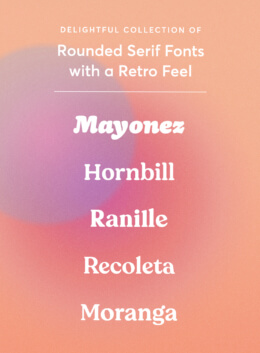 Is there any better way to create a throwback feel on a design project than with a vintage, old-school font? This collection of rounded serif fonts have a distinctly retro feel—so you can start infusing nostalgia into your work with a typeface choice. Check out some of our favorite rounded serif fonts on Creative Market below.
Sardiez created Mayonez Black Italic—this serif retro font that has rounded contours and cupped serifs, which the designer explains is supposed to evoke a balance between seriousness and friendliness. Mayonez Black Italic looks best big and bold, so consider a choice for any retro advertising, packaging, or page headlines. Use the front to infuse some warmth into your project, while taking people decades back.
Specifically looking to evoke the '70s? Look no further than Hornbill: a family of 18 fonts created by Eko Bimantara. This soft serif family was inspired by other 1970s serif font styles. When you download Hornbill, you'll get 18 distinct styles of the font—from thin to black to matching italics and beyond.
Want to go a little bit further back in time with your design project and choose a font straight from the 1950s and 1960s? Ranille by Artefak Project will take you back for that mid-century vibe since this retro serif font has distinctively vintage curves and it is also simultaneously bold, but also elegant. Sounds a lot like '50s and '60s—refined with a wild side! Download Ranielle for over 200 alternative characters and use it for headlines and titles or for more interesting body text.
Don't just get one rounded serif font with Recoleta by Latinotype—get 14 when you purchase this bundle. The font is inspired by a combination of 1970s typefaces, which the designer explains come together "just like grandma's recipe." You'll find a mixture of gentle, soft shapes with angled strokes that make the front feel undeniably old-fashioned but fresh: the perfect blend of old and new. Enjoy the lighter weights of this text for body texts and the heavier for headlines, branding, and more.
When you buy Moranga from Latinotype, you actually get 10 fonts: two fonts in five weights. Moranga is undeniably influenced by the 80s and disco era, but with over 400 characters and 200 Latin-based languages supported, you'll definitely find a use for it, whether it's for a headline or display use—or whether you want to use it somewhere you need funky, nostalgic body text, like on a menu or website.
Black Cream is a retro soft serif typeface that comes with two fonts, 37 ligatures, 75 alternatives, and a host of European languages supported. Created by GoodePhotography, it is bold and eye-catching; even its designer says it's best suited for headlines, titling, branding, and logotypes. The rounded, soft nature of Black Cream just exudes friendliness, funniness, and warmth. Make your project feel inviting and familiar—just like your favorite childhood sitcom or that soft 70s shag carpet in your TV room.
The name of Gentle says it all. This typeface made by MadeType has soft and rounded edges and feels equally modern and contemporary. A throwback to an easier era, which makes it a versatile typeface. The designer recommends Gentle for a huge variety of projects: from fashion to logo to branding to invitations to advertisements and beyond. If you want a rounded serif font that can help you with retro-style projects and add to contemporary-feeling ones, as well, this is definitely a great option.
MadeType also crafted Dillan, a soft serif font that is easy to read and distinctly vintage. Whether you're designing an old postcard or want to send an invite to a throwback-themed party (think '60s to '80s), Dillan is the right choice of typeface for you. When you download Dillan you get multilingual support, upper and lowercase letters, numbers, and punctuation.
Black Lab Type, who designed Heirloom, explained that this typeface was inspired by soft and friendly forms from the 1970s. With its minimalistic, thin look to the distinctly modern and relaxed vibe it exudes, Heirloom is clearly inspired by nature and the earth, as well as just a general sense of chill: everything we think of when we imagine '70s hippies. Download Heirloom and get all three weights of font, all of which are acceptable for display or body text.
Pockota is a display serif font family–so choose it when you need some retro messaging that is loud and clear! Designed by Nasir Udin, Pockota is intended for graphic or editorial projects. When you buy Pockota, you get six weights, extended Latin characters, support for more than 200+ languages, and a slew of Opentype features. Choose Pockota for its versatility and because it undoubtedly makes a statement.
One of the most whimsical fonts on this list that still exudes a distinctly retro vibe is Andromeda. Megs Lang designed Andromeda and she says she was inspired by a hand lettering book created in the 1970s. The serifs in Andromeda reflect movement and joy and the boldness of the font is great for any fun, joyful display project.
A rounded serif font that is distinctly mid-century is Glamour Absolute. Feel like you're flipping through a 1950s fashion catalog when you encounter this font. This download comes with two versions of the font: One that has larger serifs and is better suited for titles and logos and one that is sleek and minimalistic for body text—but still looks distinctly like it came from half a century ago. Glamour Absolute was designed by Nicky Laatz.
Creolia Typeface is a sleek and sophisticated bold rounded serif font, which comes with 330 glyphs. Download this font for a typeface that looks old-fashioned or if you want your text to simply look sleek and minimalistic, with a subtle twist. Creolia's designer, Milan Pleva, recommends it specifically for postcards, presentations, magazines, packaging, labels, headers, logos, and invitations.
Getting started with hand lettering?
Free lettering worksheets
Download these worksheets and start practicing with simple instructions and tracing exercises.
Download now!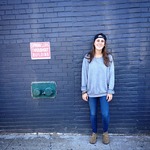 Becky Bicks
Becky is a writer, photographer, and interior designer based in Brooklyn. Despite her current status as a New Yorker, she considers herself a Memphian.
View More Posts