How to Create a Rough Paper Look with Deckle Edges & Handmade Textures
Learn how to age paper with simple materials to add an antique look to your compositions. Shop owner Nastia Smiyan, from NassyArt, walks us through her step-by-step process.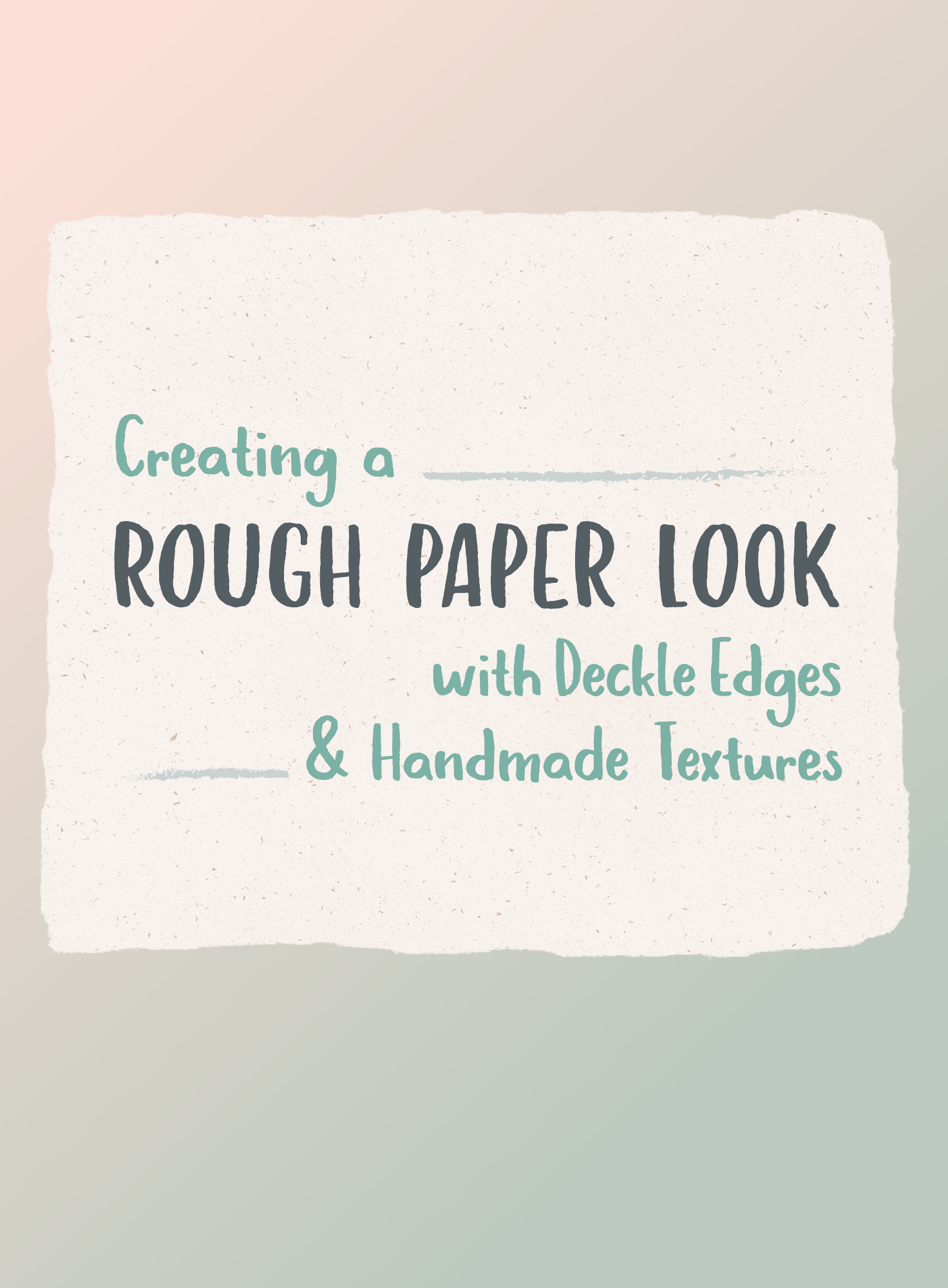 The way old paper looks, feels, and smells can evoke nostalgia for bygone eras, from Celtic parchment to Egyptian papyrus to ancient China's rice paper.
There are many different ways in which you can age paper without special tools, from crumpling to tinting. Each method allows you to achieve truly unique results. You can even go a step further and lightly burn the edges of the paper to give it a very ancient look. Throughout this blog post, I'll share details about the technique I use in the creation of Old Paper Textures. The two main tools mentioned in this article involve simple items found in almost any kitchen: coffee and tea.
Getting Started
To create a special vintage and a touch of antiquity, paper can be artificially aged. There are many different ways to do this. For example if you decide to do scrapbooking, draw a treasure map for a children's matinee, decorate an art project, arrange your own edition of poetry, send wedding invitations, create a set of aged papers for sale, decoupage, web design, or any of your creative projects you may need specific paper. And not just paper, but original, textured and antique-looking paper. You can also use Old Paper Textures as a filter for photography, to create mockups, beautiful tapestries, ancient maps, give an ancient touch to your designs and creations. If you love the vintage style you can also read about Vintage Distressed Textures and Effects.
Materials
– Coffee or tea. Tip: Coffee and tea give different shades. The tone you'll likely get from tea is lighter and more yellow.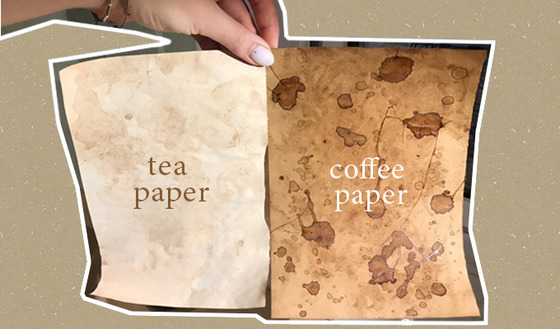 – Container (to soak the sheet in the solution you're tinting it with)
– A sheet of white paper A4 format (can also be cut into two parts A5)
– Newspaper (or a surface to dry your sheets)
– Hairdryer
– 0.5 liters of boiling water
– Lighter and candle
– Watercolor brush
– Tea bag
– Iron or a stack of heavy books
– Scanner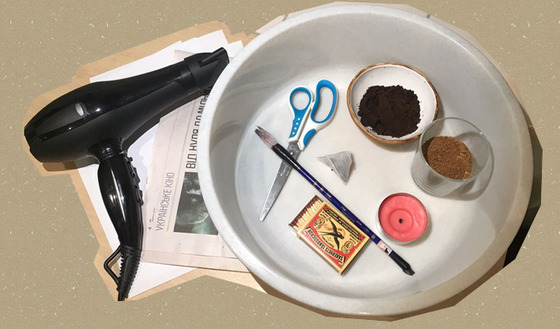 Step-by-Step Process
Step 1: Preparation your tinting solution
Prepare a light extract of instant coffee or brew black tea. You can do, for example, five tablespoons of instant coffee per 0.5 liters of water. If the extract is made from tea, pour boiling water over 5-8 teaspoons of tea. The finished texture will be lighter or darker depending on the strength of the tea or coffee.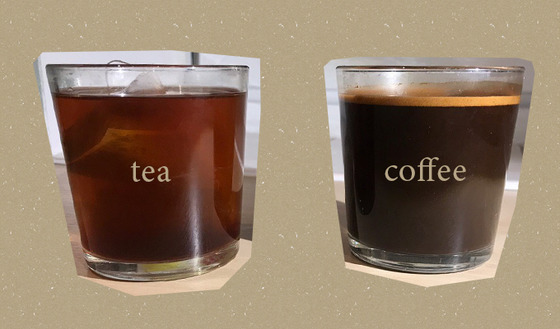 Step 2: Soaking
Put the sheet of paper into the container and pour it with a ready-made extract. Don't try to soak several sheets at once. They just stick together. Soak the sheets one by one in the same solution. The sheet should be completely covered by the extract.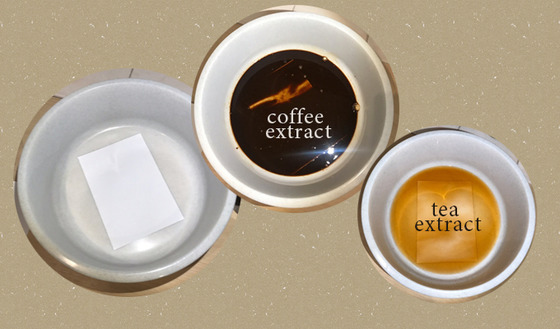 Step 3: Waiting
Hold it for 3-5 minutes. Don't let the paper sit out for too long in the solution.
Step 4: Drying
Take the tinted sheet out and place it over the newspaper to dry for 5-10 minutes or use a hairdryer to speed things up. If you are unsatisfied with the color, add some more coffee to the solution and soak the paper again. So you can continue until you manage to age the paper to the desired state and color.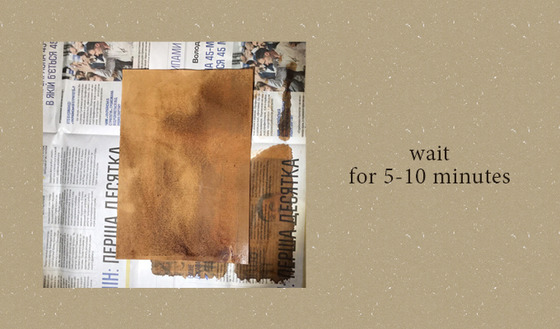 Step 5: Shading
When the aged paper is completely dry, you can (optionally) rub coffee beans on it. In some places, it will get a darker shade. This shading also adds a nice coffee scent to your pages.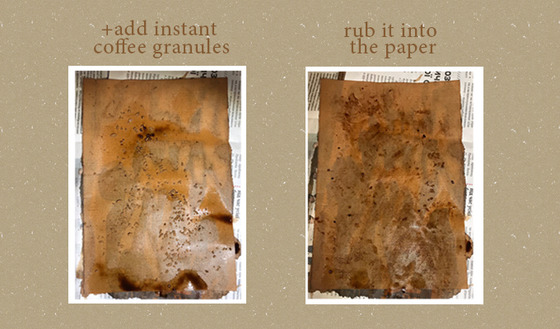 Step 6: Add Cup Circles
You can also place the cup on paper, moistening the bottom of the cup with tea or coffee to recreate those natural circles from drinks.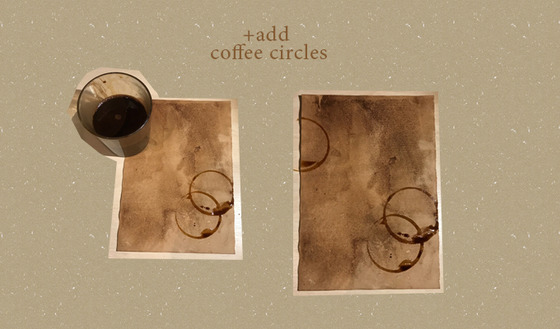 Step 7: Add Splashes
You can also sprinkle a few drops of tea or coffee on the paper. Splashes can give the paper an even more antique look. Let it dry.

Step 8: Staining Edges
For an even stronger effect, dip the watercolor brush into the coffee concentrate and go around the edges, leaving the coffee bloopers and stains in the middle of the paper. Alternatively, you can experiment staining the edges with a tea bag instead of a watercolor brush.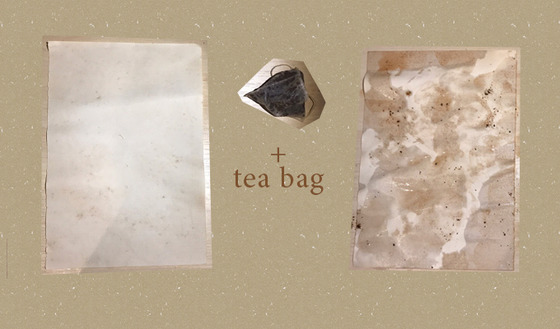 Step 9: Smoothing
After drying, crumple with your hands or tear a little (if desired). You can also iron the dry sheet of paper or place it under a stack of heavy books if you want a smooth texture effect. Don't place wet sheets under the iron because the heat can tear them.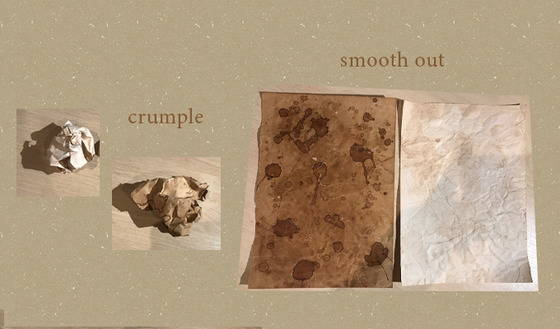 Step 10: Add cuts
After ironing the sheet, you can scratch with scissors or make cuts with a blade.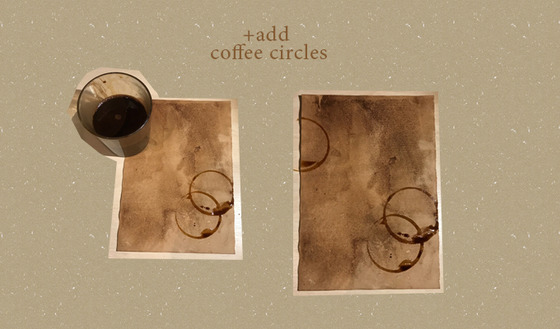 Step 11: Burning Edges
Hold a sheet of paper above a candle. You'll notice that it smokes slightly, taking on an antique look. To achieve a more dramatic effect, burn the edges with a lighter. Try using a flame on various spare sheets of paper before using it on a prepared aged sheet, since you don't want to damage the work. Repeat the process using additional sheets of paper. You can also take a hybrid analog/digital approach and cut the edges in Photoshop using the Lasso tool or Eraser.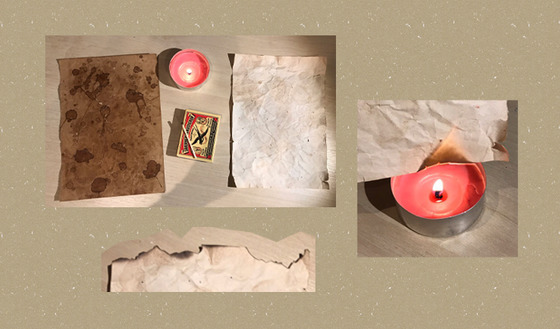 Final Version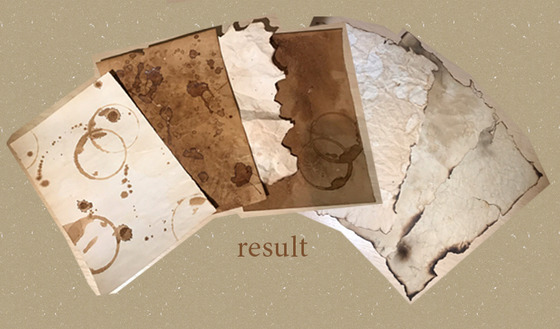 Tea and coffee sheets are ready to use for any kind of creative project you can think of!
These digital products use the same technique, saving you time as you incorporate textures like these into your compositions:
Digitalization
Step 1: Scanning
Scan the finished sheets in the best resolution and transfer them to a Photoshop document with a size of 6000x4000px at 300 DPI. This is my personal verified size for high-quality textures, but you can use any other size that is suitable for you. Just don't forget about the resolution.
Step 2: Cleaning
Remove spare garbage or dust particles with an eraser or healing brush and save in JPG. If your sheet has burnt edges, cut them with a magic wand tool and save the file in PNG format to preserve the transparency around them.
Step 3: Other grunge resources
You can also scan pre-made textures from old books, letters, notebooks, newspapers, postcards, or cardboard boxes. Age these items according to the method above to achieve the same antique look.
Inspiration
No time but still love this worn out look? Try these digital products that add a layer of grunge, minus the aging process.
I especially love ArtistMef huge collection of 391 Vintage Paper Textures because it includes great variety: from the clean, white and simple to grunge, old, vintage, dirty, folded, and ancient.
Try and try again
If you don't instantly get the result you want, don't be upset. In this matter, as in any other, experience will come with practice. Please share with your experiences, tips or hacks in the comments section below. Stay creative and experiment!
---
Products Seen In This Post:
Getting started with hand lettering?
Free lettering worksheets
Download these worksheets and start practicing with simple instructions and tracing exercises.
Download now!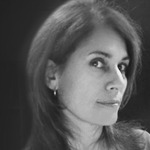 Elena Ferrer
I want to make easy and fun the complicated daily work that bloggers must accomplish. My products are thought for ease your blog's graphic tasks and for adding the pro touch that your it derserves.
View More Posts