Superhero Fonts to Boost Your Design Powers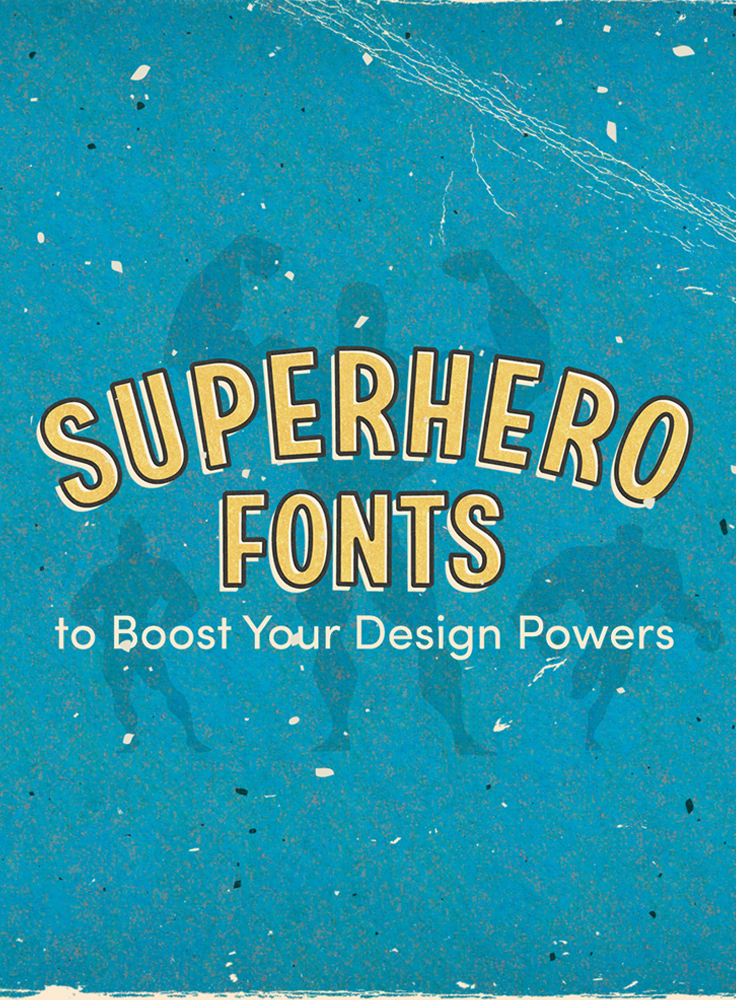 If there's an entertainment genre that's proven to have staying power, it's the genre of the superhero. People love to harken back to the days of their childhood and remember how Spiderman, Superman, Batman, and the Hulk saved the day — time and time again. Because superheroes are so beloved, the aesthetic that accompanies them is also easily recognizable. For that reason, designers have created a slew of fonts that are inspired by classic superheroes. You can superhero fonts in your designs if you're creating a comic book project, want to be kid-friendly, or simply want a feel that is unmistakably retro. Here are some of the best superhero fonts available on Creative Market.
Gore Typeface
Tugcu Design Co. created Gore Typeface—a bold, strong font with no curves. The font comes with multilingual uppercase letters, numbers, and punctuation. When you see this font, you'll think of a bold, strong character like the Hulk.
Changing
Changing is a font created by PintassilgoPrints that harkens back to a groovy, swinging era. The designer created Changing with many automatic interlock pairs, so the font gets even more magical in OpenType-aware applications.
Sale! Milkman Family
The Milkman font family from Haeefe & Haph includes three playful fonts that are distinctly Mid-century Modern: light, regular, and bold. When you see this font, you'll probably think of the Jetsons first.
Thunder Pants Typeface
This childish superhero cartoon harkens back to the days of picture books and comics. Thunder Pants Typeface was created by Ramey Type Foundry, and it comes with several glyphs including speech bubbles, explosions, and a BAM burst. All of the uppercase letters incorporate lightning bolt details.
Vanguard CF: brilliant & bold sans
Connary Fagen created Vanguard CF, which is a bold typeface that makes a statement. It comes in eight weights and obliques, has OpenType features, and is all caps. When you buy this font, you get any updates the designer makes for free.
Tintco
Tintco by namistudio is a font that is fun and whimsical. The font comes in uppercase and small uppercase so you can incorporate some variety of sizes. The designer describes the font as both "rebellious" and "energetic." You can use Tintco for headlines, display text, or body text.
Long Underwear
Comicraft Fonts came up with Long Underwear a font that incorporates both elements of spookiness and humor (think classic horror movie). This all-caps font is bold and great to use for titles or text that you want to use to get noticed or make a statement. This font is reminiscent of the font used for Captain Underpants, the beloved children's book series.
Tight typeface
Tight typeface is a distinctively vintage feeling font that is aptly named. This is because the letters are rigid and narrow. When you buy Tight typeface, you get four styles of the font. This is a color font, which shows up in Photoshop CC 2017 and later, and Illustrator CC 2018 and later. It also works on several Mac apps.
Clobberin' Time
Clobberin' Time is another fun, over the top font that you would find in a comic book. Comicraft Fonts came up with Clobberin' Time, and they relate it to "Powerhouse Punches." The letters have rough edges and look like they're quivering, so you can use it to denote movement or explosiveness.
Atomic Wedgie
Comicraft fonts also created Atomic Wedgie, a distinctly mid-century font that looks like it comes straight from the title page of a classic comic book. This is an italicized font that is great for headlines or to create emphasis.
BigTime
Rodrigo Typo designed BigTime "with the purpose of use for titles of action characters." This straightforward all-caps font mimics speed, action, and movement. Use BigTime in titles or logos, or incorporate it into poster or clothing design.
Hodor
Hodor is a unique typeface that was created by TGIF.STD and inspired by the Game of Thrones character Hodor. Its blocky and geometric appearance is well suited for classic music and movie posters.
Hero Sandwich Combos
Another fun and childlike superhero font is Hero Sandwich Combos, created by Comicraft fonts. This set comes with eight combos, so you can take advantage of a wide variety of fonts for different kinds of web and print design projects.
Metal Plate
OlegVoznyy created Metal Plate, a font that looks like it could be straight from a heavy metal album from the 1970s or 1980s. The designer says that it was inspired by "vintage label metal logo plates." Consider using it for a poster, t-shirt, label, or logo.
2 dollars font 5 weights
2 dollars font was created by Design Heroes. The designer's initial intention was to create a font for movie subtitles. It is a slab serif font that works for titles and headlines.
Superheroes have been admired for decades, and people across the world recognize the aesthetic that's associated with them. Choose a superhero font to boost your design's power, and you may just find that your creation is one that saves the day.
---
Products Seen In This Post: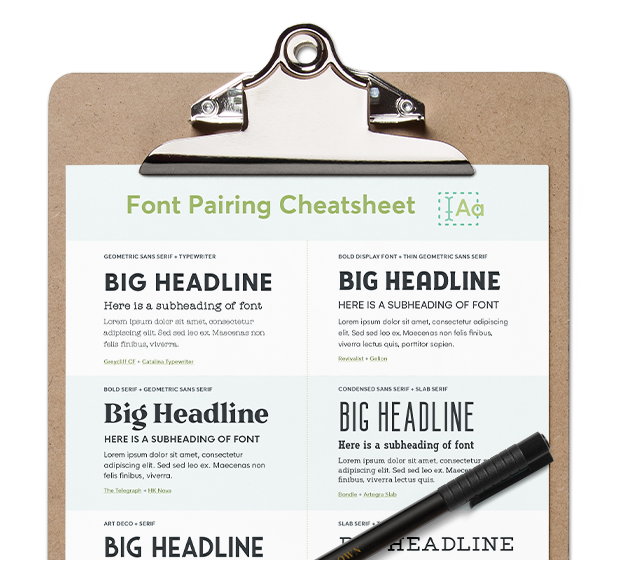 15 Pre-designed Font Combinations
Free Font Pairing Cheatsheet
We've curated a list of font styles that work well together so you can design interesting type lockups in minutes.
Download the cheatsheet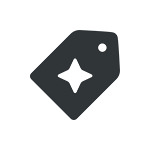 Creative Market