The Best 404 Pages on the Internet
Landing on a 404 page can seem like a company's worst nightmare, but when you actually think about it having a customer land on a 404 page is a blessing in disguise. Not only can you direct them to your social accounts on your 404 page to help them connect with you in other spheres, you can also point them to content they may not have otherwise found, or direct them to customer service. We've compiled some of the funniest, creative, and most successful 404 error pages on the internet to help you discover the secret of how a carefully crafted 404 page can actually help your business.
Funny 404 Pages
Check out iFolderLink's 404 Page: This 404 page is absolutely hilarious and brings tears to my eyes. I'm not sure what the message is on the 404 page, but it looks like they actually provide a lot of information and an email address to contact if you need support as well.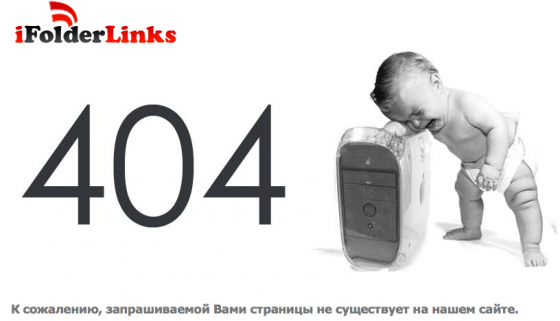 Check out Casual Brand Shops' 404 Page: This 404 page if definitely an attention grabber, which is a good thing. The page could be enhanced by including valuable resources and links to help direct customers to the proper location.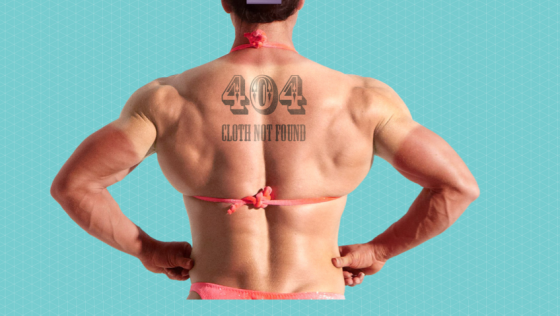 Check out Rareview's 404 Page: Apparently, all you need on your 404 page is Chuck Norris.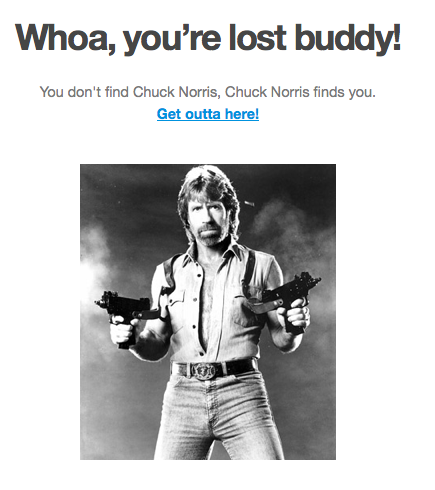 Check out Stylist Pop's 404 Page:  I love that this 404 page is interactive and makes you interested in learning more about the site. However, the 404 page could be stronger if the call to action reflected something about the website.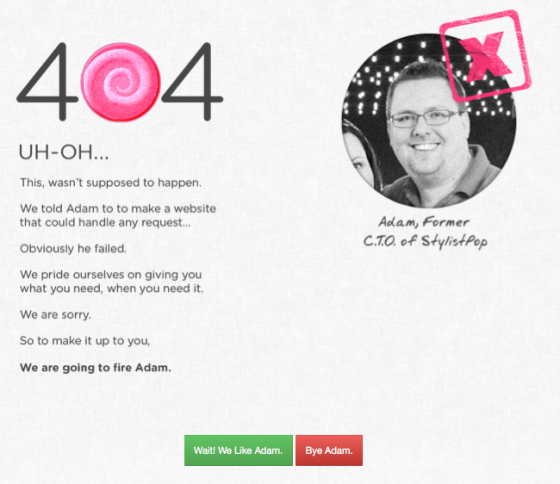 Check out Huwshimi's 404 Page: Ninja's are amazing and they steal websites, including the one you were looking for.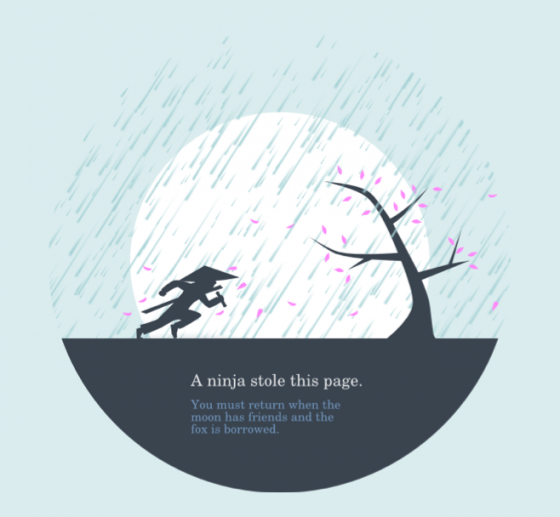 Check out Tech Crunch's 404 Page: I think this 404 page is not only funny, but it's functional. You can find everything you could possibly need to direct yourself to the correct place.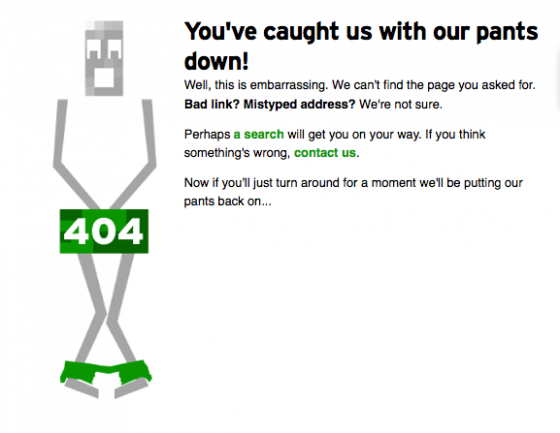 Creative 404 Pages
Check out Nosh's 404 Page: Many have dubbed this as the most creative 404 page ever, what do you think? These guys did an amazing job of creating a funny video to go along with their 404 page. Do you think it's successful?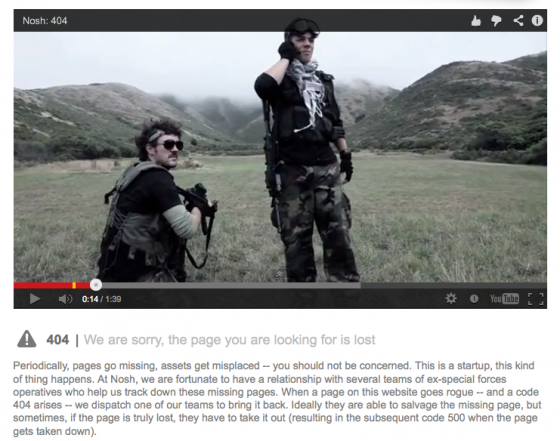 Check out CSS Tricks' 404 Page: This is actually a pretty funny and nerdy 404 page that had gotten pretty popular around the web.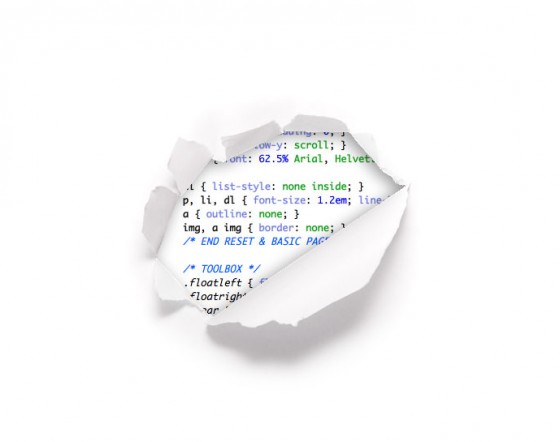 Check out Blue Fountain Media's 404 Page: In case you got bored when you couldn't find the page you were looking for, Blue Fountain Media has incorporated a fun Pac-man game into their 404 page for your enjoyment.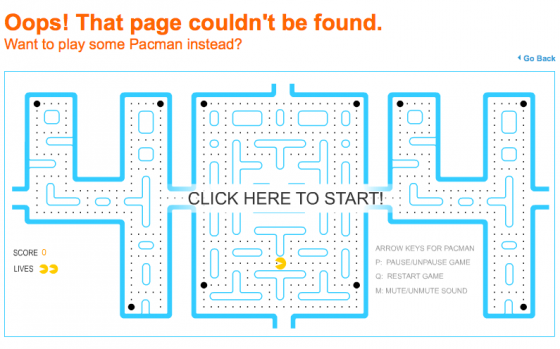 Check out Mattel's 404 Page: I think this is a pretty creative 404 page, and it also is helpful because it provides you with a space to search and check out their homepage. It's fun that this page actually had something interactive to entertain you before you get back to what you're doing.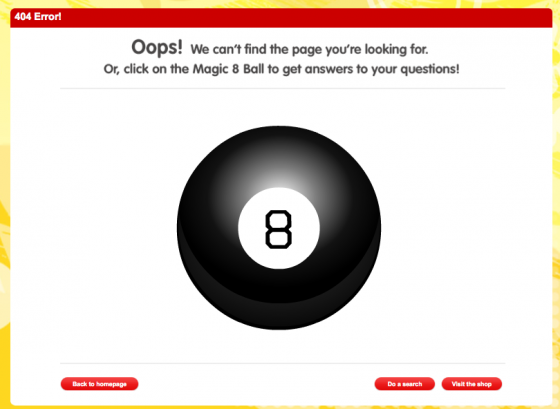 Check Out Magnt's 404 Page: I think this 404 page is very smart and creative because not only is it kinda funny, but it also directs you back to the homepage and teaches you something interesting about Venn Diagrams.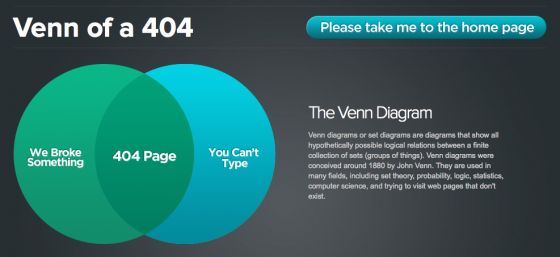 Check Out Tobi's 404 Page: I'm totally addicted to this 404 page not only because it is incredibly cute, but also because it is incredibly creative. They manage to keep it interesting while also providing you with useful information like an email address to contact support and a link back to their homepage.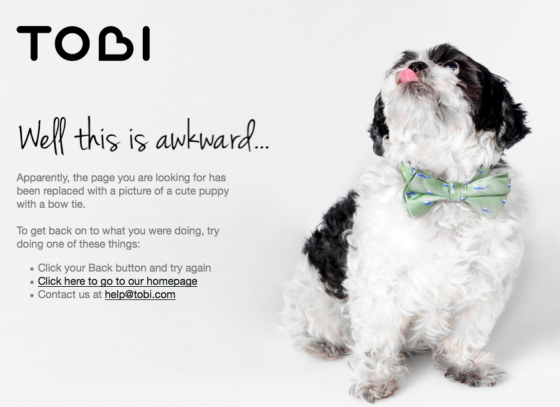 404 Pages with A Strong Call to Action
Check out the 404 Page for eHarmony: I have to say that this might be one of my favorite 404 pages. While relatively simple, it gets the message across that using eHarmony is the way to find love.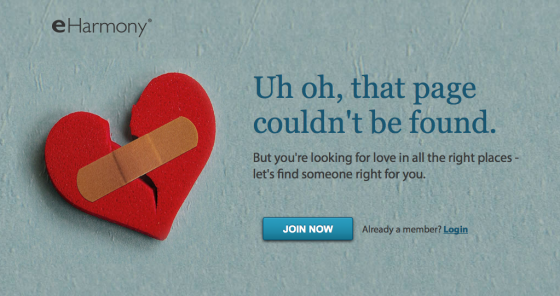 Check out Modcloth's 404 Page: This page is not only cute, but it has a strong call to action and can direct you to all of the best places to find the clothes you're looking for on Modcloth's site.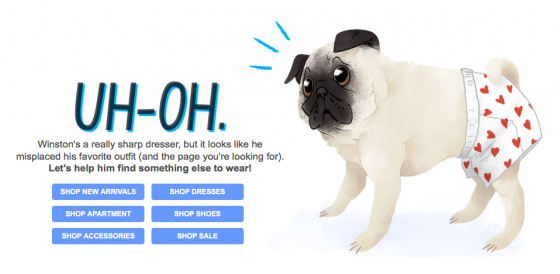 Check out Betabrand's 404 Page: Talk about a strong call to action. If you get lost on Betabrand's site, they automatically show you some of their favorite products, prices, and then products in other categories so you can get back to purchasing clothes right away.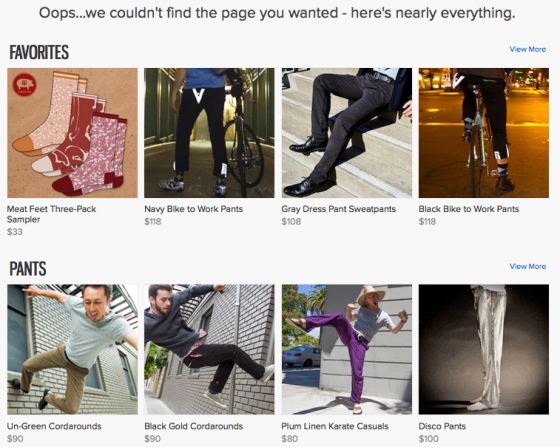 Highly Successful 404 Pages
Check out Titleist's 404 Page: This 404 page works because it lightens the mood with a funny image, and also directs you to the most common places you might be searching for, without too much clutter or information.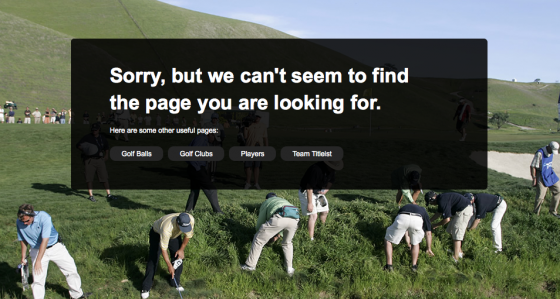 Check out ebay's 404 page: What I like about ebay's 404 page is that it still looks like the regular layout of their main site, and provides you with a multitude of resources to find what you're looking for. Not only can you report a technical issue, but you can search and discover more amazing things on their site.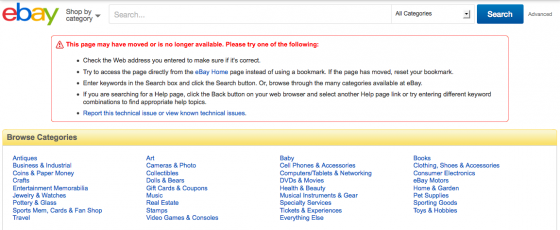 Check out Gigmaster's 404 Page: What makes this 404 page so successful is that it provides you with information to go back to the homepage or search for the event you're looking for right within the 404 page – no time lost!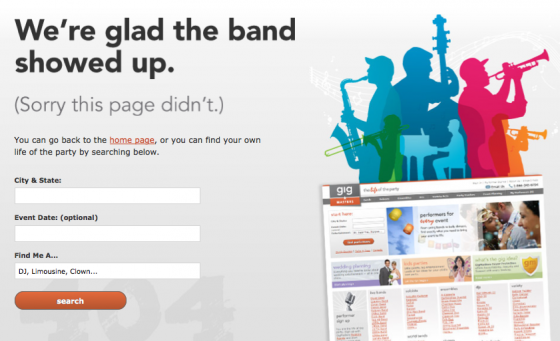 Check out the Knot's 404 Page: One thing that makes this 404 page so successful is that it provides users with the opportunity to search the site and still discover new things they may not have known were available on the site. Users get a chance to discover new content, explore new features, and much more with this 404 page.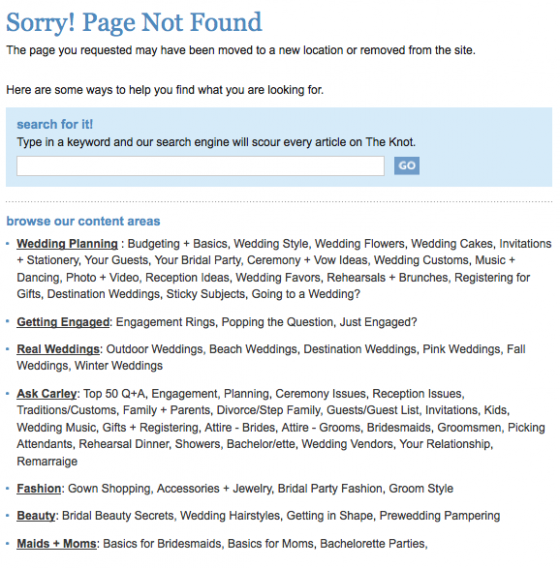 Create a Useful 404 Page
Something many people don't realize is that 404 pages give you an opportunity to connect with your audience and offer better customer service. Instead of just pointing your visitors to the homepage, you can use your 404 pages to provide them with a contact form, support email address, or direct them to areas where they can find help. If you find a lot of people are landing on 404 pages on your site, you can try to fix these errors by having a major call to action on your 404 page. So rather than directing your 404 page back to your homepage, focus on creating a helpful page that provides valuable information and insight to your audience. Tips for Creating a Useful 404 Page:
Clearly explain that they have reached this page in error due to a broken link, etc.
Link to popular Articles or Posts, as well as the homepage.
Allow users to report the broken link.
Provide a contact form or email address for support if someone needs additional help.
Embed a search box on your 404 page so users can find what they are searching for.
Captivate Your Audience with an interesting image or video.
Keep your regular site navigation on your 404 page.
Give suggestions on how to find the missing page the user was searching for.
Learn More About Creating Successful 404 Pages:
404 Page Designs
Is your site in need of a creative 404 page? Creative Market has a number of fun and creative 404 pages that you can tailor to help your site have a successful error page using the tips described above.
Getting started with hand lettering?
Free lettering worksheets
Download these worksheets and start practicing with simple instructions and tracing exercises.
Download now!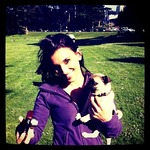 Maryam Taheri
I'm a recent graduate of the University of San Francisco with a degree in Biology and a passion for the creative arts. I love building websites, trying new things, and I have a passion for social media.
View More Posts