The Poster Designer's Toolkit: Add-ons, Tools & Tips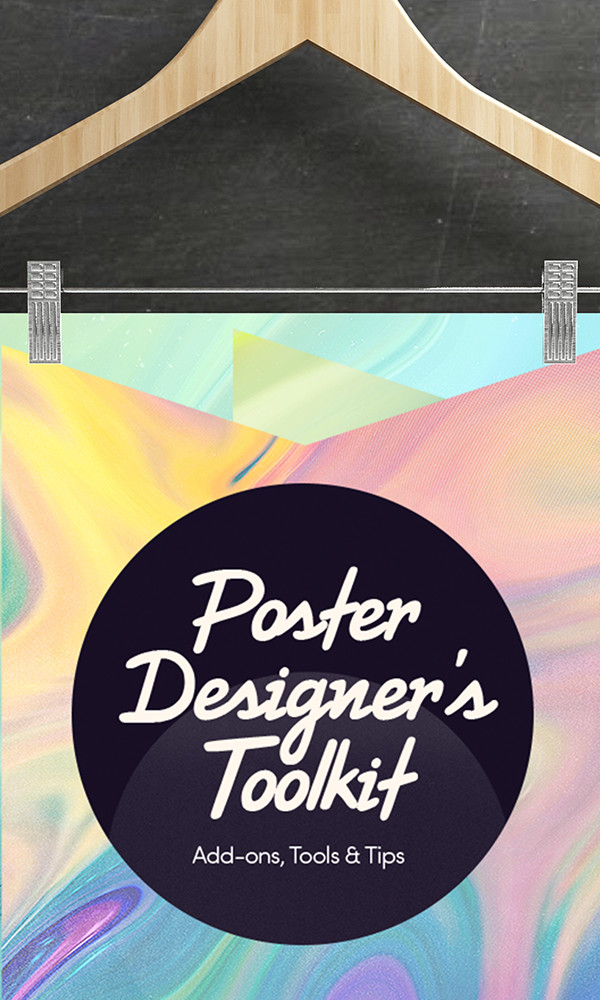 So, you're in the middle of a poster design project and you want to see if there is anything else you can do to take your design further. The good news is, you have come to the right place.
Today we will take a look at some of the best tips, tools, and add-ons that will enhance your work. Let's get started.
The Poster: what it is, what it does
The very purpose of a poster defines its design parameters. Posters exist to inform, to convey a message, to advertise. It has two major elements that need to be in perfect symbiosis with each other: the text and the image.
Because they have a purpose, posters must be clear and concise. This fact needs to be emphasized right from the start because as designers, we often go crazy over the composition and design of our pieces, and then there goes clarity and focus out the window.
But a poster also needs to be striking in its design, and catchy regarding its text. It needs to capture its audience quickly and irrevocably. A designer also has to think of the retentive quality of his/her design. Only then can a poster effectively serve its purpose as advertising or an announcement. A balance must be sought between purpose and design aesthetics:
too boring and the message may not be conveyed.
too much clutter and the meaning is lost.
A well-designed poster is a work of art. Here then are three valuable design tips you can actually implement to elevate your poster into a functional thing of beauty.
Tip #1: Simplify


Space Open Poster by Hillary Jones
In the words of Henry David Thoreau, "Our life is frittered away by detail…simplify, simplify…and reduce other things in proportion."
I want you to listen to the wise Walden guy, go over your design, and see what elements can be reduced or removed from the poster without sacrificing legibility and clarity of purpose.
Check your work for unnecessary text that can be removed, for typefaces that might be inappropriate for the mood you want to project, for too much color or texture that clutter up the piece, and for visual elements that do nothing for the whole design.
A simplified minimalist approach is actually an effective design for a poster: a single focal image, colors reduced to nothing but black and white, one typeface using only two fonts for emphasis or two typefaces at the most.
Sometimes negative space provides beautiful contrast for the simple elements in your poster design. Stark, striking. Simple but effective.
Tip # 2: Determine hierarchy of information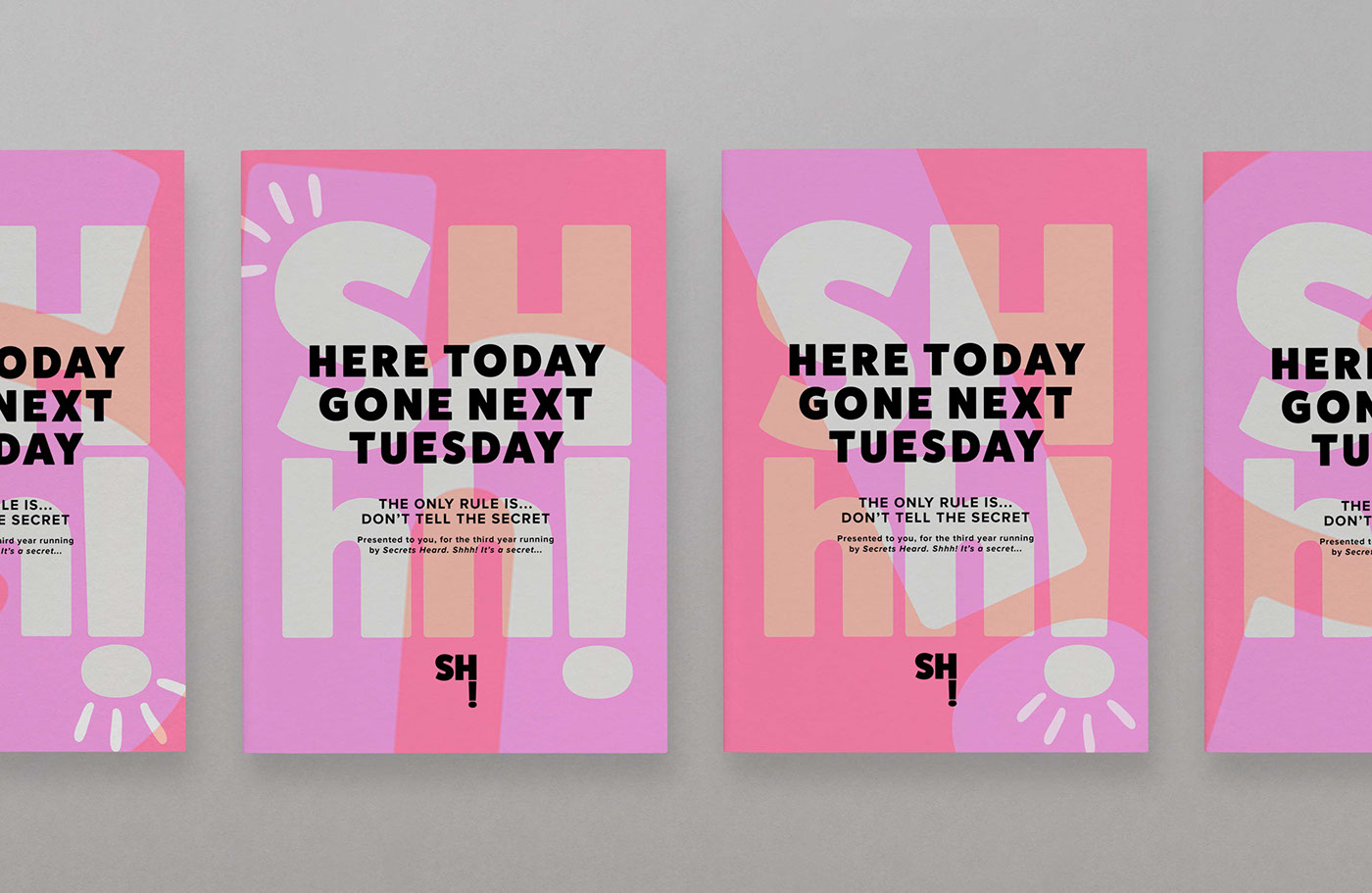 Here Today Gone Next Tuesday by Christian Andree & Elki Lemmetty
Once you have identified your title or headline and your pertinent details, you can plan for readability. A designer's best friend in this area is the typeface. The most important information can be immediately visible from afar with the use of a sans serif and a large font, for instance. The secondary text or the "what, when, where" information could be a serif with smaller fonts (usually half the size of the headline).
Other tools or design elements you can use to show hierarchy of information are color scheme, contrast and juxtaposition, and placement of the text on the picture plane. There is so much possibility in this aspect of poster design.
Some designers cleverly use the main text as the focal image in a poster.
You could play around with the elements: color, font size, contrast, composition. Since posters are meant to be noticed from a distance, don't forget to step back from the work once in a while to check for readability and clarity from afar. Last, double-check that all the information you need to convey to your audience is in the poster.
Tip #3: Choose an aesthetic, and stick to it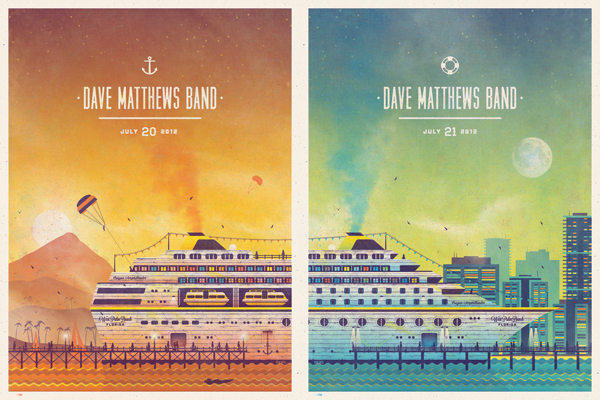 Dave Matthews Band Posters by DKNG
With all the design possibilities out there, it gets really confusing sometimes. Sometimes the confusion shows in your project pieces: 19th-century gothic hobnobbing with grunge, light and happy pastel colors on a distressed, or vintage, or art deco background.
By deciding beforehand on the look or mood you want to achieve on your poster, you are effectively simplifying the process of choosing, by focusing your alternatives within a given aesthetic.
A good advice is to choose an aesthetic that goes well with the purpose of your poster. Are you promoting a rock music festival? Maybe make a grunge-style aesthetic poster for that, complete with its lo-fi overall appearance, its murky photography, and its distressed typography. Food posters, on the other hand, would do well with crisp, clear, and clean aesthetics that make use of vibrant colors that entice.
That being said, as designers we have the liberty to mix and match and experiment to see what works. This is what makes design work so exciting. Who knows? A clear, crisp, pastel flower as a central image juxtaposed against a dark gothic background might work for the kind of project you are working on.
Tools and Add-ons
Whatever design you decide to go with, whatever look it is you are aiming for in your posters, there are a bunch of cool products and tools out there that are available for purchase. These kits exist to make it easier and faster for you to finish your poster. They are painstakingly created by designers and conveniently offered in digital format for fellow graphic designers who would rather not work from scratch (that's us).
You might already be using some of these add-on kits. Some might be in your list of favorites. Here is a shortlist of some of the coolest products on the market today. I included a description of each one, as well as reasons why you might want to use these kinds of effects on your current project:
1. PosterPress for Photoshop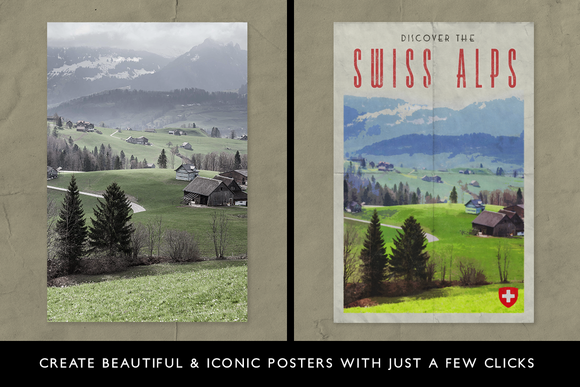 Are you a fan of vintage travel photographs? So is Ian Barnard. You can easily turn your own photos into vintage travel posters with this layer style product. Here's what the kit includes:
a Photoshop document layer with size and orientation choices
separate folders for text, textures, backgrounds, and photos
twelve travel photographs
eighteen different textures
a compilation of art deco typefaces
Just upload a photo and it turns the image into a simplified illustration akin to those circa 1900 vintage posters; complete with flecks, halftones, and paper folds. All you need is Photoshop CS3 or higher.
The PosterPress kit can be used to make your own collectible vintage travel posters, for your own enjoyment, to give to friends, or to sell. These are useful for promoting tours or advertising events in a specific place.
2. Grunge Poster Maker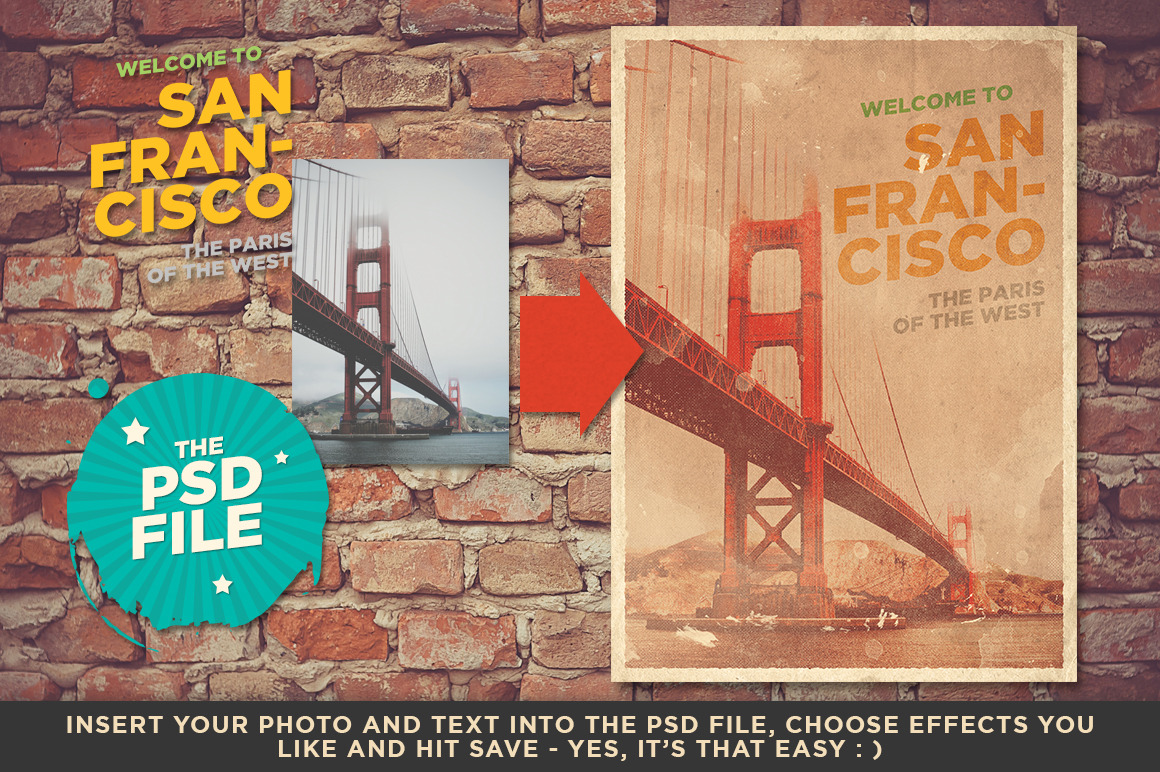 Going for grunge? You can now achieve the distressed look on your posters without much trouble by using this Poster Maker. The kit includes 4 paper textures, 5 types of borders and frames, 3 smart objects, and up to 27 overlay textures. This includes paint speckles and smudges, paper folds, halftones, and dirt effects.
Grunge was a popular alternative rock music genre in the 1990s known for elevating low fidelity sound (lo-fi) into an art form. Grunge as a look is characterized by compelling visuals, which incorporate smudges and dirt, a distinctly murky imagery, and distressed typography. This is generally hard to achieve, requiring some form of experimentation of effects. All of these are now available to you, ready for use, in this kit.
3. American Wood Type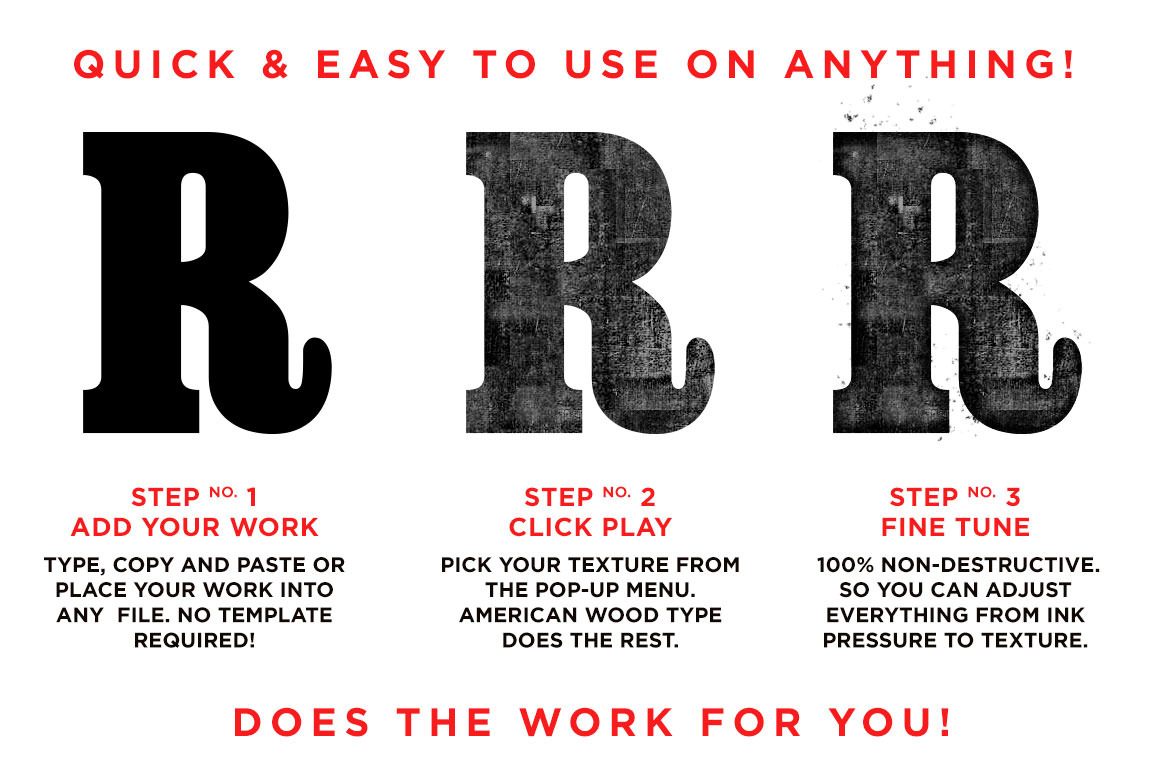 Woodcut and wood type effects are easily achieved with this add-on. The look is hard-edged block typography, a contrast to hand-lettered script styles. Choose from 18 wood textures. Play with different edges and colors for different effects. Choose your ink pressure. Play around with layering inks. This particular style is good with layering.
Go back to that time period of the American railroads and the Wild Wild West, between the years of quaint hand lettering and the more mechanical offset printing. If you're going for vintage American retro on your poster design, this one's for you.
4. Flowers And Type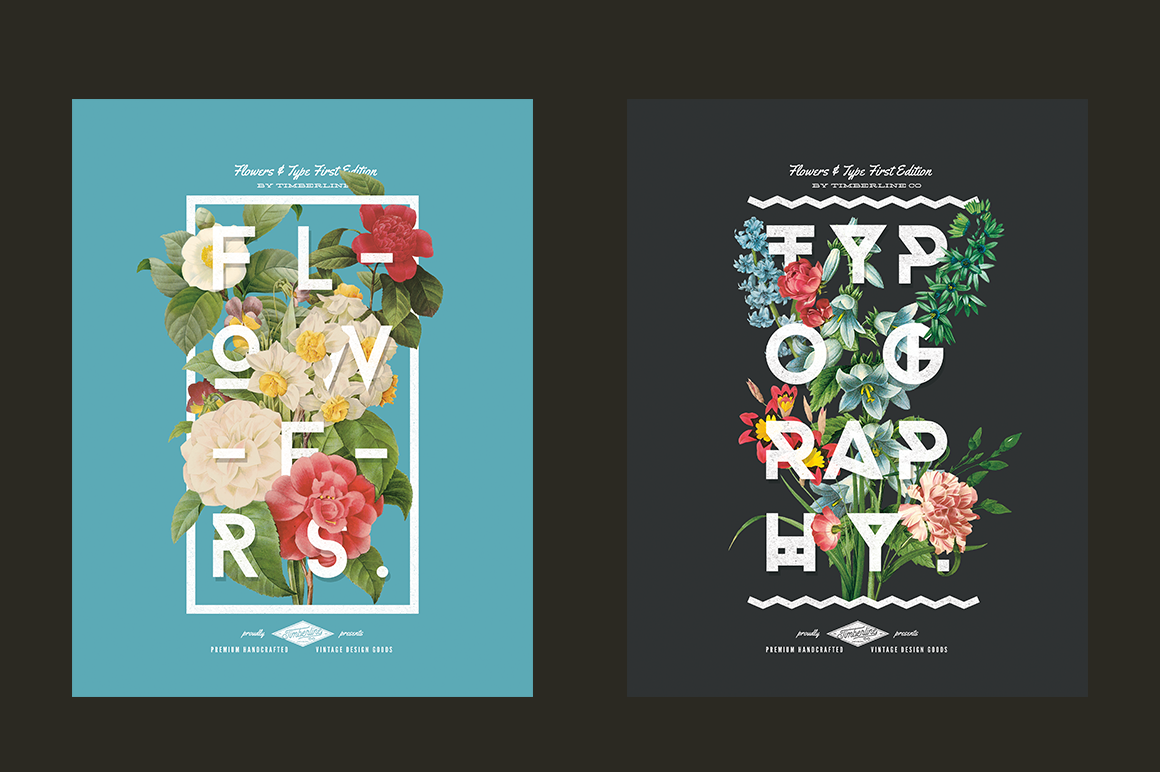 If nature is your thing, you have to check out this add-on. The kit includes vintage flower illustrations and fonts which you can mix and match with pre-packaged color effects and background textures to make your own posters. It also comes with 6 high res PSD files in CMYK, in well-organized layers, and with a detailed instruction manual.
Use this kit to make art posters, inspirational quote posters, and nature-themed event posters.
5. POWDR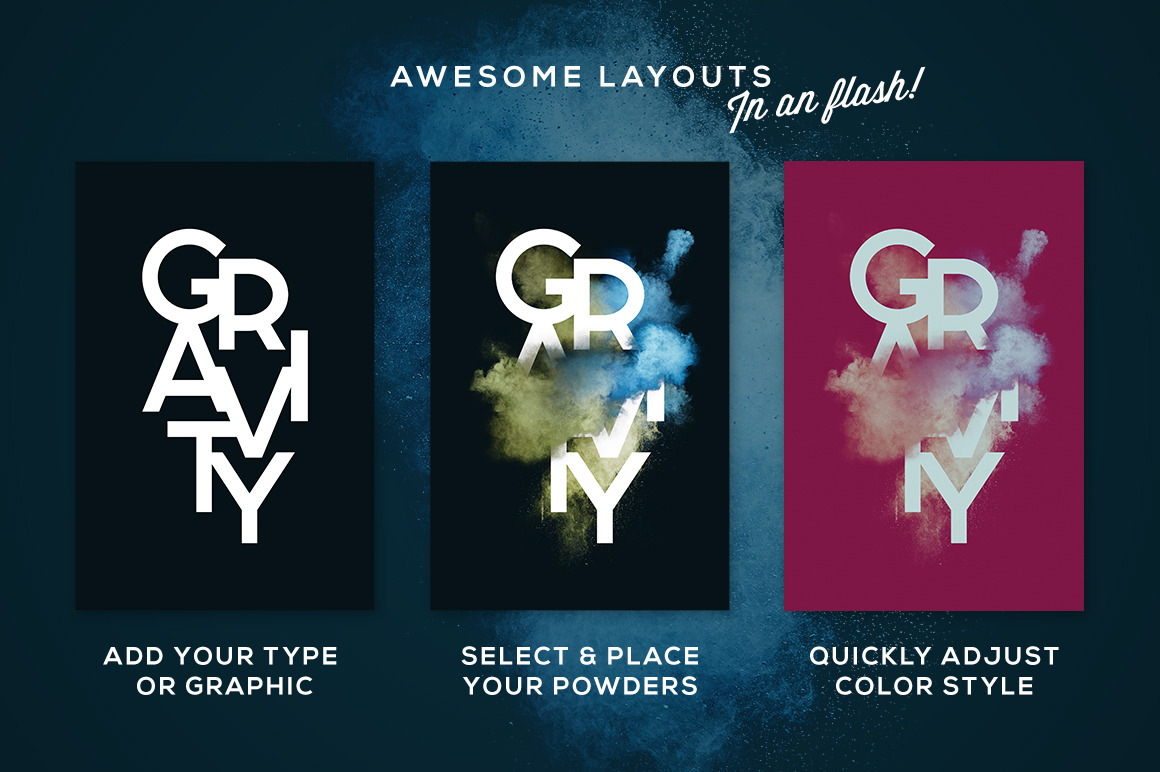 For dark background posters, POWDR lends a dramatic touch. The kit has over 60 powder formations to choose from, with a choice of striking colors and hues. Just add your type or graphic and choose your powder. It includes a high-res layered poster PSD, color overlays, and 60 cutout powder PNGs.
Use this kit for dramatic effect on posters with dark background designs.
6. Smoky Double Exposure Kit

So this is how they do the magical smoke effect. The secret is out! This Smoky Double Exposure Kit is an action add-on for Photoshop users. You will find smoky PSD examples, 30 smoky PNGs, ink splatters, brush drawings, and an instruction guide.
Play with image and text with these smoky colored layouts. Good with block shapes, dancing human figures, or even on just plain text to make it special.
7. Gig Poster Style Kit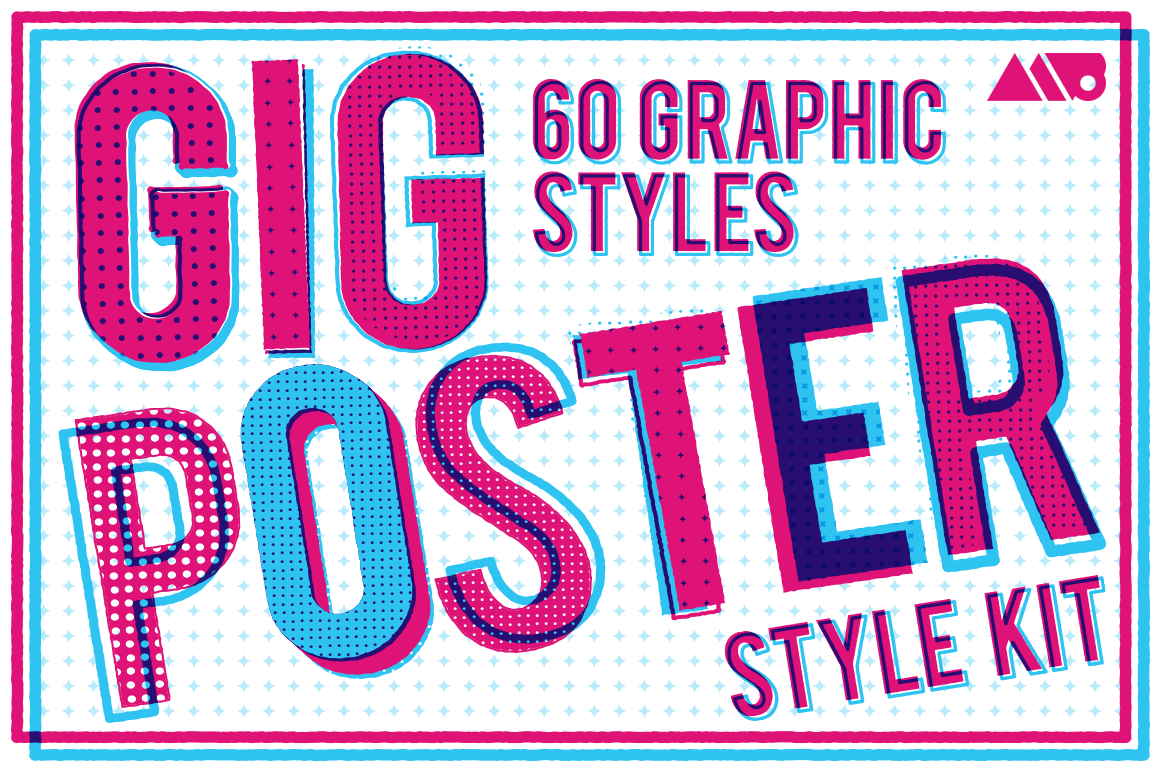 For Adobe Illustrator, this fully customizable set of 60 graphic styles can be applied with a mere click. How incredibly easy is that? Furthermore, this funky Poster Style Kit comes with a swatch palette of 21 halftone patterns and 10 colors to give designers more options for modifications.
Go ahead and experiment with all the styles and combinations available on this kit. The graphic style is retained even as you keep changing the typeface on the poster. Isn't that a cool detail?
The swatches and the styles in this kit are ideal for a bold, bright, graphic-type aesthetic.
8. 250 Duotone PS Actions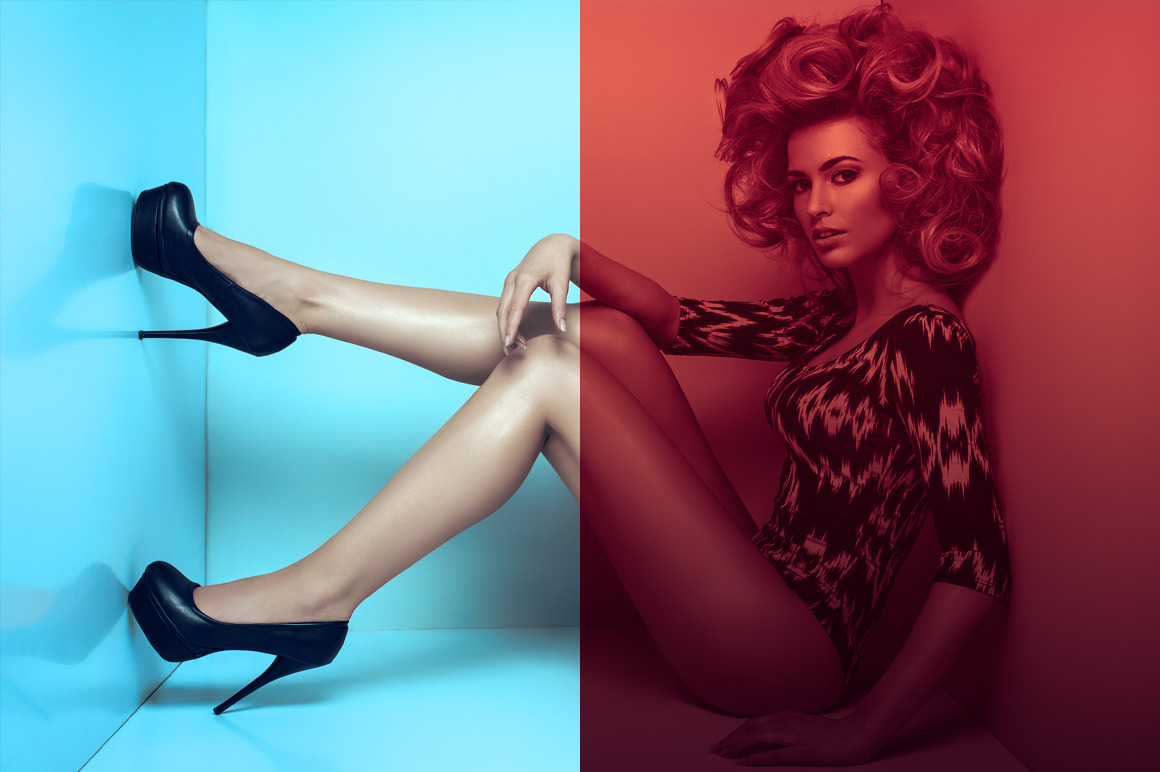 This professional grade Photoshop action kit allows you to edit your photographs and images with gradients, or tones, with two contrast adjustments. It's a big bundle offering. Duotone I and II together give you a total of 250 Photoshop actions in just this one pack.
This is the kit for poster designers that like to use pictures and images as elements of poster design.
9. The Ultimate Geometric Bundle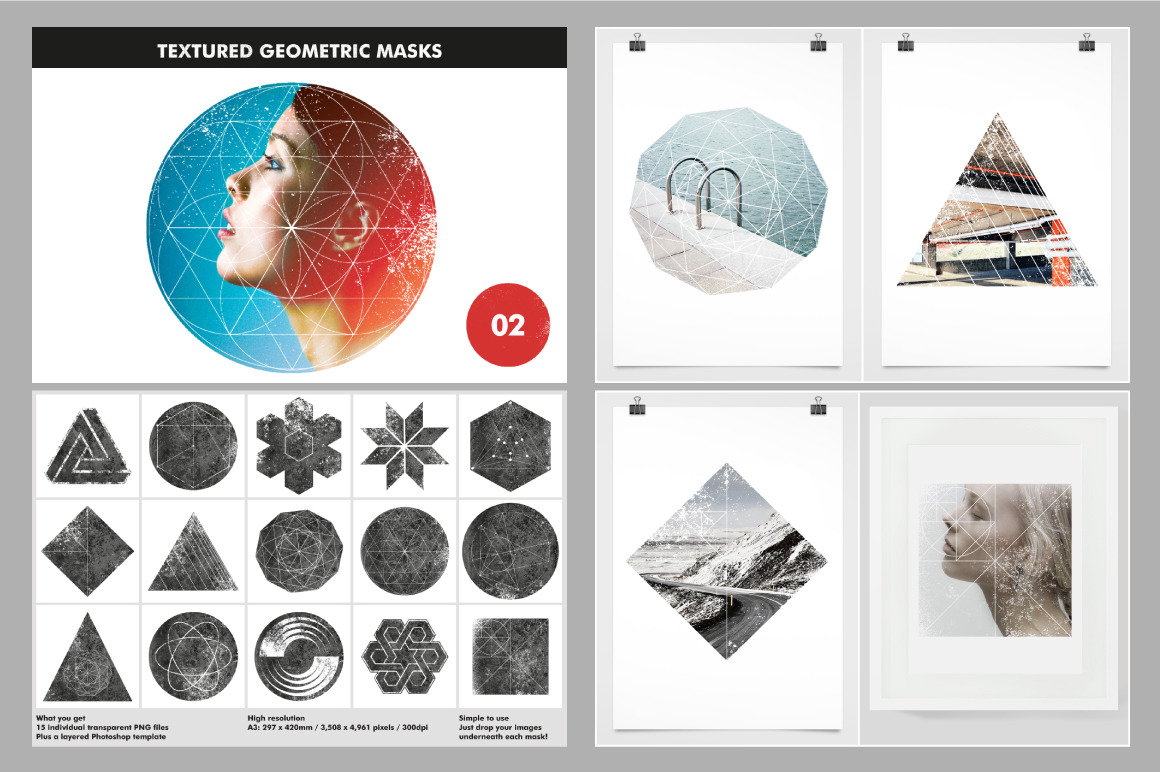 Here's another bundle of awesomeness, this time it's a bigger one of 8 geometric collections for the total of 380 individual geometric files for your poster design. It includes geometric vector textures, masks that easily combine with images, clean-looking shapes, and more. This bundle is the solution for hard-edged and clean-cut poster designs that involve geometric imagery.
10. The Ultimate Watercolor Bundle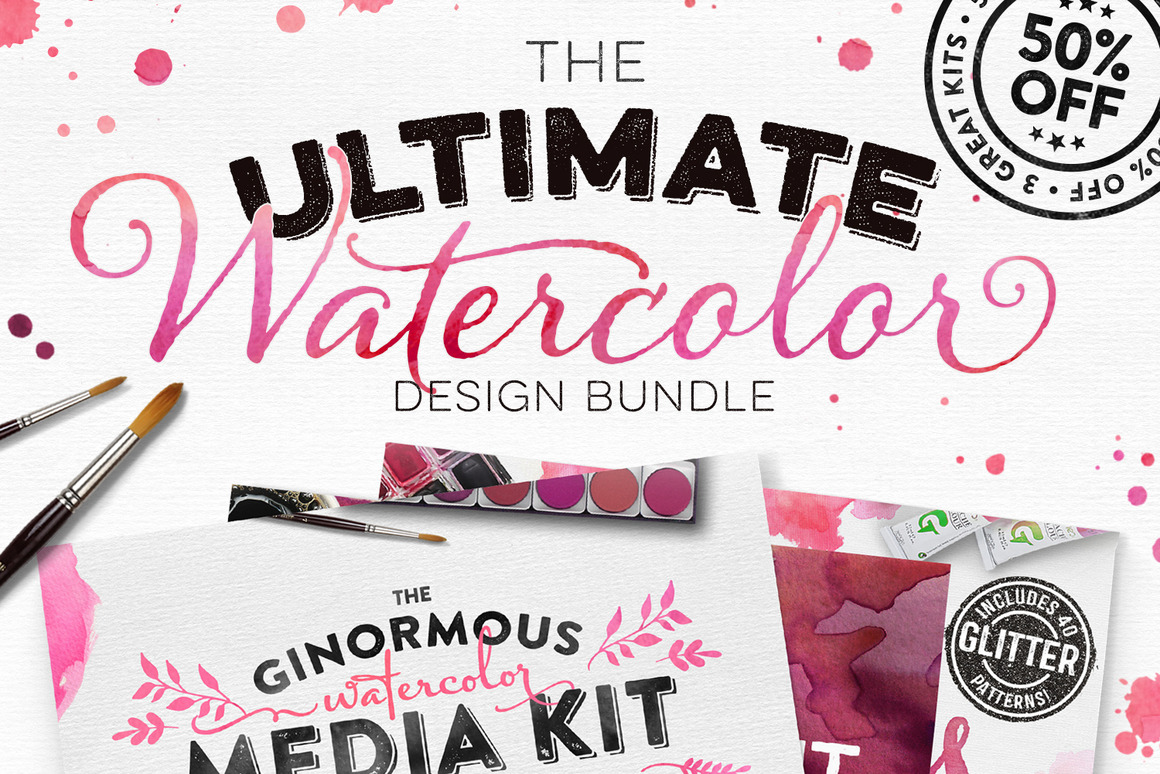 Three kits in one bundle. This is indeed a sweet deal. Everything you need for a watercolor-type poster design is here. If you are into the hand-crafted look, this product includes hand-drawn and hand-painted logos and vector elements, font links, and watercolor patterns in Photoshop, Adobe Illustrator, and EPS file formats. It comes with an instruction guide, making it really impossibly easy to use. You get the hand-crafted look while skipping all that hard work with the hand-watercoloring.
Now that you're armed with tips and equipped with the products we have recommended go over your poster once again, and make it an aesthetically pleasing meaningful work of art.
---
Products Seen In This Post:
Getting started with hand lettering?
Free lettering worksheets
Download these worksheets and start practicing with simple instructions and tracing exercises.
Download now!