20 Travel Fonts to Add a Touch of Adventure & Wanderlust
With so many travel-inspired blogs, brands, and content sites sprouting everywhere you look, independent designers around the world have started to create unique assets that facilitate the creative process. There's a wide variety of travel website templates, social media graphics, and fonts. Throughout this article, we'll share 20 fonts that drew inspiration from different locations and cultures to express that unique traveler aesthetic.
This pack contains two contrasting fonts that work together: a bold sans, Voster, and a hip script, Heritage. Discretionary ligatures and swashes along with stylistic alternatives make this pack extremely versatile. The Heritage Font Combination pack works in nearly all design software.
Put your viewers in a hopping tiki bar in the middle of a tropical forest with Havana Sunset. This pack contains a block text and script that evoke a neon nightlife. The SVG can be used to create amazing hyper-realistic textures in the latest versions of Adobe.
Whitby is inspired by that classic retro Levittown script. Swirling ligatures and character design adds flair to this clean font and keeps things interesting without losing legibility.
Designed in Hawaii this all-caps headline font brings the island vibes to your brand or graphic template. With both a stamped and crisp style, Mahalo can work for both professional and more laidback looks.
With its hand-drawn narrow lettering, Clearwater is a friendly traveler's font inspired by everyone's inner wanderlust. While it is meant to be a display font, this can be used as a casual body font. This set includes 10 bonus retro travel photos.
Travel back to the nostalgic nineties with this carnival inspired font. Carnavonts has 4 layering styles to play with. This pack gives you lowercase, uppercase, ligatures, and stylistic alternatives along with control over 3D extrude, gradient, and outline.
Passport and the rubber stamps that mark them are some of the relics of old world travel that hang around in our technological age. World Explorer embraces this aesthetic to bring a wonderfully rustic display font. This package comes with bonus Photoshop extras to add effects this font.
The café chalkboard: a place for sales, shout outs, and wi-fi passwords. Dolce Caffe captures that handwritten café chalkboard aesthetic while keeping a uniformity and balance among the letters. Dolce Caffe merges the personality of handwritten fonts with the legibility of stamped or pressed typefaces.
Meant to surpass your boundaries of what a summer font can be, South Mind pushes brush stokes as far as they can go without looking rough or unfinished. South Mind is ready to use in most programs either in OpenType format or TTF.
The vintage era of Cuba and South America have come to match in this beautiful holiday header: Havana. This sans-serif is inspired by vintage travel signs and documents to Latin American regions.
Karima is a thick alternative to an otherwise natural font. It has fun swirling ligatures and character styles. 20 different stylistic alternatives leave the possibilities endless. A playful but clear font, Karima runs the spectrum from careful to charismatic.
Palm Canyon Drive is an inspiring journey through California in the 40s and 50s. This monoline script mirrors the matchbook covers and postcards of old Hollywood. The set includes a bunch of bonus glyphs like open signs and hand signals.
You can't go wrong with this font designed off the travel posters of the 20th century. Combining the best of script and headline fonts, this pack gives you two great options to build your brand, make t-shirts, or use a resume template.
Camar is an all-caps Deco inspired font that makes for an amazing headline. It's short and thick lettering paired with unique shapes make it distinct among header fonts. Use for any time you want a bold travel header with a tropical feel.
A casual but unique font with underlined capitals to spark interest, Bilbao is perfect for everything from wedding invites to travel blogs. Multilanguage support means you can use this font with whatever project you have in mind.
If the name of this font didn't scream travel, it would still make up for it with its glyphs and long ligatures that inspire wonder and adventure. Explorer is part of the Sailor Typeface family and is great for logos, headlines, and small texts.
Like its name, Atlas is modeled after the font on travel and adventure maps. Its thick lines and hand-drawn style will make your viewer feel like they're on a journey with your brand. The font includes a variety of glyphs.
Two hand painted scripts and a bonus small caps font make the Wayfairing Font Duo an essential pack for starting your brand. The two script fonts can be used as layers to make a custom font based off the two.
Another great duo, Montebello has a flowing script and an Art Deco sans that pair like the sand and the sun. The pack contains both crisp monoline script and a rough and textured version along with an option for rounded corners on the sans.
This modern romantic monoline script, Traveler, and all-caps sans, Quirk, team up to make any logo or branding material look stylish without losing the humanist touch. Both fonts come with special characters and numbers. Traveler comes in both upper and lower case.
---
Products Seen In This Post:
Free lettering worksheets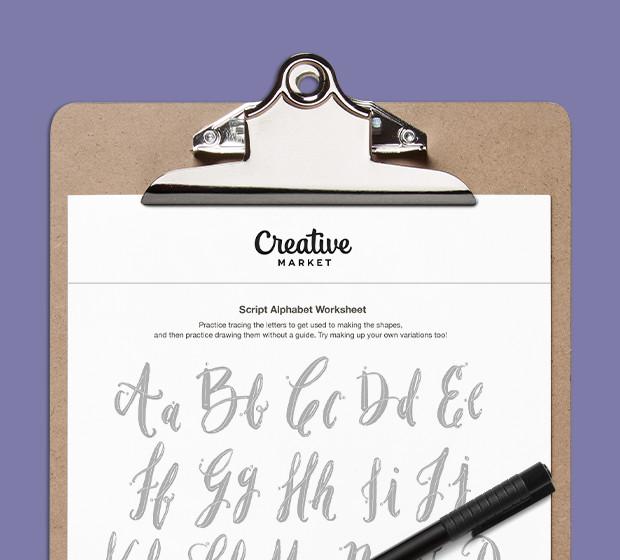 Download now!

Getting started with hand lettering?

Download these worksheets and start practicing with simple instructions and tracing exercises.
Building a platform for handcrafted, mousemade design content from independent creatives around the world. We're passionate about making beautiful design simple and accessible to everyone.
---