30 Sites to Find Inspiring Typography Ideas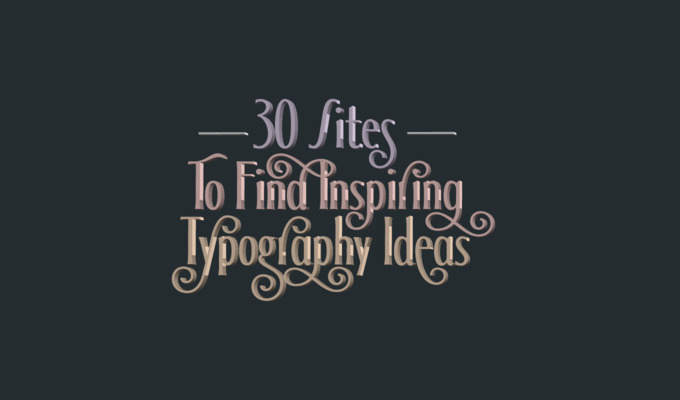 Typography plays a quiet role in our lives, whether you notice it or not. From shop signage, product labels, to movie posters, and cover letters – type is everywhere. And it's been here long before people specialized in it.
Today, there are all kinds of typography as well as a study dedicated to it. There are experts who make sure the right kind of letters is used in the right settings. We now understand that when used correctly, type can set the mood. That's why wedding invitations normally showcase cursive or elegant fonts, whereas athletic or action themes typically go for big and bold.

Download the PDF

Remember key typography concepts

Grab this handy cheatsheet summarizing some of the most important typography terms.
Even if you're not a designer, learning about type can be fun and interesting. Looking to start a collection of inspiring fonts for your own use? Here are the best websites where you can find great ideas to start with.
30 Typography Websites
This is a beautiful archive of carefully curated type photographed and collected by Jonathan Lawrence.
Save
While you can't download the fonts directly from this site, it makes it easy for you to share them thanks to shortened URLs and hashtag suggestions.
This website doesn't just have beautiful typography, it's also home to graphics, poster, editorial, and logo ideas.
When you believe that 'type changes everything', this is where you go.
Currently featuring 426 pieces of magnificent design from 432 creatives coming from 51 different countries, this is where you'll find the cream of the crop.
They make it easy to find typography you like by simply clicking on the tags or directly on the photos in their gallery.
This independent platform has been promoting talented designers and studios around the world for six years – and counting.
More than just a collection of lovely type, it's also considered a sketchbook, dialogue, and archive for the main contributors and their visitors.
Here you'll find lettering projects and experimental typefaces by design students, reminiscent of typography workshops usually done on Fridays.
This is a public archive of typography that is indexed by typeface, format, industry, and period.
Whether you're looking to showcase your work, for commentary, research, or simply design ideas, you've come to the right place.
If you also have a love for type (just because), lettering, and anything in between, then you better visit this site frequently.
This is online font shop created by e-Types is a showcase of more than 20 years of type design – from passion projects to commissioned works.
A patchwork of random stuff (photos, illustrations, etc.) that's related to typography, it's a website bursting with inspiration for type lovers!
This is a joint venture created by two of the most influential type designers: Paul Barnes and Christian Schwartz.
One of the best resources for practical and beautiful type, this is an independent site made by a designer – for designers.
Who says fonts can't be fun? This site will show you how.
Nothing but gorgeous fonts taken across the five boroughs of New York.
Technically a book in web form, learn the basics of type, who it's for, text formatting, recommendations, and everything in between.
Aside from corporate fonts, this website also offers custom font creation and modification services.
Get to know your fonts better before you buy them thanks to their efficient and well-organized system.
The world's biggest marketplace for design always has special goods for type lovers everywhere.
Read reviews on typefaces, books on type, typographic design, and more.
Created by a designer, illustrator, and front-end developer with over 20 years experience, this site has plenty to offer.
News, competition, and people relevant to the world of typography.
A blog published by Mirko Humbert, this is where you'll get your 'daily dose of type'.
An online journal of contemporary typography featuring news, reviews, and interviews, it's a nice read for folks who can't get enough of type.
Some thoughts on the world of typography that's meant to bridge barriers.
This website talks about letterpress and printing history, as well as type, of course.
Celebrate the beauty of fonts with this website that was made by type designers themselves.
---
Products Seen In This Post:

Download the PDF

Remember key typography concepts

Grab this handy cheatsheet summarizing some of the most important typography terms.
Download 6 Products for Free
Health is wealth, visit our website to learn more on staying healthy and fit.