20 Unique Pixel Fonts to Bring the 80s Back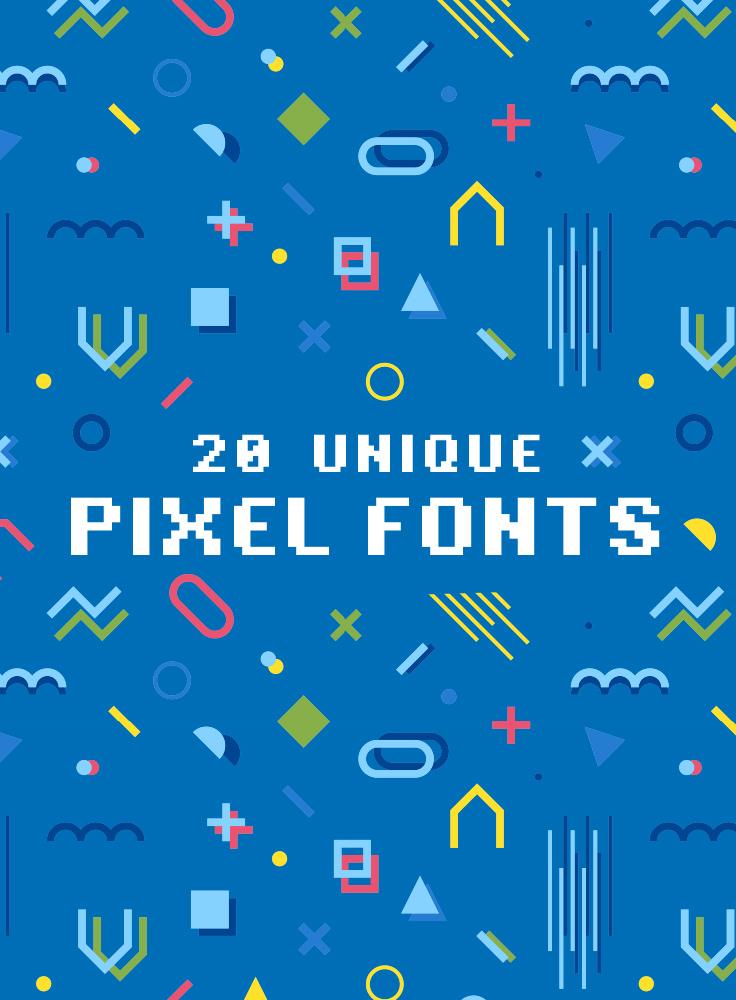 Pixel fonts bring back the spirit of 1980s video games and low-resolution computer screens with blocky, sharp-edged letters and images from a time when text and pictures had to fit pixel by pixel on a screen. Here are 20 unique pixel fonts designed to evoke the 80s with retro style. Roses is a chunky, eye-catching pixel font inspired by very old Atari game graphics. Roses includes a full set of bold uppercase letterforms and numerals for headers, posters, book covers, and other kinds of display text.
A comprehensive pixel/bitmap font by Chequered Ink, A Goblin Appears! Is designed for use in retro-inspired games and products. The font set includes a full set of upper and lowercase characters plus numerals and punctuation, as well as an extensive set of special characters.
Pixelo is inspired by the 8-bit retro characters of 80s gaming. This display typeface includes upper and lowercase letters, numerals, symbols, and punctuation for attention-grabbing headlines, logos, labels, and apparel design.
With two color variants and a bonus pixel alphabet, Retro Kiddo is a vector alphabet set that can be placed on any background. The Retro Kiddo set also comes with a set of decorative elements for use in product displays, cards, flyers, posters, and more.
Eight Beats is an 80s-style pixelated font based on an 8×8 pixel grid for web headers, flyers, posters, or cards. Eight Beats includes a full set of capital and small letters, number, symbols, and punctuation, plus a set of video game inspired characters.
Level Up is a geometric font set with a pixelated look for retro-style headers, posters, game design, and flyers. The Level Up set includes upper and lowercase Latin letters, plus numerals, punctuation, and some special characters.
The 8 Bit Misty Forest Font Set includes both the Misty Forest display font and Chalice, an 8-bit secondary font for use in startup menus, headers, and subtitles, posters and games. The set also comes with a set of additional ampersands for each font.
Pyxelate is a blocky display font with a highly pixelated look. Pyxelate includes a full set of Latin uppercase letters and basic punctuation for use in posters, headers, book covers, or flyers
Newsgeek is a semi-bold pixel font with support for basic Latin alphabet families. Newsgeek includes both serif and sans serif variations with numbers, symbols and diacritics for eye-catching headlines, posters, cards, and product displays.
C64, or Commodore 64, is a bitmap display font that includes Atari-style lowercase characters and a set of symbols and punctuation for use in gaming and game mockups as well as posters, headlines, and titles.
Waves CPC is a pixel typeface family for gaming, metal band logos and t-shirts, and bold headers that takes its name from 8-bit music, waveforms, and the ocean's waves. This font set includes a Blackletter family with three layers and extended language support, as well as equivalent Tiny and Tiny Slab styles.
Based on its creator's own handwriting, Young Dantes is named for Edmond Dantes, the title character of the novel The Count of Monte Cristo. Young Dantes includes a full upper and lowercase character set with symbols, numerals, and punctuation for use in posters, flyers and web pages.
Bitcraft is an 80s inspired display font that captures the look of 8-bit graphics for use in designing icons, logos, posters, games or T-shirts. The Bitcraft font includes a full Latin character set, plus numerals and an extensive set of punctuation and symbols.
The Pixie Font Family Bundle features 15 different pixel font styles including halftone and dots for gaming, logo design, web headers, titles and more. The set also includes 610 glyphs and support for both Cyrillic and Greek.
As the name suggests, 1980 is an 80s-inspired bitmap font for web headers, logos, titles, and retro products. 1980 includes basic Latin support with a full set of upper and lowercase characters along with numerals and symbols.
Chubby Choo is a bitmap typeface with a retro video game look for headers, posters, games, and more. Chubby Choo comes in both regular and semibold, and includes all Latin letters in upper and lower case along with numbers and symbols.
Jaunt is dedicated to the memory of Nintendo and Atari gaming. It's an 8-bit pixel font that includes upper and lowercase Latin characters plus numerals and symbols, suitable for headers, posters, products and other retro themed projects..
Pretty Weirdo is a whimsical take on gaming inspired pixel fonts. The Pretty Weirdo set includes outlined and filled font variations, plus offset elements for use in product displays, cards, t-shirt design, scrapbooking and social media.
SuperDario is a retro pixel display font for posters, web design, branding or product displays. The SuperDario set also includes webfont versions and multilingual support with European and Russian letters.
Argent Pixel CF is a pixel-based variant of the popular Argent serif font. This low resolution version includes a full set of true italics and Latin character multilingual support, and can be used for retro inspired projects such as posters, branding, flyers and cards.
These pixel-based fonts bring back memories of early video games and computer screens. Use them in design projects of all kinds for a touch of nostalgia and retro charm.
---
Products Seen In This Post:
Remember key typography concepts
Typography terms made simple.
Grab this handy cheatsheet summarizing some of the most important typography terms.
Download the PDF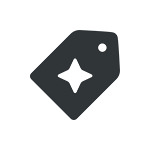 Creative Market