View Your Life as a Freelancer in Home/Office TV
Are you a freelancer? Do you work at home? If you raised your hands for both questions, then just stop it — I can't see you, so what does raising your hand help?
Admittedly, I could raise my hand on both as well, and it's not always easy. Sure, working from home seems like the ideal work environment, but there are so many factors that change that reality. Random errands, running the books, noises from the neighbors, delivery people, dogs barking, kids, IT issues and everything else seem to ensure that you're never going to get anything done. Or bathe. There's lots of not bathing, particularly in the beginning (although I am Irish Spring fresh currently, thank you very much).
Home/Office is a new webseries that features a designer starting out their career as a freelancer, helpfully being narrated by a very professional sounding voice. It's worth a laugh or two for sure, and for me, it struck a little bit close to home. Check out the preview below:

---
Kevin Whipps is a writer and editor based in Phoenix, Arizona. When he's not working on one of the many writing projects in his queue, he's designing stickers with his wife at Whipps Sticker Co.
Getting started with hand lettering?
Free lettering worksheets
Download these worksheets and start practicing with simple instructions and tracing exercises.
Download now!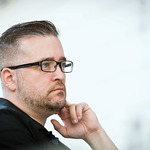 Kevin Whipps
Hi! My name is Kevin Whipps, and I'm a writer and editor based in Phoenix, Arizona. When I'm not working taking pictures of old cars and trucks, I'm either writing articles for Creative Market or hawking stickers at Whipps Sticker Co.
View More Posts