20 Brilliant Ways to Track Your Goals
A goal without a plan is just a dream.
I heard that for the first time relatively recently, and it rang true. Every time I've set a goal and then never put down a plan to achieve it, I've never succeeded. And so I've discovered that there has to be some kind of way to track your goals from start to finish, otherwise you're destined to fail.
With that in mind, I've put together a list of 20 different ways that you can use to track your goals. They range from the analog to online, and encompass a wide range of methodologies. Interested? Of course you are. Then keep reading!
Bullet Journaling
Are you familiar with Bullet Journaling? The concept is that you use a coded system and a notebook to create your tasks for the day/week/month, and that helps you accomplish your goals. It's intentionally analog; the thought process is that by taking the time to write things down, you'll be more present in the moment, and take everything a bit more seriously.
But it's also a chance to be artsy. Seriously, check these out:
Keeping a Bullet Journal has all sorts of advantages, but it's also infinitely customizable. Go ahead and start digging around Pinterest and Instagram for ideas, and I'm sure you'll find tons that suit your taste.
Get Visual
There are lots of people that say if you visualize your goals you'll be able to turn them into reality. Is there any truth to that concept? I think so, and it's also the idea behind Drawing Solutions: How Visual Goal Setting will Change Your Life.
Basically, by putting this goal of yours out into the universe and making it something you can look at on a regular basis, you'll be constantly reminded of your goals. It's the idea behind a vision board, except you draw instead of scrapbook. Either way, it's a good way to get your goals accomplished.
Gamify
Imagine if you could find a way to turn your goals into a fun game. Wouldn't that be cool? That's the concept here with gamifying your goals. What you're doing is creating a game that's built around your results, and that should — in theory — encourage you to meet them. One option is to visualize your goals in a drawing or picture, then cut them up into a puzzle, like this one from Tough Nickel:
GAMIFY.JPG
Sound cool? It does to me. And combining visualization and games is always a good time.
Sticker Charts FTW
To reach your goal, you'll need to determine what steps you have to take along the way to get to the finish line. Each one of those steps should be noted down so that it's clear and easy to figure out what you have to accomplish next to get closer to the finish line. And if you put all of these steps into a fancy chart, then you're on the road to creating a sticker chart. Every time you complete a task, you put a sticker on it, then move on to the next one.
We do this with our kids, and although that sounds like it's a juvenile system for an adult to use, it's really not. Granted, I have an office full of Batman toys, so who am I to talk.
Before we get into things, take a moment to watch this video:
When it comes to visualizing your tasks, Kanban is one great way to do it. The gist of it (for those of you who didn't watch the video — you know who you are) is that you write down a task into a sticky note. You then sort the sticky notes into columns based on what point in the process they're in — options, working on, done, etc. By moving things around in the Kanban system, you can visualize what you're doing, what you still have to do, and what you've accomplished, and it's super easy to do.
I've used Trello in quite a few business projects before (including here at Creative Market), and it's basically a digital version of Kanban. You place tasks or projects into columns, and then move them around as necessary. And although Trello is designed for teams, you can do the same thing with your personal goals, too. Then you can sync that with their mobile apps, and always know where you're at wherever you are.
Write It Down
This seems like such a simple concept, and yet so many people just don't do it. If you have a goal that you want to achieve, write it down.
Simple, right? But so many people just skip that step. They figure that they can hold it in their heads indefinitely, and that will somehow make the work happen. But in reality, it just doesn't; you forget the details you need to know, and the goal goes off to the wayside, never to be corrected. Take a moment and write down your goals, be it on a whiteboard, notebook or whatever. Believe me, it helps.
I'm a GTD guy, and it's something I talk about a lot. That's because before I found it a few years back, I was lost. I often wondered what I was supposed to do with my day, and I never got as much accomplished as I wanted. Instead, I was adrift, always knowing I had something to do, but rarely being able to figure it out.
GTD changed that for me. I now can put my goals and tasks in one central place, and then use that to track where I'm going. I'm telling you, GTD is great for project management, but better for goals.
There's this basic concept that Jerry Seinfeld popularized (something he has since denied), but the idea is that you don't want to break the chain. Mark an X on a calendar for every day you complete a task toward your goal, and then never stop. Don't break the chain of Xs.
Joe's Goals does basically the same thing, but with little charts and "stickers."
Just track your goals by clicking in boxes, and go from there. Also, it's free.
This one is billed as a project manager, but lots of people use it for goals, too. You start off with a planning session, then establish a timeline and set markers along the way. It does cost $8.80/mo to use, but there's a lot of stuff in there, and it just might work for you.
If you've only got one goal in mind, then the free version of Goalscape might be your huckleberry. You can create one online project with up to 30 goals, and then share it with the world. And what do you get for that? This cool pie chart that has visual representations of all your tasks, which helps you build a clear goal structure for all to see. Of course, you could keep it all private, and then you've got your own visual system ready to go.

Life Game is a fun little app where you create a tree that represents your goals. As you accomplish tasks, the tree grows (and blooms) just a little bit more, until eventually it becomes a full-grown plant. It's a cute concept that has a lot more depth to it than you'd expect, and even though you have to create an account to use it, the game still is pretty cool. And it goes back to the gamification thing, of course.
I personally have used Habitica, which is a goal and habit tracking system that uses 16-bit RPG gaming as a theme. You earn points for what you complete, which you can then use to buy cool things within Habitica. It's cute, fun, and entertaining — and if it means you'll get your goals done, all the better. It goes back to the gamification concept mentioned earlier, but gives it an RPG twist.
Like many of these systems, Lifetick uses tasks to work toward your goals. However, this one uses the S.M.A.R.T. system, which means that each objective needs to be specific, measurable, achievable, realistic, and time scaled. Adding just that one little twist into the system makes it seem like a good one to me, and it's also sharable, making your goals work with your support system. Heck, I might work this into my own goal system.
GoalsOnTrack is an interesting one because it combines a lot of these other systems into one package. You have goals, and you do things to achieve them, but they also incorporate visualization, habit-building and even a goal journal to see how your go along the way. There are charts, graphs, and mobile apps too, making it a fairly complete system. Is it for you? Check it out for about $70/year.
Strides is like Lifetick in that is uses S.M.A.R.T. goals, but also combines aspects of GTD, too. It breaks down its tracking system into four groups: goals, habits, average, and project. Once you've picked what you're tracking, there are quick and easy ways to log your behavior, plus alerts to help you remember when to accomplish things. Plus there's a web app and mobile versions, so you're always prepared no matter where you are.
With Coach.me, you've got a few options. If you want to track a habit (one that can lead to a goal, for example), then you can get their app and go from there. However, they also have coaching packages for both individuals and teams, where they can help give you guidance on achieving your goals. Having a personal touch like that is rare, and I dig the concept.
Microsoft Excel/Apple Numbers
That's right, you can track your goals with a simple spreadsheet. A quick Google search can show you a bunch of different templates available for charting your goals, and if not, there are also other guides online, too. So what do you do? Easy. Make a spreadsheet with your goals, track them daily, and then turn them into a pie chart. And if you want to customize it, go ahead — it's all up to you.

What I like about irunurun is that it has a points system. Like others in this list, there are goals, and then you have tasks to complete those goals. But here, every goal you complete will earn you points. And the more points you get, the more you'll feel like you're accomplishing things — because you are. And doesn't that feel good?
Goal Tracker seems to be targeted toward students, but it will work just as well for one person. You can graph your goals out automatically, collaborate with your pals, create a goal bank, and even get professional reports. My favorite part here are the charts, which show you visually where you're at and how successful you're being. It's free for three students, and after that, $2.99/mo for 5.
Get crackin'!
See? Now you've got no excuse not to get started on your goals. With that in mind, pick one of these systems, set your goal, make some plans and get started. The path of a 1,000 miles starts with a single step — or something like that — so begin your journey right now!
---
Products Seen In This Post:
Get your free printable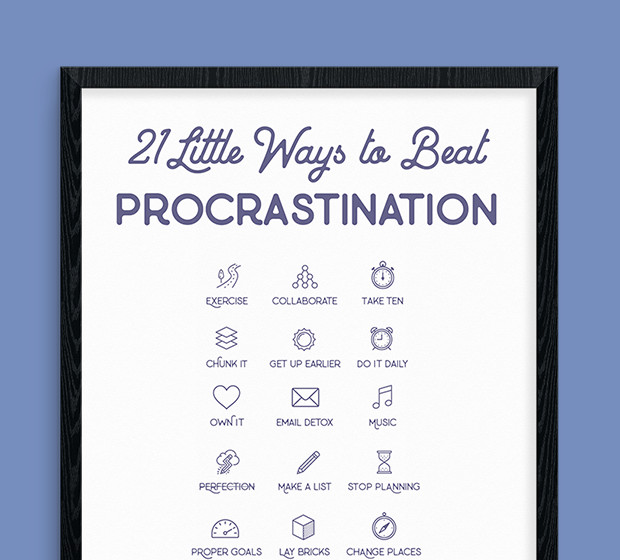 Download it now!

Beat procrastination with these 21 reminders

Tired of putting off goals and projects? Kiss procrastination goodbye with these smart tactics. Download and print this sheet to stay on top of your productivity game.
Hi! My name is Kevin Whipps, and I'm a writer and editor based in Phoenix, Arizona. When I'm not working taking pictures of old cars and trucks, I'm either writing articles for Creative Market or hawking stickers at Whipps Sticker Co.
---