Wedding Trends 2014: Green Invites
As more people grow aware of our natural environment's fragility, weddings become a time to express that concern to friends and family. Weddings bring with them the consciousness of building a future, not just for the couple and their potential (or existing) children, but also for many generations to come. In this spirit, "green" wedding invitations are an important new trend for 2014. How can a wedding invitation express your desire to care for our planet's health? Here are some fresh new ideas for you to browse through:
Plantable seed paper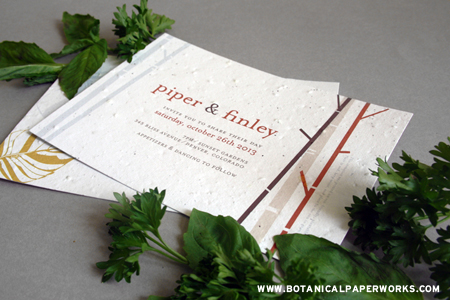 This is a delightful new product that's suddenly front and center in wedding invitation options. It is a biodegradable paper product which has viable seeds embedded within it. The paper can be printed with non-toxic inks and then the entire printed document can be planted in the ground after use. When it's watered, the paper disintegrates and the embedded seeds germinate. This paper comes in a variety of colors and textures, and various papermakers offer different choices of wildflower, vegetable or herb seeds.  Regardless of the type of graphics or typography that you plan for your wedding invitations, you can purchase your seed paper ahead of time from a supplier such as Green Field Paper Company.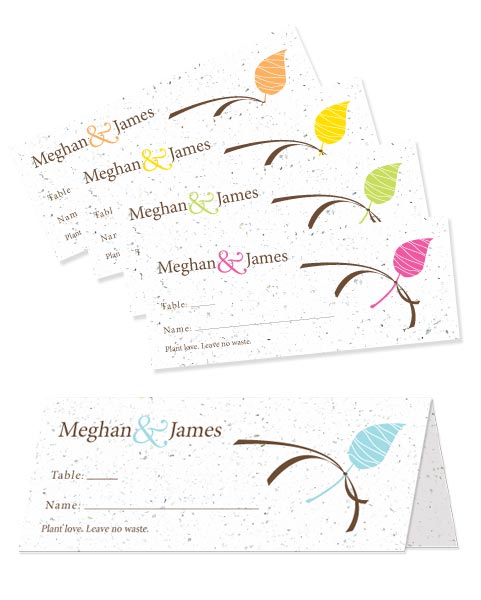 Hemp and other tree-free papers
Even though wedding invitations don't consume a huge amount of paper, weddings are all about symbolism. Choosing a tree-free paper stock for your invitations is a way of starting out your marriage with a statement about taking care of the environment. Conservatree  provides a list of companies which sell high-quality paper made from hemp, grasses, kenaf, citrus and coffee fiber, cotton, even recycled clothing! Some of these fibers are grown organically, so purchasing those types of paper not only saves trees but also supports sustainable farming methods.
A few lovely examples of "green" invitations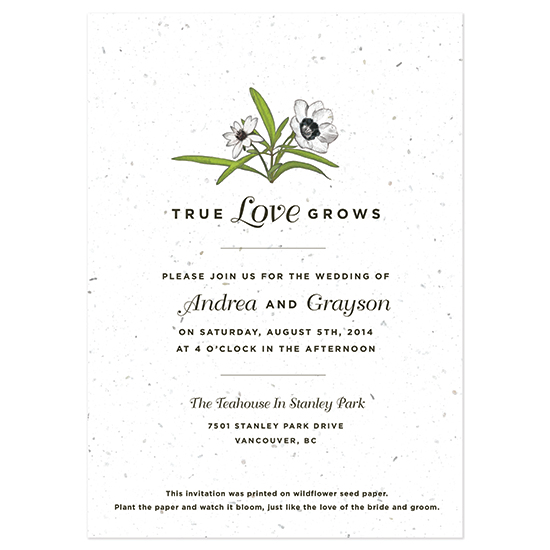 "Love grows" is the name of this wedding invitation, which includes a line at the bottom saying, "Plant the paper and watch it bloom, just like the love of the bride and groom!" For a different approach to the natural motif, consider the use of woodcut and block-print graphics. This woodcut wedding invitation conveys a natural earthy beauty through the hand-cut floral illustration and the deep cream and brown tones of the paper and printing. Here is another hand-made block print invitation, and the photos illustrate brown envelopes tied with a rustic, natural twine to complete the style statement.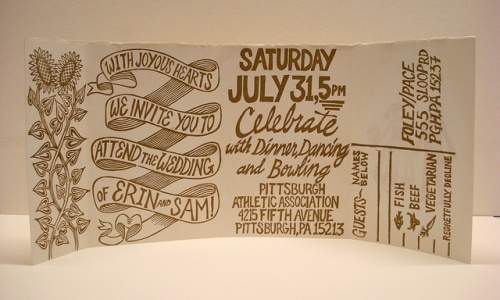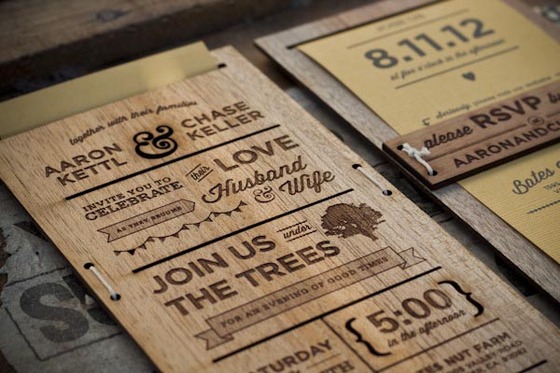 Creating your own natural invitations
What could be simpler or more natural than choosing your paper and then creating your own wedding invitations?  Nature-oriented image templates such as Rustic Leaves Wedding Suite could be used to print invitations on any type of tree-free or seeded paper. The hand-made aesthetic of this Burlap Wedding Invitation Pack suggests a theme connected with nature and simple living. For an even more individualized design, you can browse through thousands of available graphic objects, fonts and textures, and assemble the ones that most closely express your personal style.
Choosing a Creative Market search term such as "leaf" and then setting the "categories" filter on the left to "all" will yield an enticing collection of graphic designs, textures, templates and fonts that can help you extend the "green" theme throughout all the aspects of your wedding. After all, you may have place cards, gift tags and thank-you notes to consider as well as your invitations, and each of these offers you a chance to make a statement about caring for the natural world.
Getting started with hand lettering?
Free lettering worksheets
Download these worksheets and start practicing with simple instructions and tracing exercises.
Download now!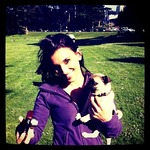 Maryam Taheri
I'm a recent graduate of the University of San Francisco with a degree in Biology and a passion for the creative arts. I love building websites, trying new things, and I have a passion for social media.
View More Posts