Welcome Chris to the Team
As you know, our developer team has been growing lately. What you may not know, is we've recently had the pleasure of adding Chris Madrigal to that team. Chris is an all around awesome guy and one heck of a dev. We're so glad he's here, and we can't wait for all of you to get to know him better.
Tell us a little bit about yourself and what you do for Creative Market.
I'm a huge fan of "things done right"; for me, every pixel matters. Here at Creative Market, I'll be focusing on making sure everything you see looks beautiful and pixel perfect.
What were you doing before you joined the team and how did you and Creative Market "find each other"?
Before Creative Market, I was working with a web design company based in Santa Cruz. We worked mostly with private clients to create PHP and NodeJS web applications.
I first heard about Creative Market through my friend Tyler Dorman. After learning more about the company, I quickly realized this was a perfect fit.
When not at work, what do you do for fun?
I love being outdoors! Fun for me is being out in the water, on a surfboard, during a good swell, in a non-crowded break! If it's winter, and there's snow on the ground, you can find me on a snowboard in Tahoe. I also love warm summer days that give me the freedom to take my family camping and fishing.
Do you have any go-to music when you're working?
It really depends on my mood, ranging from Beach House, Radiohead, Thievery Corporation, Gramatik, and Band of Horses. Of course, I can always be in the mood for some old school reggae!
Have you seen any products here on the site that you especially like?
There are so many great products and I have only seen a fraction of them. Photography has always been a hobby of mine, so I can really appreciate the amazing photography that Creative Market has to offer. Being a Costa Rican native, I feel especially drawn to the nature and animal categories.
What inspires you creatively?
I get inspired by doing things I've never done before. Whether it's a new sport, activity, or design, whenever I'm challenged my creativity starts flowing.
Any parting words of wisdom?
I'll leave you with a quote:
"Happiness lies in the joy of achievement and the thrill of creative effort."
– Franklin D. Roosevelt
Getting started with hand lettering?
Free lettering worksheets
Download these worksheets and start practicing with simple instructions and tracing exercises.
Download now!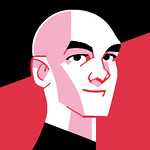 Kyle T Webster
Kyle T. Webster is an illustrator, iPhone game creator, Photoshop brush designer, author and teacher. He founded KyleBrush (acquired by Adobe in 2017) and now continues to build digital tools for artists everywhere.
View More Posts