Dear Creative Market community, we'd like to introduce you to the one and only Greg Corby. Greg, is an extremely talented designer who's coming to us from OpenTable. We've got an awesome design team here at Creative Market, and Greg will be joining it as our Senior Designer. While he is indeed a master designer, this bloke has quite a few other talents and interests, just see for yourself…
Tell us a little bit about yourself and what you do for Creative Market.
I started gaining an interest in design when my family first got a computer in the early 2000s. I'd play around with CorelDRAW and try to copy some of the clipart that came with the software. Towards the end of high school, I was designing shirts for friends' clothing companies, creating logos for local bands, and working on any other little projects I could get my hands on (I wish I could say my early work was good, but it was pretty bad). Since then, my focus has transitioned more to designing for the web and apps. At Creative Market, I'll be working along side Gerren and Liam on the many different design challenges we face as we continue to expand and improve our awesome platform and community.
What were you doing before you joined the team and how did you and Creative Market "find each other"?
Before Creative Market, I was an experience designer at OpenTable, where our newly established design team was tasked with reimagining both their consumer and restaurant products, as well as demonstrating the importance of design to the broader organization. My imminent destiny with Creative Market was realized after about a year in the Bay Area, when Gerren (who I'd met while living in Austin) reached out with the opportunity to join the team. Although it was tough to leave OpenTable, I couldn't deny the fact that Creative Market was where I really wanted to be.
When not at work, what do you do for fun?
I love being outdoors! Things like riding my bike, snowboarding, hiking, and camping usually take up a good majority of my time. I've recently gotten into music production, so I've been playing around with my new Ableton Push. I'm also excited to take advantage of the amazing workshop here at the Pier 9 office. I'd love to make my own furniture. You can check out my Instagram account to get some insight into my off-the-clock life.
Already, after only a short time working with you, we can all tell that music is something you love. Do you have any go-to music when you're working?
Music is a huge part of my life. My interests span across multiple different genres, but my current top albums on Rdio are along the lines of SOHN, Future Islands, Todd Terje, The Antlers, How To Dress Well, and Disclosure. Lately, my go-to music for working has been anything with a pulsating beat: Future/UK Garage, Progressive House, Nu Disco, Downtempo, etc. If my headphones are on, I'm usually bobbing my head to something.
Have you seen any products here on the site that you especially like?
I really like Hustle Supply Co's Native typeface, as well as Herschel by Decade Type Foundry. I love the old, handmade, roughed up look.
What inspires you creatively?
If not already made apparent by my previous statements, music is a big inspiration for me. It keeps me going throughout the day. I also find inspiration in film, architecture, and all the random stuff one encounters on a day-to-day basis.
Any parting words of wisdom?
I try to not take life too seriously. There's so much cool stuff out in the world, why should I waste any time on negativity?
Getting started with hand lettering?
Free lettering worksheets
Download these worksheets and start practicing with simple instructions and tracing exercises.
Download now!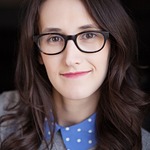 Kelley Johnson
I'm an ex-schoolmarm who is excited about all things creative. Photography makes me smile and when I find a new-to-me dress that fits just right, it makes my day.
View More Posts